Now that you're finally free from your cage ( your home that is ), a holiday sure does sound nice right? How about the beach? Sunny, sandy and very much relaxing. But wait. Don't you need sunscreen? But what type though? I have one word for you - ocean-friendly.
You read that right. You probably didn't realise this but the sunscreens that you use are filled with chemicals and do tremendous damage to the ocean, coral reefs and yes, the environment.
When the ocean is dying, how could you possibly relax? Worry not as we have a list below of organically safe sunscreens that will help you and the reefs be happy and safe!
Is organic sunscreen safe?
According to dermatologists, organic sunscreens use carbon-based chemicals to minimize the effects of UV rays while chemical sunscreens work by absorbing UV rays, making them both fall in the category of 'organic'. Thus concluding to the fact that both are still deemed safe to use, considering the preference of the user.
What ingredients are bad for reefs and the ocean?
Although certain organic sunscreens use oxybenzone and octinoxate in their products, these UV blockers are deemed to be the damaging ingredients towards marine life. These two ingredients are known to increase coral bleaching and eventually resulting in the damaging and killing of coral reefs.
Plus, they're also polluting the ocean and all its marine life with the washed off chemically induced sunscreens. However, there are organic, reef-friendly sunscreens that do justice for the ocean and reefs and some of them are listed below.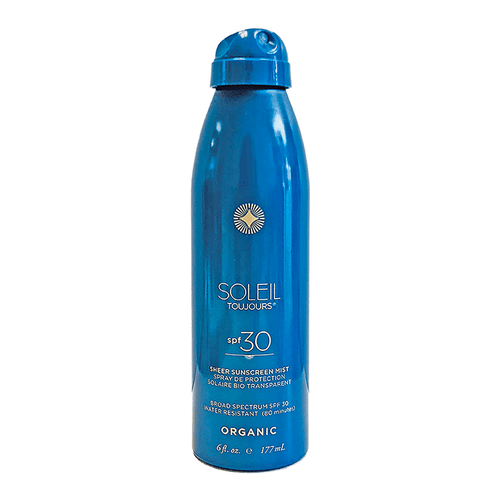 add_circle
Works very well on all skin types
add_circle
Convenient in a spray bottle
add_circle
Will not strip skin dry
add_circle
Reef and ocean-friendly
This Organic Sheer Sunscreen Mist SPF30 by Soleil Toujours is a great protective barrier, shielding your skin away from the harsh rays of the sun. Clear from oxybenzone and octinoxate, the two primary sunscreen actives that bring about damage to coral reefs, this sunscreen is a 70% certified organic, clear formula, with a photostable broad spectrum of UV protection.
Being water-resistant for up to 80 minutes, one of its star ingredients include green tea leaf extract, which basically helps reduce oxidative stress and helps guard against cancer-causing damages. The other star ingredient includes Soleil Toujours' own EcoSun Complex, a powerful formulation of red algae, Vitamin C and E, and bisabolol, each having its own benefits.
The red algae defend your skin against environmental damages and increase moisture-retention for a fresh and dewy complexion. Also, Vitamin C comes in the form of Ascorbyl Palmitate to effectively be absorbed into your skin to promote even skin tone.
Additionally, Vitamin E becomes vital in the protection of skin cells from UV light and other cell-damaging free radicals. Besides, the bisabolol extracted from chamomile works to calm and moisturize the skin.
---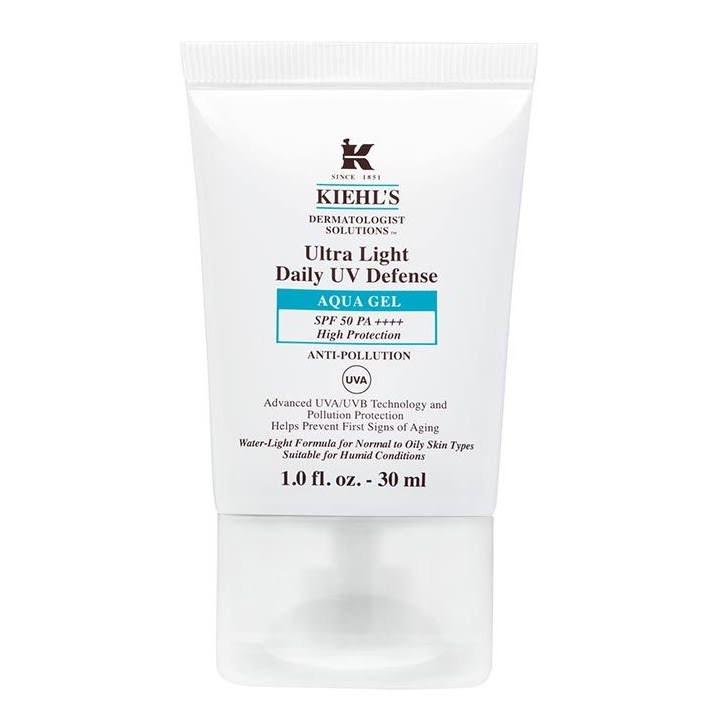 add_circle
Made for oily skin
add_circle
Lightweight texture
add_circle
Reef and ocean-friendly
remove_circle
Alcohol smell might be pungent for some
A non-comedogenic product means that it has been formulated to avoid the cause of clogged pores, basically meaning oil-free. Such a product is Kiehl's Ultra Light Daily UV Defense Aqua Gel SPF 50 PA ++++. This uniquely made sunscreen is pollution-free and comes in a lightweight, refreshing texture, that is absorbed quickly into the skin.
Having been tested for the humid condition, this water-light textured sunscreen specifically designed for oily skin. It's also able to hydrate and help defend your skin from damaging UV rays, concluding it to be shine-free, smooth and protected.
That aside, this sunscreen is able to provide high SPF protection for the skin, defending it against environmental aggressors, inclusive of UVA and UVB rays, pollutants and free radicals.
If that is not enough, the appearance of your pores is kept to a minimum and is protective against early signs of ageing. Most importantly, the one point to take away from this dermatologist-tested, fragrance-free product? It is not a coral reef killer.
---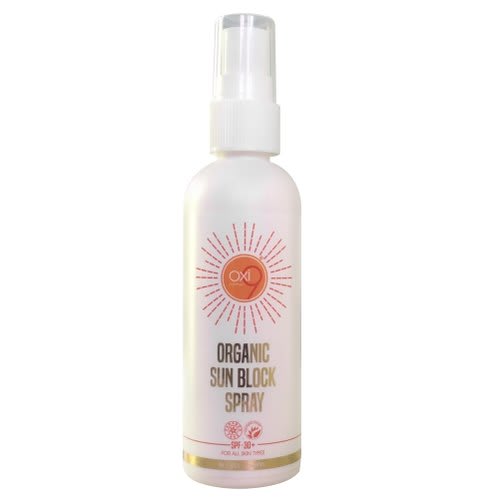 add_circle
Travel size packaging
add_circle
Non-greasy formula
add_circle
Free of harsh chemicals
add_circle
Reef and ocean-friendly
remove_circle
Not user-friendly for eczema prone skin
Oxi9's Organic SunBlock Spray SPF -30+ is formulated without zinc oxide, titanium oxide, oxybenzone and octinoxate - all the harmful chemicals that cause damage to the coral reefs and the environment. Instead of harmful chemical and parabens, it is comprised mainly of two amazing organic ingredients - organic sunflower oil and chamomile oil.
Organic sunflower oil is high in antioxidants including vitamin E and has the potential to reduce free radicals that causes skin damage. It is also a complete moisturizing agent high in beta-carotene, being able to help in reducing sun sensitivity.
On the other hand, you have chamomile oil which is considered to be a staple of herbal remedy that is beneficial for a variety of skin conditions, including sunburns. It also works as a very useful anti-inflammatory agent that aids in soothing and calmness of the skin.
Together combined, both these ingredients form some powerful antioxidant properties that help prevent premature signs of ageing.
---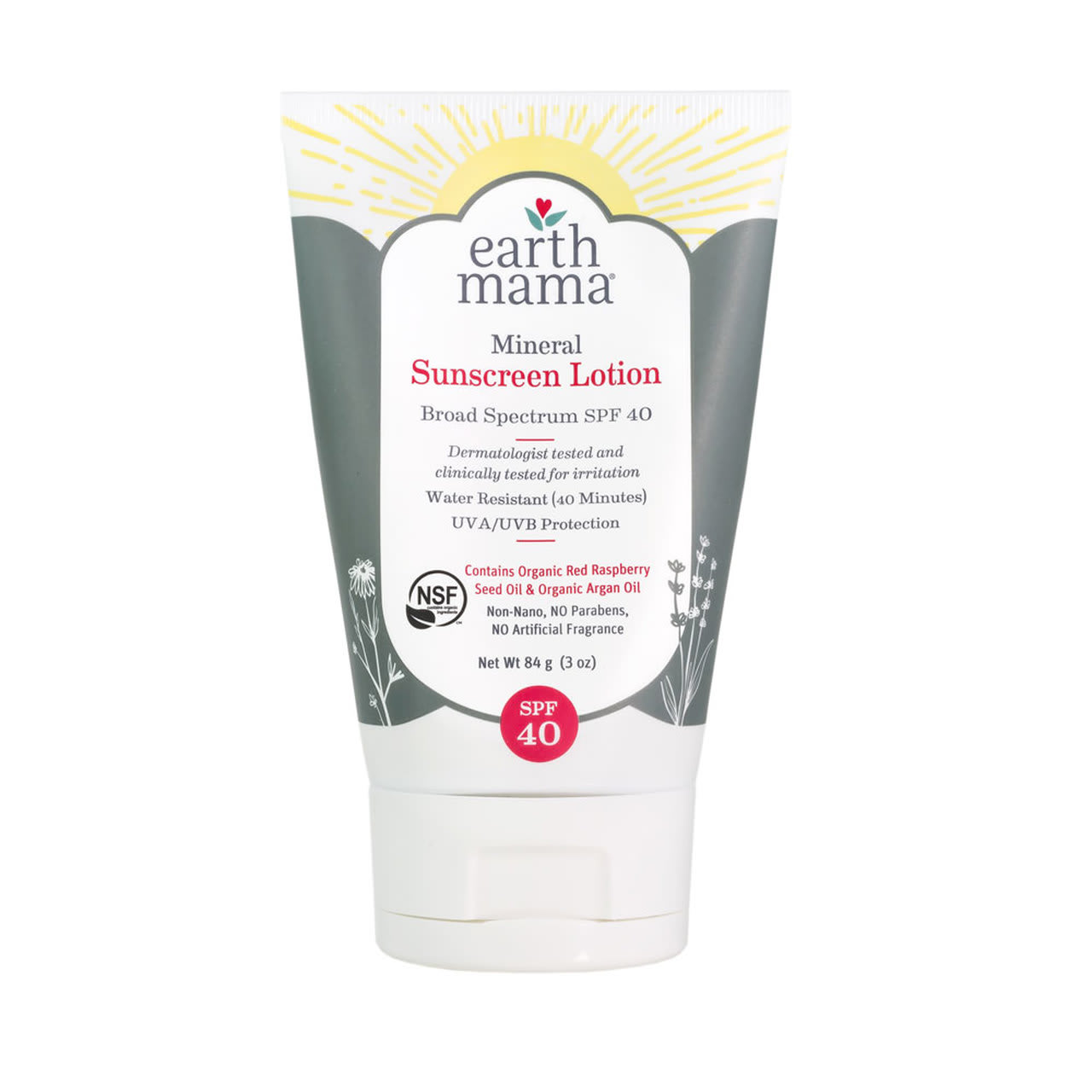 add_circle
Non-nano formula
add_circle
Contains SPF beneficial ingredients
add_circle
Reef and ocean-friendly
remove_circle
May sting on broken skin
This reef-friendly sunscreen by Earth Mama has a very interesting ingredient in its list- Organic red raspberry seed oil.
Dubbed as the 'highest SPF value of any plant on the planet', the red raspberry seed oil is a very powerful antioxidant making it the best addition to your sun protection guide. It also effectively moisturizes and improves skin elasticity together with reducing wrinkles, dryness and skin lines, basically a regenerative aid for your skin cells.
The other organically good ingredient? Organic argan oil. It is an all-rounder care for your skin, containing a natural sunblock. With its high active antioxidants, argan oil is a real soothing agent to quickly heal your sore skin after a nasty sunburn while supporting the melanin production of your skin.
This dermatologically-tested sunscreen has no artificial fragrance, no parabens, non-nano, irritation-free, and is completed with the lowest hazard rating a sunscreen product can achieve. It's also water-resistant for up to 40 minutes and has a broad spectrum of UVA and UVB protection.
---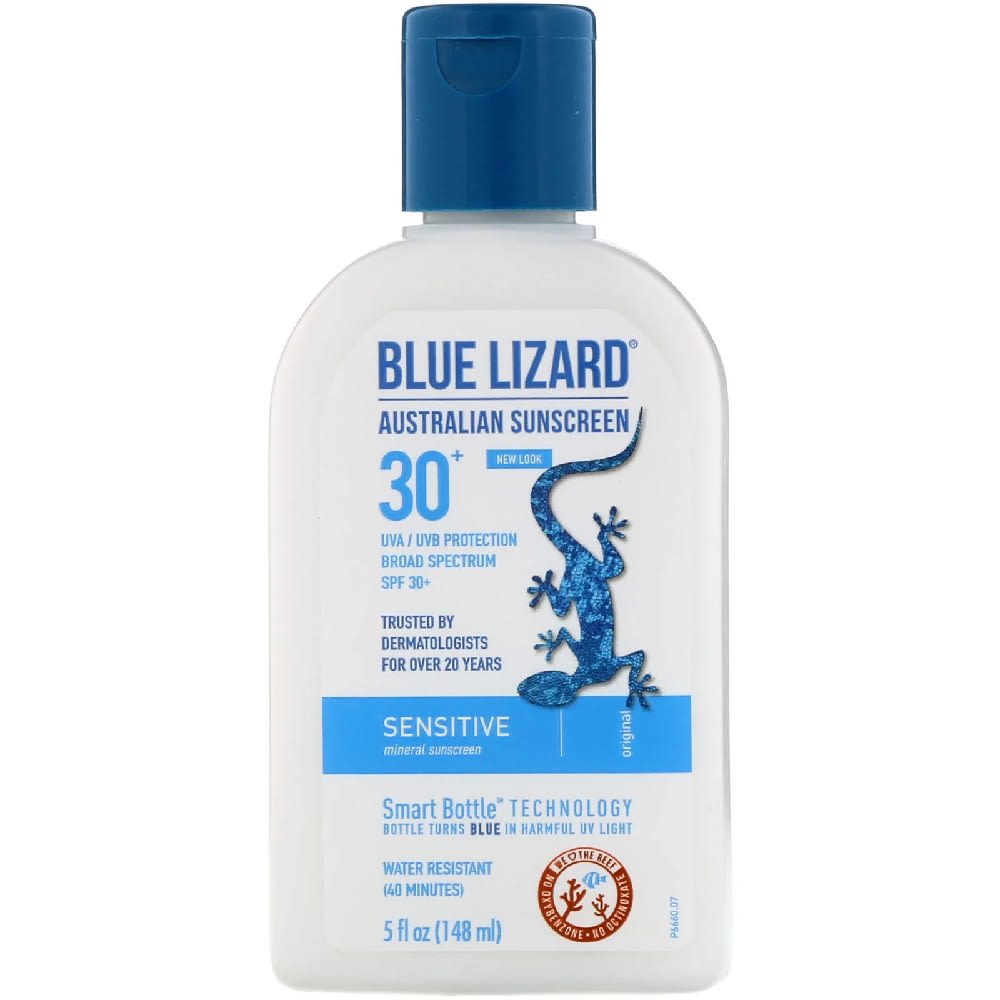 add_circle
Works well for sensitive skin
add_circle
No strong scent
add_circle
Uses smart bottle technology
add_circle
Non-sticky texture
add_circle
Reef and ocean-friendly
remove_circle
Might leave a white cast
For those who suffer from skin sensitivity and eczema, Blue Lizard's Australian Mineral Sunscreen SPF 30+ is the right choice when you're out and about.
Dermatologist-approved, mineral sunscreens with Zinc Oxide and Titanium Oxide are recommended to be used as they are less likely to irritate sensitive skin. An alternative to chemically based sunscreens, this one is able to deliver a chemical-free, sun-protected shield for your delicate skin.
Why does it work for sensitive skin? Due to the fact that it is free of synthetic fragrances, dyes or parabens, all of which are known to irritate delicate skin. Since it's Australian made, you could assume how much they care for their oceans and reef ecosystems, with their oxybenzone and octinoxate free formula. Also, paediatricians have approved them of being safe to be used on children.
A perfect fit for the whole family and the reefs, Blue Lizard's sunscreen is also dubbed as a ' smart bottle' with a 'smart cap technology' - the bottles and tube caps turns blue when exposed to harmful UV rays. Now that is a cool way to remind you to be sun safe at all times!
---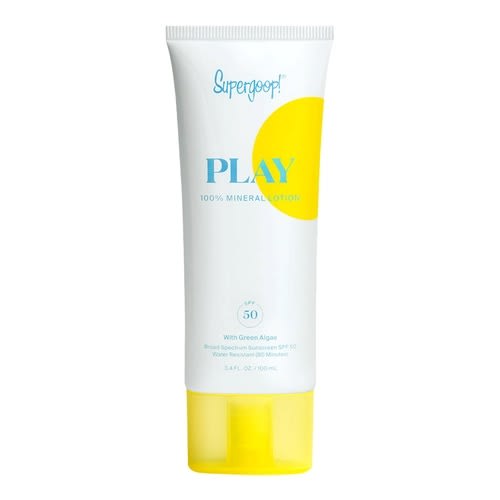 add_circle
Ideal for most skin types
add_circle
Good resistance towards watery conditions
add_circle
Reef and ocean-friendly
remove_circle
Greasy texture
Sunscreen for the whole body can provide a tricky situation at times with what working on your body is not able to do the same for your face and vice versa. SUPERGOOP's! Play 100% Mineral Lotion reigns as an ideal protection for your sun-filled days.
While Nano-sized particles are small enough to be ingested by coral reefs or marine animals resulting in internal damage, this formula comes with a non-Nano and reef-safe formula, providing a broad spectrum of protection - for the ocean and your skin.
Also, it has a powerful blend of key ingredients, consisting of green algae, pomegranate and perilla oils and rosemary leaf extracts, each being of importance to you and the environment. Rich in antioxidants, green algae helps to fight free radicals to aid in maintaining revived and rejuvenated skin.
Rosemary leaf extract, on the other hand, has anti-inflammatory properties to help reduce puffiness and swelling of skin together with being a calming agent for chronic skin conditions of dermatitis, eczema and psoriasis.
Also, the nourishing blends of pomegranate and perilla oils have strong anti-ageing and anti-inflammatory properties that help provide hydrating protection from environmental aggressors.
---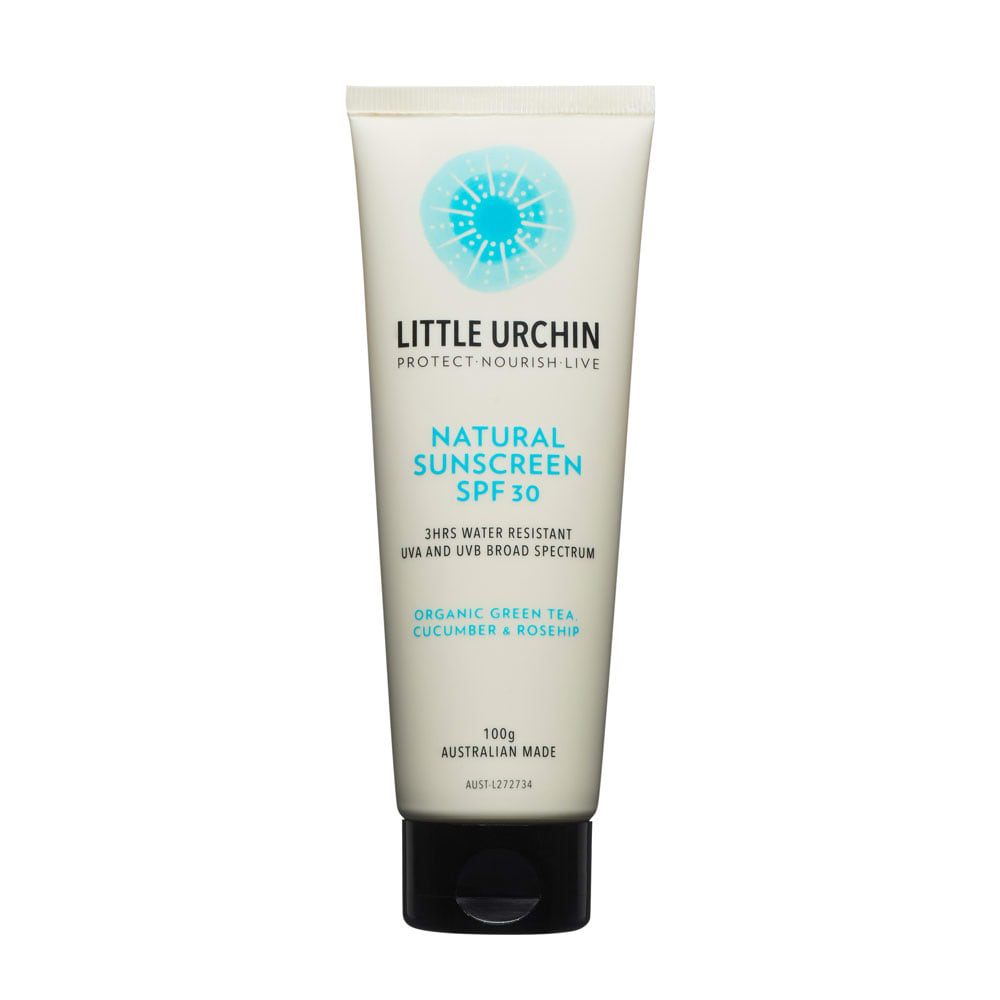 add_circle
Baby-friendly with organic ingredients
add_circle
Non-sticky texture
add_circle
Reef and ocean-friendly
remove_circle
Greasy texture
remove_circle
Thick, oily consistency
Another Australian made and owned product, Little Urchin is fit to be used for babies over six months of age to adults, with sensitive skin.
Their SPF 30 sunscreen is able to provide UVA and UVB broad-spectrum protection from the sun, in addition to being three-hour water-resistant, yes, three! Swim, play or even when you're just having some me-time by sunbathing - they've got you covered.
There's also a blend of organic ingredients consisting of organic green tea, cucumber & rosehip extracts. Organic green tea is a very potent antioxidant that helps with soothing redness and swelling of the skin, calms irritation and even eliminates bacteria and dirt from your skin.
Cucumber and rosehip extracts, on the other hand, are superfoods for the skin. They can soothe and cool your skin down with the antioxidants. Also, it can bring comfort to a baby's delicate skin with the help of vitamin E to help prevent skin irritation from the scorching sun.
---
add_circle
White cast-free
add_circle
Works for dry skin
add_circle
Reef and ocean-friendly
remove_circle
Sticky texture
Let's be real, white cast by sunscreen can be a real 'wardrobe malfunction' at the beach. Instead of looking ghost-ish, Aromatica Aloe Mineral Sunscreen SPF 50 does not betray your skin with a white cast. Instead, this silicon-free formula helps to provide a broad spectrum of UVA and UVB protection, resulting in your skin feeling smooth and refreshed.
Also a non-Nano sunscreen, it is formulated with Zinc Oxide where they form a protective shield to get rid of UV rays being penetrated into your skin. With aloe in its name, you are sure to know that Aloe Vera plays a primary part in the formula.
The organic Aloe Vera extract is able to reap many benefits ranging from soothing the skin, to being highly anti-inflammatory, and treating superficial acne. It also works to moisturize your skin that can be dried or damaged by UV rays.
Apart from that, Lactobacillus and Bifida - fermented ingredients, aid in strengthening skin's moisture barrier to continue keeping your skin healthy. Aromatica is also vegan-friendly and non-comedogenic.
---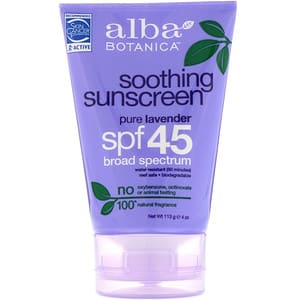 add_circle
Works well for dry, flaky skin
add_circle
Travel size packaging
add_circle
Reef and ocean-friendly
remove_circle
Greasy texture
remove_circle
Does not work well as a face sunscreen
Although a zinc oxide sunscreen is dubbed a 'physical' sunscreen due to the fact that they sit atop the skin and block the rays, a zinc-free product works just as fine. Alba Botanica's Soothing Sunscreen SPF 45 Pure Lavender is a great example of it.
Obviously reef-friendly, what with being clear of oxybenzone and octinoxate, this biodegradable product reaps many benefits. This formula is made with 100% vegetarian ingredients and is gluten-free certified. That also means, it is animal cruelty-free, even excluding any cruelly obtained animal ingredients, although these animals aren't killed.
Some of the other ingredients include green tea extracts and vitamin E acting as powerful antioxidants. There are also Aloe Vera, Lavender and Chamomile to moisturize, be highly anti-inflammatory, protective of free radical damages, and aromatherapeutic. The combo can work to keep skin smelling and looking radiant in the process.
This product is recommended by the Skin Cancer Foundation to be used on all skin types and concerns.
---
Disclaimer: The pricing shown is just a good indication of how much these products are worth. The prices could change based on the e-commerce promotions that are going on. If some of the products are not available, do email us at [email protected] Thank you!