Gone are the days where the only access to your house or office is restricted to the standard physical lock(s) and keys. Which brings us the digital or biometric fingerprint door locks, a more contemporary solution that forgoes the aforementioned standard locks in favour of a fingerprint scanner and/or password authentication.
Are biometric door locks more secure than conventional door locks?
One of the good things about installing a biometric door lock is you no longer have to worry about the particular forgetful situation. And that situation in question is you either forget or misplaced your home or office keys somewhere else.
But let's talk about the very thing that matters the most: security. Investing in a biometric door lock usually means you have to pay significantly more than the usual standard locks. Of course, there are a few reasons why biometric door locks cost higher.
First, unlike a standard lock that can be easily broken open with a tool such as a screwdriver or a nut wrench, the same method can't be performed against the biometric door lock system. The latter do not utilise the standard lock's pin tumbler system since biometric door locks are more complex when comes to their overall design and construction.
Even if someone were to use physical force against a biometric door lock, it would be tougher to do so. Not to mention the biometric door locks are usually equipped with an alarm system that can scare away the burglar or intruder.
Another benefit of having a biometric door lock is that it uses a fingerprint scanner that only reads your fingerprint. Alternatively, if you use a password to unlock the door, there's a random security code function where you can scramble different fake numbers to throw off onlookers.
And best of all, some biometric door lock models come equipped with a double authentication system that can be only unlocked after you use your fingerprint and password altogether.
So, now that you know some of the aforementioned benefits, here are the 7 best biometric fingerprint door locks that suit your respective needs: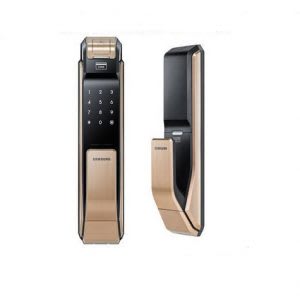 Check Samsung SHS-P718 price below:
Say goodbye to the usual grab-and-turn manual door lock with Samsung SHS-P718. It uses a more convenient push (to enter) or pull (to exit) method, complete with a state-of-the-art optical fingerprint authentication system.
For the latter requires double authentication mode, meaning you have to enter both of your password and fingerprint to unlock the door. While it might sound troublesome, such mode ensures extra security and peace of mind. The door lock itself comes with an easy-to-read interface that has a notification feature displaying essential messages like "Locked" or "Unlocked".
Some of the other highlights to expect from this model include an IR sensor-enhanced auto wake-up feature capable of detecting your presence within 50 cm range and a hack-proof doorlock design in an event of forced entry.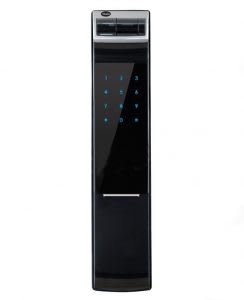 Check Yale YDM 4109 price below:
With an illustrious history of manufacturing high-quality locks for over a century, Yale is a brand name that needs no introduction. Among their most popular digital door lock series is the YDM 4109 model, which comes with an advanced one-touch fingerprint scanner capable of detecting your fingerprints in a jiffy.
You can also unlock the door using a pin code system, with the latter comes equipped with a scramble code function that allows you to assign random numbers before or after accessing your actual passcode. Finally, it also has an automatic alarm that will go off in case of an attempted break-in or physical damage.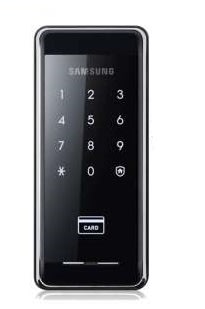 Check Samsung Digital Lock SHS-2920 price below:
Let's face it, most of the digital door locks typically do not come cheap. This is especially true for the branded varieties. But thankfully, there are the likes of a budget-friendly Samsung SHS-2920. It may lack all the bells and whistles commonly found in most high-end door locks but the SHS-2920 has sufficient features that do its job just fine.
Those features in question include both automatic & manual door lock mode, a pin code/card access system and a crime setting feature, which comes in handy to prevent unwanted intrusion if you are away from home.
For complete peace of mind, the Samsung SHS-2920 has a built-in alarm system that will go off in case of physical damage, repeated attempts in gaining access using a passcode authentication or your premise's the indoor temperature rises 60 degrees and above.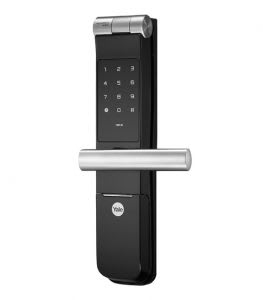 Check Yale YMF 40 price below:
The Yale YMF 40 has everything you need to ensure peace of mind regardless of using it for your home or office. It contains a one-touch fingerprint system that can verify your fingerprints easily and an automatic fingerprint cover that opens and closes once you tap your finger in it.
Another key feature is a fake pin code system that allows you to enter random fake numbers before or after entering your correct passcode. This helps to avoid your actual pin code from being exposed or seen by others.
The Yale YMF 40 is also built with the utmost convenience in mind, namely a voice guide feature for easy set-up and operation status. An 80dB alarm is also included that detects a break-in, physical damage or fire at a temperature above 55 degrees.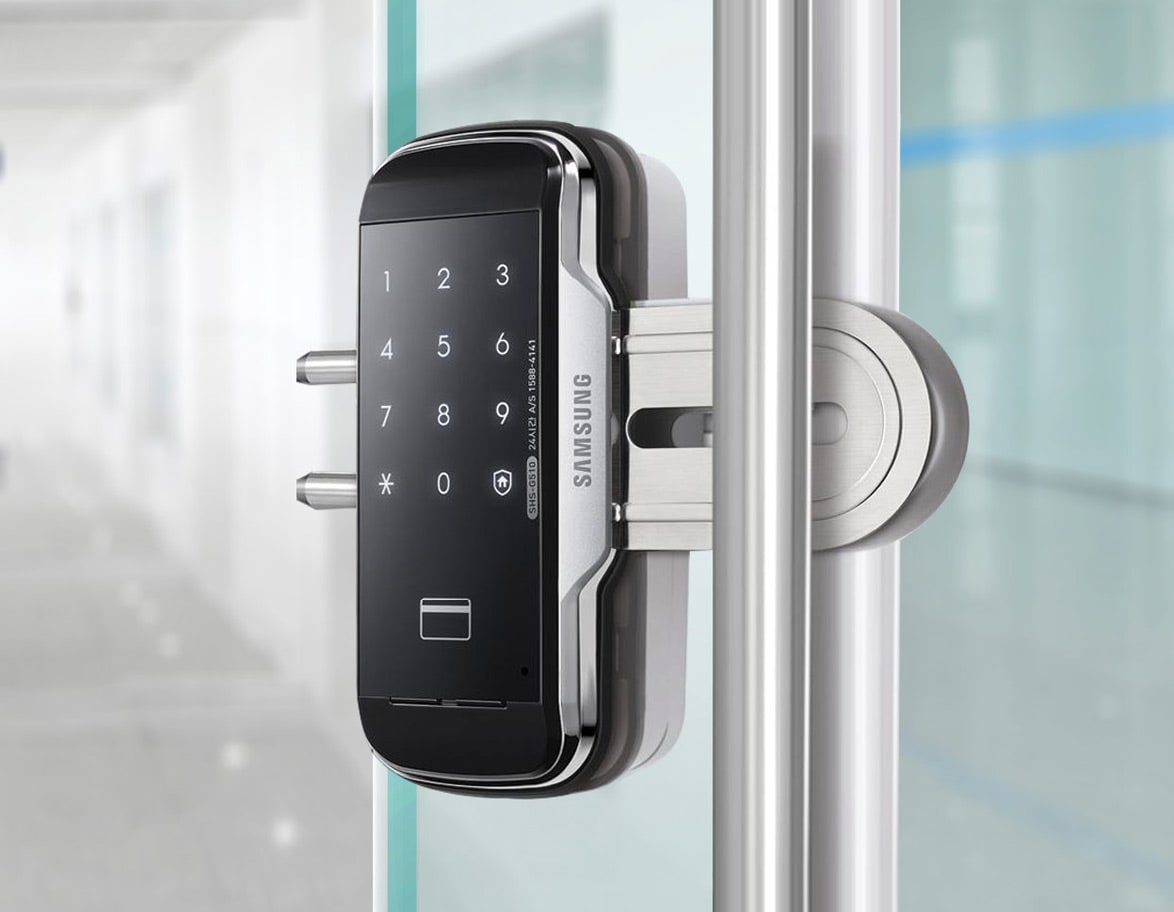 Check Samsung SHS G517 price below:
Looking for a reliable digital door lock for your glass door? Here's one for you: the Samsung SHS G517, which is designed for tempered glass doors with recommended thickness between 9 and 13 mm. It uses an advanced pin code system that can be randomised to confuse suspicious onlookers, making your door lock more secure and safer.
If that's not enough, you can even set up a double authentication using the passcode and RF card to unlock the door. Worry about a burglar or an intruder might break into your home or office? Thanks to its anti-theft protection and an IR sensor, the alarm will sound immediately if such an unfortunate event happens.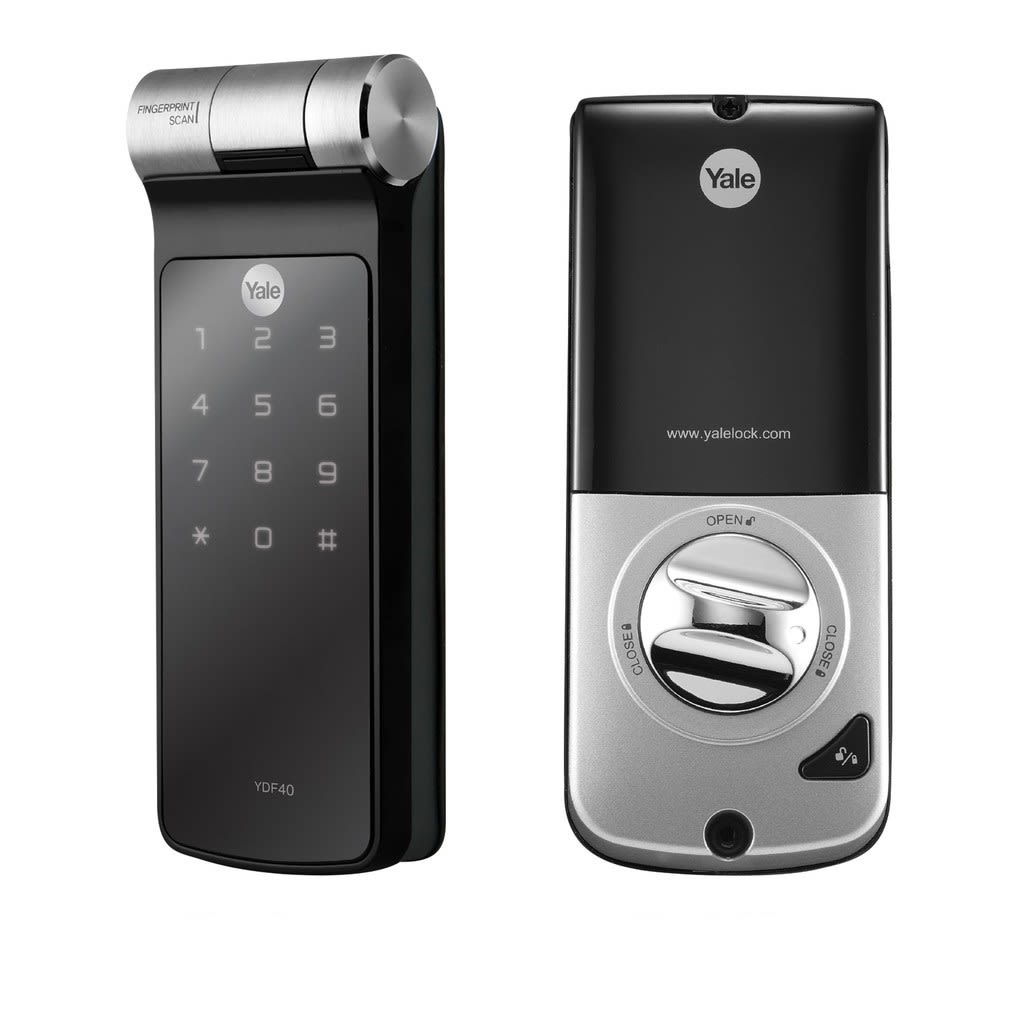 Check Yale YDF40 price below:
In need of a digital door lock that provides the highest security feature possible? You might want to look into Yale YDF40, which comes equipped with a deadbolt lock made of hardened steel to prevent physical damage or forced entry.
Features-wise, you can choose to unlock the door using a password or your fingerprint via the one-touch Easy Scan technology. Even if you are a new user, there's a voice-guided system that provides you with a step-by-step walkthrough on how to set up the door lock.
The rest of the highlights include an invisible keypad that is only visible with your palm touching the screen and a built-in alarm system that will go off if someone tries to break in or causes physical damage.
Check Samsung SHS-H705 price below:
If you have a kid at home, it can be dangerous if he or she ended up wandering away to someplace else while you are busy, say in the kitchen preparing dishes. Which is why the Samsung SHS-H705 comes with a childproof interior door handle. All you have to do is simply pull the handle down.
The Samsung SHS-H705 also comes equipped with essential key features such as a double authentication system that can be only unlocked using both password and fingerprint, a random security code feature to prevent suspicious onlookers from guessing your password and an intrusion alarm that will sound regardless of an intrusion or a fire warning.
Related articles