If you have more than a little one on the way, or you're expecting a second baby while you're still swaddling your first, you may need more than just a typical stroller. In that case, getting getting a double stroller will save you from any anxieties or paranoias about looking after your children.
Are double strollers worth it?
Most double strollers are twice as expensive as single ones, but it makes life easier when you have two young kids to look after, letting you live without hiring a nanny and saving some money.
While one may skimp on paying more for a good stroller, think about the problems you may come across. Will the wheels be hard to move around with? Is the stroller steady or too heavy in terms of built? Or does it come with any shade protection and good cushioning?
Investing in a good, comfortable one would let you go on a relaxing walk with twins. Otherwise, you'll end up having a full body workout while trying to manoeuvre two single strollers with two cranky babies.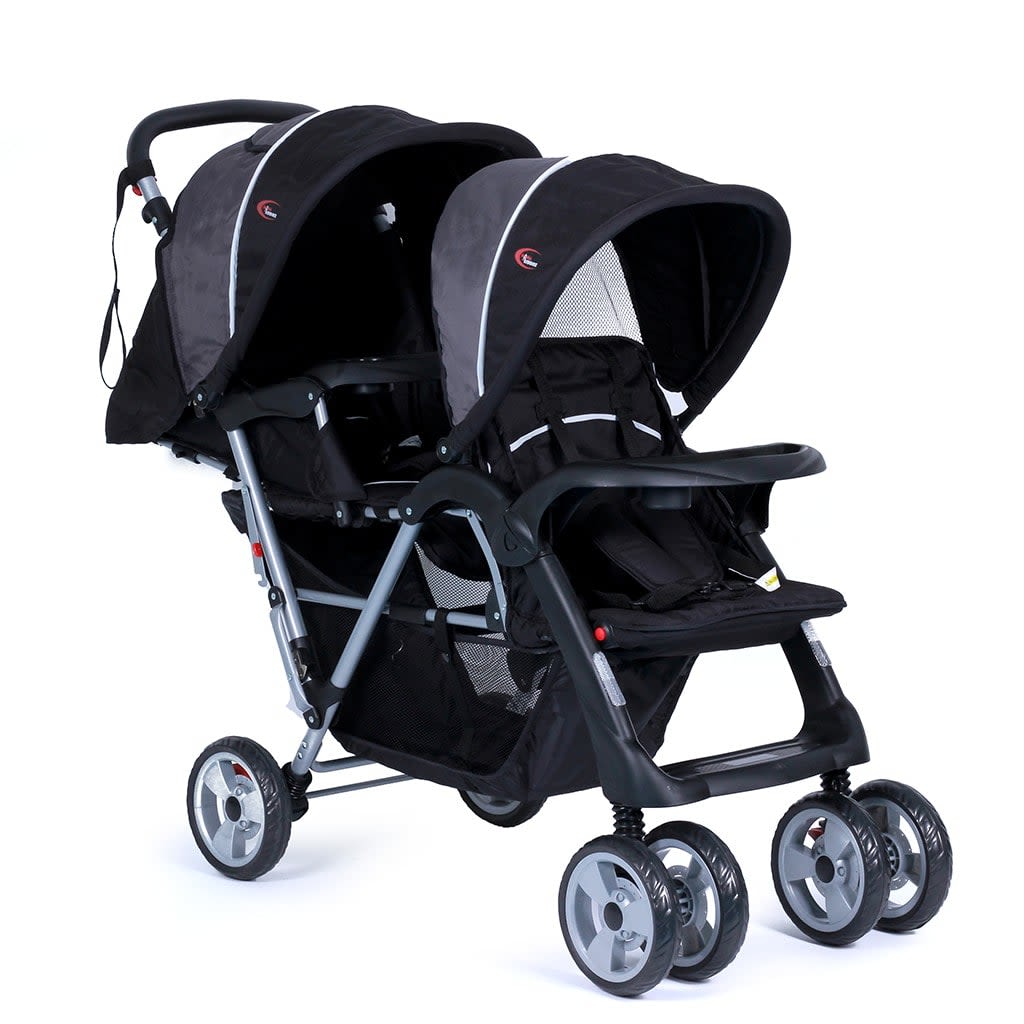 The Twin Tandem offers a huge storage space to keep both yours and your children's essentials when you're out and about with them. This stroller can support both a newborn and a toddler, and can hold up to 30kg of weight!
In terms of built and features, a 5 point harness is included for safety while the seats and footrest are adjustable to keep your young ones comfortable and happy.
---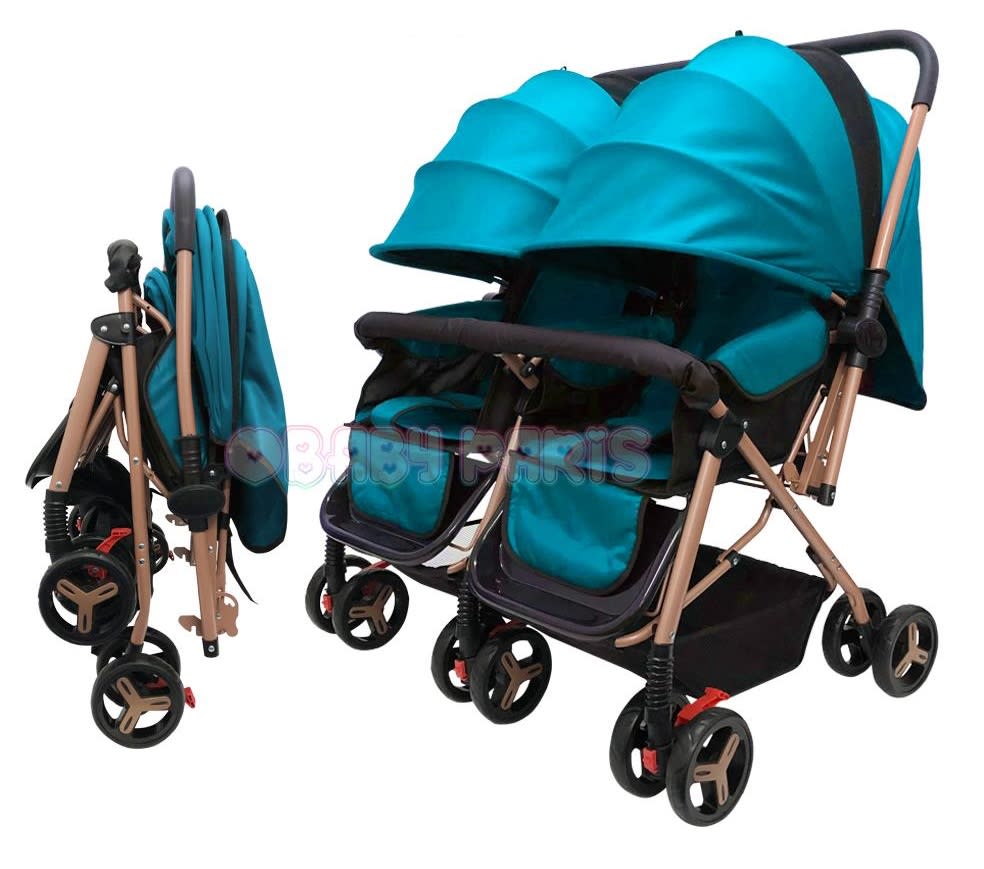 This lightweight and foldable double stroller is a bargain when you weigh in all the features and its price tag.
For starters, the double awning canopy offers UV protection and up to 5 levels of degree adjustment as a weather shield. Its Double Safety Belt feature is also built well to keep your babies safe and comfortable. Moreover, in case you need a break, the 360-degree rotatable wheels are lockable to keep the stroller from rolling away.
---
Not all double strollers have to be big, bulky and heavy. Weighing in at just 11kg, the Joie Evalite Duo is one of the lightest and compact tandem stroller on the market.
It comes with attractive features such as a sun canopy that blocks up to UPF 50+ and a retractable hood that contains a viewing window. Moreover, the wheels are equipped with several brake systems for emergency stops and whatnots.
But probably one of the best feature is that the stroller supports babies as young as from birth thanks to its seats that's reclinable into several degrees.
---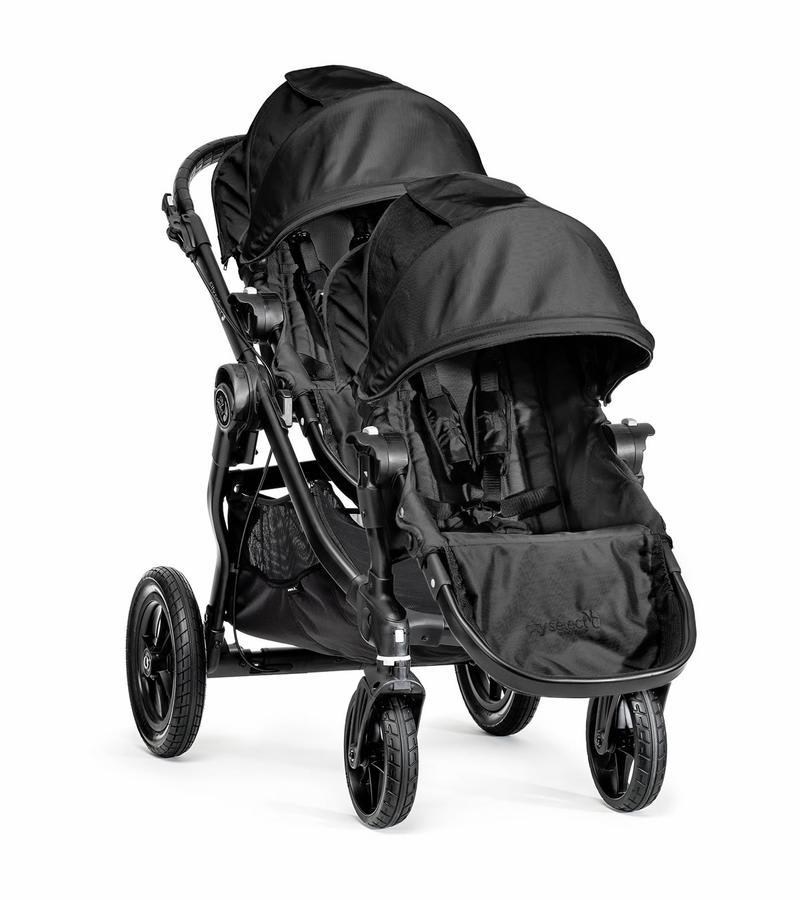 This tandem stroller system is equipped with a full coverage UB50 sun canopy to protect your twins from the sun when you go for a jog. Built ergonomically, there's no need to strain your wrists as the stroller features an appropriate hand-break system for easy manoeuvring.
Moreover, the stroller's side and spacious storage space lets you carry wet wipes, toys, diapers and all other essentials so you can technically go out without a bag!
---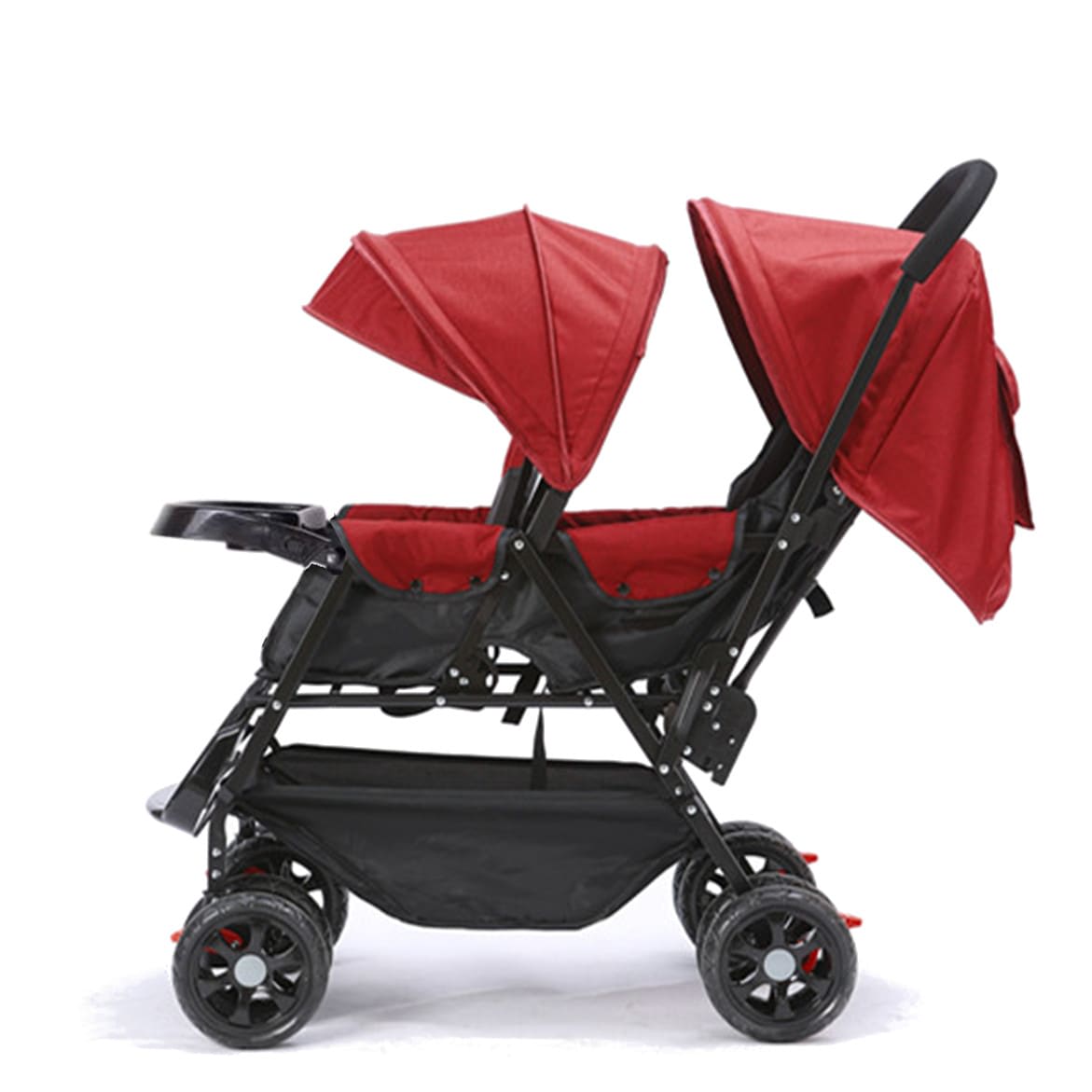 This budget-friendly double stroller will save your wallet without sacrificing on quality. It comes with numerous convenient and safety features such as a 5-point safety belt for both seats, and a food tray as well as footrest to let your toddlers eat and rest well.
The stroller is also easy to fold with just a click and has storage pockets at its canopy side. Best of all, your newborns are suitable to use the stroller up until they're 36 months old, as long as they're within 25KG in weight.
---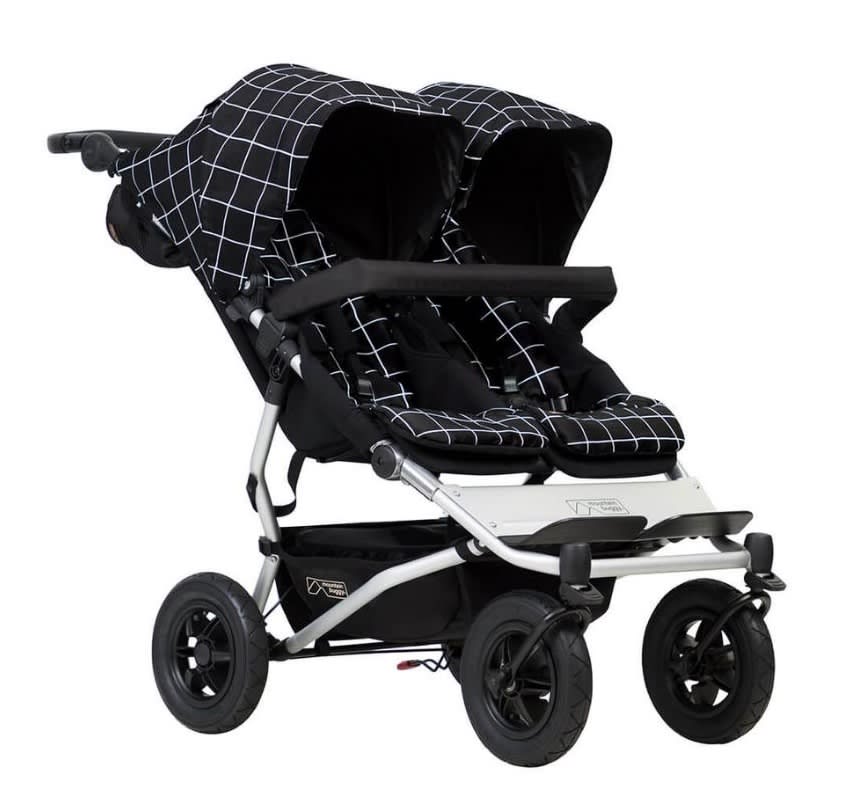 The Mountain Buggy is anything but complex. Designed with narrow 25-inch wide frames, the stroller has an automatic frame lock and easy-to-remove fabric attachments for folding it single-handedly into the car boot. As the name suggests, this stroller is sturdy yet light so you can manoeuvre easily whether you're hitting the streets or mountain trails.
---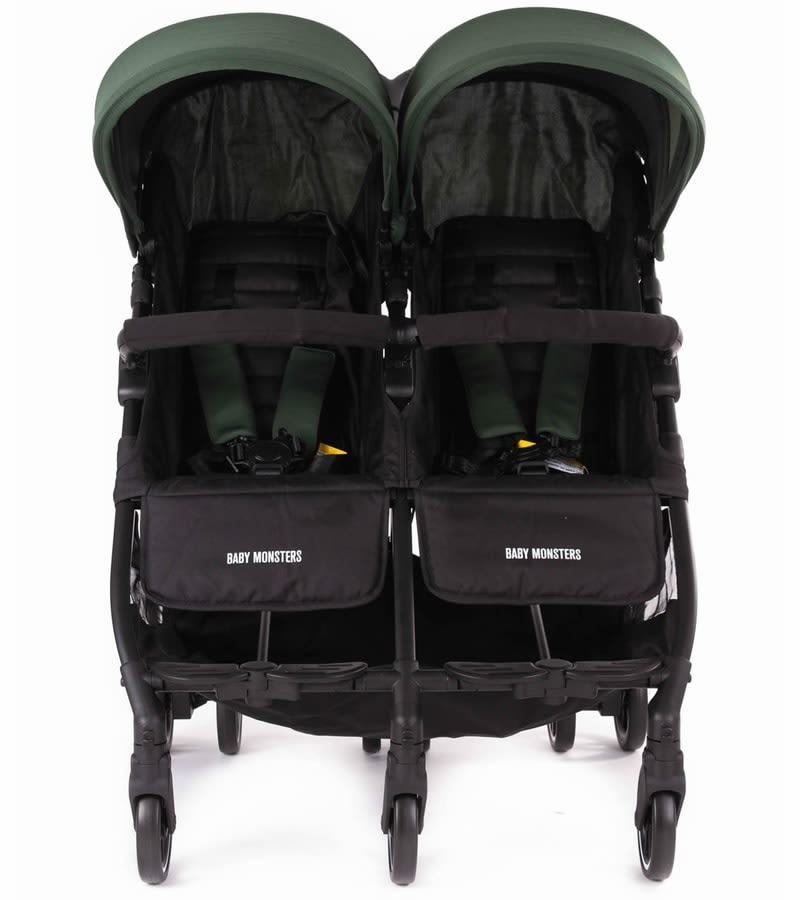 Don't want to hurt yourself or your babies when you manoeuvre them over bumpy terrains? The Baby Monster Kuki Twin Stroller is attached with suspensions on all of its wheels to resist rough terrains, so going on walks with your twins is smooth and breezy.
Out for a day trip? This stroller also comes with a UPF+50 long hood and has padded harnesses to protect your babies from a bumpy ride.
If those aren't enough, the wheels are made removable and anti-puncture. Moreover, the twin stroller is compact and can fit perfectly through elevators.
---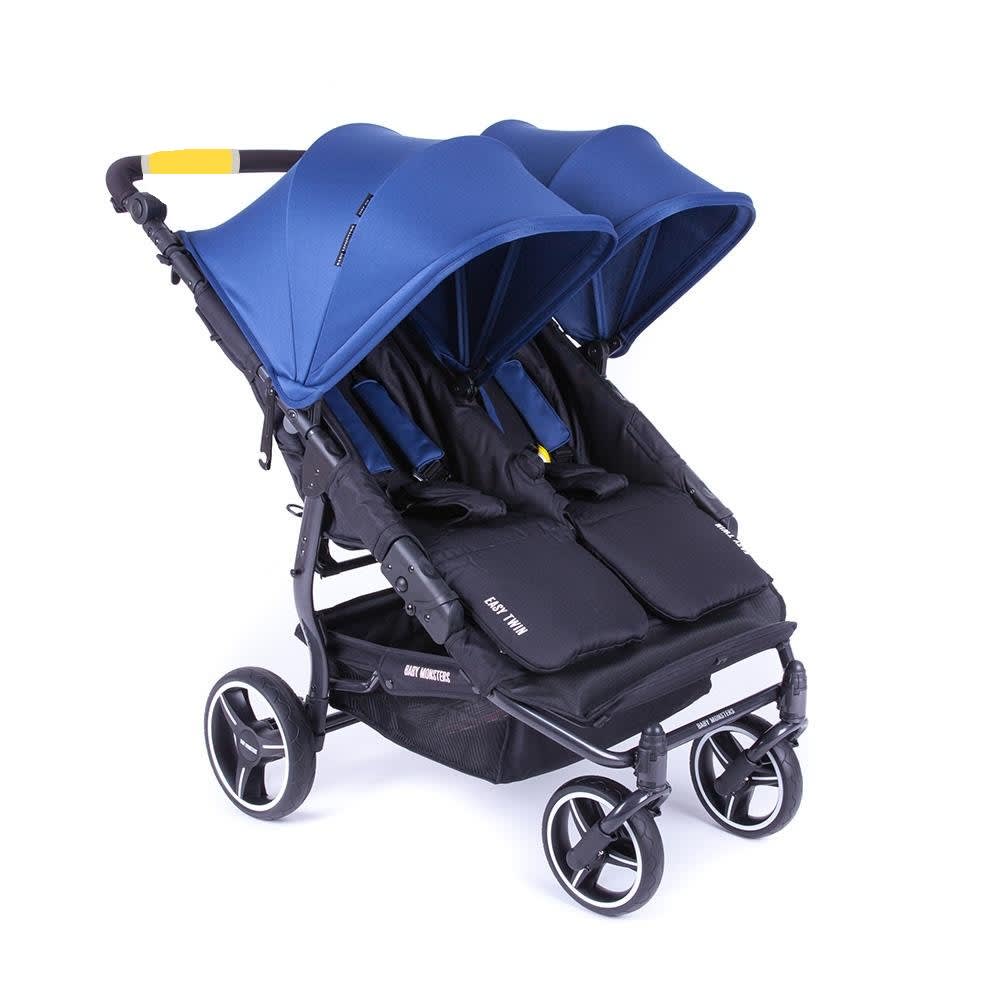 Most double strollers are just strollers, but with the Baby Monsters Easy Twin 3.0, you can easily convert it from a stroller into car seats. Not only are the carrycots easy to pack, but also easy to fix in place and remove without needing any extra accessories.
In terms fo safety features, the strollers have padded harnesses and 360 degree rotatable wheels that are made out of high-quality rubber as well as are anti-puncture feature.
---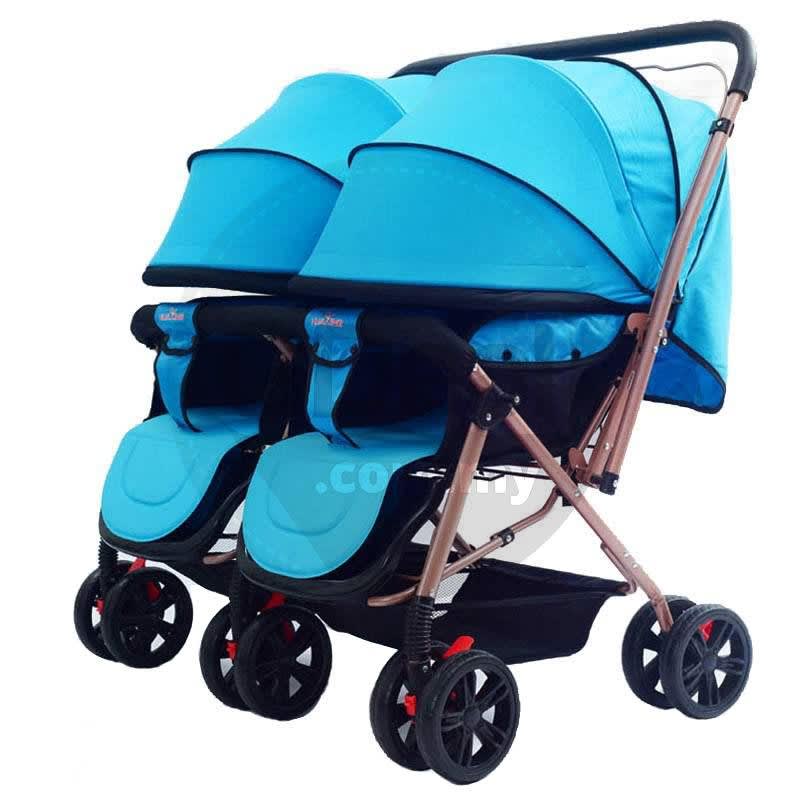 The Edens Baby Twin Stroller will fit well with wanderlust parents seeking to bring their newborn twins with them; it's light, compact and easy to operate.
Equipped with a mosquito net and mattresses, your twins can stay snug and comfy while you enjoy the outdoors. The materials are also non-toxic, with its canopy made breathable with easy ventilation to give your babies a comfortable holiday.
---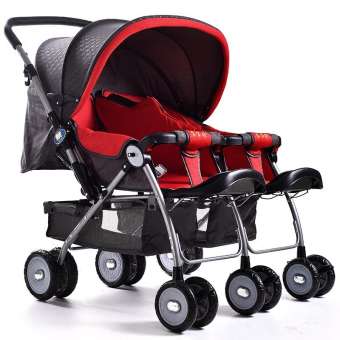 It's a rule that the bigger the wheels, the sturdier and less bumpy a ride is. That's the same for strollers, such as the Horse Hooves Baby Stroller which has big wheels compared to others so you can overcome curbs and rough terrains.
This stroller is not only built sturdy but also easily foldable to save you from all travel hustles. Besides being equipped with a huge sun hood and storage basket underneath the seats, parents can interact with their twins easily as it is a two-way stroller.
---
Disclaimer: The pricing shown is just a good indication of how much these products are worth. The prices could change based on the e-commerce promotions that are going on. If some of the products are not available, do email us at [email protected] Thanks!