If you are a regular badminton player or even a novice, you would pay attention to a few things before the game: outfit, shoes, and racket. However, a lot of people seldom think about the shuttlecock they'll be using and understandably so since it's just something to hit across the net, right? Wrong. 
Have you noticed that when you are playing outdoors that you have to exert a lot of energy into getting the shuttlecock even across the net? Or that you never seem to be able to achieve that impactful smash despite a top-notch racket? If so, it may be time to look into getting some good-quality ones. 
This article aims to provide you with a few quality brands that made it into tournaments. Like Lee Chong Wei level matches, too.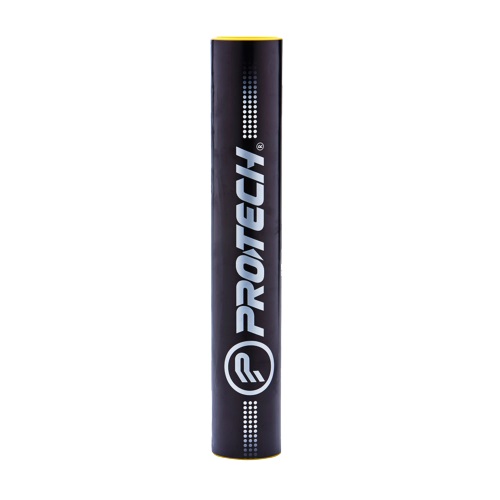 Check Protech Platinum price below:
add_circle
Consistent flight
add_circle
Nice packaging tube
Why It's Our Top Pick?
Here's a shuttlecock that lets you get used to the feeling of badminton. Whether you're a beginner or someone with more experience playing the game, the Protech Platinum gives you great flight stability while also being durable enough to last you multiple games before you need to take a new one from the tube.
Apart from that, the trajectory you get with this shuttlecock makes it great for when you're training for a tournament or when you're just having fun with the people around you. 
Overview
Protech Platinum features premium-grade Goose feathers and natural Portuguese cork, ensuring a realistic experience that closely resembles high-stakes matches. You can choose the speeds between 76-78 rating, so you can choose the control and responsiveness that suits you best, making it an essential companion for honing your skills.
Whether you're practising serves, smashes, or perfecting your footwork, the Protech Platinum Shuttlecock offers the reliability and performance you need to excel.
Details
Premium Grade Goose Feather

Natural Portuguese Cork

SPEED: 76-78

Consistent Flight Stability: A+

High Durability
Who is it for?
If you're someone who constantly partakes in badminton tournaments, you'll know that practice makes perfect. In order to hone your skills, a shuttlecock like the Protech Platinum would be just the right option for you. It's perfect for the dedicated amateur, competitive enthusiast, or professional in the making.
So, next time you're practising for a tournament or to get better in general, this shuttlecock is your best bet.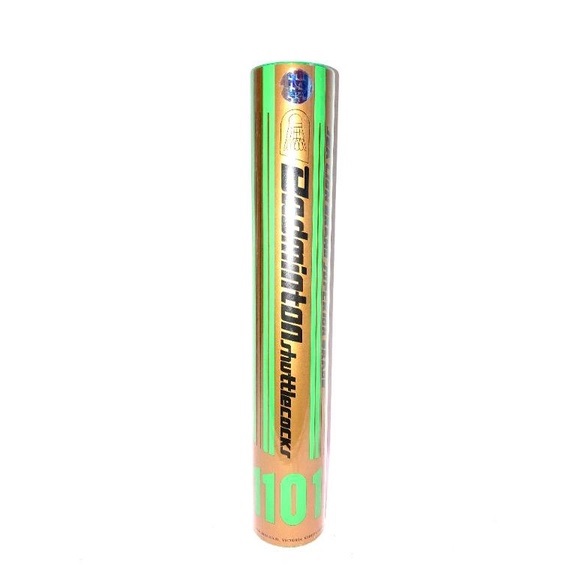 Check Sea Lion C1101 Gold Shuttlecock price below:
add_circle
Suitable for Advanced and Intermediate players
add_circle
Gives good flight
Overview
Sea Lion C1101 Gold Shuttlecock stands as a testament to quality, featuring selected Goose feathers that ensure every shot you make responds with precision. It gives you pretty balanced speed and control over every hit and shot you take, so you can play with more accuracy, especially with its good-quality cork head.
With a good flight rating and durability, it can also withstand the demands of intense rallies and swift exchanges. 
Details
Speed: 76-77

Selected Goose Feather 

Flight: Good

Durability: Good

High-Quality Cork Head
Who is it for?
For those who book indoor badminton courts regularly, you will need a shuttlecock to accompany your games, be it practice sessions or competitive matches. It's for players who understand the nuances of indoor play, the strategic decisions that shape every rally, and the finesse required to excel in this controlled environment.
So, next time you book a court with your friends or family, get this shuttlecock to give you a great experience.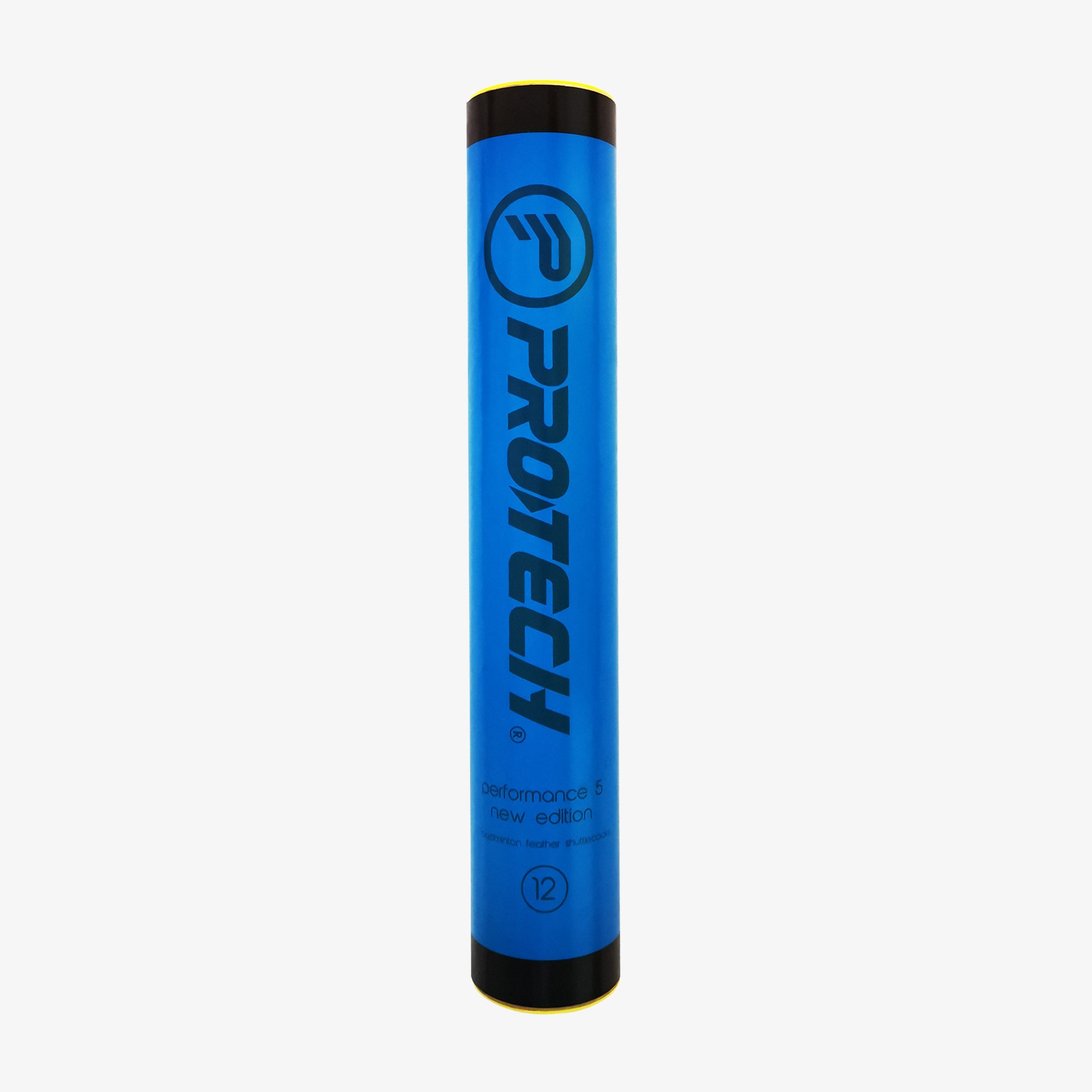 Check PROTECH Performance 5 New Edition price below:
add_circle
Offers good flight
add_circle
Good hitting feel
remove_circle
Not suitable for aggressive play
Overview
Made from selected duck feathers, PROTECH's Performance 5 gives you a good flight when playing with your friends. It's also durable so you don't need to worry about the shuttlecock feathers falling out too fast. 
Details
Selected Duck Feather

Natural Compress Cock

Durable

Good Flight

Recommended for Intermediate Players
Who is it for?
A durable shuttlecock that gives good air and flight when you hit it is something you need for those long badminton games. So, the PROTECH Performance 5 is a great option for you if you play a lot of badminton. However, it is not suitable for hard strikes and smashing.   

Check RSL Classic Badminton Shuttlecock price below:
add_circle
Good flight pattern
remove_circle
Not as durable
Overview
Made of top-grade feathers, these shuttles are 77-speed versions. It performs well in flight and retains in the air for a considerable time. The durability is good, and you'll get 12 shuttles in one tube.
Step onto the court with the confidence that every serve, smash, and volley will be executed flawlessly, especially since the RSL Classic Badminton Shuttlecocks are even suitable to play at altitudes of 73-81 high-altitude conditions. 
Details
Feather: Specially selected top premium Goose feather

Durability/Consistency: A

Flight: A

Level: International level play/ Major tournament

Suitable for 73-81 and High Altitude
Who is it for?
RSL Classic Badminton Shuttlecock is tailor-made for professional players and enthusiasts who take their badminton game seriously. These shuttles are one of the most widely used brands internationally – for a reason!
The flight and speed of the birdie are consistent and smooth. Besides, its durability makes the shuttle a good choice for training and tournaments, added to the fact that it is a feather shuttlecock.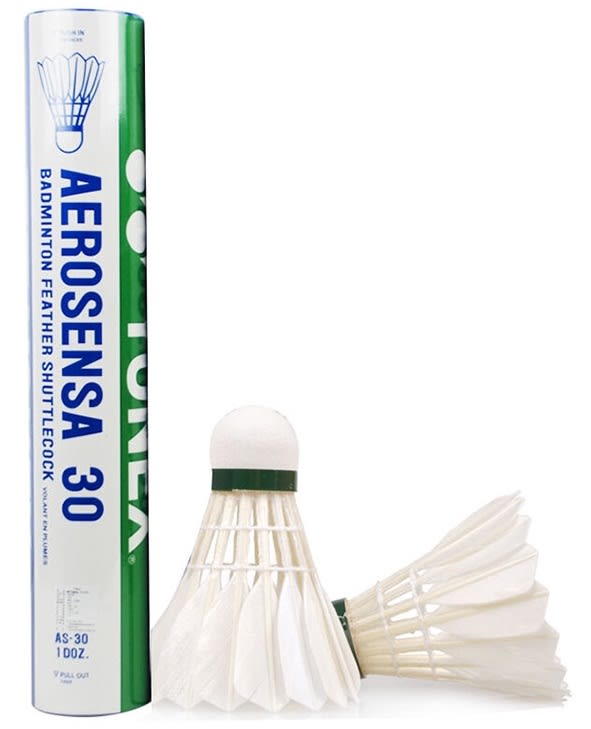 Check Yonex Aerosensa 30 Shuttlecock price below:
add_circle
Good overall flight and speed
add_circle
Worth its price
Overview
Crafted from 100% solid cork and Goose feathers, it ensures a consistent flight path that meets the highest standards of professional play. With a speed rating of 3, this shuttlecock strikes the perfect balance between control and agility, catering to the demands of competitive tournaments. 
Additionally, it is great for smashes, thanks to its A rating in flight and A+ in consistency. It also gives you a consistent flight path that meets the highest standards of professional play. One tube comes with 12 shuttles.
Details
Material: 100% Solid Cork, Goose Feathers

SPEED 3

Flight: A

Durability: A

Consistency: A+
Who is it for?
A good ol' favourite – Yonex. Made purely of goose feathers, these shuttles are what some would consider the holy grail when it comes to tournaments. They perform well in terms of speed and consistency, landing at a close radius to each other when tested. In terms of durability, it is as good as that of a regular goose feather birdie.
This makes it perfect for tournaments.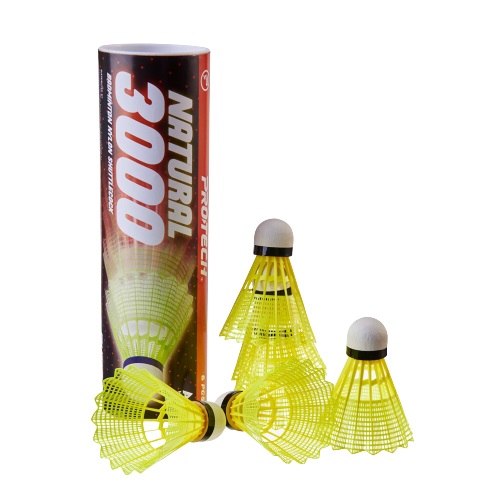 Check Protech Natural 3000 Nylon Shuttlecocks price below:
add_circle
Performance quite similar to a feather shuttle
add_circle
Suitable for training
remove_circle
Not suitable for more experienced players
Overview
Protech Natural 3000 offers consistent flight and durability, this is due to it being made from Nylon and Polypropylene. It makes it easier to handle and more importantly, it's more precise and accurate. So, you can properly learn the gist of the sport before you decide to switch to feather shuttlecocks.
The Natural 3000 only weighs 5 grams which strikes a balance between easy handling and controlled shots, making it perfect for practising. Another thing you'll appreciate is how its full natural cork gives you the feeling of an authentic playing experience, which will only further help you out in learning the sport.
Details
High-quality Polypropylene and Nylon

Full Natural Cock

1 Tube: 6 pieces 

Weight: 5g

Recommended for Training and Social play
Who is it for?
For those who are new to this challengingly fun sport, you might find that feather shuttlecocks can be hard to get used to. That's because they are super responsive and react to even the tiniest touch, which is great for pros who've got those ninja-like skills, but for us newbies, it can be a bit overwhelming.
This is why a nylon shuttlecock like the Protech Natural 3000 would be more forgiving and help you build up those skills before you take on the feathered counterpart.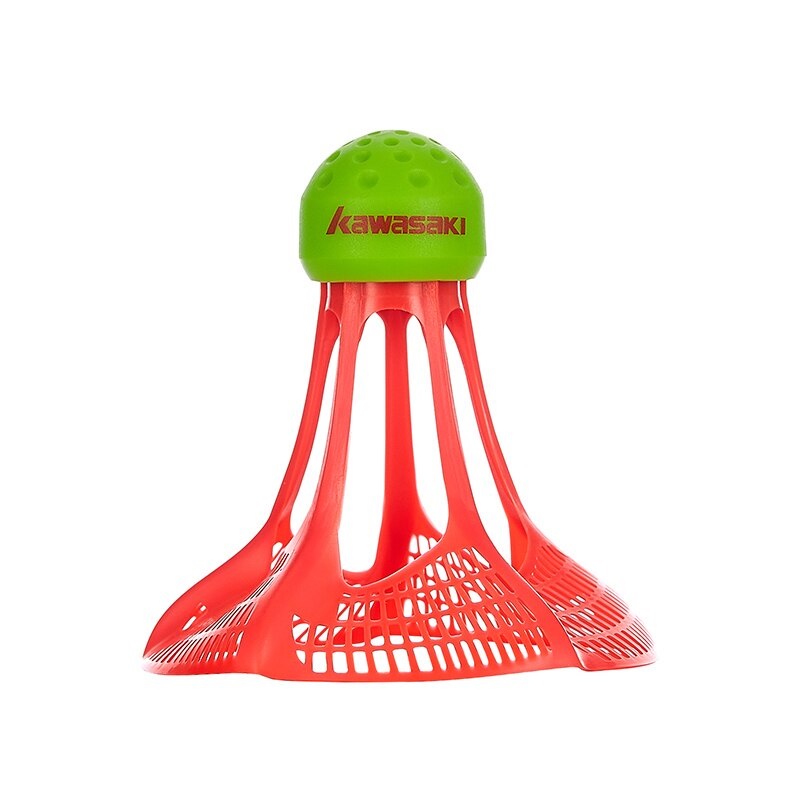 Check Kawasaki Air-Shuttlecock price below:
add_circle
Easy to see colour
Overview
Kawasaki Outdoor Air-Shuttlecock was specifically designed for accurate shots in challenging weather in strong winds. It achieves an outstanding flight rating of A, guaranteeing a steady and predictable trajectory even in gusty winds. This is especially true with its speed rating of M which allows for better control and agility over the shuttlecock.
Crafted with a high-impact polypropylene body and a Nano elastomer head, it's equipped to withstand the rigours of outdoor play. 
Detail
Flight: A

Speed: M

Body Material: High-impact polypropylene

Head Material: Nano elastomer

Wind Resistant Design
Who is it for?
Strong winds are very common in Malaysia. But at the same time, it's always fun to play badminton outside. So, getting a shuttlecock that is capable of handling wind is something that you definitely need for extended fun, which is why we recommend the Kawasaki Air-Shuttlecock.
Not only is it specially designed for windy conditions, but it also comes at a more budget-friendly price that you cannot resist.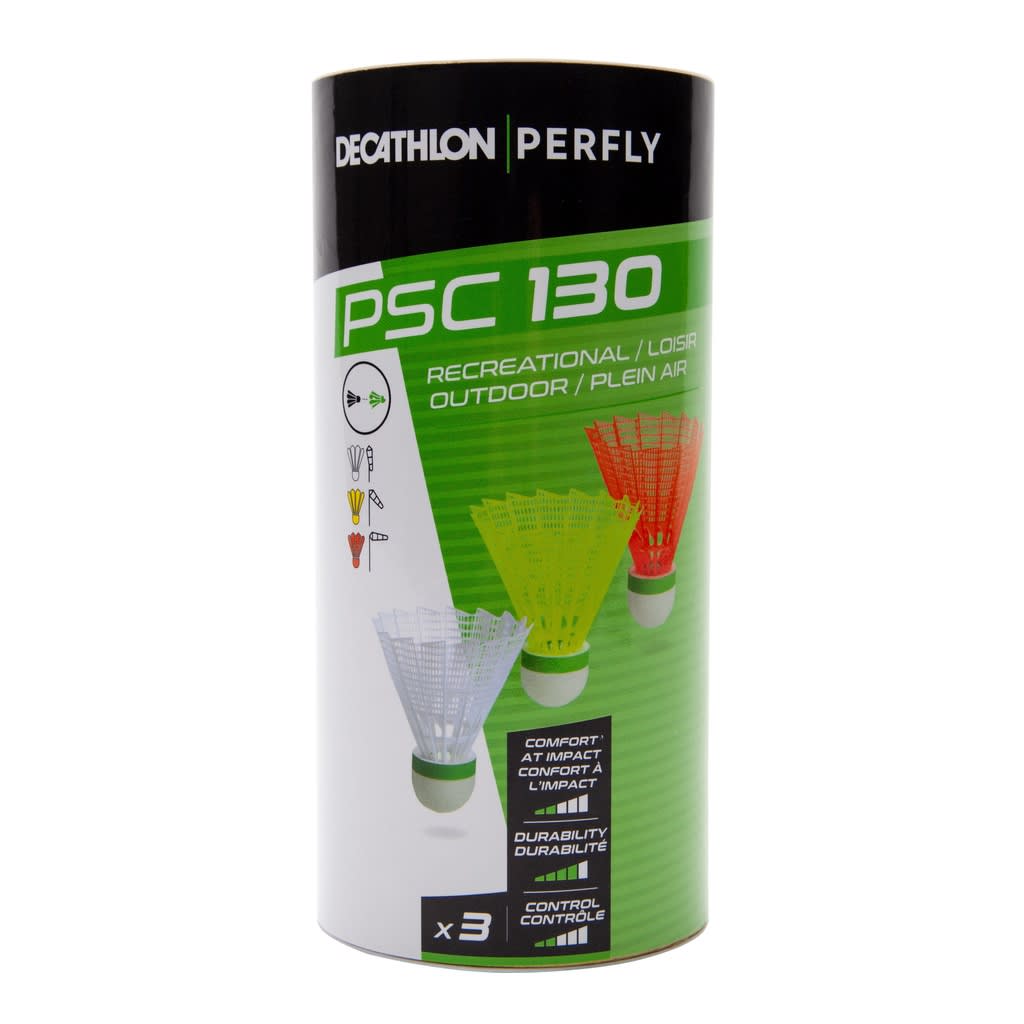 Check Decathlon Badminton Plastic Shuttlecock (Wind Resistant) - Perfly price below:
add_circle
Can be played in heavy winds
add_circle
Bright colours - easier to see
remove_circle
Some might find it heavy
Overview
The Decathlon Perfly Plastic Shuttlecock is made from a Nylon shuttlecock skirt and a Thermo Polymer Elastomer head, which means it is suitable for outdoor playing so another windy day will never ruin your match again.
Another great thing about it is that it comes in different colours and each is suitable for different wind speeds. The colours make it easy to spot in the case that the shuttlecock is sent flying further out due to extremely strong winds.
Details
100% Nylon Shuttlecock Skirt
100% Thermo Polymer Elastomer Shuttlecock head
White shuttle: for very little wind
Yellow shuttle: for moderate wind
Red shuttle: for strong winds
Who is it for?
It was always a childhood memory to play badminton outside. But, there was always the issue of the wind blowing the shuttlecock too high or too far away, even to the roof sometimes. But, the Decathlon Perfly is pretty weighty so it doesn't go too high or too far when there's wind. 
---
- How to choose a shuttlecock?
The most important aspect to bear in mind when choosing a shuttlecock is where you plan on using it and its purpose. Shuttlecocks are categorised according to weight and speed on a range of 74-79. The smaller the number, the lighter and slower it is. 
So, if you are playing at an area with a higher altitude with lower density air and a higher temperature, you can get a slower shuttlecock as there is less air resistance. 
The type of material used to make the shuttlecock is also an important consideration. There are three main types of material – goose or duck feather, plastic or nylon, and hybrid. 
Goose feather shuttlecocks are top grade, usually used in tournaments. However, its durability is not as high as plastic shuttlecocks. If you play on a recreational level, the latter should be a satisfactory choice, as it is also cheaper. Nylon shuttles are speedier, so they work well in windy areas. 
---
Anyone else thinks shuttlecocks look like pai tee?
Related articles