Realistically, Malaysia might not be the most picturesque setting for a Christmas-themed party but that does not mean you can't still get into the holiday spirit.
We may not have snow or an abundance of pine trees but alternative decorations can easily be bought. Want to amplify your space this Christmas in Malaysia 2021? Then this list of 50 Christmas Decorations is perfect for you.
We have everything that you'll want to decorate your house with, indoors or outdoors. Here, we bring you ideas and decorating styles as well as ornaments and light recommendations this holiday season.
Table of Contents
---
More:
---
Christmas Decorations for Indoor/Home 
Wish to decorate your home just like the ones you see in Christmas movies? Well, you can easily achieve that by giving it a taste of these simple yet elegant Christmas décor.
A gorgeous tree decorated with wooden ornaments, candle lights, brightly coloured baubles, and topped off with a classic yellow star will give your home a rustic Christmas feel.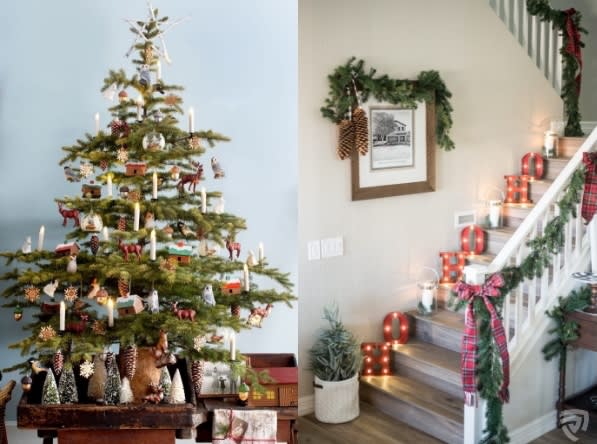 Don't forget to embellish your stairwell too. Make it stand out with Christmas vines, twinkle, and marquee lights, as well as a lovely family photograph in a tasteful frame. Feel like you're on the set of a heart-warming family Christmas movie with these charming decorations.   
Christmas Decorations for Office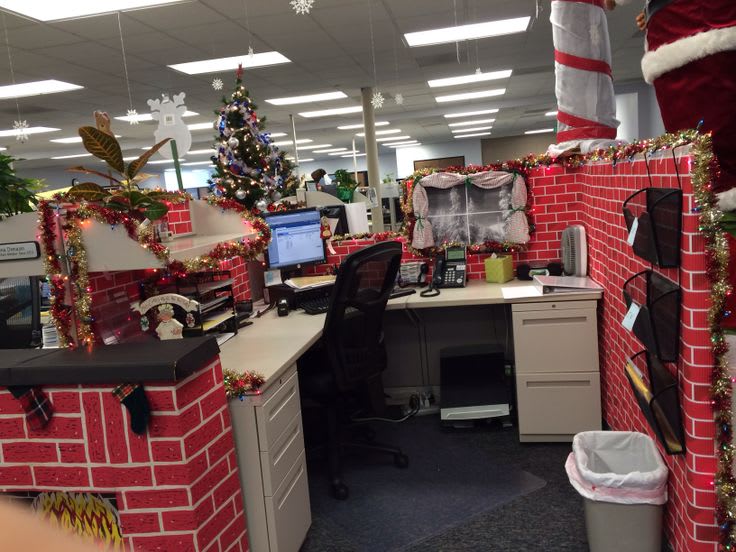 Decorate your workstation with a Christmas-themed wallpaper, stockings, a mini tree, and other knick-knacks to get you excited even at work. You'll start feeling the Christmas joy once your workstation is decked with beautiful décor. You might even inspire your colleagues to get in the spirit too!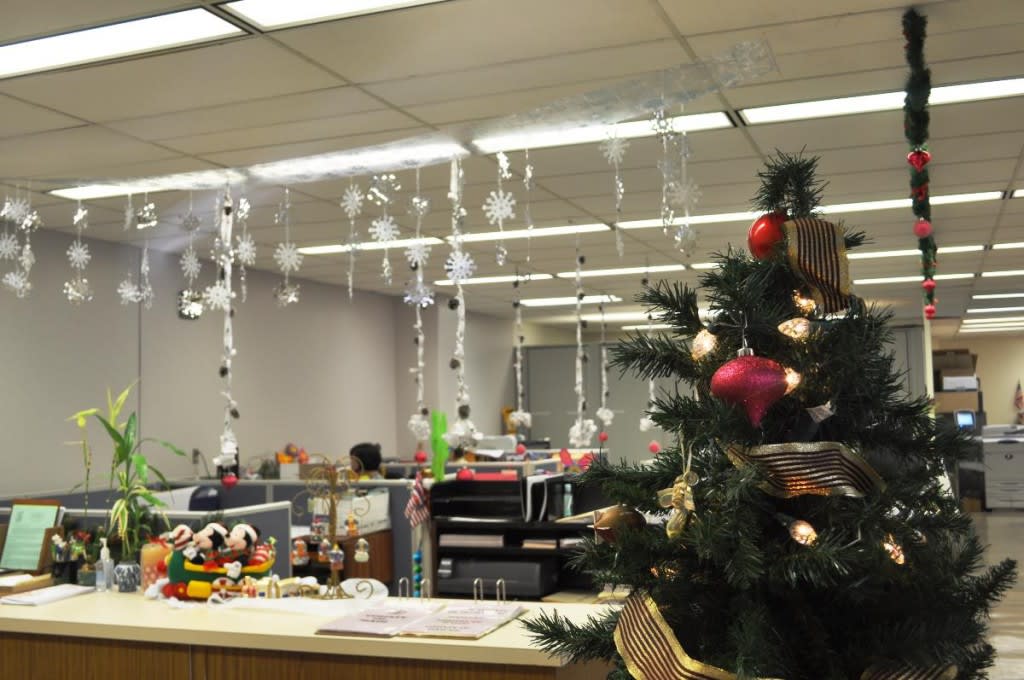 Moreover, if there's going to be an office Christmas party, why not add a pop of festive colour to the space with rainbow streamers, fairy lights, and Santa-themed décor. Putting these decorations up and celebrating with your colleagues will truly be jolly then! 
Christmas Decorations for Church
To keep the Christmas spirit alive in every nook and cranny of the church, why not start with adorning wreaths cascaded with red ribbons on the church windows? The vibrancy of the red poinsettias at the altar adds to the festivities whereas the greenery of the ivy garland on the pillars gives off a wholesome vibe. 
Instead of extravagant decorations on your Christmas tree, we can't recommend enough a simple pine tree decorated with only fairy lights which is a fairly pleasant and soothing sight to adore.  To give the altar some Christmas cheer, consider a wonderful combination of red poinsettias, clear candle holders, golden jingle bells, and artificial pine leaves scattered across the altar.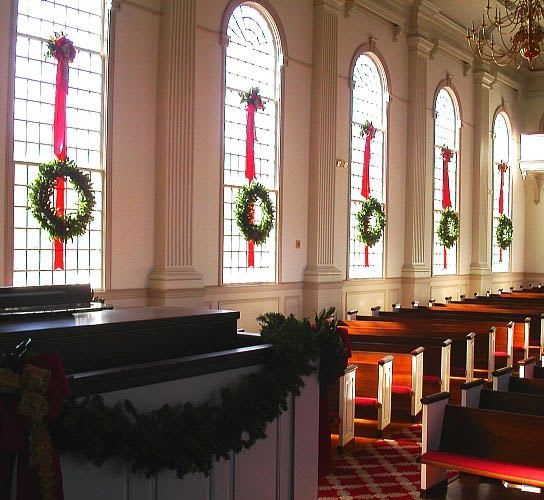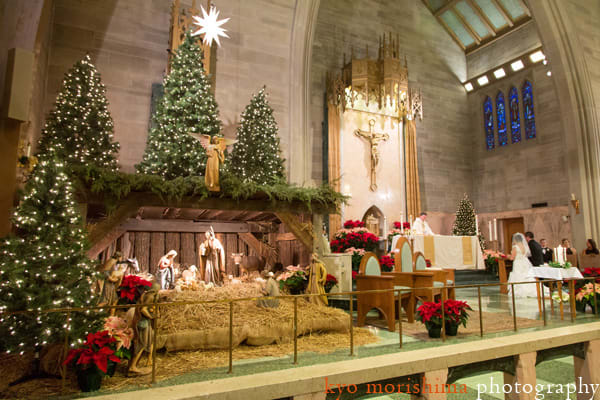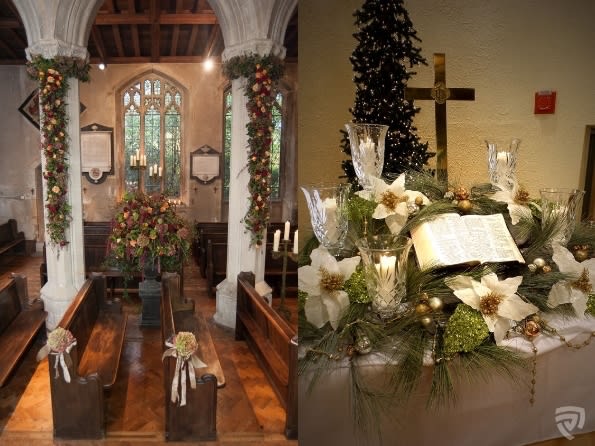 Christmas Decorations for Dining Table
Wow your dinner guests with this Country/Farm House-inspired dining table. The elegant wooden placemat serves as an earthy complement to the Christmas-themed plates. With a red pickup truck and mini trees as centrepieces, the sight is sure to put a smile on the faces of your dinner guests. 
For a simple yet classy vibe to your Christmas dinner, have some clear candle holders and ornaments along the centre of the table. While you're at it, have the plaid table runner and napkin subtly tied in neatly to complete the whole look.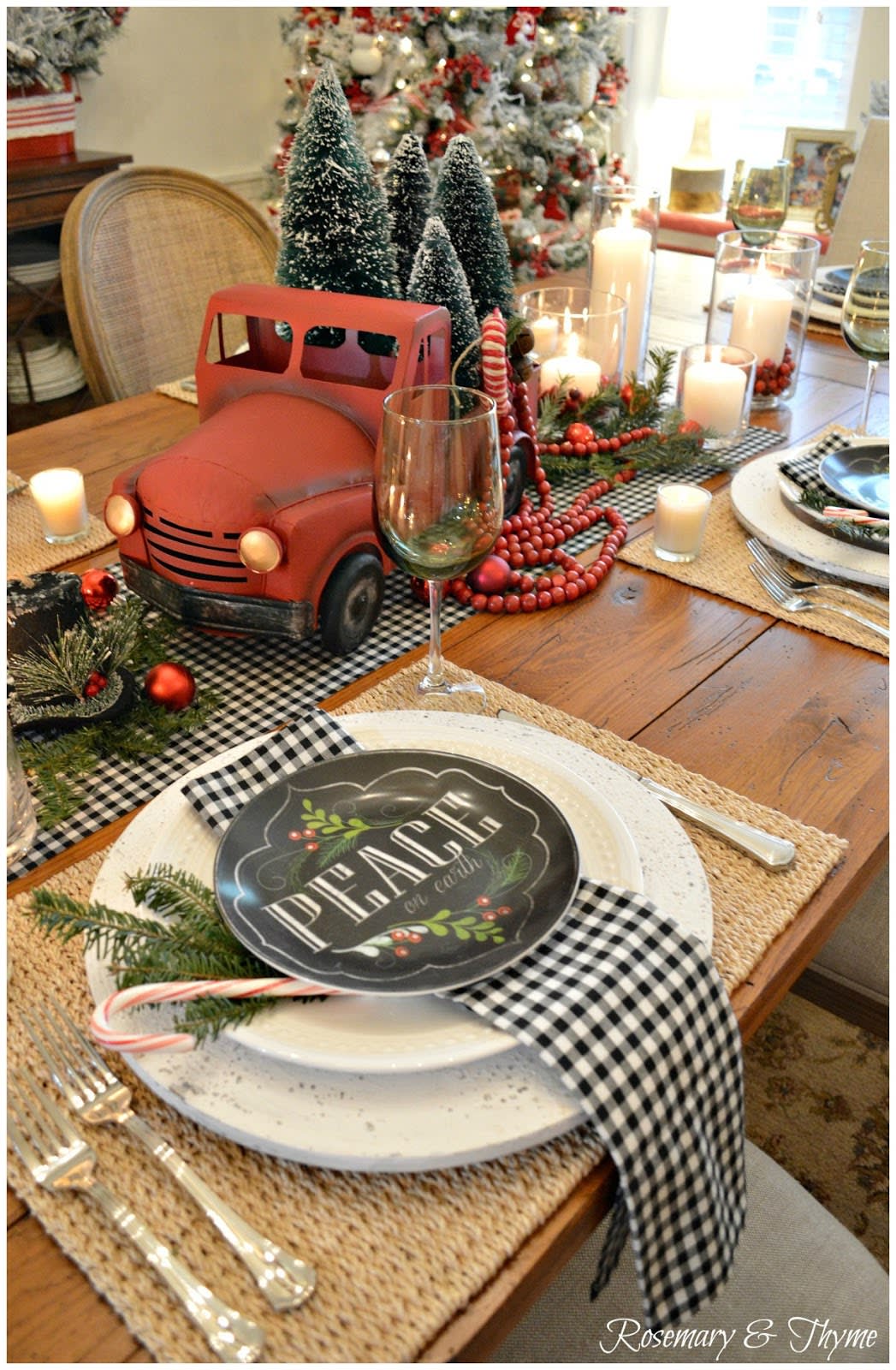 Christmas Decorations for Outdoors
Nothing says Christmas more than a classic combination of beautiful wreaths hanging on the doorway with garlands twisted around the house pillars. A large Christmas tree decorated with simple ornaments and faux presents underneath it is sure to be a show stopper in your neighbourhood. 
Apart from stringing the wreath and the garlands with lights, have glowing gifts laid around to add a nice sparkle to your porch too. Plus, flanking the front door with different kinds of lanterns filled with a candle will beautifully illuminate the porch at night.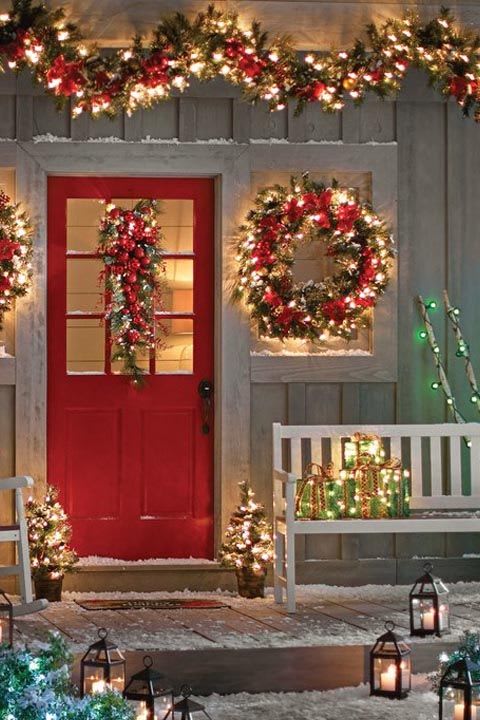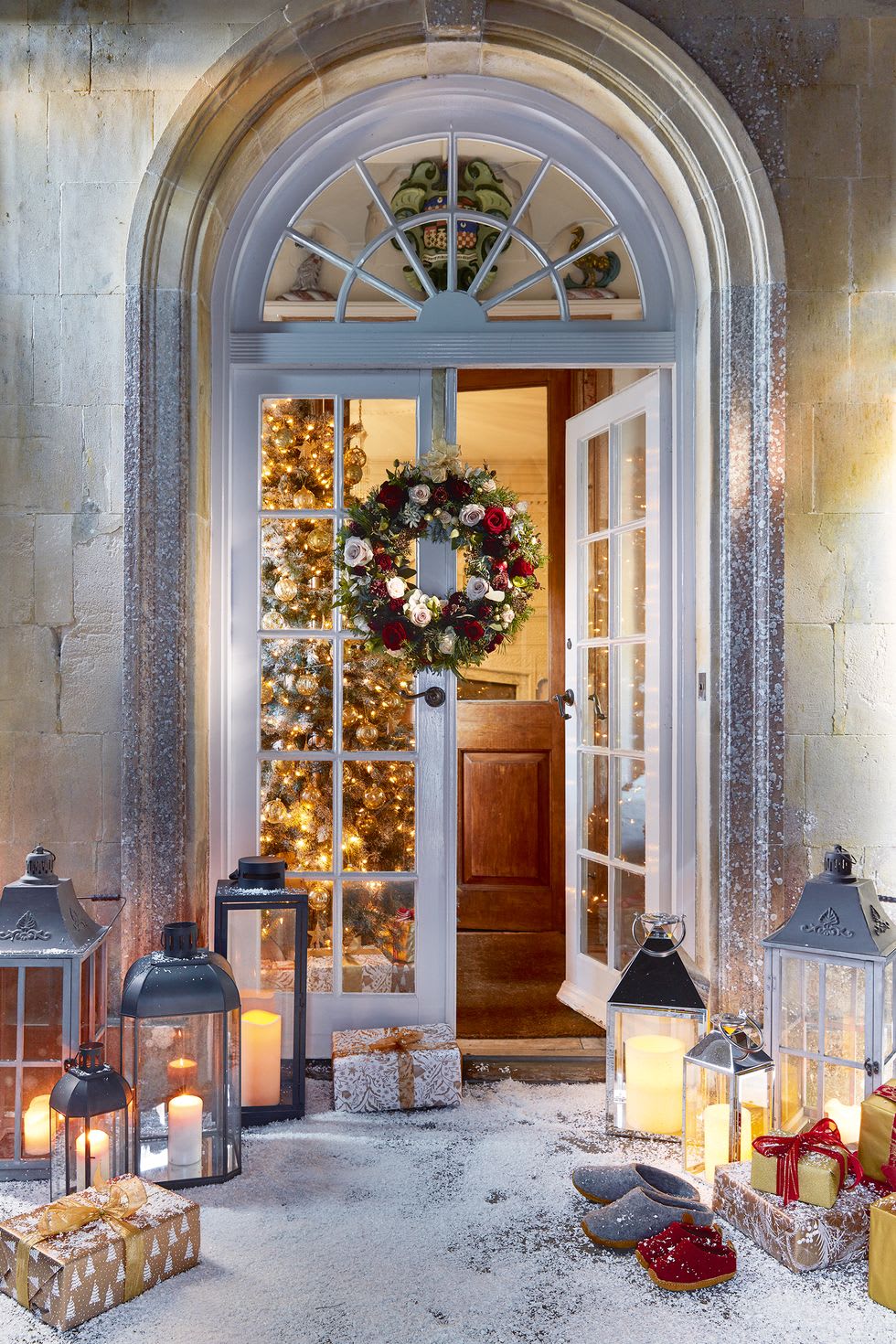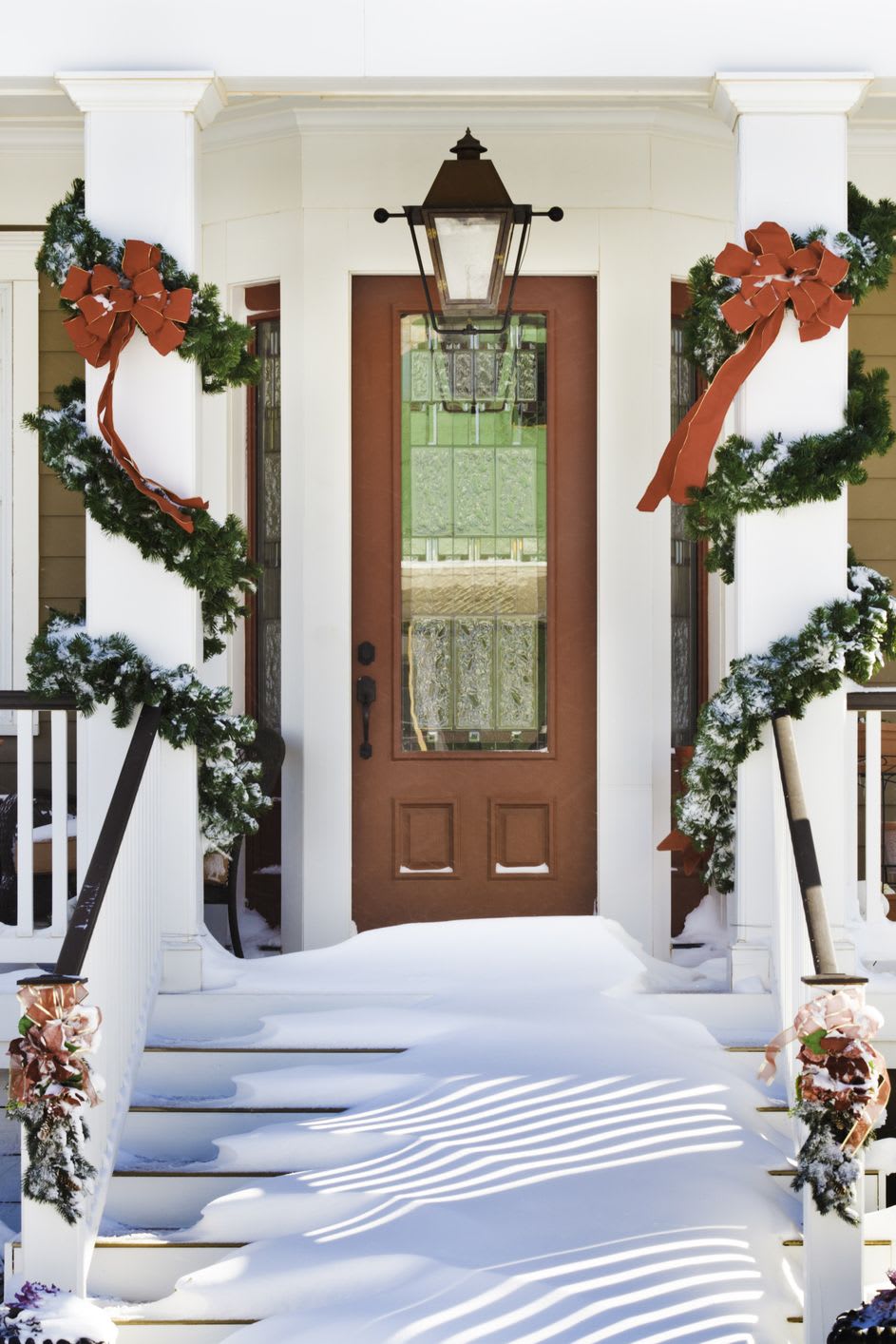 Related articles