The best time of the year is nearing us, and soon everywhere will be decorated with the familiar sight of Christmas trees and paraphernalia. Why not get ahead of the others and start shopping for the best Christmas decorations now? Even if you aren't big on decorations, you can't make do without a Christmas Tree!
But then again, you might think where to buy Christmas trees in Malaysia? It's not like these festive delights are available on every street corner, right?
Worry not, cause we've got your back! We scoured high and low for interesting Christmas tree shops to find the most splendid and enchanting trees that Malaysia has to offer.
With that, we're wishing you Merry Christmas with this compiled list of the best Christmas trees up for sale in Malaysia for you to choose from this jolly season. 
---
Top 12 Christmas Trees in Malaysia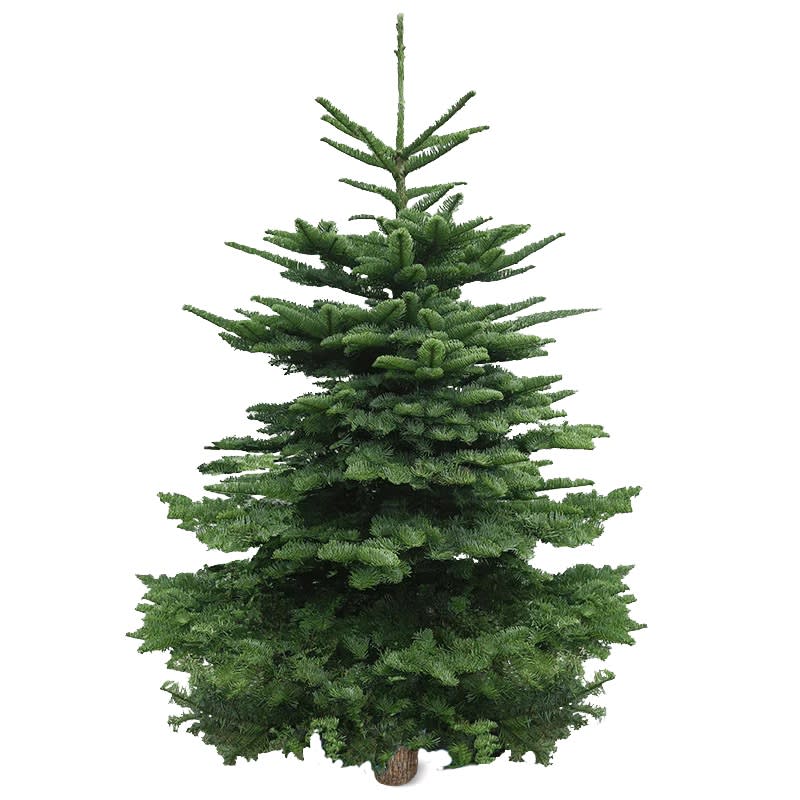 Check FarEastFlora Real Christmas Tree - Premium Grade Noble Fir price below:
add_circle
Fun experience
remove_circle
Shedding needles can be messy
remove_circle
Can carry allergens
Overview
O' Christmas tree, how good you make the house smell!
Whoever said we don't have live Christmas trees? Introducing FarEastFlora's Real Christmas Trees! This premium-grade noble fir has European origins, and since it's a natural farm-fresh product, every tree has individually unique characteristics in its shape and fullness.
It's definitely going to smell like a crisp, fresh Christmas in your home with this tree, so if you're a fan of the natural fir scent, this is a great option!  
Details
Height available

: From 9 to 10 feet (Estimated 300 cm)

Tree type available

: live from Europe; premium-grade noble fir 

More info

: Comes without tree stand; delivery charges start from RM 80 
Who is this for?
If you have a green thumb and are enthusiastic to care for a real fir tree, this would fit your house perfectly.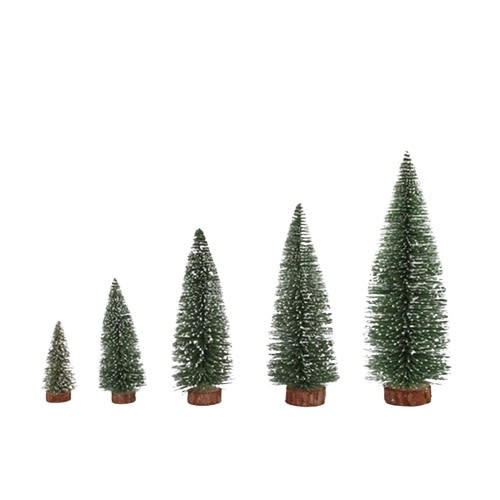 Check Mini Christmas Pine Tree Decor price below:
add_circle
Easy to store away
Overview
If you lack the space for a full-sized tree, why not try a mini Christmas Pine Tree decor? These adorably-sized mini trees have 'snow-covered' tips, giving you that white Christmas feel even while in Malaysia.
Decorate them with tiny baubles or other decorations of your own and it'll be the cutest tiny addition to your living space. 
Details
Height available

: 10cm, 20cm, 30cm, 35cm

Tree type available

: 3 other heights available

More info

: Recommended to get a few different heights to create your own "Christmas tree garden"  
Who is this for?
Because of its mini size, this tree is perfect if you lack any extra space for bigger Christmas trees, yet still want to decorate your home accordingly.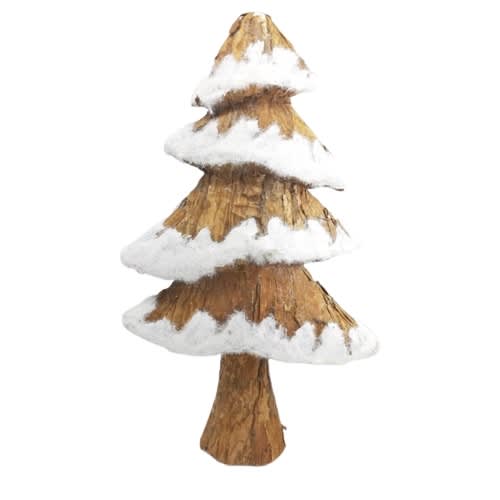 Check Wooden Christmas Tree price below:
add_circle
Low maintenance
Overview
Last Christmas I gave you my heart, and the very next day you gave me this wooden tree. Wait, what?
Amongst the many green Christmas trees available, a unique one that would surely stand out is this Wooden Christmas Tree. Although it can't be decorated, the tree requires none of the frills, as it is a special decoration on its own.
It also has a hand-carved look, giving the illusion that it could be custom made, as well as blends in nicely amongst a wood aesthetic. 
Details
Height available

: 40 cm

Tree type available

: Wooden tree

More info

: Shop also sells other various Christmas decorations 
Who is this for?
Among the many types of Christmas tree out there, this one will definitely stay in the memory of your guests for how amusing it looks. This tree is great for those who want a change from the usual traditional Christmas trees.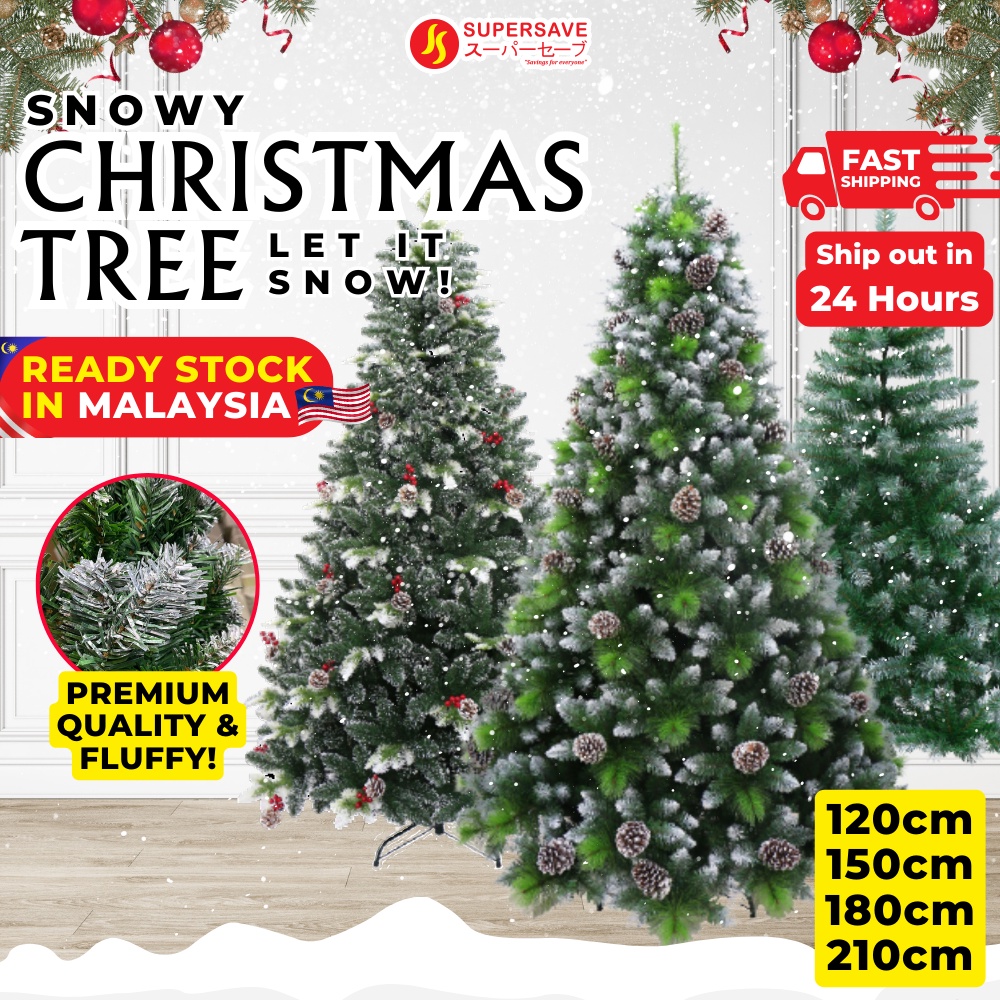 Check SUPERSAVE Christmas Tree Snowy Decoration price below:
add_circle
Easy to assemble
add_circle
Comes with tree stand
Overview
It'll be a Holly Jolly Christmas with this tree in your home.
Sure, traditional green Christmas trees are nice, but it's even better when it comes with additional pinecones and cherries. 
This Snowy Christmas Tree has white-frosted tips on its leaves, as well as pinecones and cherries scattered throughout to give it a complete snowy look. All you need to do is throw on some fairy lights and other baubles, and you'll have a nicely decorated Christmas tree. 
Details
Height available

: 120 - 210 cm

Tree type available

: Soft leaf, Dark Pine, Cherry Snow and Snowy 

More info

: Easy-to-hinge structure with branches for quick assembly and disassembly when needed  
Who is this for?
As simple as it is, this tree is great for those who like fuller looking trees and want to save on some decorations.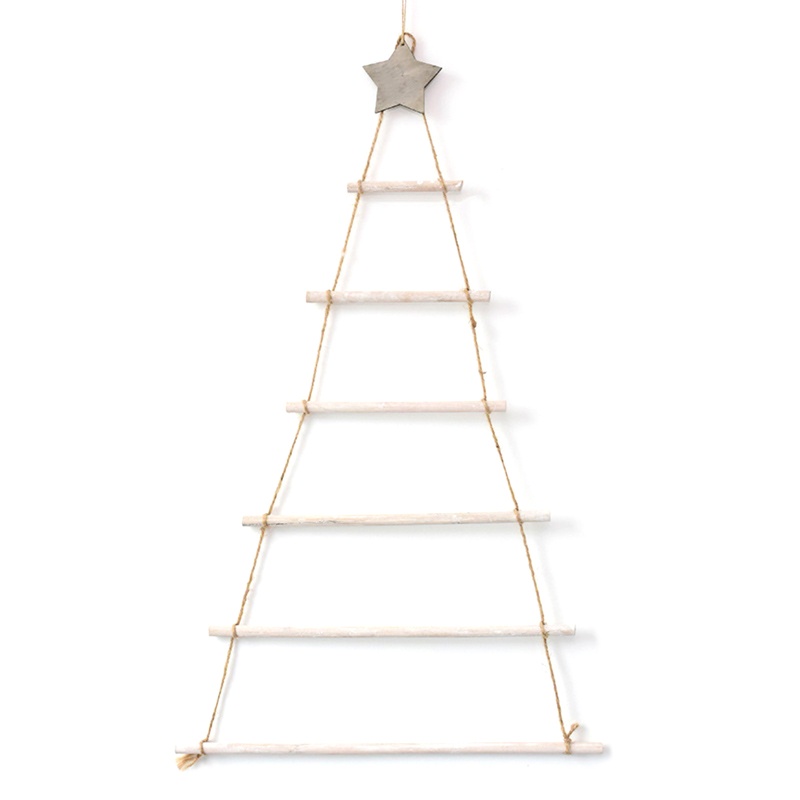 Check Nordic Style DIY Wooden Christmas Tree Wall Decoration price below:
Overview
Now here's another alternative to traditional floor Christmas trees - a Nordic Style DIY Wooden Christmas Tree. 
This hanging wooden Christmas tree isn't like your usual tree, as it's meant to be hung up on your wall which saves space as well as physical effort to set up. And because it's not a sticker, it's unique enough to catch the attention of your guests.
With a minimalistic rustic style, this set also comes with decorations for you to style your tree exactly like how you see it in the pictures, saving you the time needed to think of ideas. 
Details
Height available

: 55 x 80 cm

Tree type available

: Wooden

More info

: Other set with different designs available, or just the wooden rack alone 
Who is this for?
If you're pressed for time with decor, then just get this as your complete Christmas tree decoration in Malaysia that is not only uniquely designed but also minimalistic. Lovers of the designs or for those who lack floor space to put a tree can try this simple tree. What's fun is that you can also hang lights or additional decorations of your own onto it!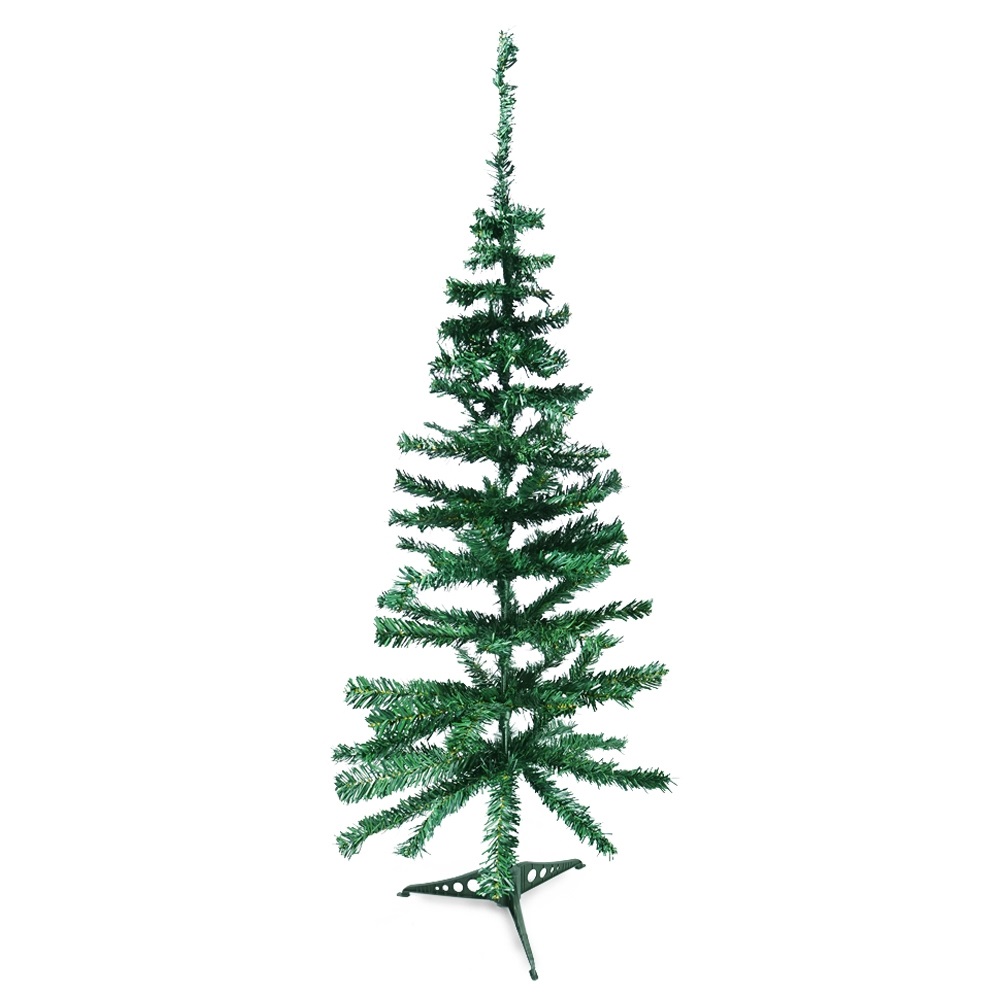 Check Christmas Tree with Detachable Stand price below:
add_circle
Small and space-saving
Overview
Sometimes when you live alone or with a few housemates, all you need is a Christmas tree that does not swallow all your savings. This Christmas tree from Hinode will look just as great at your apartment and is available in two variations – white tip and green – to suit whichever holiday mood you're aiming for.
But if you think the tree is too simple and wish for a complete festive experience, their shop also offers a wide range of affordable ornaments to complement your tree beautifully. 
Details
Height available

: 120 cm

Tree type available

: White tip and Green

More info

: Garland, ornament and LED light are also available on their shop
Who is this for?
Another advantage of choosing a simple Christmas tree is that it's always easy to set up and disassemble should you need extra space. Because it has fewer tips, you just need fewer ornaments to achieve a full and festive appearance.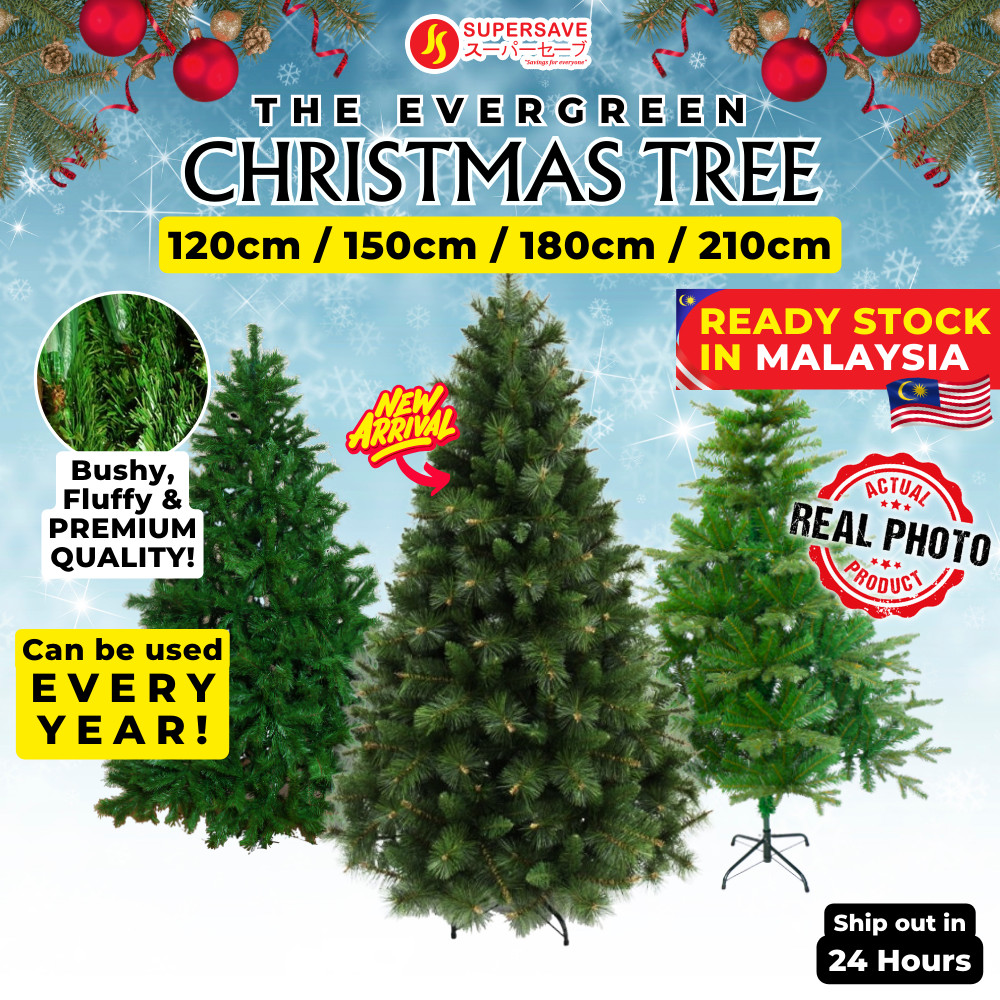 Check Supersave Plain Christmas Tree price below:
Overview
Sometimes, not every tree has to look flashy and gorgeous at first glance. In fact, there's a certain charm in simplicity. By choosing not to not pack your trees with ornaments, you can let your creativity shine with those you already have from previous years, creating a nostalgic and heartfelt display that tells the story of your family's holiday traditions.
Having said that, this Christmas tree keeps it simple for your preference. It comes with green plain, soft PVC leaves should you still have preferences over how your tree should look and feel, and how much you plan to spend on one. 
Details
Height available

: 120 - 180 cm

Tree type available

: Green Plain, Soft Leaf and PVC Leaf

More info

: Hinged branches for a quick setup and easy storage
Who is this for?
Because of how simple it is, this tree, which is not too big nor too small, comes at an affordable price, just under RM100. Imagine saying "ho ho" to the numerous gifts you can give to your children, thanks to the money you save on the tree.
Bonus: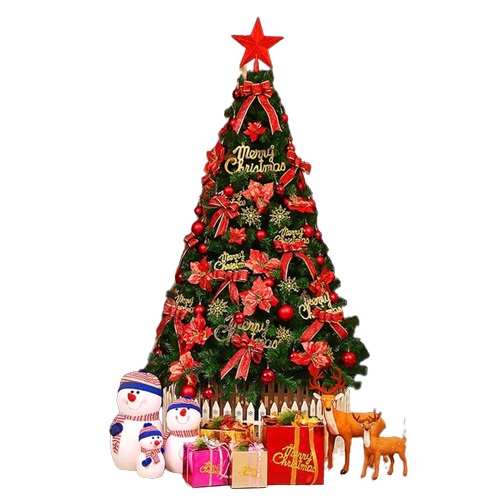 Check MA Home Golden Red Christmas Tree price below:
add_circle
Comes with various ornaments
add_circle
Easy to decorate
remove_circle
Only comes in one size
Overview
Want the colours of red and gold to be extra meaningful this Christmas? Why not try out this Christmas tree from MA Home? It offers two types of packages in red and gold, symbolising warmth, joy, and prosperity in many cultures during the holiday season.
Like a beautifully wrapped package to your home, this Christmas tree also comes in a package full of various ornaments so you don't have to worry about collecting decorations separately. However, these ornaments aren't pre-attached to the tree, giving you the freedom to use your own collection if you already have one.
Details
Height available

: 180 cm

Colour types available

: Red and gold

Decorations included:

Star topper, baubles, ribbons and LED light
Who is this for?
The good thing about pre-attached ornaments is that you can mix and match them with those you already have at home – an endless possibilities for you and your family to create a uniquely personalised and festive Christmas tree.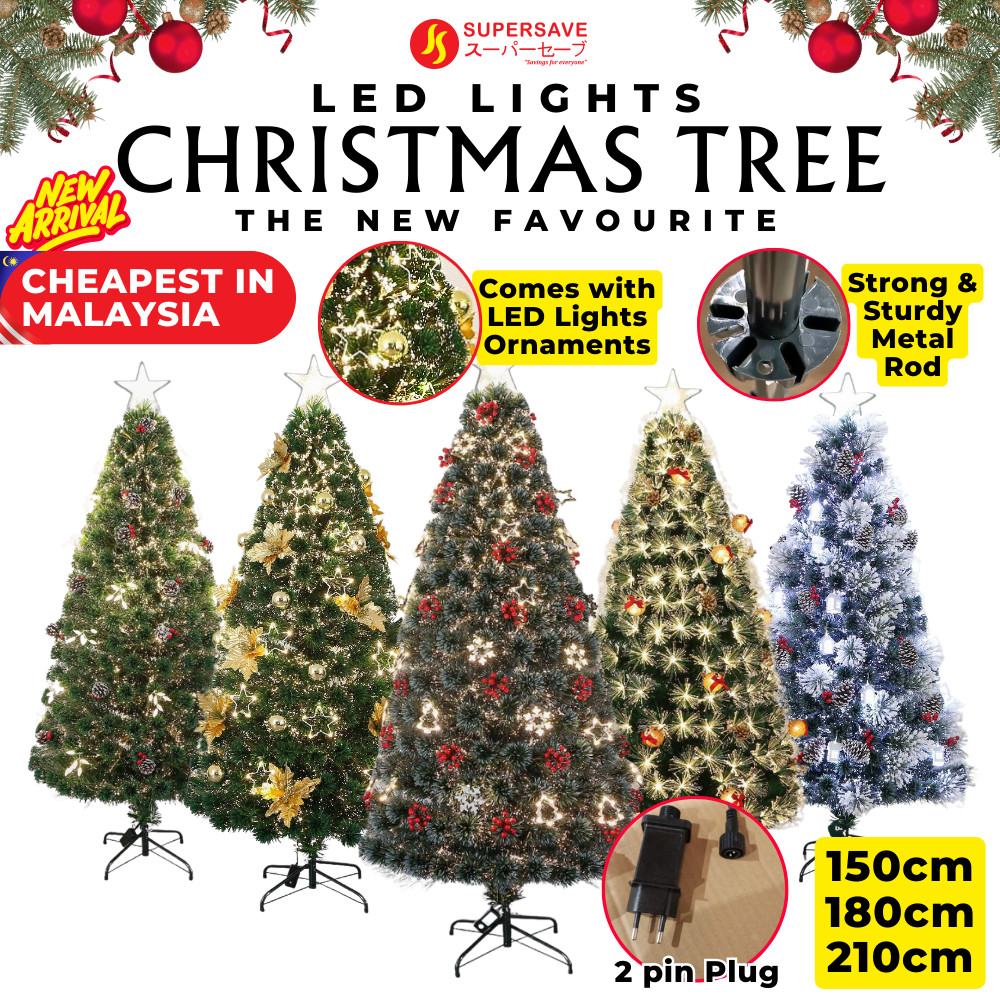 Check Supersave Christmas Tree With LED price below:
add_circle
Strong leg support
add_circle
Realistic fir tree look
add_circle
Flexible branches
Overview
Supersave has another Christmas tree variation in store for us festive bunch and that is the pre-lit Christmas tree! If you prefer to snuggle in your home and sip on your hot cocoa in front of your pre lit Christmas tree that twinkles with the warm glow of holiday cheer, then you're in for a delightful treat. 
Everything about this tree is easy– from setting up to lighting it up. The only challenging part might be deciding which one to choose, given that it offers five different designs tailored to cater to every festive style imaginable.
Details
Height available

: 120 - 240 cm

Tree type available

: Pine Cherry, Pine Bear, Yellow Flower, Snowy Pine Cherry and Pine Snow Cherry

More info

: Hinged branches for a quick setup and easy storage
Who is this for?
Other than the designs, this tree is also made to fit every home and space with its height variations. Another plus point for the attached ornaments is that they don't look tacky and gaudy, ensuring your Christmas tree stands out with timeless charm.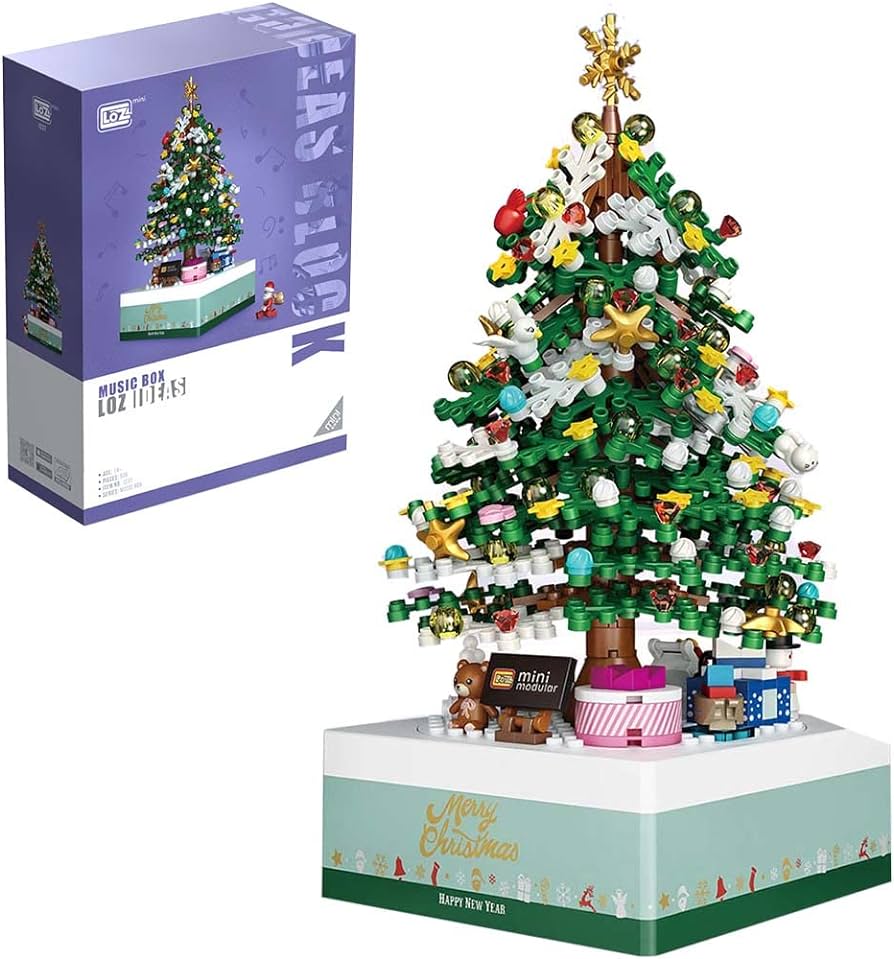 Check LOZ IDEAS Mini Block price below:
add_circle
Fun and engaging
Overview
This LOZ IDEAS Mini Block is not really from Lego, but it captures the festive spirit just as magically. Even more so if you're looking for something engaging and enjoyable to keep your little ones entertained this upcoming Christmas season.
And the most fun thing about this mini block is that it can be turned into a music box! Just give it a spin and all the decorations will start rotating with beautiful melodies playing in the background– giving your family a warm and lovely Merry Christmas feeling. 
Details
Material

: ABS Plastic

Number of Blocks

: 506 pcs (Christmas Tree) / 979 pcs (Christmas House)

Packaging Size(cm)

: 20x19x8

Weight

: 0.3kg
Who is this for?
Want a really unique Christmas tree? Coming with two delightful options – the Christmas Tree and the Christmas House – this Mini Block set offers versatility to match your holiday décor themes.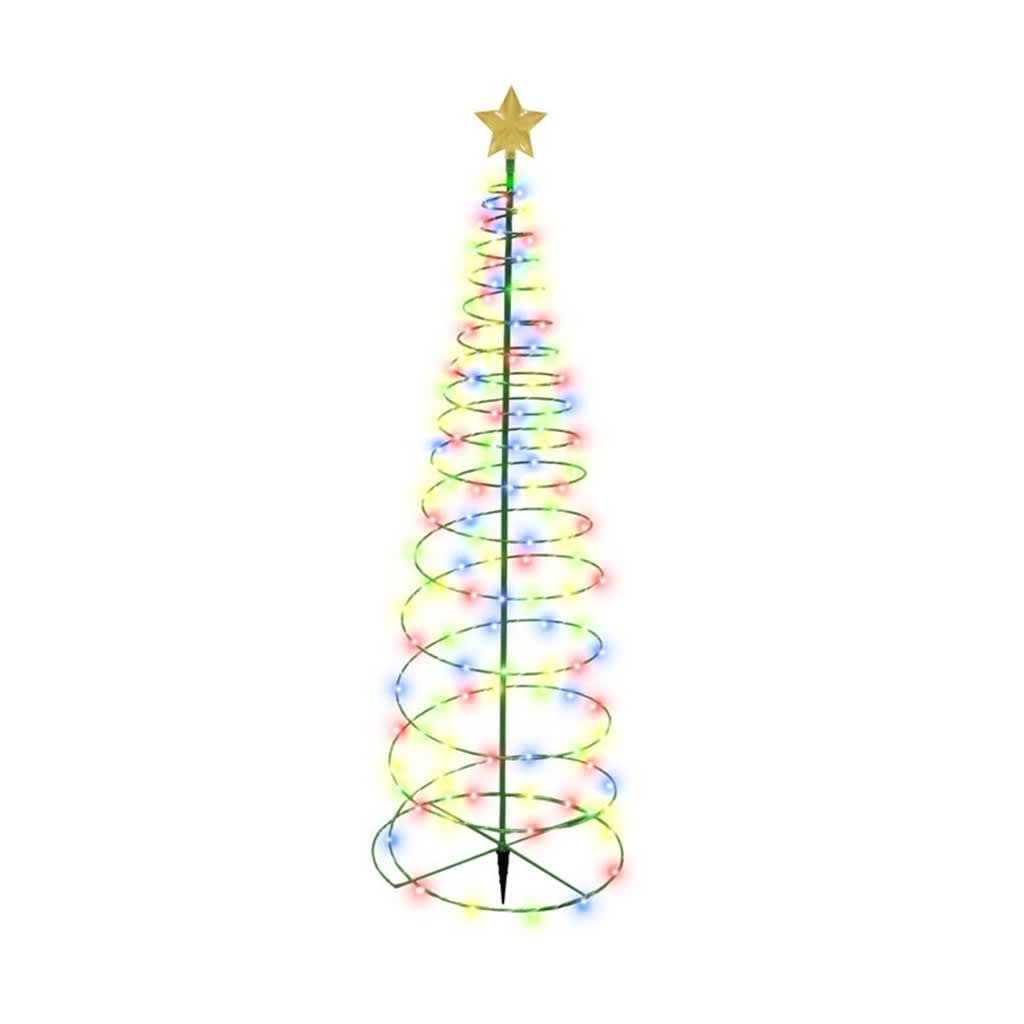 Check Solar Outdoor Garden LED String Lights Christmas Tree Decoration price below:
add_circle
Easy to assemble
Overview
You know what we think? Even Rudolph the Red Nosed Reindeer would find himself in your garden decorated with LED Christmas trees.
Speaking of which, looking to decorate your garden for Christmas as well? Then maybe this Solar Outdoor Garden LED String Lights Christmas Tree Decoration will help to amp up that festive ambience that you want.
This decoration piece is solar-powered, so you don't even have to worry about keeping it powered. It is also rainproof and windproof so that it can withstand various weather conditions without any damage. Light up your garden with multiple trees and you have yourself the perfect nighttime backdrop.  
Details
Height available:

50 cm

Colour type available:

Yellow and Colourful

More info:

Includes solar panel and LED star topper
Who is this for?
For the Christmas enthusiasts who are looking for a minimal outdoor decoration; this piece is versatile and can fit most Christmas themes easily.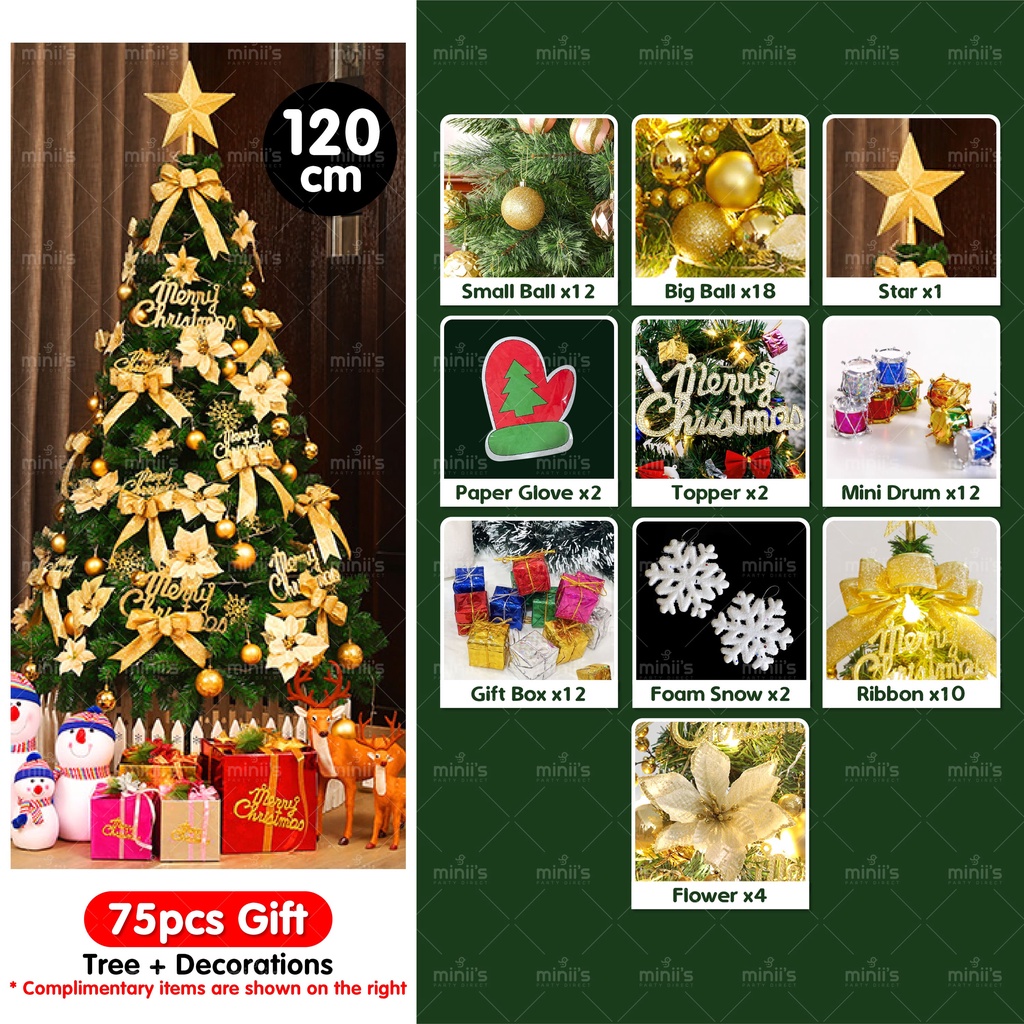 Check MINIIS PARTY Large Christmas Tree price below:
add_circle
Fire-resistant and non-allergenic
add_circle
Comes with complimentary items
Overview
Gold is a traditional Christmas colour that represents wealth, wisdom and light. If the theme of your Christmas celebration this year centres around being grateful for happiness and such, this Christmas tree with gold decorations should be the key look. 
Not only heavy on luxurious decorations, this tree is also ladened with safety features to make sure your holiday season is worry-free. It's fire-resistant and non-allergenic, ensuring a secure environment for you and your loved ones. Its lightweight design is supported by an iron steel stand so there's no risk of it falling and causing injuries. 
Details
Height available

: 120 - 240 cm

Trees available

: Green and Snow Green

More info

: Includes various ornaments such as toppers, baubles, fake gift boxes, foam snows, ribbons and mini drums. 
Who is this for?
The Christmas tree is designed with 3 hinged sections and a robust metal stand, enabling effortless assembly, disassembly, and storage. With more tips, you have ample space to hang those golden ornaments, lights, and garlands, creating a stunning centrepiece for your holiday celebrations.
FAQ:
---
-What goes on a Christmas Tree first? 
So you've just bought your very first Xmas tree, congratulations! But, what now? 
If you're feeling stumped on your Christmas tree ideas or where to even start, just follow these steps and you'll have yourself a nicely decorated tree in no time at all!
Step 1: Lights
First and foremost, start with the lights. Why? Simple. It's so that you won't have to struggle navigating in between all the ribbons and ornaments after you've placed them. 

You will also be able to know if you need to add on more lights, which is easier to do without the ornaments obstructing your view.

Placing the lights first is also a fantastic way to see how your ornament placement will be, as there are sure to be some spots that are more well-lit than others, leaving you to decide if you want to display your best bauble there.
Step 2: Ribbons and Garlands
It might seem like an odd second step, but it makes sense once you read our explanation. Layering your ribbons will elevate your tree's aesthetic, and give it more depth. 

In order to do so, you'd need to add some ribbons deep into the tree, which can only be easily done when there's no ornaments in your way.      

The same goes for garlands. They can also be used to spruce up some of the emptier-looking trees, which again requires you to get deep between the branches.  

Now that your base layer has been established, all that's left to do is to stick in the branch-like ornaments and hanging baubles, as well as other unique embellishments of your own if you have. 
Now that your base layer has been established, all that's left to do is to stick in the branch-like ornaments and hanging baubles, as well as other unique embellishments of your own if you have. 
---
-What does the Christmas tree represent? 
The tradition of associating Christmas with evergreen trees such as pine or fir dates back in history all the way back to the Ancient Egyptians and Greeks. 
Since then, Christmas trees have their own different representations amongst different cultures, but the important aspects all remain the same:
The giving spirit and exchange of presents

Embracing nature and its role in the changing seasons

Eternal life and the life cycle

Embracing the traditions of the holiday
---
-What is the best type of Christmas tree? 
Well, this will solely depend on your preferences.
Real:
If you do genuinely love trees and the smell of pine, then a real Christmas tree is for you. Despite needing extensive care, nothing beats a real, beautifully decorated Christmas tree on display.

Even though they can't be reused, the lush appearance of a real tree will truly put you in a festive mood. Plus, it's actually better for the environment (as they can easily be recycled for other uses)!
Faux:
However, if convenience and lifespan are the key features you seek in a Christmas tree, then an artificial one is an ideal option for you.

Although more costly, an artificial tree can last up to 10 years and requires minimal care. You won't have to deal with the mess of pine leaves and branches as artificial trees are built to stay intact for a long time. 
---
Related articles