Happy New Year! After the merry season, you'd like to shed some extra pounds from all that good food in Christmas. Have resolutions this new year to keep fit? That's the spirit! 
While many of us are serious about our health, it's easy to forget about taking care of yourself. Well, it's never too late to start and we've just got the right equipment to get you started with; Dumbbells! This versatile equipment is great for not just bulking up muscle strength but also overall body toning, build muscle endurance and can be used in many slimming exercises. 
Get your spirits up high with some of these recommended best dumbbells to get for yourself and include them easily your workout routine this new season!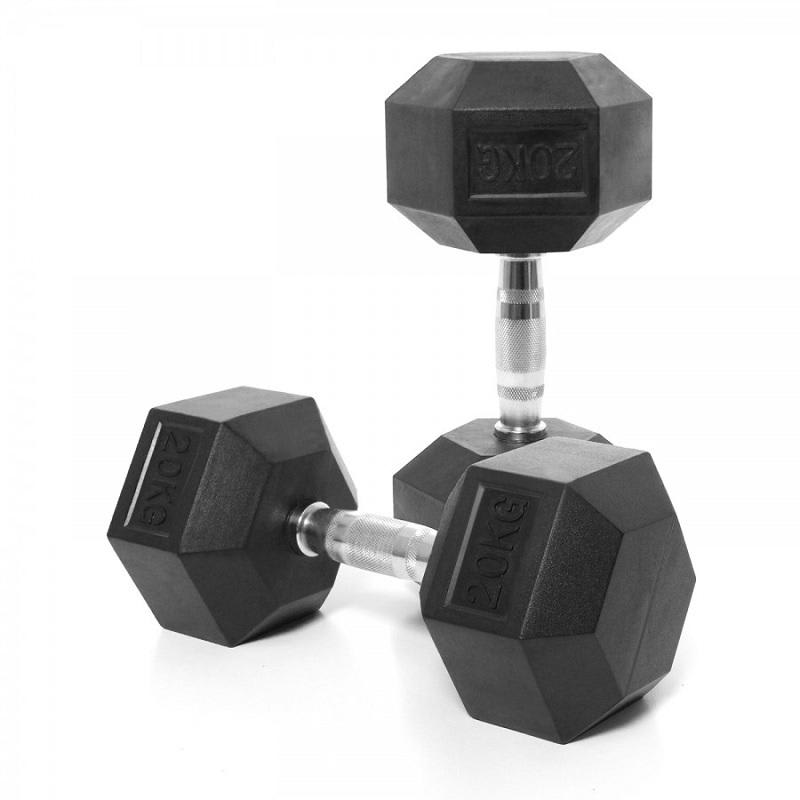 Check Asura Fitness 20KG Premium Rubber Coated Hexagon Dumbbell price below:
add_circle
Hexagon shape prevents rolling away between sets
add_circle
Solid cast-iron core
add_circle
Sturdy and long lasting design
Looking to complete your home gym? These rubber-coated premium 20kg dumbbells is the ideal choice for you. Perfect for functional training and HIIT workouts, these dumbbells has the ideal design for most gym setting as well as lets you easily target a specific muscle or get a full body workout with.
Aside from the good weightage that most casual to serious gym-goers use, this set is designed with a low odour rubber compound to protect your floors of damage. 
They are also made with an anti-slip grip to prevent slips while you're working a sweat, and are hexagonal shaped so that they do not roll away in between sets. More importantly, the hexagon plate shapes evenly distributes weight as compared to circular ones.
Albeit the out-of-range pricing, for most beginners at least, users very much applaud its solid, sturdy and long-lasting structure.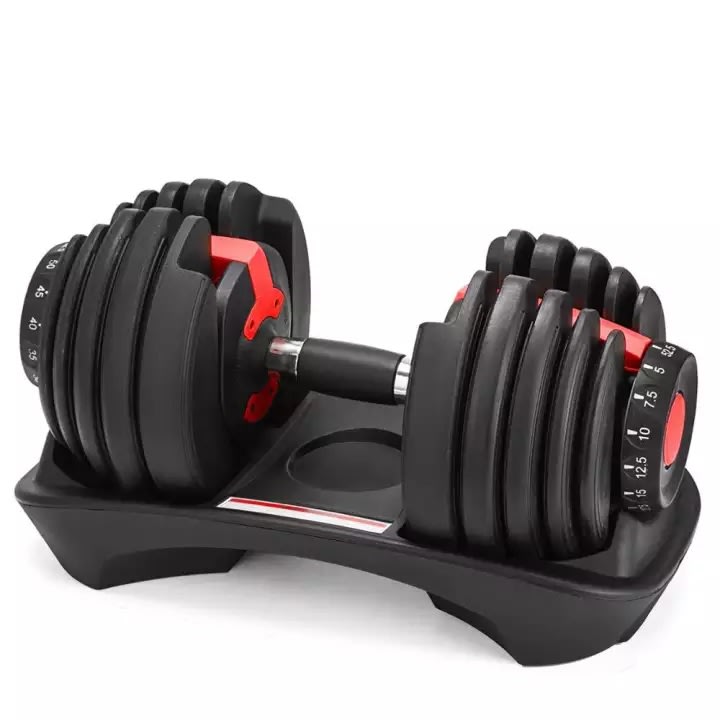 Check Asura Fitness SelectTech 552 Adjustable Dumbbells (Pair) price below:
add_circle
Sold quality as a set
add_circle
Slip-resistant neoprene material
add_circle
Adjustable dumbbell set with a slew of safety-protective features
remove_circle
The circular plate shape may cause it to slip away when on the floor
Ever heard of weight-changing dumbbells where you can switch up the weight with the twist of a dial? These are truly a blessing as you need not remove the plates and add them back again when you are doing a different workout. 
The Asura dumbbells can alternate between 2kg to 24kg and are very space-conserving. It also comes with a smart lock holder – no more roly-poly weights! As they are made with sand steel sheets, you won't face problems with rust, and it is easy to grip as the holders are anti-slip.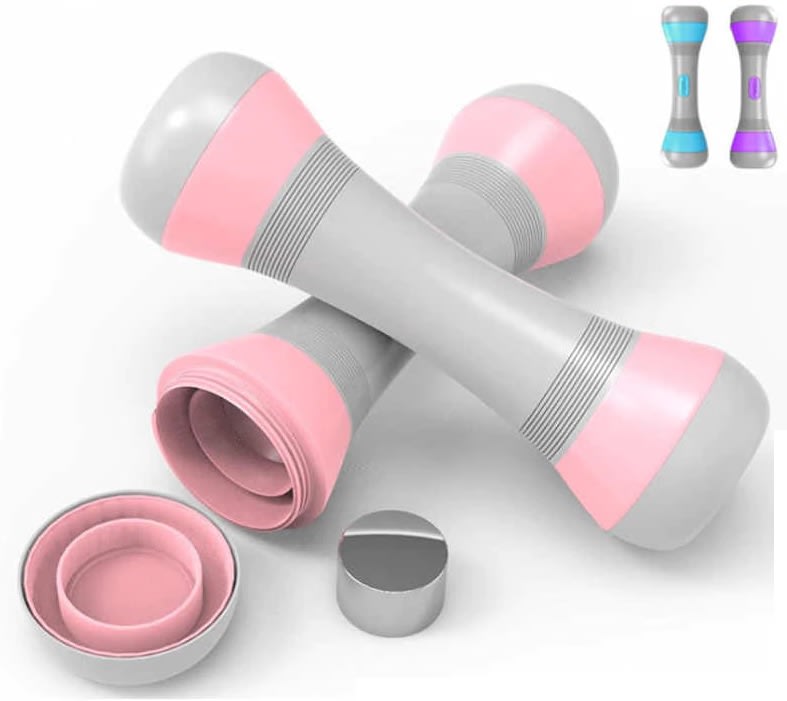 Check Punchline Fitness Adjustable Sport Dumbbells price below:
add_circle
Perfect for toning and flexible exercises like yoga and aerobics
add_circle
Attractive colour
remove_circle
Neoprene may peel if exposed to high humidity
The Punchline Fitness Adjustable Sport Dumbbells is perfect for a beginner like you. They are easy on the eyes and its light weight allows you to lean back into weight lifting without any injury.
These ones are an adjustable set that is designed with a solid steel block and is compact in size, ideal for the beginner who hates traditional-looking dumbbells. If that's not enough, its pink and grey coloured ; pretty trendy looking if you ask.
These dumbbells also work well for beginners who have an interest in yoga or aerobics-related workouts. Users have mentioned that its definitely the perfect addition for that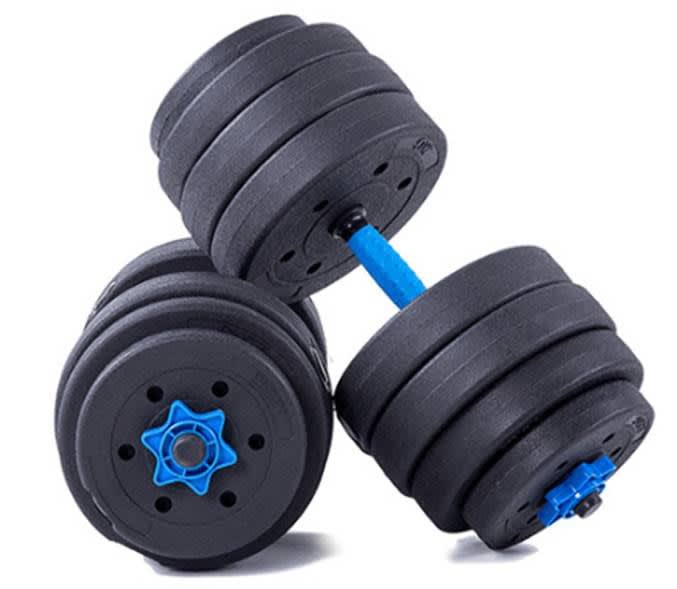 Check Fitness Disport 10KG Adjustable Dumbbell price below:
add_circle
Ideal for both beginners and intermediate workout levels
add_circle
Convertible into a barbell
remove_circle
Time-consuming when changing weights in between workouts
Let's be honest - the pandemic has had most people convert their homes to accommodate home gyms. Although, that might mean you lack the luxury of extra square footage of commercial gyms. Worry not, as we've got you covered with Fitness Disport's 10KG Adjustable Dumbbell to cater to your home gym and your home's space at the same time!
Comes in colours red or blue, it is equipped with a full foam-covered stress reliever converter for your back to avoid any skin bruises. The item also comes with an anti-slip dumbbell rod and a lock for safety purposes so that the 5kg discs are in place when the dumbbell is in use.
With a clean design, users love the fact that it transforms into a barbell for heavier back workouts.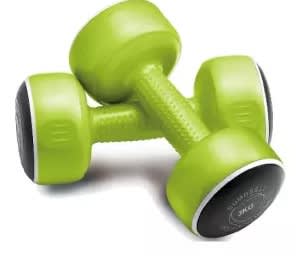 Check Body Sculpture Smart Vinyl Dumbbell price below:
add_circle
Vinyl-coated for extended durability
add_circle
Small and compact
remove_circle
Circular plate shape may cause it to roll across the floor
Dumbbell exercises for chest muscles usually target the inner, outer, lower and upper pectoral muscles. With Body Sculpture's Smart Vinyl Dumbbell, all of that is possible!
Their comfy ergonomic design makes them easy to use for general muscle strength  training, but is especially great for toning and conditioning exercises. Coming in sets of 6kg or 8 kg, it is also suitable for those who have to do physiotherapy exercises.
As it is vinyl coated, users have claimed that this adds a stylish look to the dumbbells and that its high grip allows for fewer injuries. Additionally, the vinyl coating makes it easier to clean compared to neoprene-coated dumbbells.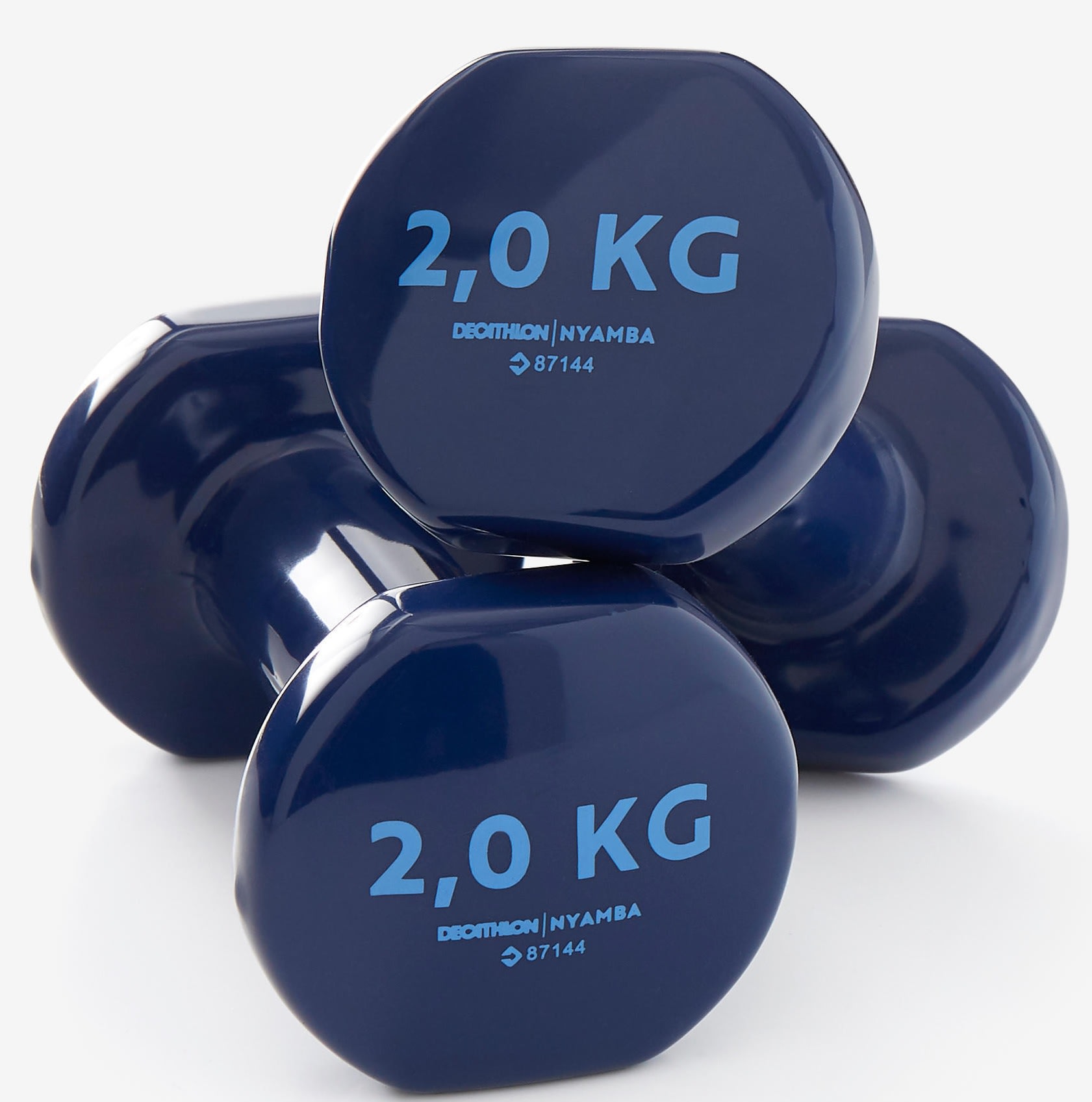 Check Decathlon Pilates Toning Dumbbell price below:
add_circle
Vinyl-coated for extended durability
add_circle
Small and compact
add_circle
Good for beginners
add_circle
Best for lean muscles like shoulder workouts
remove_circle
Packaged with plastic
remove_circle
Might have scratches when unboxed
When it comes to the sporting goods business, Decathlon is no stranger. With their pilates toning dumbbells, your shoulder workouts are about to get easier and fun! Designed to be easily exercised with for the inner, outer and rear deltoid muscles, this one's a winner.
The sets is available in a weight range from 0.5kg to 5kg, this purchase would also give you a training poster that is pictured to have strengthening workouts for your entire body.
Compact sized and vinyl coated, they do not leave marks on your floors, no matter the extreme workout, according to users.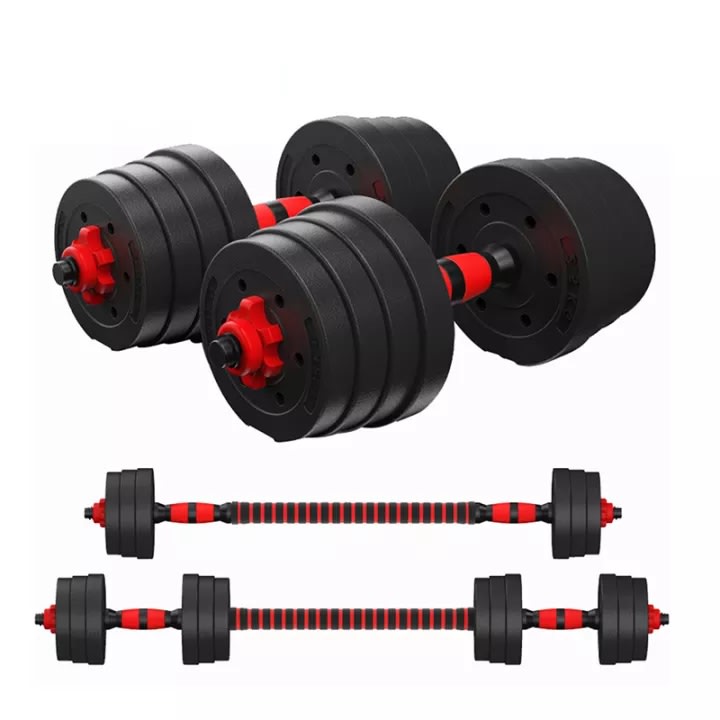 Check Better You 15KG Bumper Plate Dumbbell Barbell Combo price below:
add_circle
Ideal for those who heavy-lift often
add_circle
Convertible to a barbell
add_circle
Anti-slip design
remove_circle
May hurt the back if used wrongly (must read instructions)
Building a strong and powerful back is one of the many good things you can do for your body. And you can do so with Better You's 15KG Bumper Plate Dumbbell Barbell Combo. The item is able to sit on your shoulders and prevent injuries as well as improving your posture and also help alleviate neck pain.
Able to convert into a barbell with a connector, you're also equipped with 2 wristbands and 2 gloves for safe workouts in the set. The bumper plate dumbbell design is used to also protect your floor boards if the dumbbells happen to slip in between workouts.
Coming in sets of 15kg or 20 kg, this one's ideal for users who want to gain muscles throughout the torso.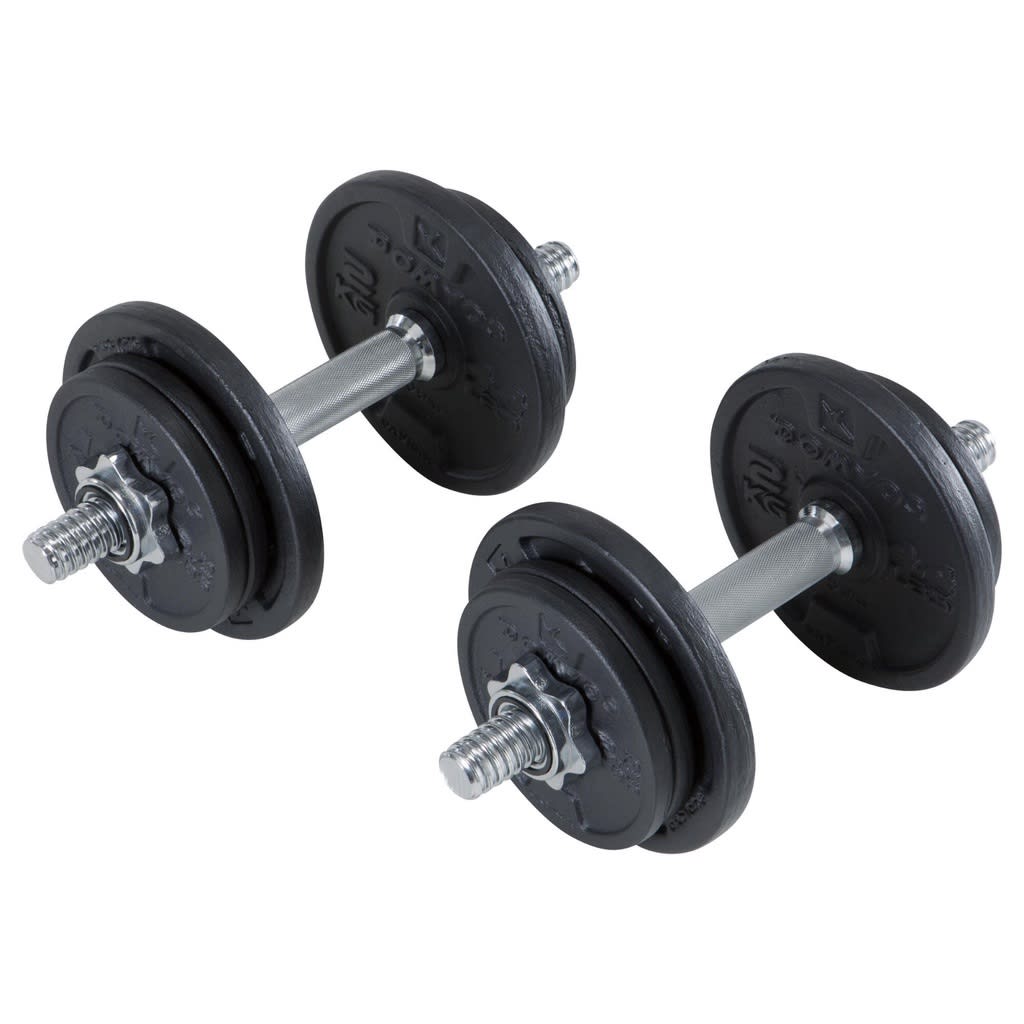 Check Decathlon Bodybuilding Gym Training Dumbbells Set (20 Kg) price below:
add_circle
Durable design makes it not easy to bend or break
add_circle
Plates can be used individually or on bars
add_circle
Progressive kit
add_circle
Budget-friendly
remove_circle
Removing and adding plates for exercise can be tedious work in between workouts
This 20kg dumbbell set by Decathlon was designed specifically by their weight training coaches and design team so you can get weight training done at home. It's ideal for working the biceps, triceps, deltoids and pecs. Toned upper-body muscles? Begin your journey of weight training with this set!
As a progressive kit, you can start working your way from 2kg, up to the 20kg weights. Inclusive of bars and disc collars, they are easy to use and are truly comfortable to hold thanks to their anti-slip grip.
---
Should I add dumbbells to my fitness routine? 
If you like to work out at home or have a mainly cardio-based workout – do add weights into your routine. Doing so can activate your muscles and tone your build! Don't worry about adding a little bulk, you're not going to look like Gabi Garcia. Instead, it'll give you some definition for a sculpted look. 
Incorporating weights into your workout is great for building resistance, especially if you're a hardcore cardio junkie. You're bound to hit a plateau at some point if you don't switch things up. Once your body gets used to the regular strain, you won't see any further progress. 
Dumbbells are a versatile game-changer for tackling this issue.
What are the types of dumbbells?
Undeniably, dumbbells are one of the more popular pieces of fitness equipment ever made. As an important tool in the strength training business, they are perfect for both home gyms and commercial gyms. 
Being suitable for usage on both men and women, there are about three common types of dumbbells you can choose from, each one with a benefit of its own. 
Tip: It helps to try all types of dumbbells before you finally narrow down to the one that suits your fitness regime best. 
Adjustable Dumbbells
Often times, this is the most common type of dumbbell for beginners to start with. The dumbbells are truly ideal for home use, and is easy to use as their bar of metal lets you easily slide weighted plates onto the ends and secure them with collars. 
Although when buying a set of adjustable dumbbells, you should be prepared for a bigger storage place and keep them off wooden floors or the balcony as they might rust in a humid environment
Fixed-Weighted Dumbbells
The most common dumbbells you can set your eyes on when you enter a gym, these dumbbells have fixed weights to suit specific exercises. Usually, the cheaper ones are made of a type of plastic while the more regular ones are made from cast iron and is either coated in neoprene or rubber for comfort holding. 
These dumbbells, however, have a fixed weight between 2-20kg and is often times used as a single pair for routine exercises. 
Selectorized Dumbbells
Quite similar to the adjustable ones, think of these as the better designed ones. Instead of changing the weighted plates manually, all you need to do is just adjust the number of plates when the handle is lifted by moving a selector pin.
They are however the more expensive option as they are also quite heavy, and also means being harder to move around. This makes them best for intermediate levels and up. If you do plan to start using them as a beginner, seek some assistance first from someone to monitor you in between sets.
Related articles