Sometimes taking a full-fledged vacation might be a little difficult due to various reasons. Maybe you can't go away for too long or you're on a tight budget. Whatever the case is, a staycation is the perfect option to help you get the rest & relax that you need without having to go too far. It could also be quite the experience as you play tourist in your own city.
If this little getaway sounds like what you need, well, pack your bags because we're giving you the lowdown on how to plan the perfect city staycation right here in Kuala Lumpur.
1. Figure out what you want to do
Just like usual holidays, it's important to know what the purpose of your staycation is. Is it for you to spend some quality time with your loved ones, to rest and pamper yourself, or to go off the grid for a bit? Recognising your intentions helps you to plan an itinerary that is tailored to your needs; ultimately leaving you feeling fulfilled at the end of the trip.
Here are some of our recommendations for those of you who fit into any of these categories:
The sightseeing tourist - Immerse yourself in history at Merdeka Square and the Kuala Lumpur City Gallery, go shopping at Central Market and Petaling Street, check out great art exhibits at the Islamic Arts Museum Malaysia
The active adventurer - Catch the sunrise or sunset at Bukit Tabur (only for experienced hikers), trek through FRIM for some lush scenery, challenge your friends to a drift kart battle at Blastacars (Sungei Wang Plaza), go rock climbing at Batu Caves
The foodie - Hit up Changkat Bukit Bintang for some great tapas, Dang Wangi for local and international cuisine and Jalan Alor for some great street food
2. Create a staycation budget
Once you know what the purpose of your trip is, set a budget for yourself. Whether you want a luxurious staycation or a budget staycation, asking yourself how much you are willing to spend doesn't just allow you to know how much to put aside, it also helps you to stick within your financial boundaries when you plan.
3. Use online resources
Now that you are ready to plan your itinerary, the Internet is a great place to get you inspired on what you can do. This is also a great time for you to use your social media skills to check geotags for more ideas. Furthermore, there are lots of websites that will have discounts and promo codes that you can use to help you save further. And who doesn't like to save, right?
4. Splurge on a hotel room
Sure, you might be opting for a staycation so that you can save some money. However, you'll already be saving lots by not taking flights. The least you can do is to splurge on a hotel room so that you can sleep and wake feeling like royalty. Trust us, this will also help you to feel pampered and much more rested.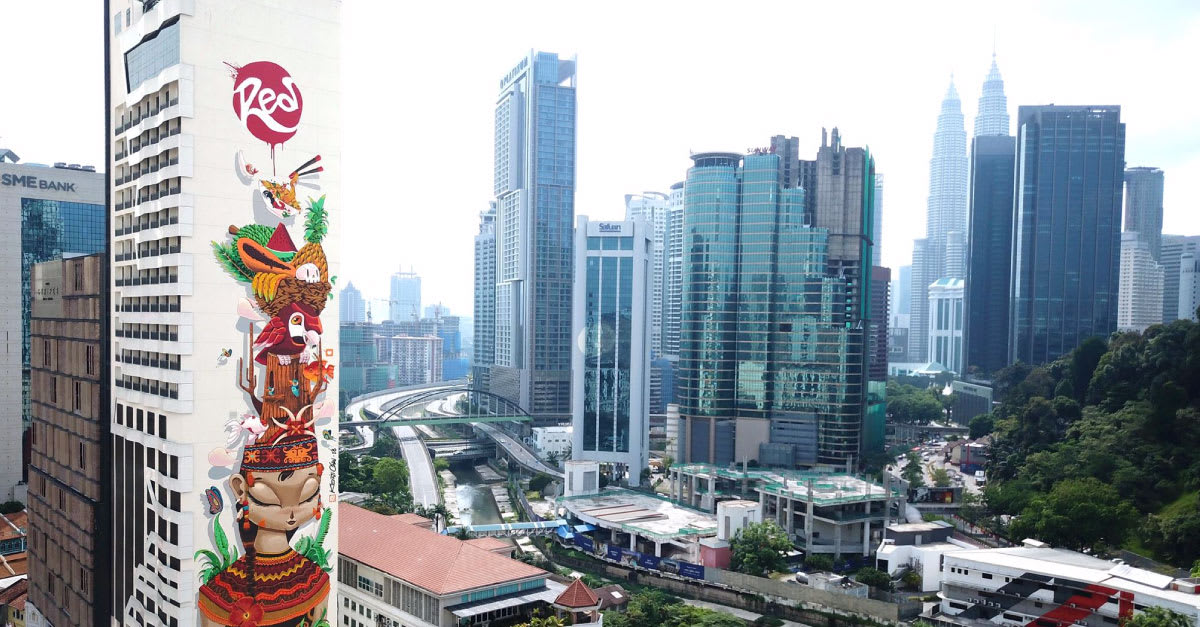 Check out RED by Sirocco, Kuala Lumpur for the perfect staycation escape. Located in the heart of Kuala Lumpur, the hotel is tucked away in a quiet neighbourhood along Heritage Row to ensure that you are away from the hustle and bustle of the city, yet have easy access to all of KL's hot spots.
Take a swim at the rooftop pool, sip wine overlooking the city's landscape or enjoy some local art. RED by Sirocco is your modern hotel designed to help you Relax, Enjoy and Dream. It is also walking distance to local eateries, cafes, malls, KLCC and art galleries. Furthermore, you'll also be able to catch Malaysia's tallest mural awarded by Malaysia Book of Records painted on the side of the building!
5. Cross something off your bucket list
The thing about being local to a place is that we often overlook our local attractions. A staycation is a great time for you to do what you have not been able to do. Whether it is visiting a new cafe, doing something adventurous or checking out an exhibition, list them all down and tick them off the list one by one!
Now that you're acquainted with these tips, we hope that you'll achieve what you intended to with your staycation. But most of all, that you'll make new experiences, even if as a tourist in your own country. On a side note, check this list of travel essentials to prepare you for your staycation.