As August dawns on us, the spirit of freedom and unity wafts through the air as Malaysia celebrates her 61st Independence Day. And what other way to get into the mood than to celebrate with some great deals and sales. So go ahead, Sayangi Malaysiaku, but also sayangi dirimu and have your pick at some of the best Merdeka sales going on this season!
More: IKEA Malaysia is Clearing... Here are 8 Items You Can Get From Just RM5!
---
2020's:
Shopee Malaysia
Get everything you want right here on Shopee as brands celebrate together for the National day. Expect vouchers and discounts as well as high cashback discounts when you shop at Shopee.
Note: Brands are slowly coming in, so do expect more at this space!

Limited edition products
Discounted items at Shocking sale
Shop and win up to RM70,000
Shop Nescafe Gold & get RM20 Sephora Gift Card
5% and 8% Nestle vouchers off
More vouchers from Starbucks, Dolce Gusto, Kit Kat, Nankid, LactoGrow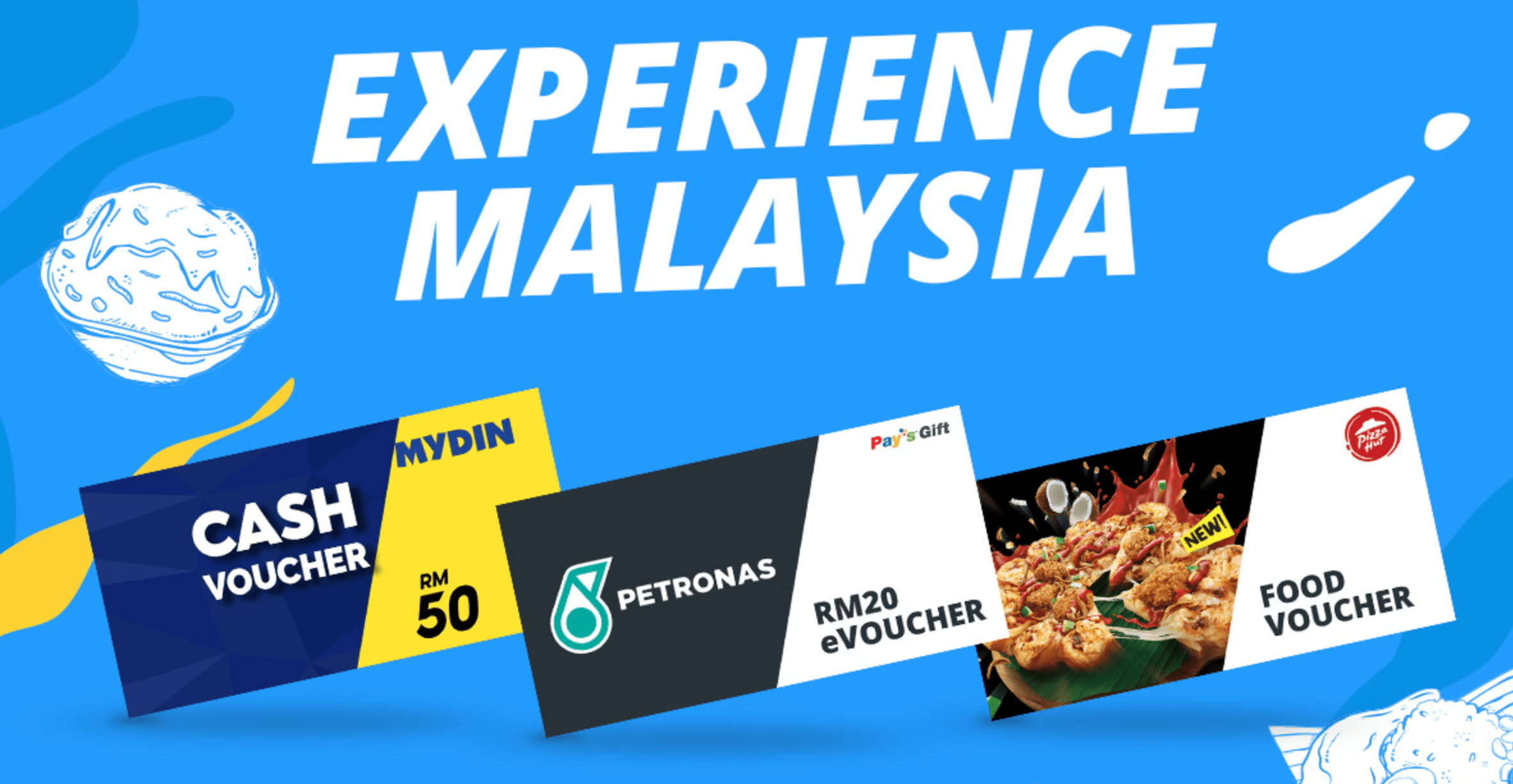 Buy cash vouchers for Malaysian services of all categories at discounted prices
Participating services include Agoda, Mydin, Petronas, Pizza Hut and more
RM5 and below deals for amazing discounts (ex. 50% off OYO voucher for RM0.50)
More: Here are the vouchers and promos you can enjoy on Shopee's 9.9 Sale!
---
Lazada Malaysia

See something you like recently? Try checking if Lazada Malaysia's Merdeka Sale-bration has it right here!
Discounts at up to 63% off
Chup-Dulu: "Claim" a discounted item now by depositing a minimum and pay the remaining on 9.9
Daily flash sales
Grab and spend with limited vouchers from renowned brands
Campaigns are valid until 31st August 2020
---
Adidas Malaysia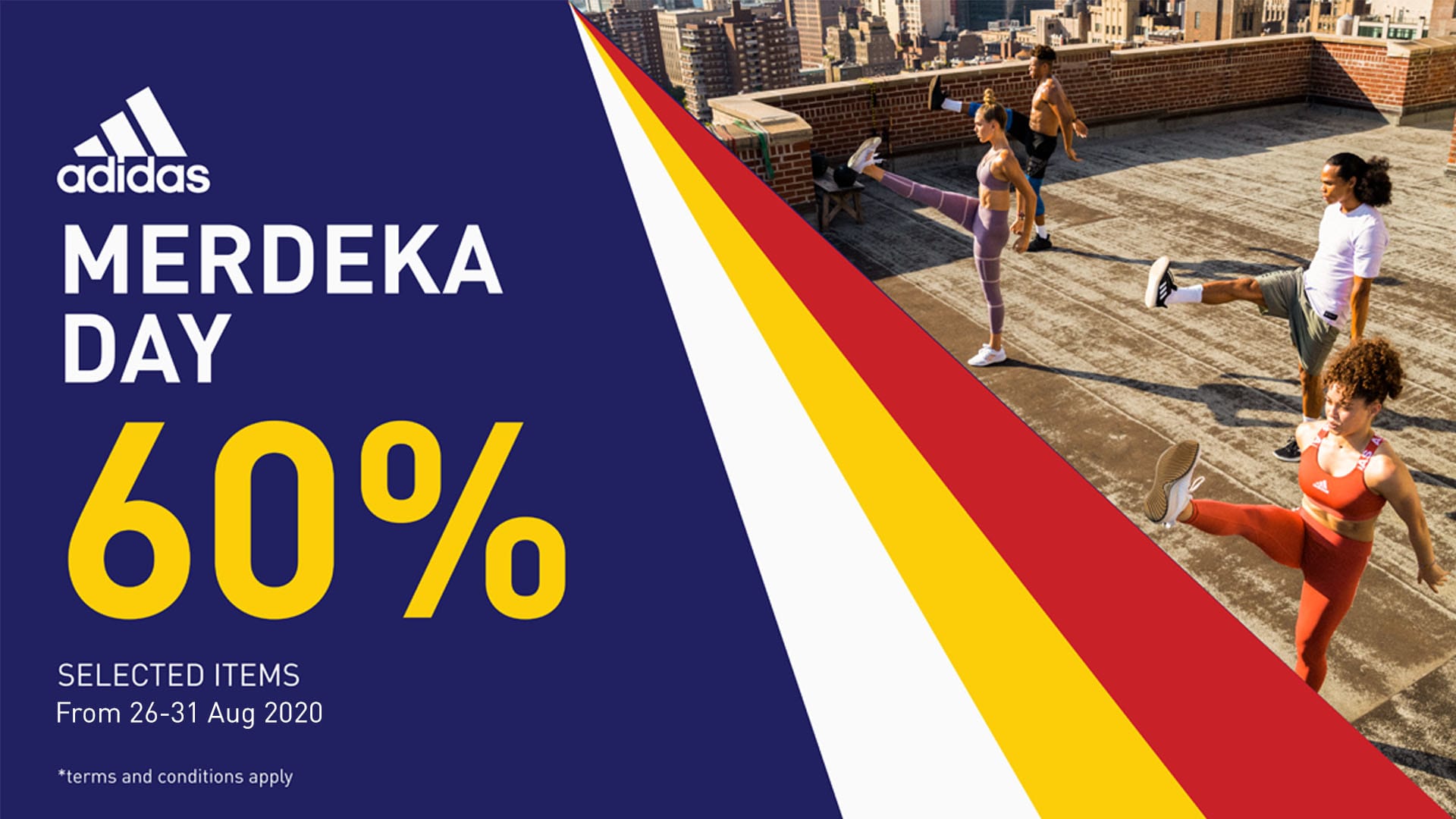 We love shoes just as much as you! Now we're sharing with you a treat to Adidas' Seasonal Merdeka Sale. Buy first and thank us later *wink*.
40% - 60% off selected footwear
Discount applied at cart
60% discount only valid from 26th to 31st August 2020
---
JD Sports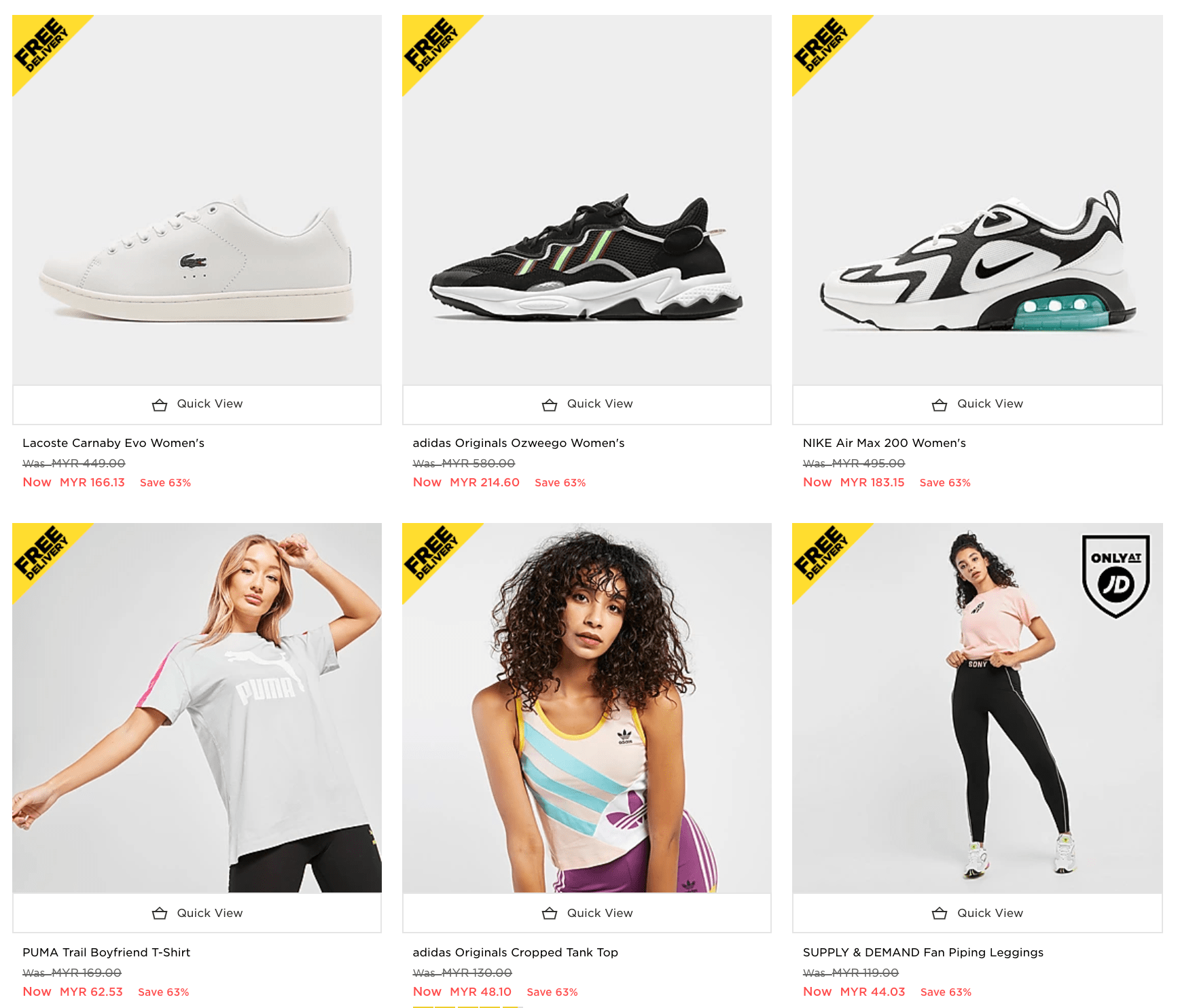 Do you think that JD Sports forgot about how big of a shoe fan we Malaysians are? Enjoy this JD Sports Merdeka flash sale (and thank us again, hehe).
Up to 63% off selected styles
Free shipping with no minimum spend
Valid from 28 August to 1st September 2020
---
Sonno

What makes your sleep a good-quality one? We all say that we love sleep, but does it love you(r) back? At Sonno, the team is determined to help you sleep like a baby every night with affordable, high-quality mattresses. And there's also a 100-night free-trial for your peace of mind.
For this Hari Merdeka, Sonno throws in more value by offering each purchase with free gifts:
Purchase a Single or Super Single Sonno mattress and get 1 free pillow (MERDEKA1PIL)
Purchase a Queen or King Sonno mattress and get 2 free pillows (MERDEKA2PIL)
Stand a chance to win mattress protectors, bedsheet sets and bolsters, all worth up to RM6,000
---
HONOR Malaysia

As if HONOR can't get more affordable than it is already. There are several campaigns to enjoy at this year's Merdeka such as flash deals, vouchers and discounts at up to 63% off!
Check-in daily to earn vouchers worth up to RM100
Grab vouchers worth up to RM630 when you shop around HONOR website
Join forces with your friends and attempt to "Slash" prices down to RM0
Spin and win prizes worth up to RM149
Participate in flash deals and save up to RM200
If you purchase an HONOR 9A online, get RM70 off and a free gift (phone collection in-store)
Valid from 18th August to 1st September 2020
---
63rd Merdeka with Mi (Xiaomi)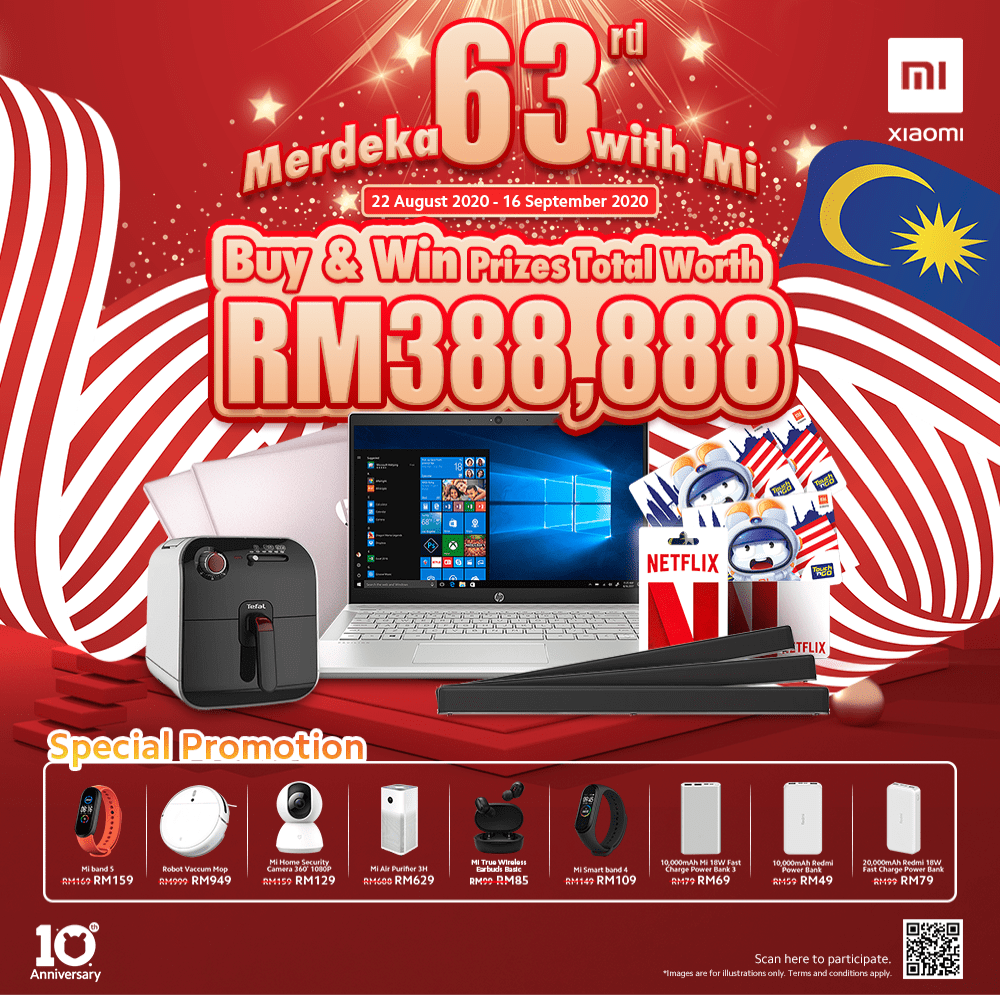 Love free gifts? Xiaomi is now rewarding you for buying their smartphones in conjunction with Merdeka/Malaysia day! If that doesn't excite you, there are also discounts on their fan-favourite ecosystem products.
Purchase selected Xiaomi smartphone and be entitled to a lucky draw with prizes worth up to RM388,888

Only 1 model and 1 phone number entitled to 1 entry

Discounted products such as

Mi Smart Band 5,

Mi Robot Vacuum-Mop,

Mi Air Purifier 3H etc.

Purchase period until 16th September 2020
Read more about the lucky draw here!
---
Pets Wonderland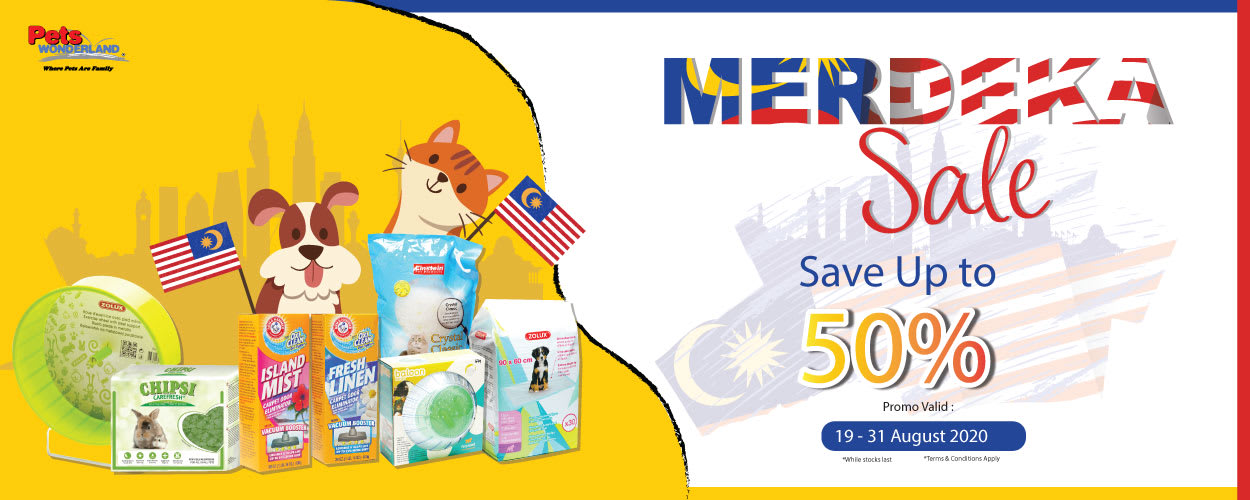 Treat your furry friend (and your wallet) with Pets Wonderland's promotion sale during Merdeka. Now you can buy affordable cat and dog food!
Save up to 50% discount
Items for sale from food to pet toys
Valid from 19th to 31st August 2020
---
Tripcarte Asia

Nothing wrong with booking your holidays early. Right? Here's a Merdeka promo from Tripcarte Asia:
Up to 80% off attractions and such
Apply promo code "

MerdekaTC

"

and enjoy an additional 5% off from current promotions.

Valid from 19th to 31 August 2020
---
Klook Travel

Who says you need to go far to see a whole new world? Klook Travel has a list of local travels that are affordable and uniquely Malaysian!
Buy 1 free 1 deals at 12pm daily
Attractions and hotel (staycation) bookings at discounted prices
Valid from 21st to 28th August 2020
---
Youbeli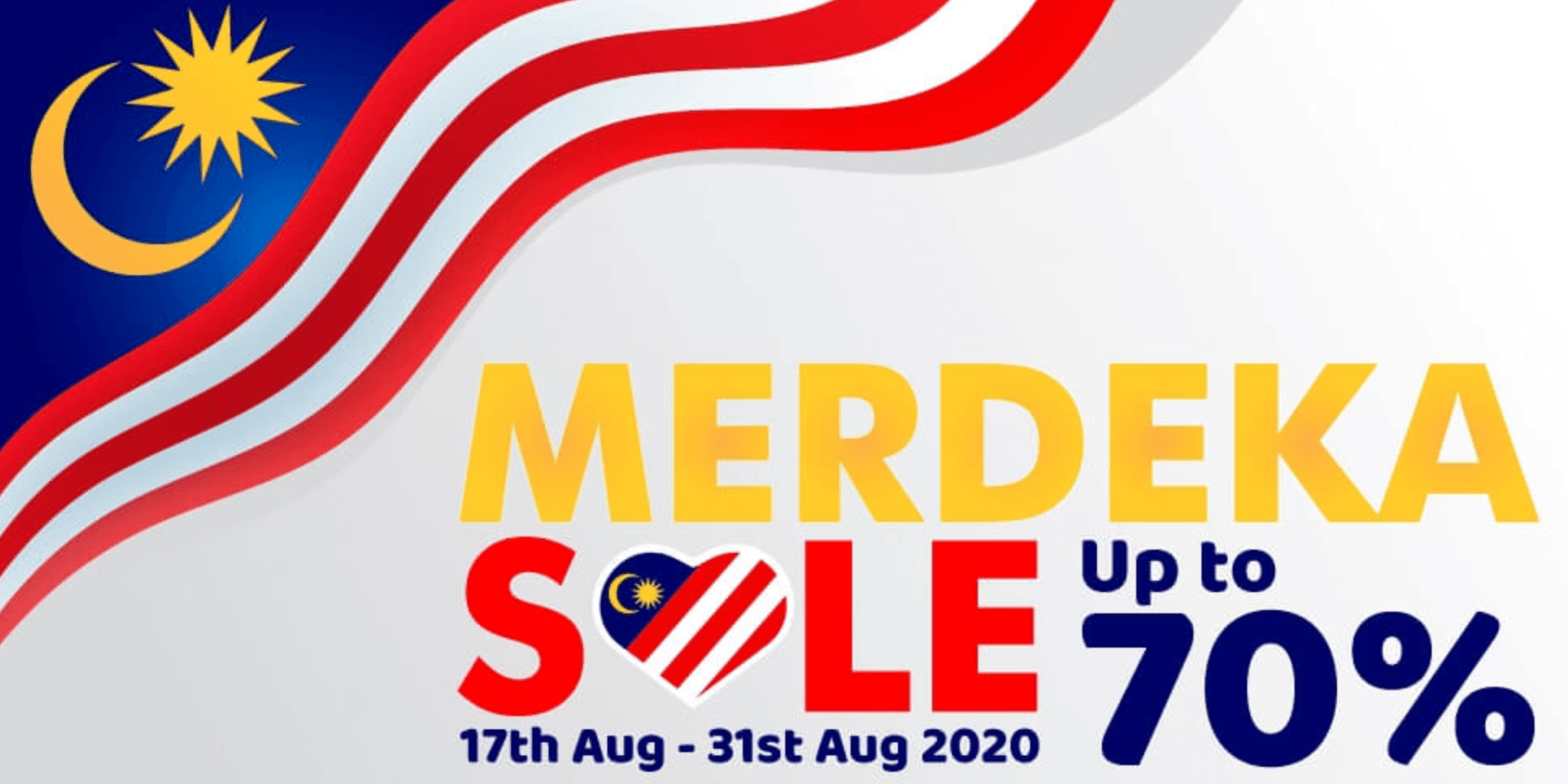 Enjoy sweet deals from everything such as food to tech when you shop at Youbeli's Merdeka sale this year! While you're at it, why not join the platform in their movement of #SupportLocal too?
Discounts at up to 70% off
Stand a chance to win RM100 voucher by spinning the wheel at the homepage
Daily irresistible deals and vouchers to grab
BONUS: use "NESTLE5" to enjoy RM5 off Nestle products (for Mcash, limited to first 500 redemptions)

BONUS:

Buy Brand's Bundle Package, get free Gintell Magic Pillow
Valid from 17th to 31st August 2020
Nestle voucher valid till 16th September 2020
---
Dyson Malaysia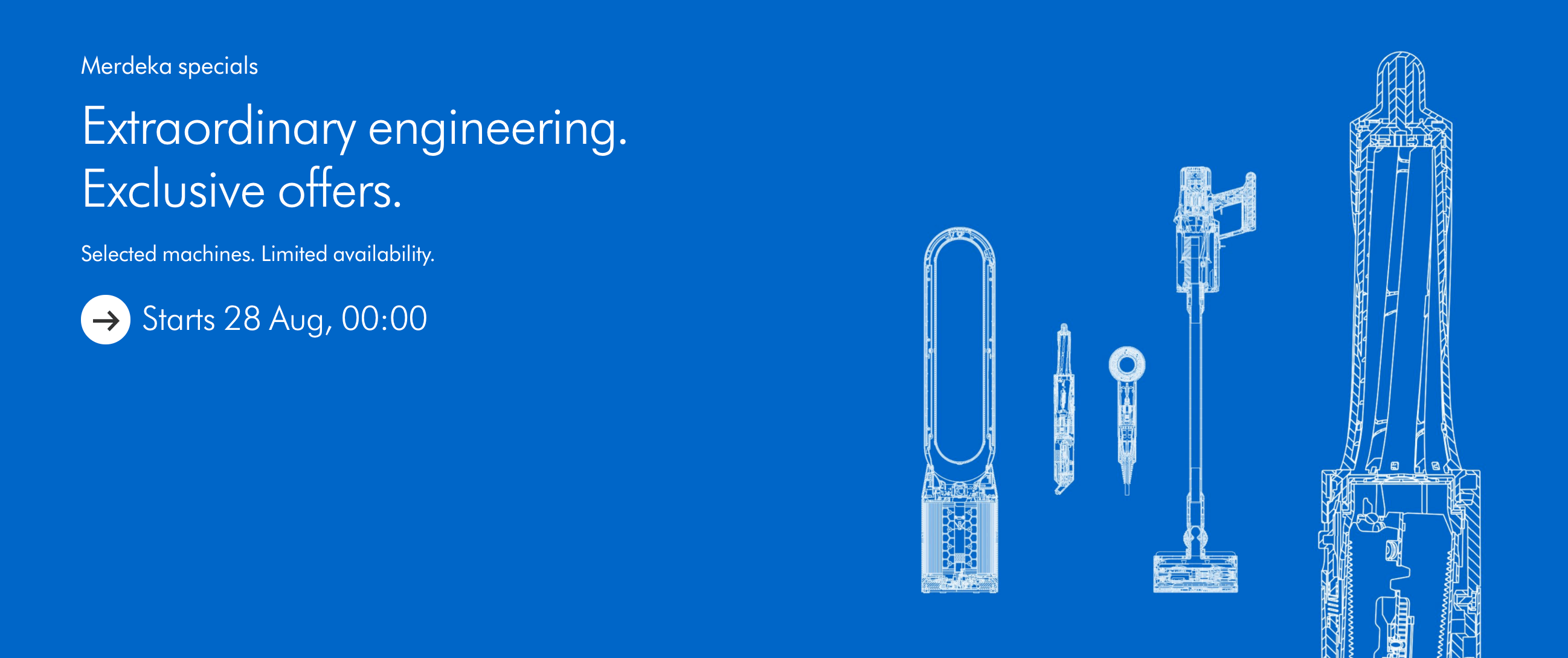 Been wanting a Dyson vacuum cleaner or a Dyson hairdryer? This would be a great time to buy them now that they are having a sale!
0% monthly instalments
Exclusive deals with bundle savings at up to RM800
Valid from 28 to 31st August 2020
---
Mothercare

Baby products are not cheap. Malaysian parents can now appreciate a storewide Mothercare sale this National day, and shop everything from maternity products to kids clothing!
Discounts across all categories (up to 30% discount)
Save as much as over RM1000
Free delivery with purchases over RM400
Valid from 1st to 31st August 2020
---
Samsung Malaysia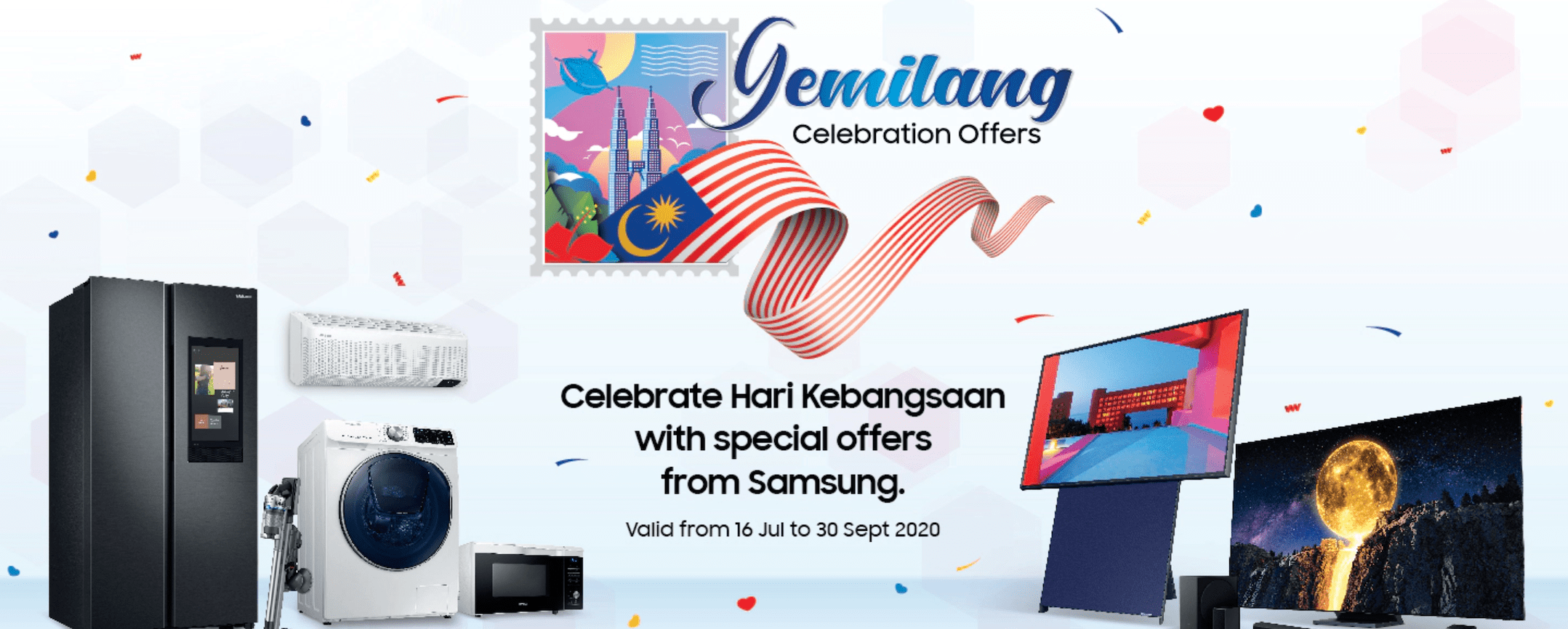 A fan of Samsung's products? Now's your chance to buy some with Samsung's special Merdeka offer. Enjoy the array of discounted smartphones, TVs and home appliances to save yourself some extra moolah. If you shop enough, you get to enjoy gifts which are worth up to RM13,695!
Buy smart devices and get free Samsung Galaxy Fit or Galaxy Buds
Buy a Samsung Tv and receive free gifts such as Samsung soundbar, handheld vacuum cleaner or air purifier
Buy selected Samsung washing machines, refrigerators, air conditioner or air purifier and enjoy free gifts such as a Samsung oven or robot vacuum cleaner
Valid until 30 September 2020
---
All IT Hypermarket

Tech ain't cheap. That's why now is the right time to get your tech shopping done!
All IT has prepared several discounts for you to enjoy from smartphones and hard drives to earphones and antivirus programmes:
Discounts up to 63%off
Sale on brands such as Apple, Xiaomi, Dell, HP, Tragus and more
Exclusive Jabra Merdeka sale from as low as RM79
CODE: AITAPP100 - RM 100 off on Apple iPhone 11 or MacBook Air 13-inch
CODE: MERDEKA2020 - RM10 off with minimum spending of RM500
All IT Merdeka sale from 15 August to 16 September 2020
Jabra Merdeka sale from 17 to 31st August 2020
---
Lenovo Malaysia

A fan of ThinkPads or Lenovo Legion laptops? You can now try your luck and score a great deal at Lenovo Malaysia this Merdeka:
Discounts at up to 48% off
Additional 5% off if you found a competitor with cheaper product pricing
Valid until 31 August 2020
---
Eu Yan Sang

Buy that Bird's nest drink, or get your family some great food ingredients and herbs with Eu Yan Sang's online-exclusive Merdeka promotions.
Merdeka sale from 1st to 31st August 2020
Free vacuum flask with a minimum spent of RM300
31% off selected items
Deal from only RM31.80
Value buy with selected items at RM63 off
Bundle sets
Limited coupon giveaway with extra discounts off
---
Pestle & Mortar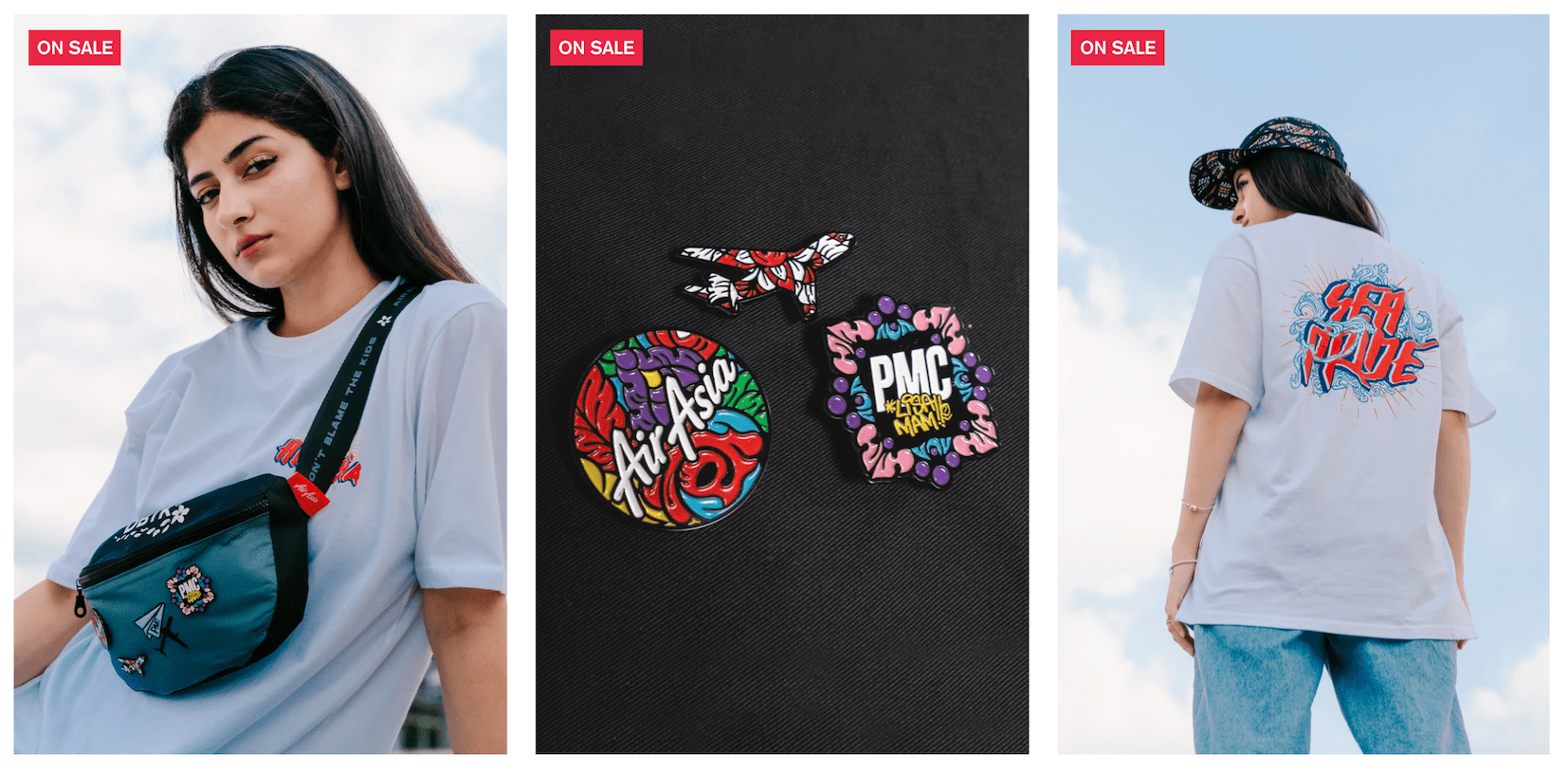 What better way is there to celebrate National day by supporting local brands? Malaysia's very own streetwear label Pestle & Mortar are having a Merdeka sale too! Now's your chance to get truly limited-edition fashion pieces at discounted prices.
Selected items with discounted prices
Buy one free one promo
Valid from 15th to 31st August 2020
---
GO Shop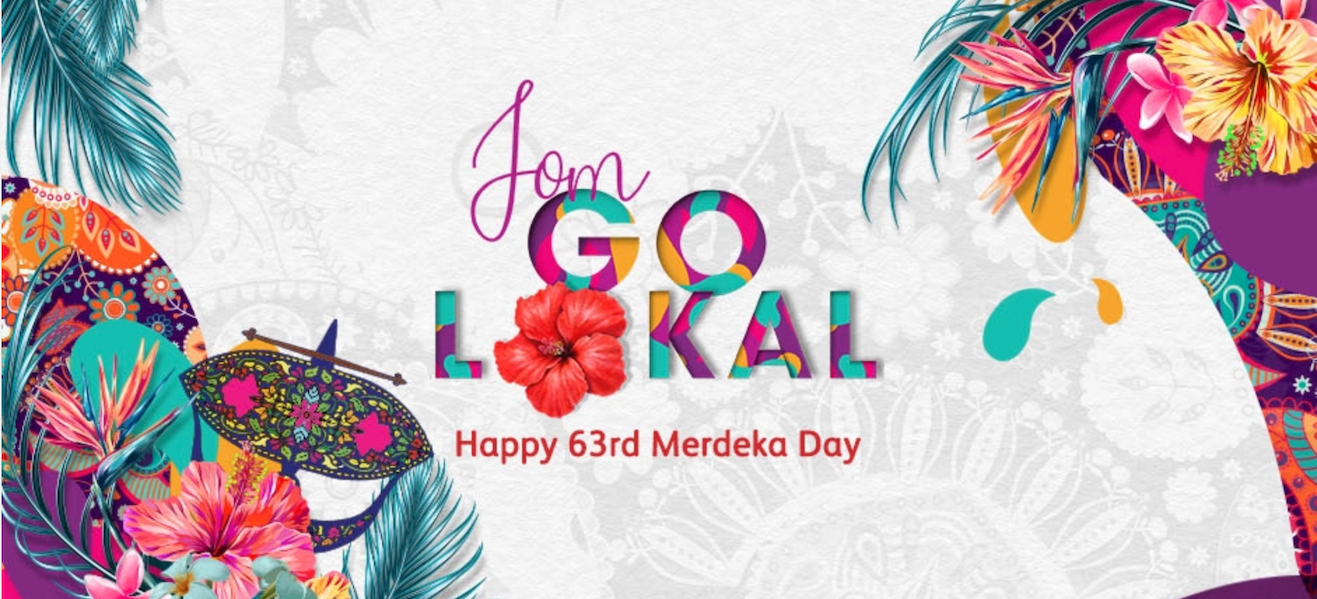 Love what you see on Astro's GO Shop live sales? Now you can browse and shop with their Merdeka sale, with up to 63% off products!
Check-in for 12 consecutive days to win RM63 coupons
Enjoy selected products for just RM63
RM30 off with minimum RM300 spend (LOKAL30)
RM63 off with minimum RM500 spend (LOKAL63)
---
BloomThis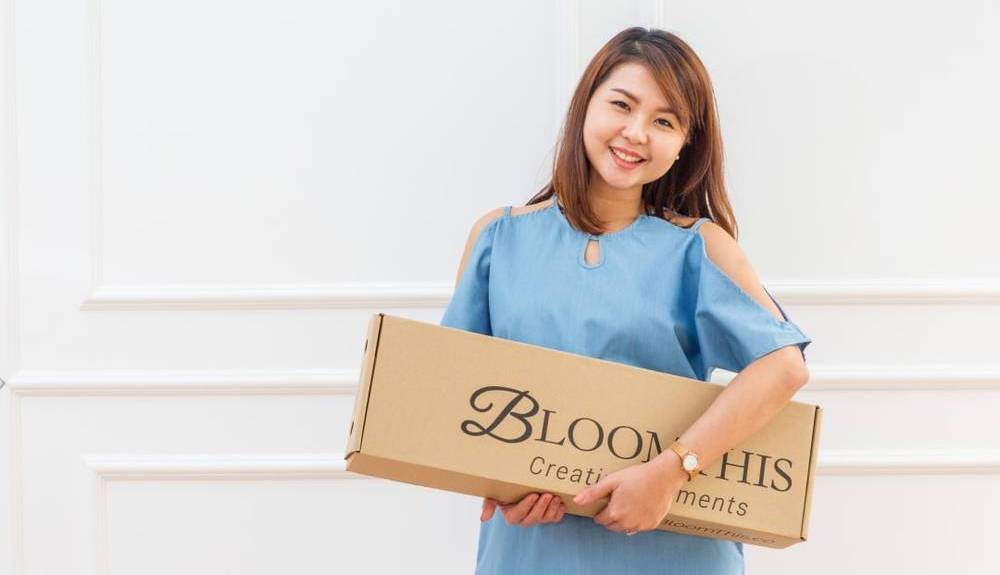 Gifting flowers is always a nice gesture to anyone. This Merdeka, BloomThis is celebrating #sapotlocal by featuring local indie florists (growers), bakers and such on their page. Let's support "Made in Malaysia"!
Cakes, plants and flower bouquets available
Free same-day delivery and gift delivery in Kuala Lumpur and Selangor
---
2019's:
Amazin' Graze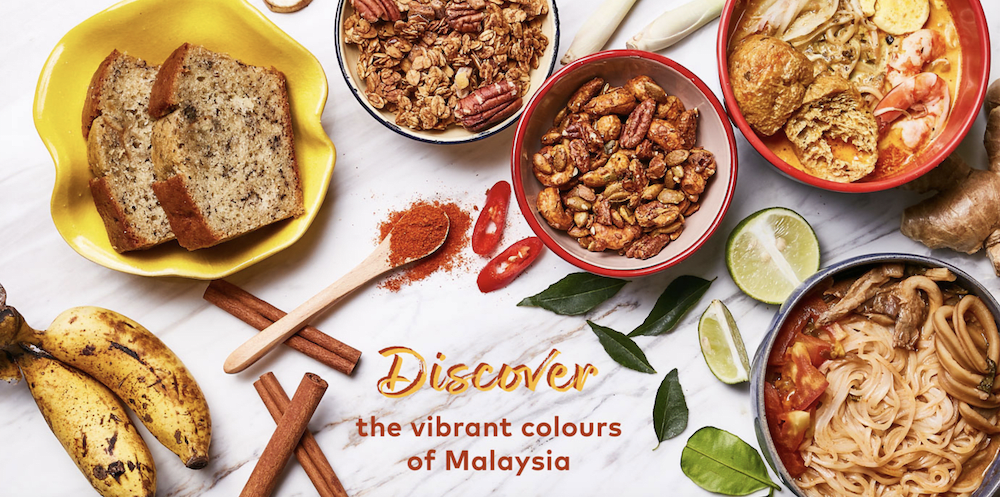 Your National Day treats are here – stay healthy and go with Amazin' Graze's Merdeka sale. Let's celebrate Malaysia's 62nd independence day and enjoy 20% OFF all bundle products with the colours of our Malaysian flag – Red, Blue and Yellow.

If you can't live without authentic Malaysian spices, then go for the Red Bundle. It consists of Coconut Curry Lime Nut Mix, Hazelnut Blackforest Granola and Black Sesame Almond Butter.

Go for the Blue Bundle if you love a little fusion in your healthy snacks. This one comes with Tom Yum Kaffir Lime Nut Mix, Blueberry Goji Granola and ABC Nut Butter.

The Yellow Bundle can be your ideal pre-workout snacks. There's Banana Bread Granola, Super Seeds Butter and Zesty Maple Glazed Nut Mix to keep you energized throughout your exercise.

Shop online at amazingraze.co for your healthy snacks fix. Happy Merdeka!
Cameralah.com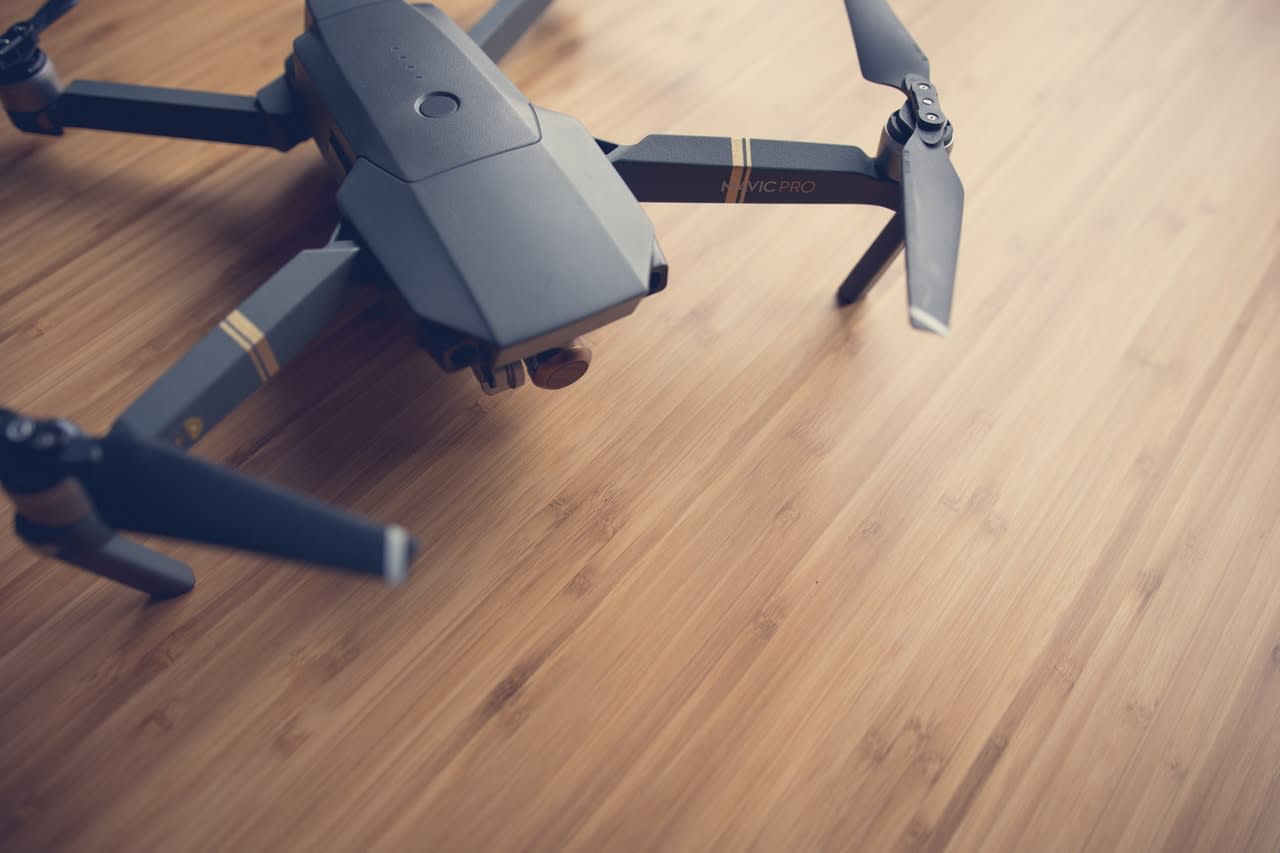 The National Day Sale just got better. Shop GoPros, cameras and other accessories for up to 95% OFF. Get your GoPro HERO4 Silver Edition Skin in various designs for as low as RM 5. Buy now before they run out at cameralah.com
Easybook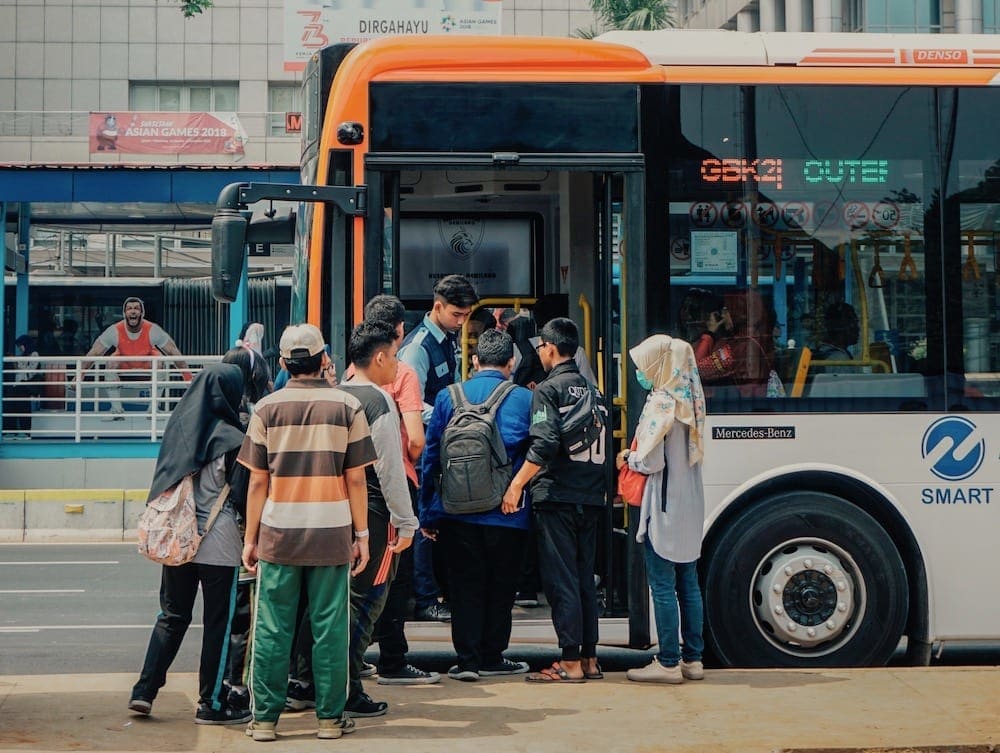 Travel back and forth Kuala Lumpur and Penang throughout August for as low as RM 8.80 with Billion Star Express via Easybook. Enjoy this Merdeka promotion by using the code KLPG88 at checkout. Buy your tickets now at easybook.com as the offer ends 29th August 2019.
Fotokem
Get your Fitbit, camera lenses and other photography needs at Fotoken via their Merdeka sale. Enjoy discounts of up to 84% until 31st August. Shop now at fotokem.com.
GNC Health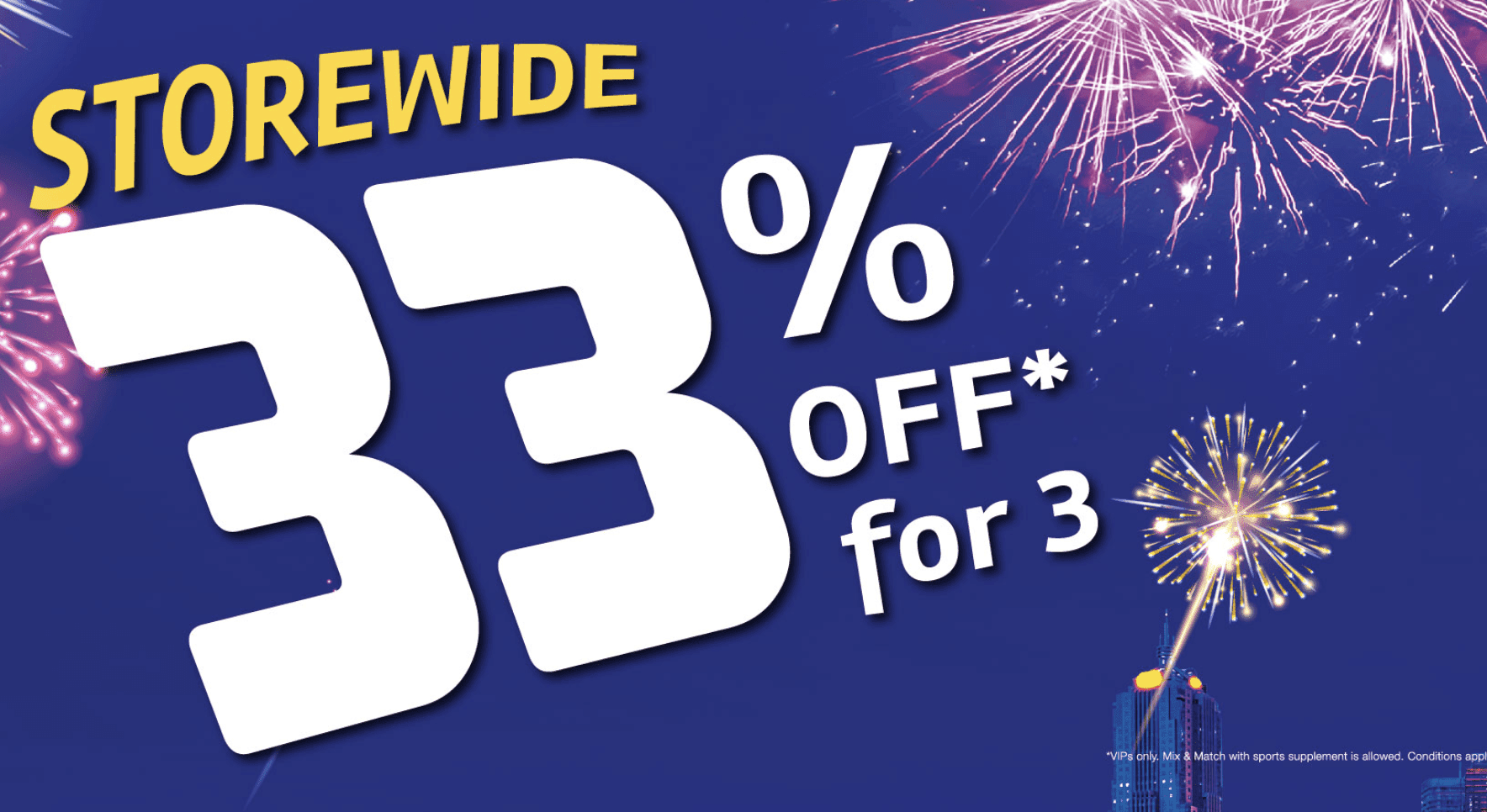 To commemorate our 62nd independence day, GNC is giving you 33% OFF for three items. You can mix and match your items with other sports supplements as well. Additionally, you can also enjoy vitamin packages for only RM 62 nett. Shop them now at gnclivewell.com.my
Guardian

Guardian is back to celebrate the We Sayang Malaysia to pay tribute to the 62nd independence day. Stock up on all your health, beauty and toiletry needs, and receive discounts up to 62% off on the second item. Note that this offer only applies to the same products. Get them now at guardian.com.my
Hermo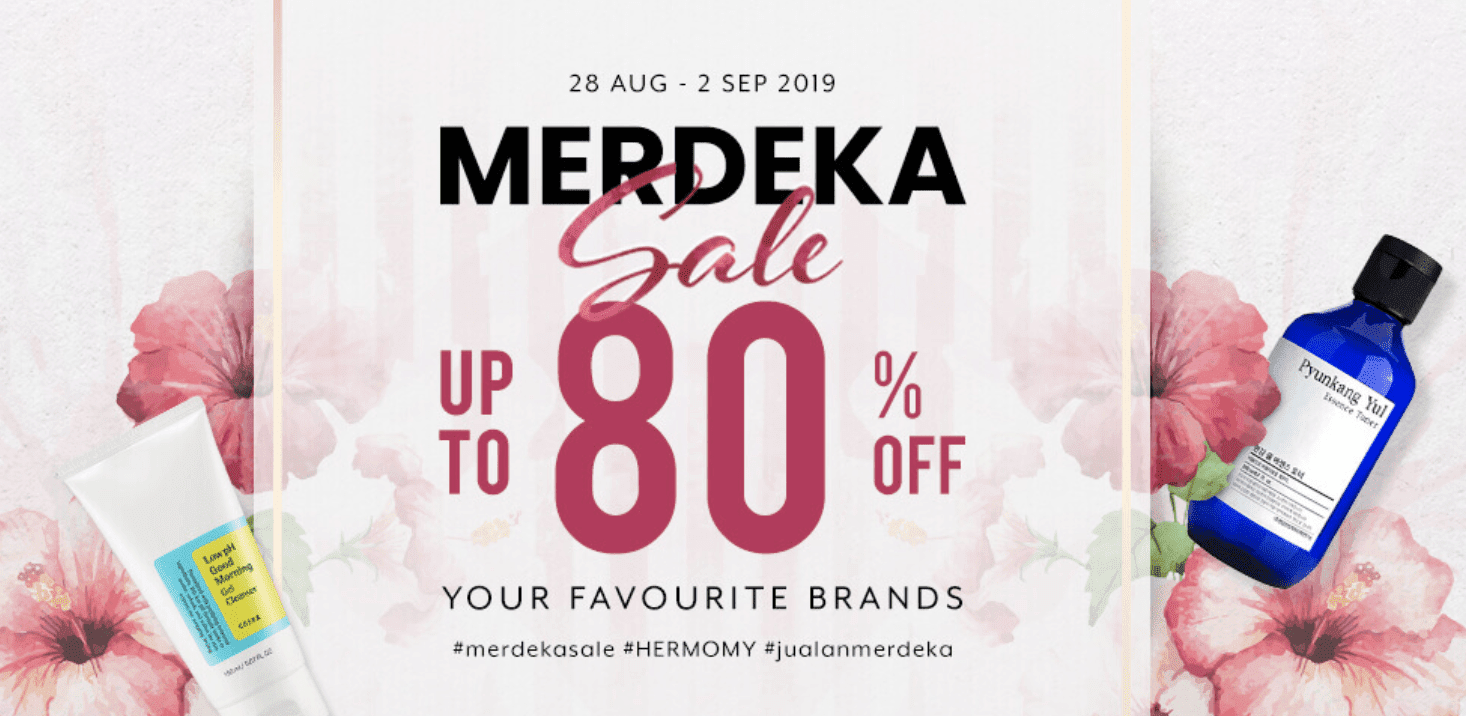 Get all your skincare and makeup essentials for up to 80% off this Merdeka season at hermo.my. Besides, you can win vouchers via credit exchange and playing quizzes as well. On top of that, there are flash deals that change every day throughout this campaign; you can get products from top brands for the lowest price, so be sure to check regularly.
IKEA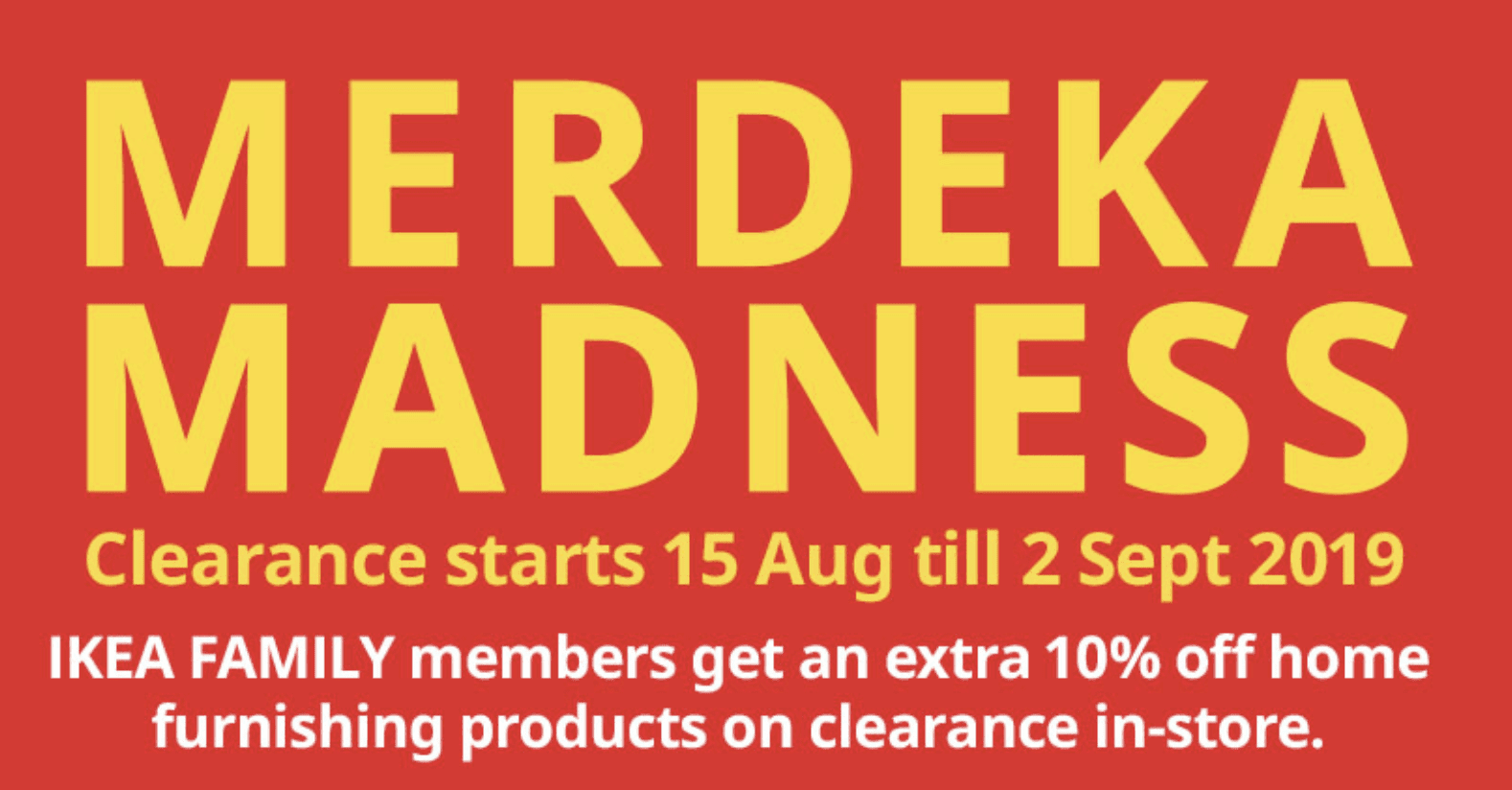 Redecorate your home with these fabulous IKEA products now on sale. In conjunction with the 62nd Independence Day, enjoy your favourite decor items and furniture at up to 50% OFF, in-stores and online. Enjoy an additional 10% OFF clearance items if you are a part of the IKEA Family membership program. The sale ends 2 September so hurry and shop now at ikea.com/my.
Lazada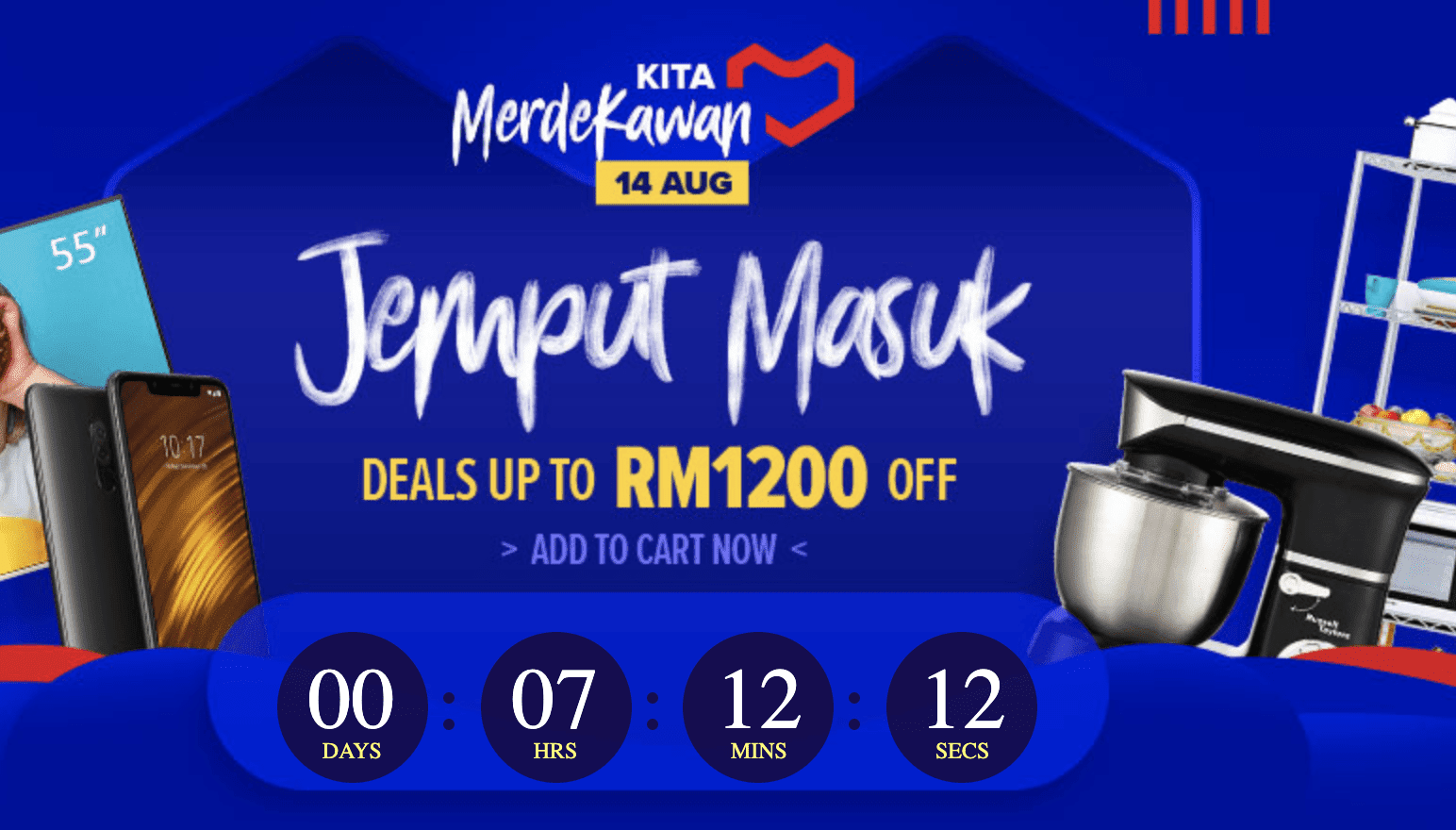 Celebrate 62 years of Malaysia's independence with Lazada's Kita Merdekawan campaign and enjoy up to RM 1200 off on selected items. Check lazada.com.my regularly as the items on promotion changes every day, lasting only for a few hours. Happy shopping!
Malaysia Airlines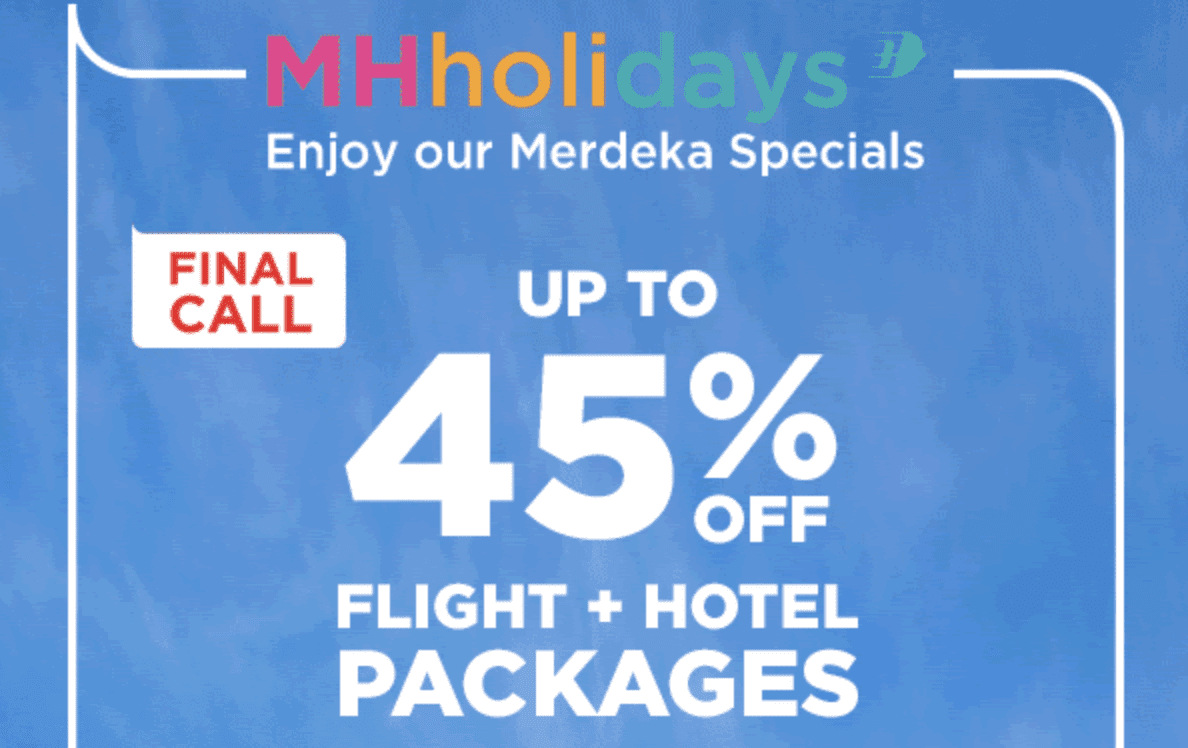 Take a break this Merdeka season and travel to Penang, Kuching, Bangkok, Perth, Tokyo and plenty of other destinations for up to 45% off. Book this amazing 3D2N flight and hotel package today at malaysiaairlines.com until 31 August for your travels starting 1 September 2019 until 20 February 2020.
Malindo Air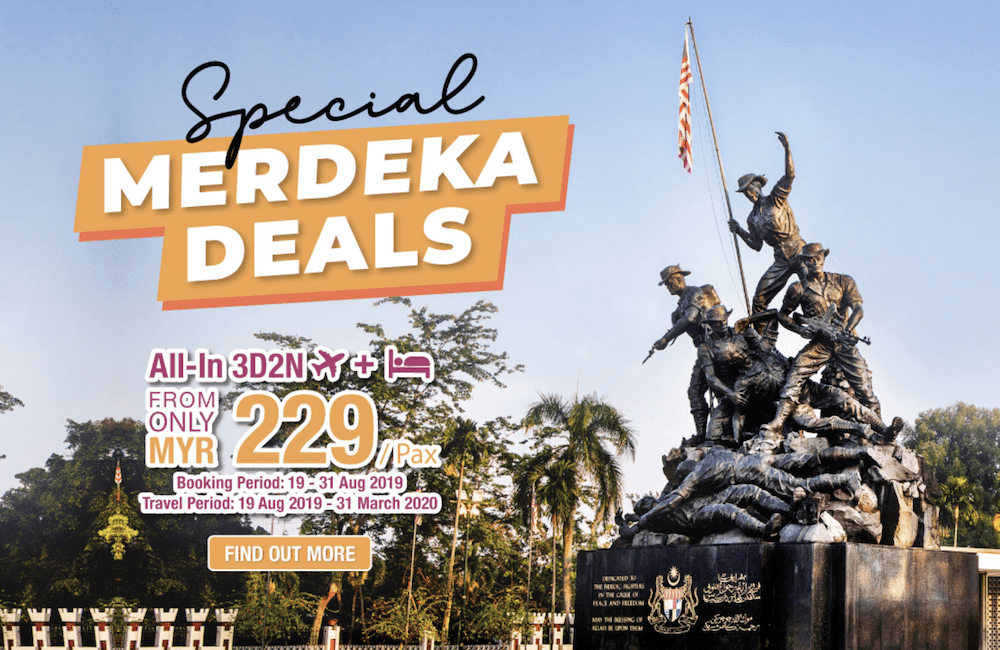 Fly to more than 50 destinations this National Day holiday with Malindo Air. Enjoy an all-in flight and hotel room for as low as RM 299 for three days and two nights. Book today until 31 August 2019 and travel until 31 March 2020. Get your passport, luggage and head pillow ready to explore ASEAN, Australia and China and South Asia. Book yoiur dates now at malindoair.com
Pink & Proper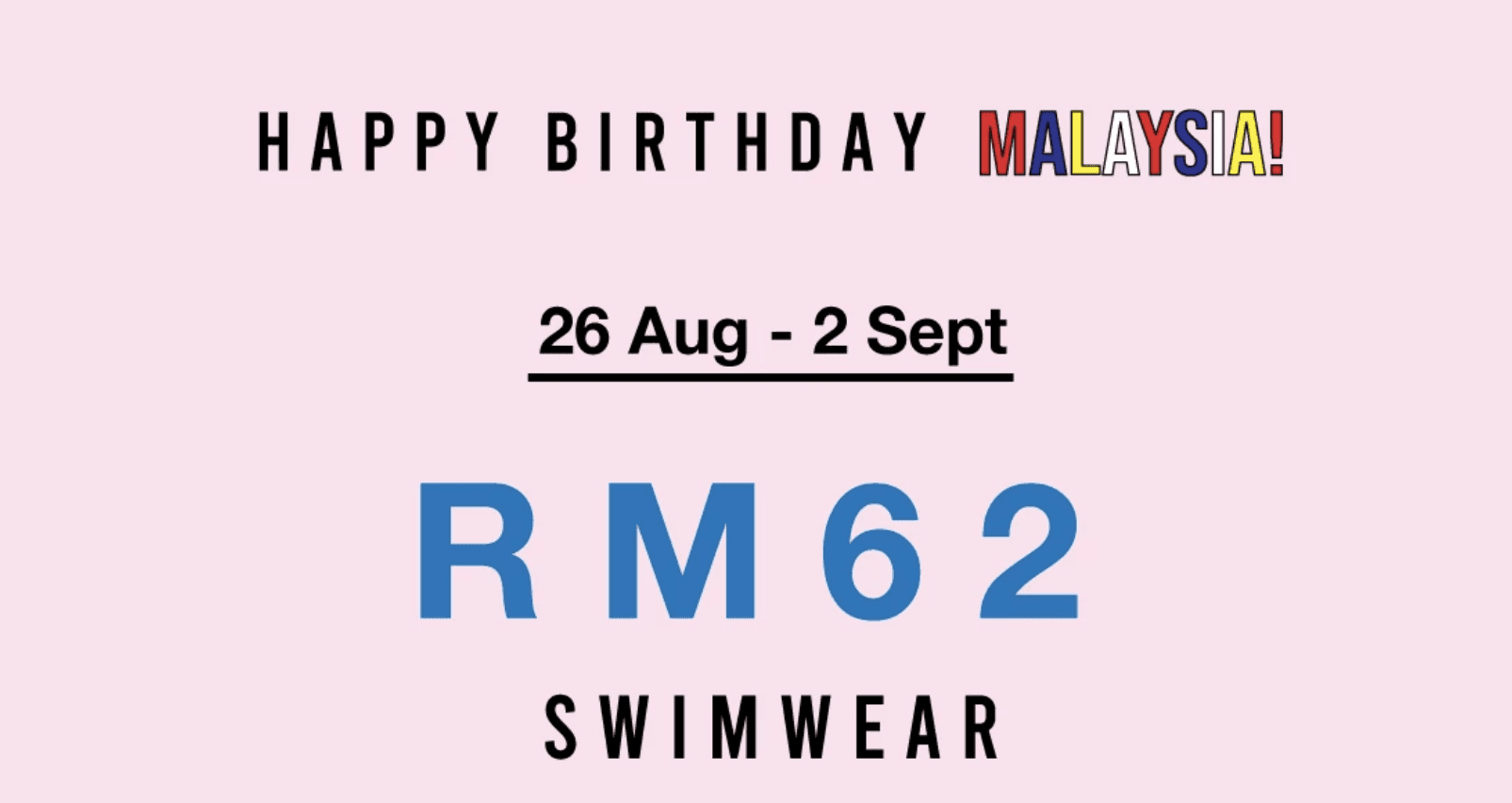 To celebrate 62 years of Malaysia's independence, Pink and Proper is lowering their prices to only RM 62 for cardigans, swimwear and mesh dresses. If you're planning a beach holiday, then now is the time to shop at pinknproper.com until 2 September. Happy holidays!
Presto Mall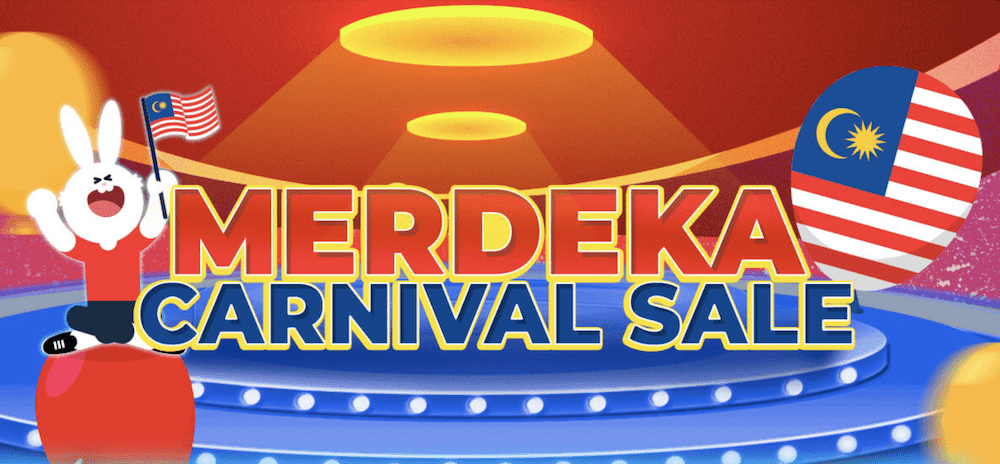 Presto Mall's flash sale offers you up to 90% OFF and above. Note that the deals refresh every day at 11 am so check the link religiously to avoid missing out on the best deals. Besides, you can also download shopping cart coupons for up to RM 62. Additionally, the more you buy, the higher your chance to win attractive prizes. Look out for the winners' announcement on 11 September. Shop and win at prestomall.com.
Tomaz

Give your shoe closet an upgrade with Tomaz this National Day. You can only shop this deal online so make sure your whip your measuring tape out and get all your digits correct before checking out. This sale ends 31 August so chop chop, no time to waste. Check out the deals below and start using them at tomaz.my
1) RM10 off with RM50 purchase. Enter code: TOMAZMERDEKA10
2) RM20 off with RM130 purchase. Enter code: TOMAZMERDEKA20
3) RM30 off with RM180 purchase. Enter code: TOMAZMERDEKA30
Watsons

Stock up on your toiletries and beauty products today with Watson's Kaw Kaw Online Mega Sale. Enjoy up to 60% OFF selected products and get an additional RM 8 off when you purchase RM 60 and above. Promotion ends on 1 September so bring out your shopping cards now and head to watsons.com.my
Zalora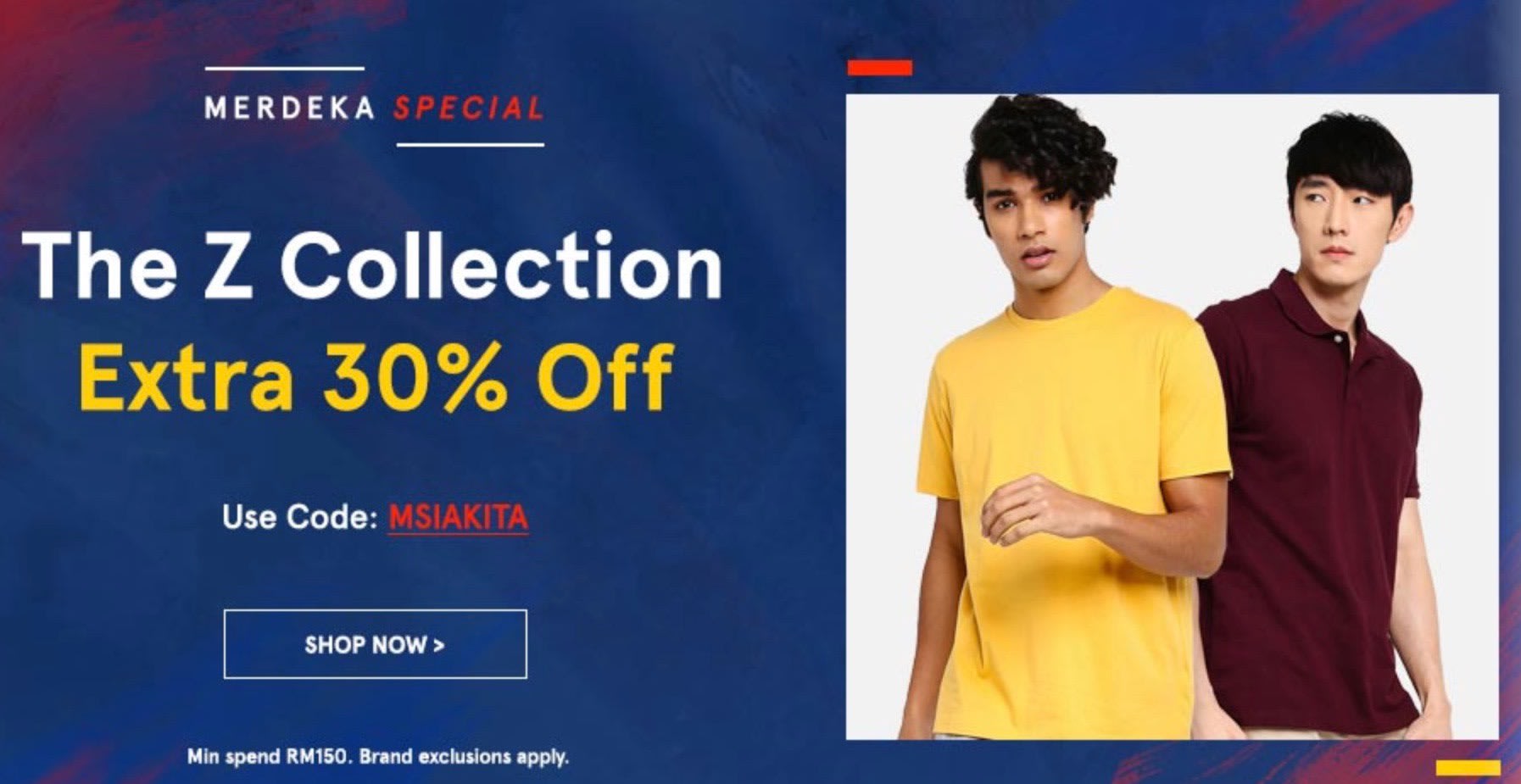 Give your wardrobe an upgrade with new and trendy pieces from Zalora this Merdeka season. Better yet, enjoy 30% off all items when you spend RM 150 and above. Remember to use the code MSIAKITA when you check out at zalora.com.my
Disclaimer: The pricing shown is just a good indication of how much these products are worth. The prices could change based on the e-commerce promotions that are going on. If some of the products are not available, do email us at [email protected] Thank you!