With so many different brands of laundry detergent out there, you might be wondering: Which one to buy? Just pick whatever's on sale? Or perhaps, the one your mom uses? After all, mother knows best.
Regardless, it's always to do some research of your own and this list should help. Scroll on for our recommended picks of the best laundry detergent to buy. 
---
Top 10 Laundry Detergent in Malaysia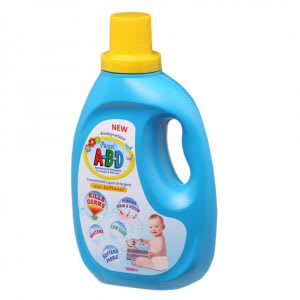 Check Pureen A-B-D Liquid Detergent price below:
add_circle
Suitable for use from newborn onwards
Pureen certainly needs no introduction. After all, this 40+ years old brand is one of the most trusted names for quality baby products. Take Pureen A-B-D Liquid Detergent, for instance; it is made suitable for cleaning baby wear like white nappies and other clothes.
The Pureen A-B-D Liquid Detergent also contains enzymes, which helps to remove stubborn dirt and stains effectively. It even leaves a pleasant smell and feels fresh after washing. Best of all, it is biodegradable, making it safe and harmless enough for your precious little tots. 
Details
Contains a powerful germicide that kills germs on baby wears

Combines highly effective ENZYMES that remove stubborn stains

The anti-depository agent also prevents the re-deposition of removed dirt, for more superb cleaning action.
Who is this for?
Parents seeking detergents for their baby's bibs and nappies will love this product. Let's be honest, some detergents out there leave a powerful fragrance after washing and this can be overwhelming for small babies, especially newborns. The detergent is gentle on fabrics for baby clothes and imparts a smooth feel to them.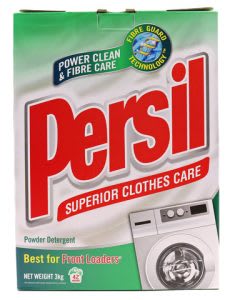 Check Persil Powder Power Clean (3 kg) price below:
add_circle
Suitable for front-loading washing
add_circle
Tough on stains, but kind next to skin
add_circle
Works well for quick cleaning
remove_circle
Could leave remnants behind in detergent drawers if it hasn't fully rinsed away
Believe it or not, it has been more than 100 years since Persil was first introduced to the public. Since then, it has grown as one of the world's top premium laundry detergent brands, which is why you might want to consider getting the Persil Powder Power Clean if you are looking for one of the best in the market.
Although the brand doesn't come cheap if compared to most detergent brands available in Malaysia, keep in mind that Persil doesn't skimp on quality. Got ketchup on your favourite shirt? Or perhaps your blouse is smeared with oily residues? With Persil Powder Power Clean's booster technology, you can now wash your dirty clothes in the washing machine confidently!
Details
Contain the enzymes which work well on quicker and cooler programmes

Dermatologically tested
Who is this for?
Active children (or adults) who always eat and leave messy stains on their shirts needn't worry as the enzymes in this powdered detergent are very effective at removing stains from ice creams, oily food and even grass.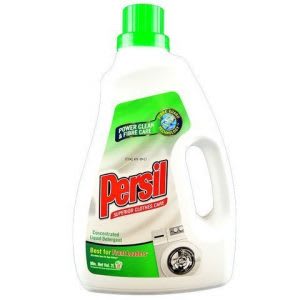 Check Persil Liquid Detergent (2 L) price below:
add_circle
Suitable for front loaders
add_circle
More concentrated liquid detergent for better washing
remove_circle
Mild Fragrance
Made suitable for front loading washing machines, this Persil Liquid Detergent contains the brand's patented Fibre Guard Technology. It helps to clean your dirty clothes more efficiently and even treat the fabrics gently upon washing. Not to mention, your favourite coloured clothes will stay fresh and feel brand new.
Details
Thanks to its Fibre Guard Technology, the new Persil is powerful at removing stains but soft with your clothes

Specialised low suds formulation

Won't leave colour stains
Who is this for?
An all-around cleaning agent, this detergent is suitable for fabrics of everyday casual clothing. At its price and quantity, Persil Liquid Detergent cleans and cares for your clothes, helping to remove oily stains while leaving clothes kind to the skin.
More: 7 Baby Detergents To Keep your Little One Clean And Comfortable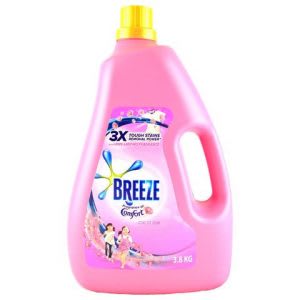 Check Breeze Liquid With Fragrance Of Comfort (3.6 kg) price below:
add_circle
Clothes become extra fragrant after washing
add_circle
Works well as a softener too
remove_circle
The fragrance can be too overpowering for some
If you love your washed clothes all fresh and smells great, perhaps this Breeze Liquid With Fragrance of Comfort can help to put you into a comfort zone. Not only does the detergent contains a heavenly smell, but it also helps soften your clothes or other sheets like blanket and towel without the need of a softener.
Details
Triple Boost Technology for fast cleaning

Removes 99.9% dust mites, powered by an Eco-friendly formula

Anti-malodor and fresh fragrance which provides long-lasting fragrance 
Who is this for?
Those who desire extra fragrance and scent when washing their smelly clothes will want to try these out. Other than keeping your shirts clean, be assured that they're gonna smell good too!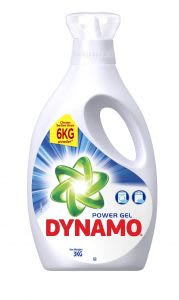 Check Dynamo Power Gel Concentrated Gel Detergent (2.8 kg) price below:
add_circle
Deeply penetrates to remove stains better
add_circle
Dissolves better than powder
add_circle
Long lasting freshness
remove_circle
Quite costly compared to similar concentrated formulas
If there's one thing worth mentioning about the Dynamo brand, you only need a cap of liquid detergent to wash a standard load, and when it comes to concentrated detergent, Dynamo Power Gel doesn't disappoint. It contains the brand's Ultra Concentrated Formula, which is strong enough to remove stains like coffee and tea residues.
Details
2X better stain removal with Ultra Concentrated formula

Micro Scrubber Technology removes visible stains and even invisible stains that cause malodour

Cleans better than 6kg powdered detergents
Who is this for?
Washing multiple clothes at the same time leaves you a worry that your clothes may not come out clean after hours of waiting, so this concentrated detergent penetrates through stubborn stains and helps clean more clothes in a single wash.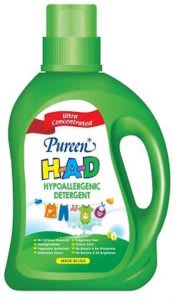 Check Pureen Hypo-Allergenic Detergent (H-A-D) 1000ml price below:
add_circle
Leaves fabric naturally soft with a fresh, clean scent
add_circle
Many Healthcare Organizations in the U.S.A. have recommended Pureen H-A-D formula for patients with sensitive skin
add_circle
No bleach and phosphate
remove_circle
Amounted to 1000ml only
This Pureen H-A-D detergent isn't just restricted for your babies' clothes, but also suitable enough for adults. Specially formulated with 100% biodegradable vegetable surfactant in the U.S.A., the detergent is gentle on fabrics upon washing. It contains no trace of chemical and is fragrance-free, making it safe enough for those who are prone to skin allergies. 
Details
Formulated from 100% biodegradable, vegetable surfactant in the U.S.A

Does not irritate delicate skin (hypo-allergenic)

Environmental friendly for clothes
Who is this for?
Using this detergent, your clothes won't leave any chemical residues and are gentle for fabrics, so it's good for people with sensitive skin.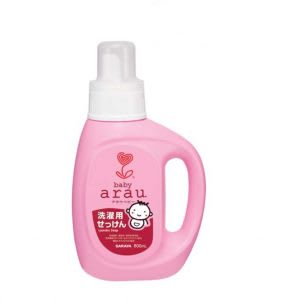 Check Arau Baby Laundry Soap Detergent 800ml price below:
add_circle
Cleanses with pure soap made from vegetable-based ingredients
add_circle
Products do not cause allergies because of their natural composition
add_circle
Naturally biodegrades in the drain water
remove_circle
Amounted to 800ml only
Worry about all the harmful chemicals found in some of the commercial laundry detergents? You can always switch to another alternative known as laundry soap, which is typically made of natural ingredients.
Such case is Arau Baby Laundry Soap Detergent, which has the benefit of natural coconut oil extract. It has no fragrance or any additives, making it safe to clean different types of clothes while effectively remove dirt and grease.
Details
Contains no synthetic cleaners, fluorescent agents, bleaching agents, synthetic fragrances, colours, or preservatives

100% plant-derived ingredients

Aloe extract treats your hands gently when washing with hands
Who is this for?
From babies to adults, this detergent doesn't discriminate. It uses natural cleaning agents like aloe extracts for safe cleaning and removes tough stains and leaves your clothes soft and snuggly without using fabric softener.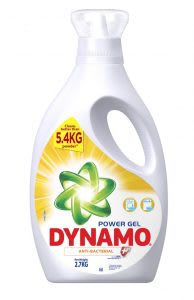 Check Dynamo Power Gel AntiBacterial Concentrated Gel Detergent price below:
add_circle
Anti-bacterial power gel formula which removes bacteria
add_circle
Good for sensitive skin
remove_circle
Mild fragrance
With today's increasingly polluted environment, it comes to no surprise that many respective manufacturers have come up their own antibacterial cleaning products. Not only it helps those people prone to infections but also your clothes as well. Besides, did you know that your favourite shirt can be a potential breeding ground for germs and bacteria?
Which is why you need a laundry detergent that provides the benefit of preventing and removing bacteria altogether. Your best bet is Dynamo Anti-Bacterial Power Gel, which does the job well as it doesn't contain an overpowering scent but smells nice enough after washing. 
Details
Up to 99% anti-bacterial

2x better stain removal with an all-new ultra-concentrated formula

Fresh smelling scent
Who is this for?
Apart from doing well in removing oily stains and other stubborn residues on your clothes, an extra layer of protection which prevents bacterial growth ensures fresher wear!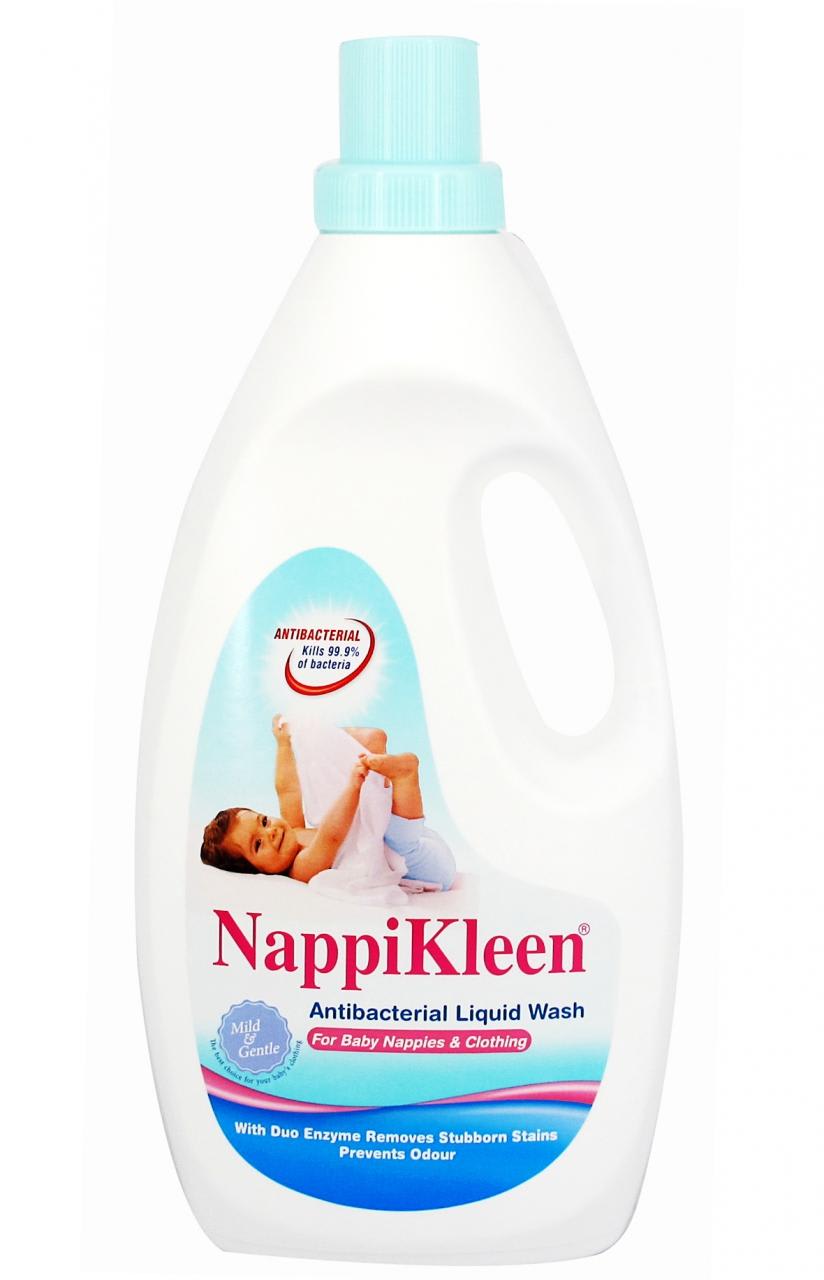 Check Nappikleen Antibacterial Liquid Wash price below:
add_circle
Made to remove stubborn stains
add_circle
Works well for delicate fabrics too
add_circle
Suitable to use from the age of newborn onwards
remove_circle
Has a mild perfume scent
NappiKleen knows best when it comes to laundry innovation, given its illustrious history. So, if you are looking for a reliable stain-removing detergent, you can't go wrong with this one. It is powerful enough to remove most of the stubborn stains like chocolate sauce, mud and even thick pasta sauce.
NappiKleen AntiBacterial Liquid Wash is also both dye- and fragrance-free, making it exceptional enough for kids with sensitive skin. The detergent is even gentle enough for delicate baby skin and makes your washed clothes feeling fresh all day long.
Details
Kills 99.9% of bacteria in clothes 

Mild and gentle for babies' delicate skin

Balanced pH
Who is this for?
We always want the best for our loved ones and finding cleaning products suitable for babies with sensitive skin can be difficult. Thankfully, this detergent is made with high quality formulation to disinfect clothes so your baby is free from skin irritations. Adults will appreciate this product too.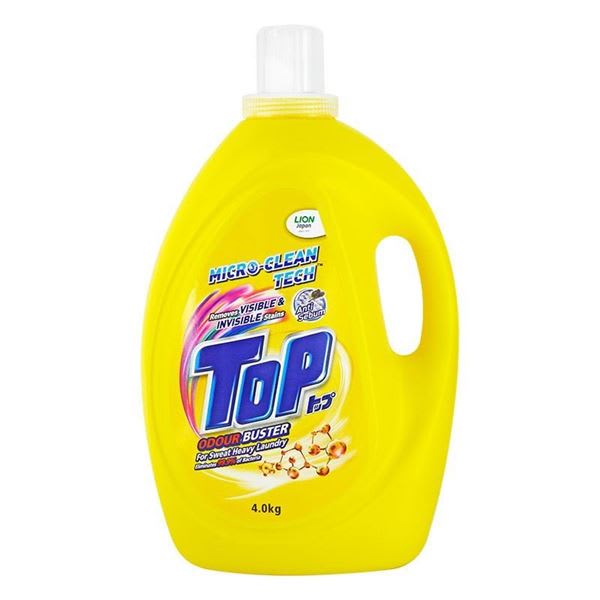 Check Top Liquid Detergent (4kg) price below:
add_circle
Good at removing smells
add_circle
Penetrates deeply into the fibre core to lift out trapped sebum and sweat stains effectively
remove_circle
Mild fragrance
If you're on a tight budget but still need a reliable detergent, then this affordably-priced Top Liquid Detergent Colour Protect is worth considering. It contains the brand's first-ever anti-malodour technology in Malaysia. This detergent particularly helps to remove foul odour in case you are planning to dry your clothes indoors.
Details
Removes trapped sweat stains to prevent 99.9% of odour-causing bacteria

Micro-Clean Tech features the Anti-Sebum innovation

Anti Malodour prevents malodour
Who is this for?
At an affordable price, this detergent suits every budget of people seeking effective detergent. Consider the Top Liquid Detergent an underrated cleaning solution for your laundry!
Is liquid or powder laundry detergent better?
Honestly, they're both the same. You should only differentiate them based on the type of washing machine you use at home: Liquid for top load, powder for front load, but that doesn't really matter as well.
However, liquid detergent works better on stubborn, greasy stains while powder ones are great for mud and soil. The truth is, no laundry detergent is created equal but we've narrowed down the options for you with this list.
More: Keep Your Dirty Laundry at Bay with these 8 Laundry Baskets