Luggage bag types range from carry-ons and smart to hard-shell, soft-sided and more. These luggage bags are differentiated from each other such as having scratch and water resistance, weight, size, ease of use and durability. Some also come with nice travel accessories, extra luggage pieces or as luggage sets.
If you're packing for your next trip soon and are on the hunt for the right luggage bag to take on your travel, you've come to the right place. With a list of varied luggage types such as travel duffles, hardside luggage, carry luggage and travel backpacks; we listed some of the best luggage brands, like Tumi or Samsonite, which we believe would be what you're searching for.
List of Best Travel Luggage Bags in Malaysia 2023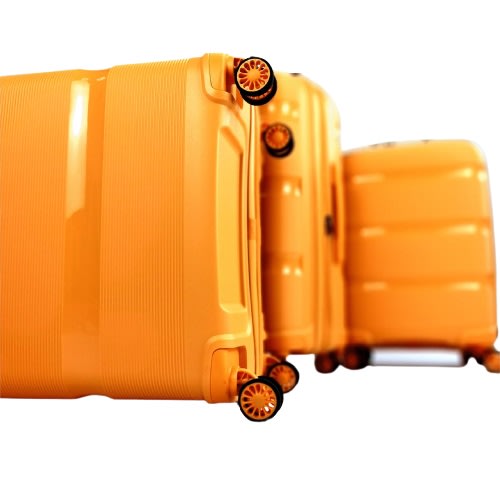 Check SAMEL 28" FGD 363 Expandable Luggage price below:
add_circle
Available in various colours
add_circle
Anti-theft zipper
add_circle
2 years warranty
add_circle
Hard shell casing
Overview   
Stylish in its aesthetics, SAMEL luggage offers a large capacity so you do not worry about packing almost anything and everything with you. Its interesting feature is that it comes with a unique expandable system which provides ample space for your belongings. 
Not to mention, it comes with a combination lock and a double coil anti-theft zipper which provide higher security for your belongings. 
Details
Expandable luggage 

Durable aluminium telescoping handle  

Multi-directional smooth heavy-duty spinner wheels

Built-in TSA lock and double coil anti-theft zipper
Who is this for?  
If you're needing luggage that provides bigger space for your belongings, SAMEL's luggage is it. Many users root for this option as a good recommendations. It comes with great quality despite its very affordable price point.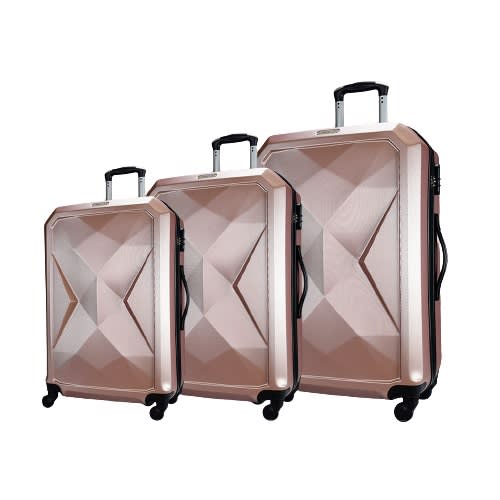 Check Urbanlite Rubik 3 IN 1 price below:
add_circle
Available in various sizes
add_circle
Ergonomic handle
add_circle
Comes with a cup holder
add_circle
Rotatable wheels
remove_circle
No warranty
Overview 
Comprising a distinct feature such as a cup holder, how do you say no to a luggage that thinks of your bottle placement?! Built with a high-quality and sturdy ABS material, rest assured that your belongings will be protected from any incident of water, shock and fall. 
Better yet, its multi-stage strong, retractable handle gives you a comfortable grip and easy lifting. You'll be pleased to know that its combination lock provides good security for keeping your belongings safe.  
Details
Comes with a built-in premium-quality combination lock    

Multi-directional wheels 

Multi-stage strong retractable handle
Who is this for?  
With a fully-lined interior that comes with a buckled compression strap, built-in divider and multiple pockets; you won't have to worry about dishevelled packing. Its 360° spinner wheels also allows for a smooth and effortless movement with your luggage.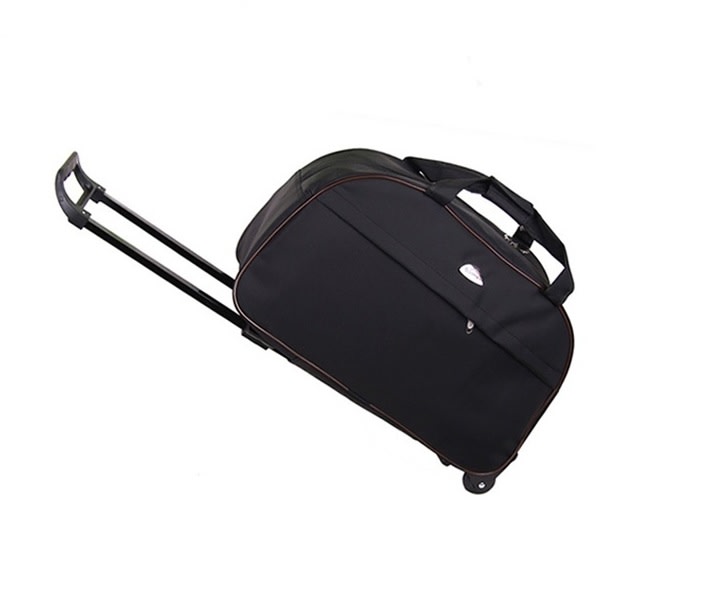 Check Le Voue 7052 Nylon 24inch Luggage Bag price below:
add_circle
Comes in various colours and designs
add_circle
Anti-tear and scratch
Overview     
This luggage comes with a unique handle design that gives you the choice to hold or pull on its retractable long handle. Designed with high-quality ballistic nylon material, the luggage bag is both durable and waterproof. Its multiple pocket compartments also make it easy to keep your things organised and accessible too.  
Details
Made of high-quality 1680D ballistic nylon material    

Can be used as a carry-on as well
Who is this for?  
The most common kind of compliment for this luggage is that the interior is spacious as well as praises for its sturdy wheels. Both the zipper and handle too are smooth and well-functioned.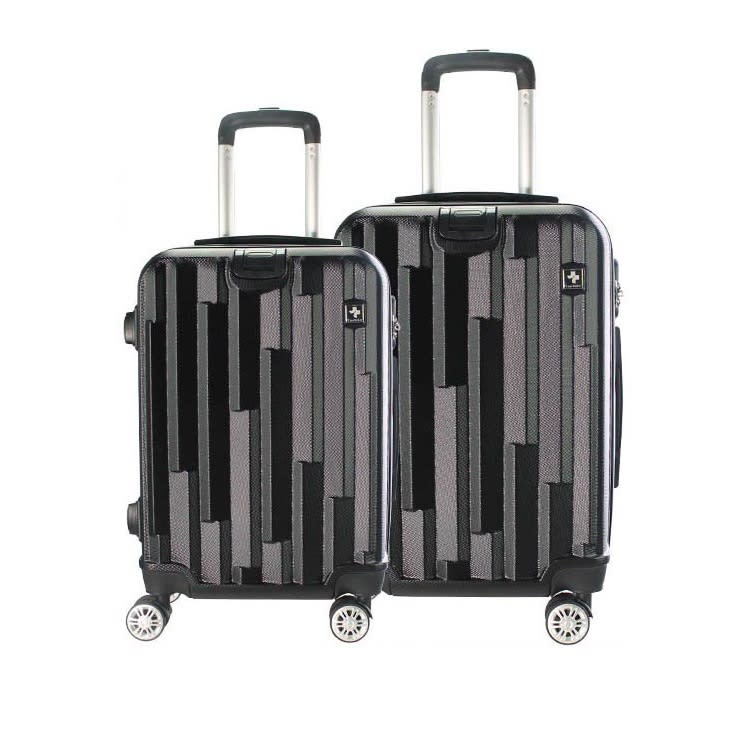 Check Case Valker Matrix ABS 2 in 1 Luggage Bag price below:
add_circle
Available in various colours
add_circle
Water and impact-resistant
add_circle
1-year warranty
Overview     
Designed with a high-quality ABS material, this luggage is both impact and water-resistant. Together with its 360° rotatable wheels, it makes this luggage easy to manoeuvre around! Not forgetting, its 3-digit combination lock keeps your belongings safe and secure. 
Besides, it comes with a spacious compartment that features elastic cross-straps which have been designed to match both the exterior and the zipped divider panel. 
Details
Comes with 360° silent spinner wheels 

Durable yet flexible exterior 

Waterproof retractable handle for easy pushing and pulling
Who is this for? 
Packing for your trip just got all the more organised thanks to the spacious compartment and X crossover fixed buckle that this luggage offers. Its four 360° spinning wheels will be a breeze to your travels as the wheels glide freely when you move around.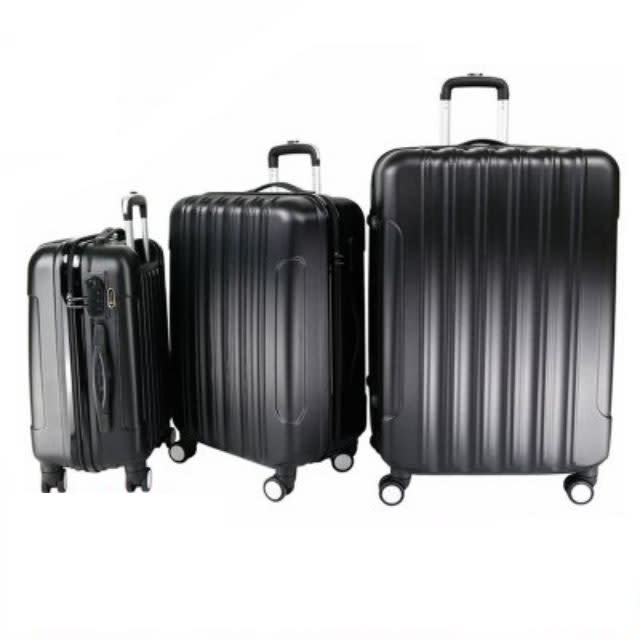 Check SKY TRAVELLER SKY284 Big Stripe 3-In-1 Ultralight Luggage price below:
add_circle
Built-in 3-digit combination lock
Overview 
Extremely lightweight yet durable; what more could you ask for from SKY TRAVELLER SKY284 luggage? This one comes with four 360° spinning wheels that move easily without any restraints. Let's not forget that it has an integrated 3-digit combination lock to safely protect your personal belongings. 
Details
Anti-wear rubber angle 

Stain-resistant 

Built-in retractable trolley 
Who is this for?  
Striding in the airport will feel like a breeze when you can easily move your luggage freely. Its retractable trolley handle makes handling this luggage easy-peasy! Not to mention, the ABS and PC material used on the luggage ensures that it lasts for years to come!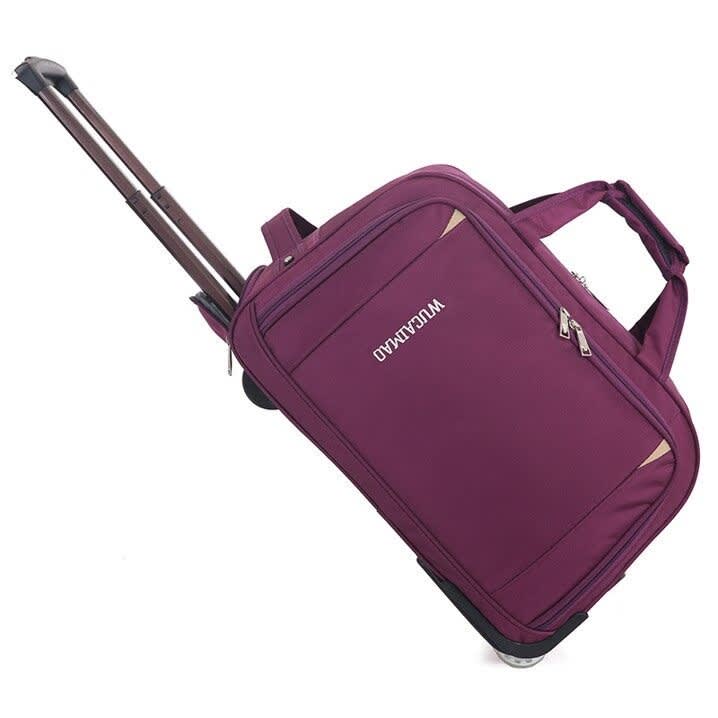 Check MILANDO Travel Duffel Bag Cabin Luggage 20" price below:
add_circle
Compact in size
add_circle
Available in various colours
remove_circle
1-month warranty
Overview 
Sleek-looking, this carry-on luggage is made from advanced Nylon Oxford material on the outside with Polyester for its lining. On the other hand, its handle is made from high-quality steel whilst the plastic wheels are built from durable ABS material. From this, you can be certain that this carry-on luggage is sturdy. 
Though compact in size, it comes with a spacious zippered main compartment and additional exterior pockets. Thus, rest assured that there's sufficient space and room to pack all your belongings.   
Details
Made from tear-resistant oxford fabric 

Suitable for carrying onto the plane 
Who is this for?    
Having a carry-on is ideal especially when you're travelling with edibles or fragile items. If that's you, the MILANDO Travel Duffel Bag Cabin Luggage would be ideal for you. It's compact yet spacious which provides ample room for you to keep your delicate belongings. Plus, it's also sturdy and comes with wheels which makes moving it around easy.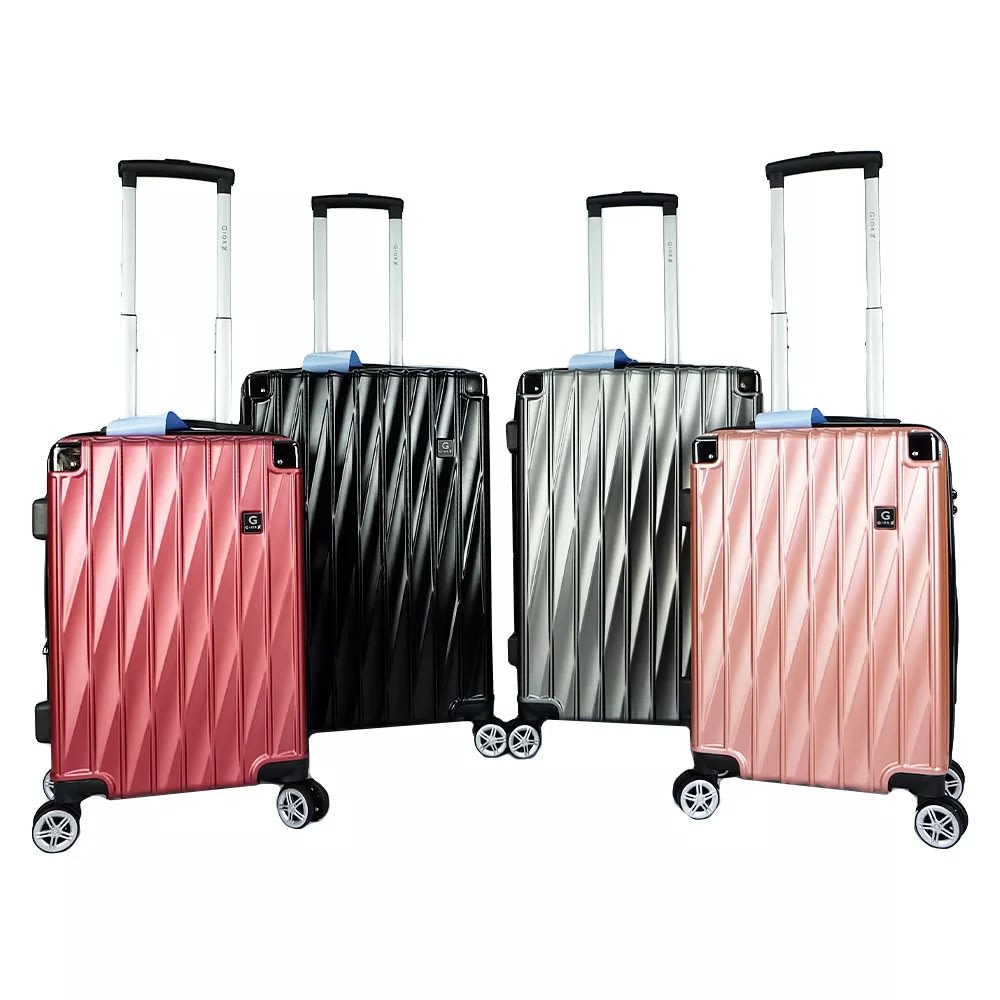 Check GiorX 2-in-1 Set Expandable Travel Luggage price below:
add_circle
Scratch and shockproof
Overview   
This luggage is durable yet lightweight thanks to its polycarbonate material. Its solid material also makes the luggage both scratch-resistant and anti-break. That translated to better protection for your luggage from all the tossing which happens when you check-in luggage. 
Moreover, the 8x 360° wheels are smooth and silent with a metal chrome protector at its edges. Moving around the airport with this luggage feels like bliss! 
Details
Comes with 8 x 360 degree smooth and silent wheels 

Embedded TSA combination lock  

Retractable trolley with push button
Who is this for?  
Users couldn't be more pleased with the aesthetics and quality of this luggage. Its 20" size makes this one suitable for travels for as long as 3 days even! Not to mention, its 360° spinner wheels make it so convenient.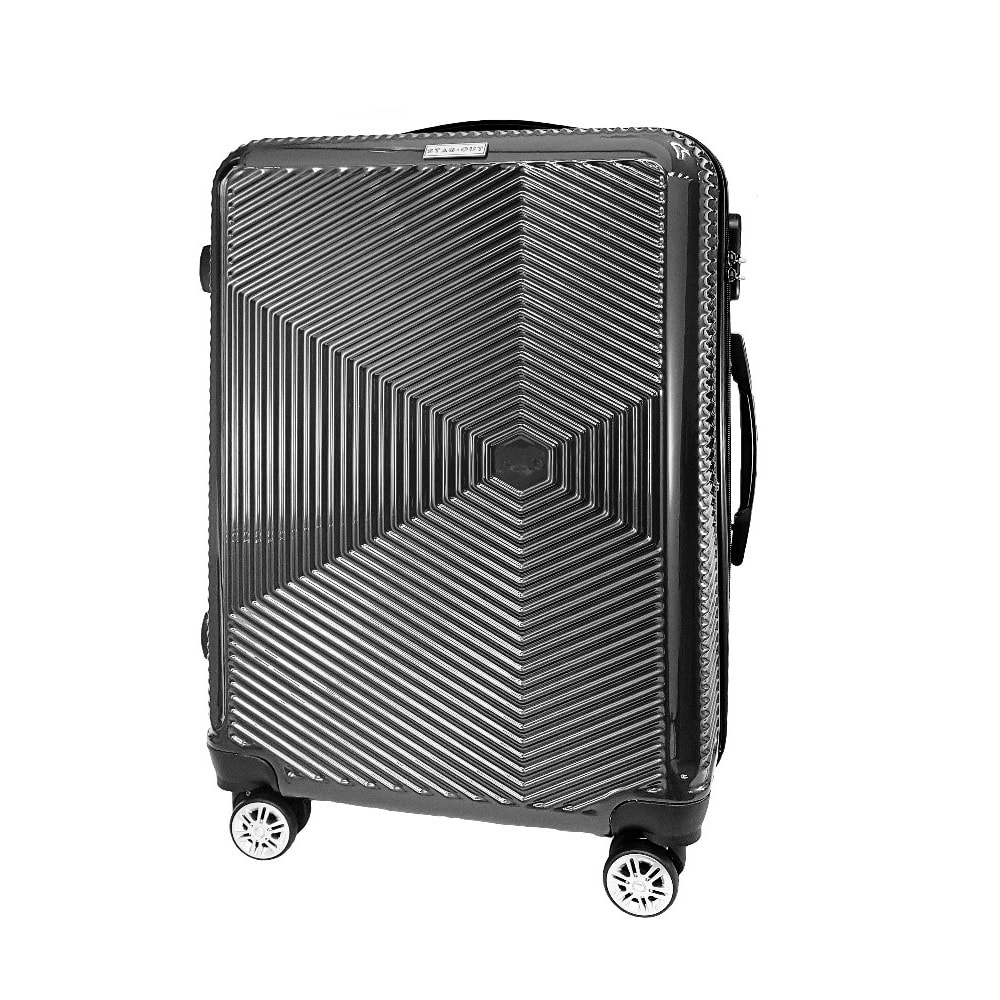 Check Stag-Out Moose Exclusive Hardcase Luggage Bag price below:
add_circle
2 years on parts and accessories warranty
Overview
A sturdy, industrial-grade, and heavy-duty outer shell for the luggage is made possible by the importation of high-quality ABS. Additionally, this luggage has a handle made of aluminium, sturdy wheels, and strong inner padding to protect your belongings.
Furthermore, the Stag-Out luggage has a more advanced security lock system, so you won't have to worry about people trying to steal your luggage.
Details
Durable yet flexible exterior ABS+PC glossy surface (protective film)

Retractable high-grade aluminium handle

3 combination code lock for maximum security

360 ultra-silent 4-wheel system
Who is this for?
With this bag's spacious compartment, packing your huge amounts of clothes is now easier and more organised. Besides this, the four wheels' 360-degree ultra-quiet design will make travelling a breeze because they will allow you to move around freely.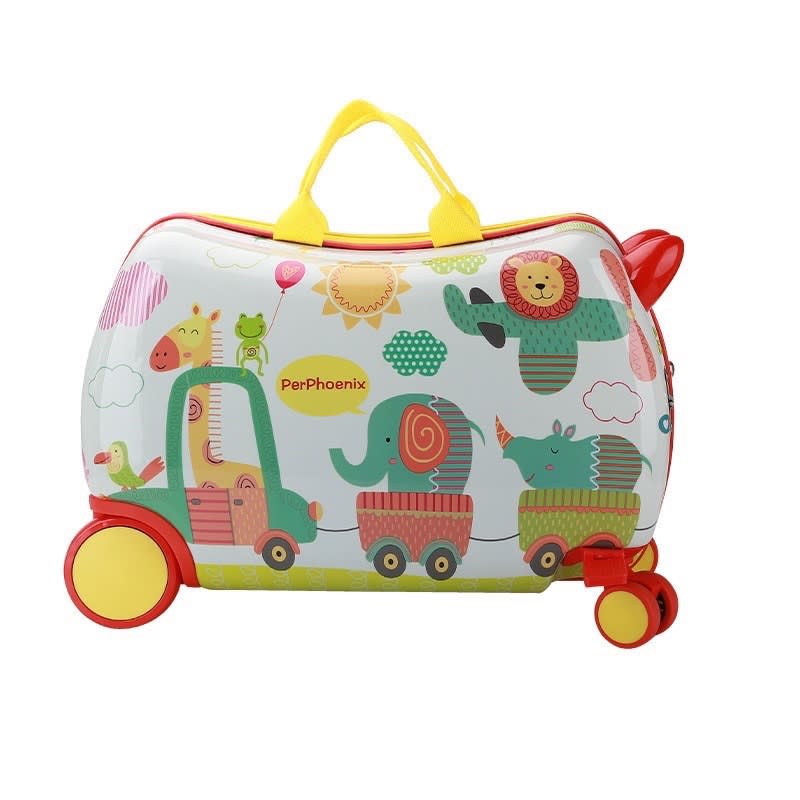 Check Roll and Play Ride Kids Suitcase price below:
add_circle
Lightweight and ideal for children
add_circle
Kids can ride on the suitcase
Overview
Whether it is for a weekend getaway or a lengthy vacation, your children need a practical bag that is made for their size and can hold all of their necessities. Your child will adore the colour as the bag comes in an appealing design or you can customise it yourself with gnarly stickers!
The best part is that whenever your children get tired of walking, you can simply let them sit on top of the suitcase, and then you're good to go.
Details
Luggage made with PC + ABS

Support horns and built-in safety latches and belt

Includes 2 handles straps and compartments

Kid's maximum weight: 50kg
Who is this for?
Parents who need a storage case for their children's belongings might want to give this a shot. Additionally, since it has 2 handles, straps, and compartments, your kids' belongings will be kept safe.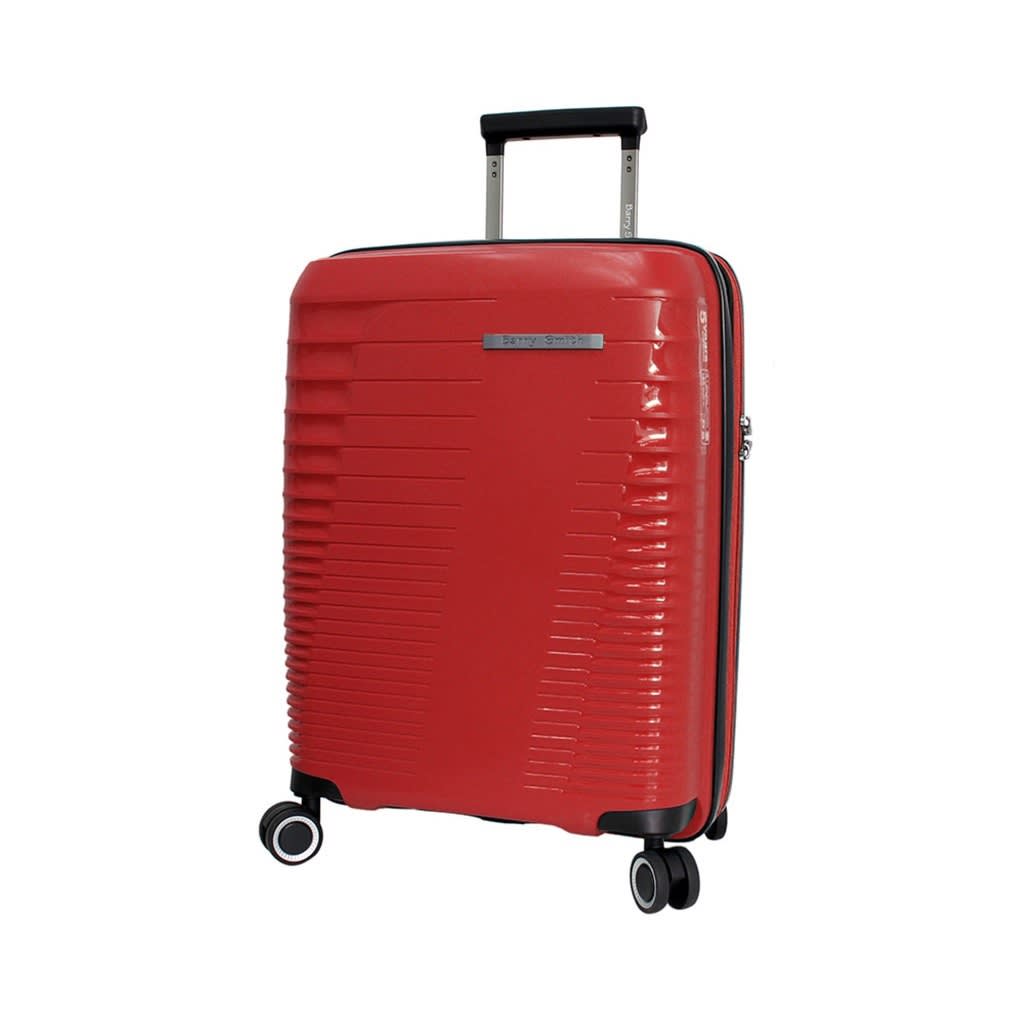 Check Barry Smith PP 28" Hardcase price below:
add_circle
TSA Approved Lock
add_circle
Easy to maneuver
Overview
The Barry Smith PP 28" comes with eight 360-degree wheels which means they can rotate in whatever direction you're going. It has a sturdy, tough chassis that's made of a hard 100% Polypropylene case. This luggage is also fitted with a TSA-Approved lock fitted on the bag so you don't need to worry about unwanted people having access into the bag. 
Details
Made with 100% Polypropylene Material

51 X 33 X 76 cm (28")

TSA Approved Lock

Safety Zip

360 Degree Rotating Wheels 
Who is it for?
While uncommon, we should still take precaution to secure out luggages from thievery. So, getting a travel luggage with a built-in lock is something you should consider. Which is why, the Barry Smith PP 28" is something we recommend due to its TSA Approved lock on the bag.
FAQ:
- How Do I Choose the Best Luggage?   
The right luggage is certainly a good investment. So, how do you ensure you're making the right choice with 'The' luggage?
Knowing the weight of your luggage is important due to the weight limit checks at airports especially when checking in. Lighter luggage bags make it easy to lift and manoeuvre. 

Size is also important. Larger luggage bags are needed especially when you need more space to pack your belongings. However, it's also worth considering the practicality especially if you need to travel to the airport by car. Do also think if the luggage can fit snugly in the boot and be pushed around through crowds. 

Another point to note is whether the luggage bag can come with handles at the top and side. They're extremely practical and would make it easy for you to handle your luggage bags according to the situation that requires it. 

Same goes for its wheels; luggage bags with spinner wheels are more convenient as they can be easily tilted and wheeled - useful for when you're in a rush.  

When it comes to storage, you can find internal pockets in most hard-shell and soft-sided luggage bags. These internal pockets range from small to larger compartments that can fit a laptop and garment compartments to help keep your delicate clothes from creasing.

Last but not least, you never can know when anybody up to mischief would want to tamper with your luggage bags. So do look for those with a good lock system. 
---
- Is It Better To Get Hard Or Soft Luggage?  
Between a hard shell or soft-sided luggage, it all comes down to your preference on which you'd prefer. Mainly, it's either in terms of more storage space or one that would be better able to withstand pressure when it's tossed and turned after getting it checked in. 
Hard-shell luggage:
This one is considered to be the most durable type of luggage due to its rigid casing. 

Though it's less flexible than its soft-sided counterpart, it's still a better option to consider when protecting your delicate items. 

Besides, hard shell luggages endure rough-handling better when you check it in. 
Soft-sided luggage:
Meanwhile, these ones are usually made of polyester, nylon or a mixture of both, and often feature expandable sides to give more room for packing. 

It's also less water-resistant compared to hard-shell luggage, but most consist of PVC lining for added protection. 

Furthermore, soft-sided luggage comprises a range of internal and external pockets which help in keeping your packing organised. Of course, there are external pockets, but bear in mind that these pockets don't have their padlock system.
Related articles