A modern, high-tech kitchen without the proper cookware is the same as having an expensive car without an engine – you can show it off, but it can't be used. Cooking is a form of art and the quality of dishes produced is affected not only by the chef, but the equipment used in the process of preparing the dish. Make a wise investment with the help of our cookware set recommendations!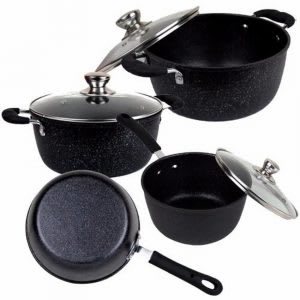 Check Marble Stone Non-Stick & Induction Cookware Set (Black) price below:
New homes these days are equipped with induction cooktops instead of traditional gas stoves. A lot of people may be uncertain about induction stoves because it requires the right cookware for it to work. If you're at a loss, this marble surfaced pan set is perfect for induction cooking. On top of that, it's non-stick, which makes cooking and cleaning much easier!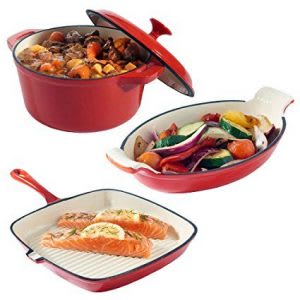 Check VonShef Cast Iron Dishes Cookware price below:
Cast iron has been around for a really long time, but with so many options out there, it's hardly anyone's first choice. We're here to change that! Cast iron may be expensive and heavier than your average cookware, but when it comes to durability, cast iron cookware wins – hands down! This versatile cookware is suitable for almost any cooktop; it can also be used in a convection oven.
More: Show Off Your Skillet Cooking with These 7 Cast Iron Pans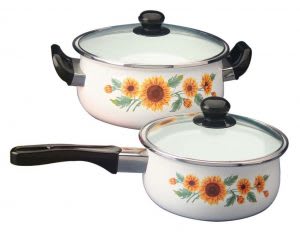 Check Enamel Cooking Pot Set price below:
This enamel cookware set is another versatile equipment to add to your kitchen. It's suitable for all stove types from induction, gas, electric to ceramic stovetops. Plus, it's also dishwasher safe! If you prefer lightweight cookware, this is the set you should go for. To top it off, enamel cookware is easy to clean!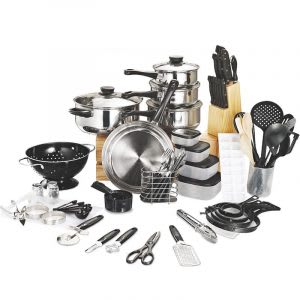 Check DESIGN HOME 80 Piece Kitchen Starter Cookware Set price below:
Are you new to cooking? Or maybe you're moving out and do not know what cookware to buy for your new kitchen. Here's a complete cookware set for those starting out fresh. It's basically you need in your kitchen, plus, it's a steal with the very affordable price you're paying for 80 pieces!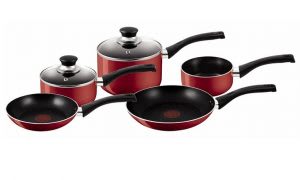 Check Tefal 5 Pcs Bistro Red Cookware Set price below:
Washing all your cookware can be tiring, especially when all you want to do is enjoy the tasty meal you've just cooked. With dishwasher safe cookware, you can just pop these into the dishwasher and let it do its thing for you! Equipped with thermo-spot technology, the frying pans indicate when's the best time to start cooking. Cooking is truly made easy with this set!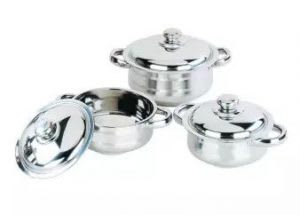 Check Stainless Steel Pearl Cookware Set price below:
Stainless steel is the standard cookware used in households, and it may not be the most aesthetically pleasing, but it's durable and gets the job done. If you're looking for a basic stainless-steel set, this is a worthy investment. Additionally, stainless steel doesn't react with the food, so you're sure to get the full flavour!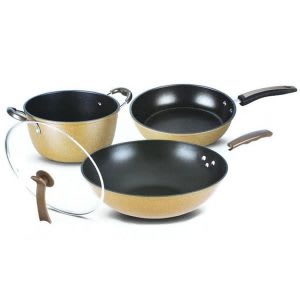 Check Multi-purpose Non-Stick Ceramic Set price below:
Ceramic pots and pans are known to be the kings of non-stick cookware, which makes cleaning them an easier task. However, this means proper care needs be taken to maintain the non-stick coating. This set comes with a wok, a pot, and a frying pan – a well-rounded set that allows you to cook a variety of different dishes!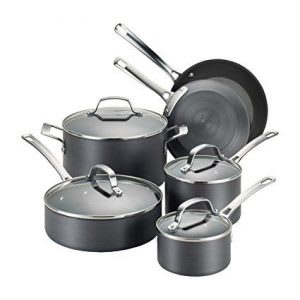 Check Circulon Genesis Hard-Anodized Non-stick 10-Piece Cookware Set price below:
It's time to ditch your old cookware for this heavy-duty hard anodized cookware set. Made of high-quality material, experience fast and even heating – you'll be amazed at the difference it makes! With its superior non-stick technology, you don't even have to add as much oil to your cooking. The price may be steep, but this set won't let you down!
Disclaimer: The pricing shown is just a good indication of how much these products are worth. The prices could change based on the e-commerce promotions that are going on. If some of the products are not available, do email us at [email protected]. Thank you!