Indeed, vitamin C face serums work like magic once applied to the skin. In just a tiny bottle, this skincare product fights your natural enemies with just a pea-sized amount! Plus, vitamin C serum has known benefits, such as helping the skin to slow the signs of aging and brightening the skin! 
If you are still determining which vitamin C serums are for your face, here are the best ones available in Australia and how to include them in your skincare routine.
---
10 Best Vitamin C Serum in Australia 2023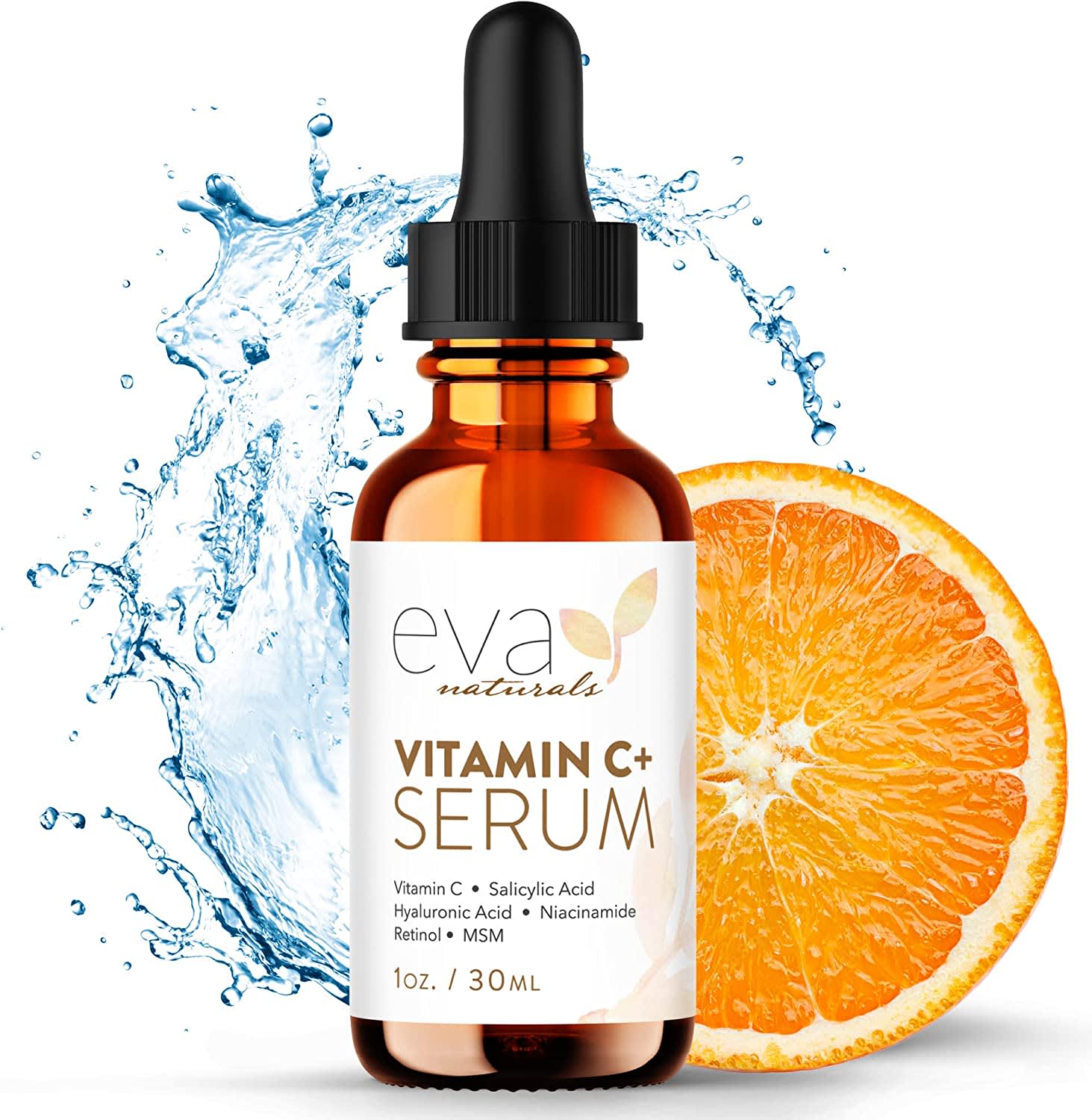 Check Eva Naturals Vitamin C Serum price below:
add_circle
Plant-based ingredients
add_circle
Lightweight consistency
Why It's Our Top Pick
This Vitamin C Serum is packed with antioxidants and helps restore sun-damaged skin while providing UV protection. By retaining up to 1000 times its weight in water, hyaluronic acid offers excellent hydration for an anti-aging boost, provides a glowing complexion, and is the best acne treatment – making it one of the top-rated vitamin c serums in Australia. 
Key Ingredients
Since this face serum is known for being a plant-based skin care, this organic vitamin c serum works as a facial moisturizer for dry skin and an adult acne treatment because it has vitamins, essential oils, and organic components like aloe vera.
Effectiveness
Aside from hydrating, moisturizing, and reducing the visible signs of aging, this face serum also works as an acne treatment as it cleans the pores with Retinol while treating acne-prone skin and fighting blemishes. This serum has a faint scent of tea tree oil that completely disappears when dry and a thinner texture that doesn't leave a sticky feeling. 
Customer Reviews
I have loved every product I've bought from Eva Naturals. This liquid serum smells lovely and makes my face feel good all day. Other vitamin C serums irritated my skin but not this one! Highly recommend. - M.R Webster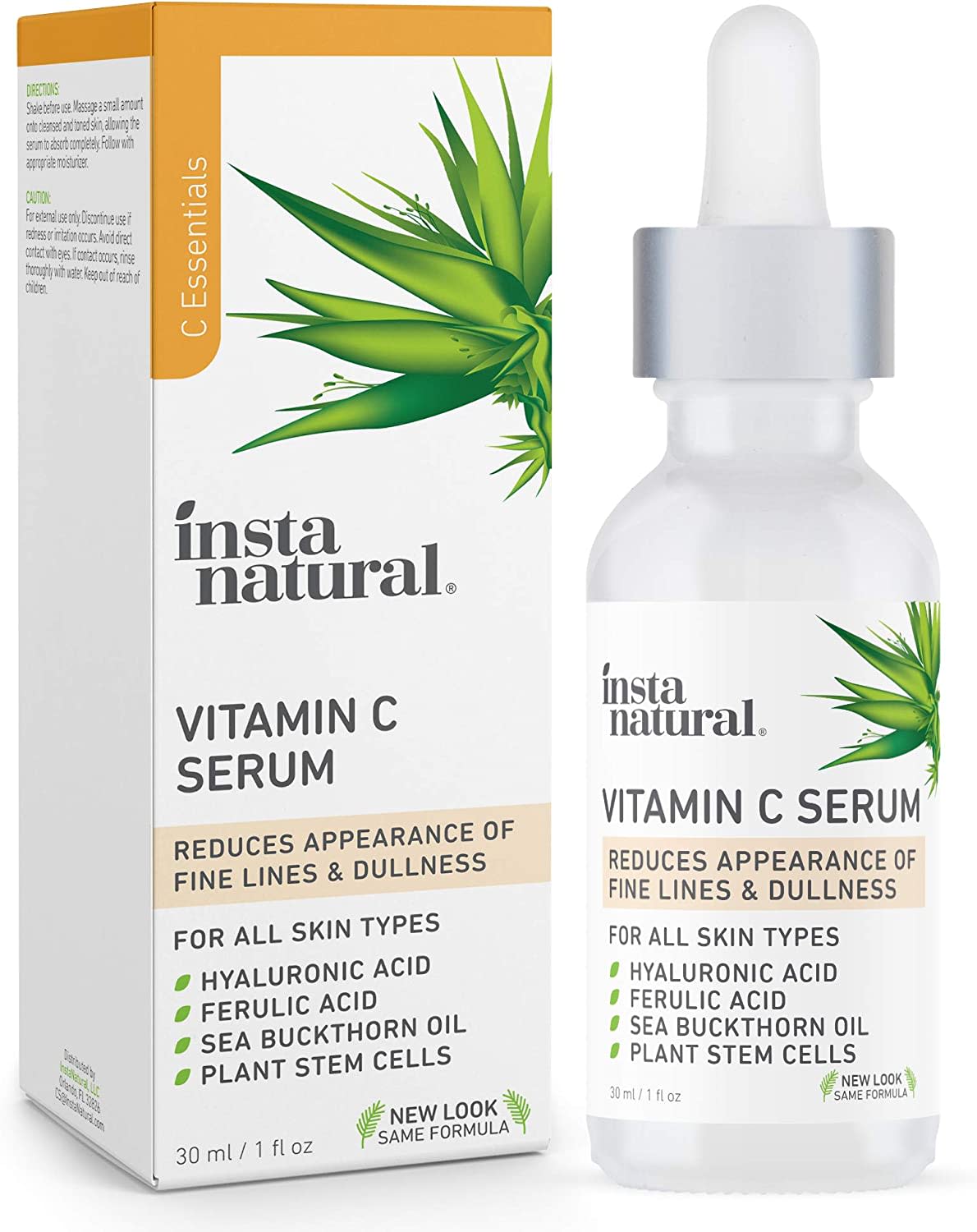 Check InstaNatural Vitamin C Serum price below:
add_circle
Suitable for sensitive skin
add_circle
No burning or itchy feeling
remove_circle
The texture is thicker than expected
Say hello to this potent brightening serum containing Ferulic Acid, a powerful antioxidant, to protect the skin from environmental aggressors and fortify the skin's defense barrier for a glowing and healthy complexion.
Key Ingredients
This facial serum has hyaluronic acid and sea buckthorn oil, which instantly hydrates the skin and improves its capacity to hold onto moisture. With the strength of Vitamin C and Plant Stem Cells, this Vitamin C Serum promotes collagen production, delays the appearance of aging, and reduces dark spots and discoloration.
Effectiveness
With its quick absorption quality, this vitamin C serum only takes a few seconds to dry on contact with the skin despite being thick to the touch and thin to the eye. A small amount is enough to cover the face and neck. It is simple to apply, has a sweet flavor that nourishes the face, and causes neither immediate nor long-term irritability.
Customer Reviews
I've been using this for about a month on some hyperpigmentation from body acne, and I'm already noticing a difference! I use it consistently every day, and the spots are starting to lighten. I also have sensitive skin and eczema, which hasn't triggered a break out which is excellent. Recommend this for anyone looking for a solution to lighten hyperpigmentation. - Simone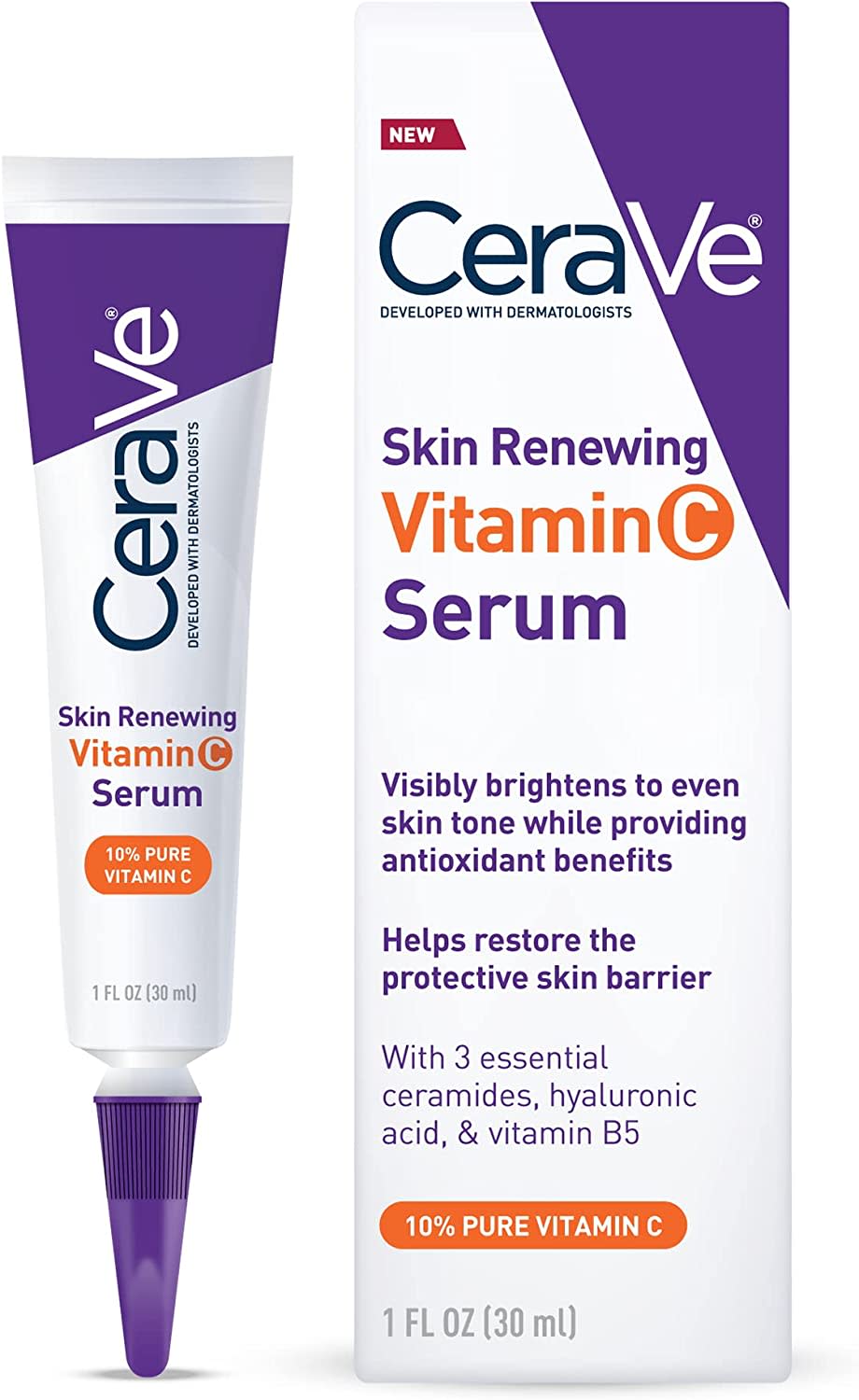 Check CeraVe Vitamin C Serum with Hyaluronic Acid price below:
add_circle
Fragrance-free
add_circle
Non-comedogenic
remove_circle
Tube packaging; difficult to extract remaining serum
This formulation has undergone allergy testing and is fragrance-free, paraben-free, and non-comedogenic. CeraVe Skincare is a product by dermatologists and offers products for various skin types. This skincare product ensures your safety. 
Key Ingredients
This vitamin C face serum contains 10% of L-ascorbic acid, which helps to create a more even skin tone and brighten the face. In addition, this face serum contains hyaluronic acid, which enhances skin texture and tone for a radiant complexion!
Effectiveness
This facial serum has a gel-like texture and a non-greasy feeling. Suppose you're layering it with an eye cream or facial moisturizer. In that case, it only requires you to apply a thin layer and wait for it to integrate into the skin thoroughly. It gives you an extra soft shine without being greasy. 
Customer Reviews
Recommended by a cosmetic dermatologist, and I love it! I've tried other vitamin c serums. This one is by far the best! Please don't rub it all around the skin. Pat it with your fingers, let it absorb for a minute or two, then apply your moisturizer or oil, or sunscreen. - Sofia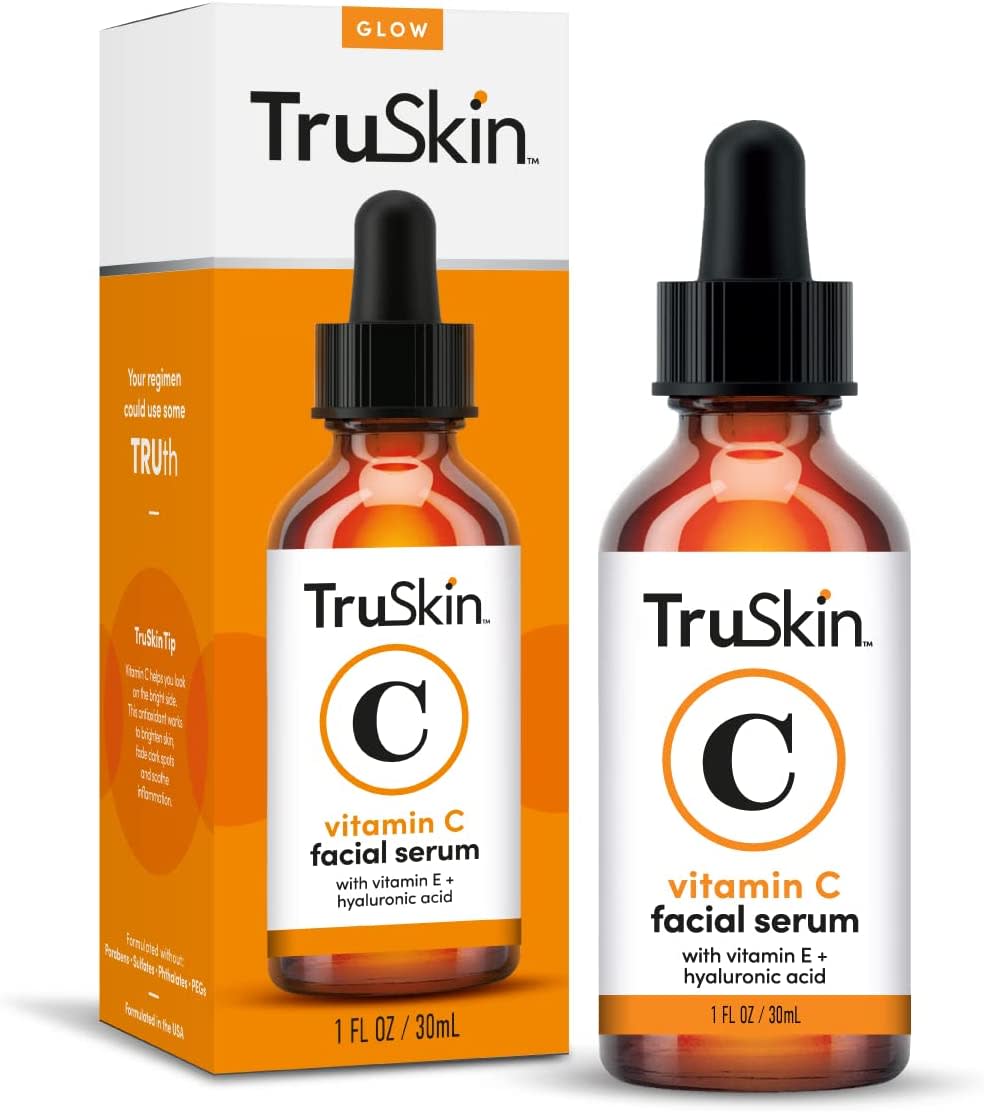 Check TruSkin Vitamin C Serum for Face price below:
add_circle
Plant-based formulation
add_circle
Suitable for all skin types
You'll surely keep coming back to this fantastic Vitamin C serum over and over again. This magic potion performs well and offers exceptional value without requiring you to break the bank!
Key Ingredients
Aside from Vitamin C, this face serum includes organic aloe vera, which helps calm and hydrate the skin. Also, this product can be a barrier-supportive antioxidant that helps prevent damage from UV rays and other environmental stressors – thanks to its Vitamin C ingredient.
Effectiveness
With its plant-based formulation, this cheapest Vitamin C face serum can boost skin brightness while fading dark spots. This product is also helpful in softening fine lines and wrinkles. It has no specific smell and is not heavy when applied to the skin. 
Customer Reviews
After using this product, friends asked if I put any makeup on even though my face was completely nude! This product helps my complexion and fades my pigmentation in just a week! Happy with the purchase!! - Ka Yu Karrie Kam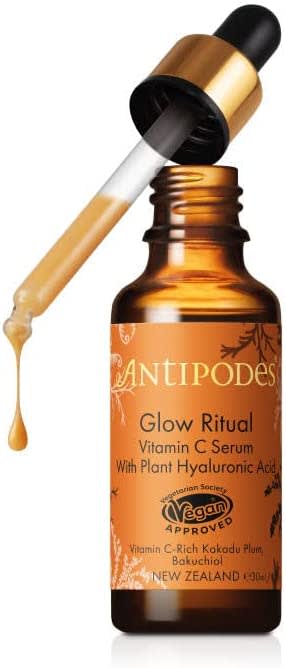 Check ANTIPODES Glow Ritual Vitamin C Serum price below:
add_circle
Lightweight texture
add_circle
One-drop serum
add_circle
Suitable for dry skin as well
You can obtain luminous skin for a beautiful, dewy complexion with the help of this light-wear gel serum. The fact that this facial serum contains vitamin C derived from oranges is its most vital feature.
Key Ingredients
Thanks to its Vitamin C component, this face serum promotes smoother, firmer skin while increasing the skin's natural hydration. Also, it includes Plant-based Hyaluronic Acid, a potent humectant that draws moisture into the skin to hydrate and plump it.
Effectiveness
This facial serum truly gives you a golden hour shine all day long. As a glow ritual serum, it is renowned for giving users a healthy glow and dramatically reducing skin oiliness. Once applied to the skin, it is not sticky and disappears rapidly.
Customer Reviews
It a beautiful glow to your skin, smells great, and is quickly absorbed. Try it! - Bron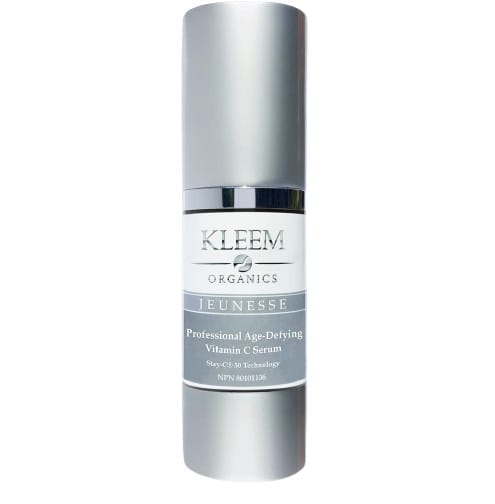 Check Kleem Collagen Booster Vitamin C Serum for Face price below:
add_circle
Fast absorption
add_circle
It sits well under makeup
add_circle
Great for night and day
Unlike other serums for the face that make claims about being the most excellent anti-wrinkle products, this vitamin C serum for the face can lessen wrinkles and age spots — and the best thinking about this serum is it works for both men and women!
Key Ingredients
Indeed, it enhances skin elasticity, reduces fine lines and wrinkles, and tightens the skin, all thanks to the Witch Hazel ingredient. Plus, it includes Jojoba Oil which is effective for softening those annoying dry spots and reduces acne and other skin outbreaks while working to restore the natural balance of your skin.
Effectiveness
The 25% concentration of vitamin C, hyaluronic acid, and vitamin E oil in the face serum keeps the skin moisturized while brightening the skin tone and fading spots. It smells like those vitamin C capsules and has a runny texture. You can manage how much product you wish to dispense with the pump's smooth operation.
Customer Reviews
I have been using it for nearly a week and noticed a difference immediately in my uneven skin tone. It has brightened the skin on my face well. - Dianne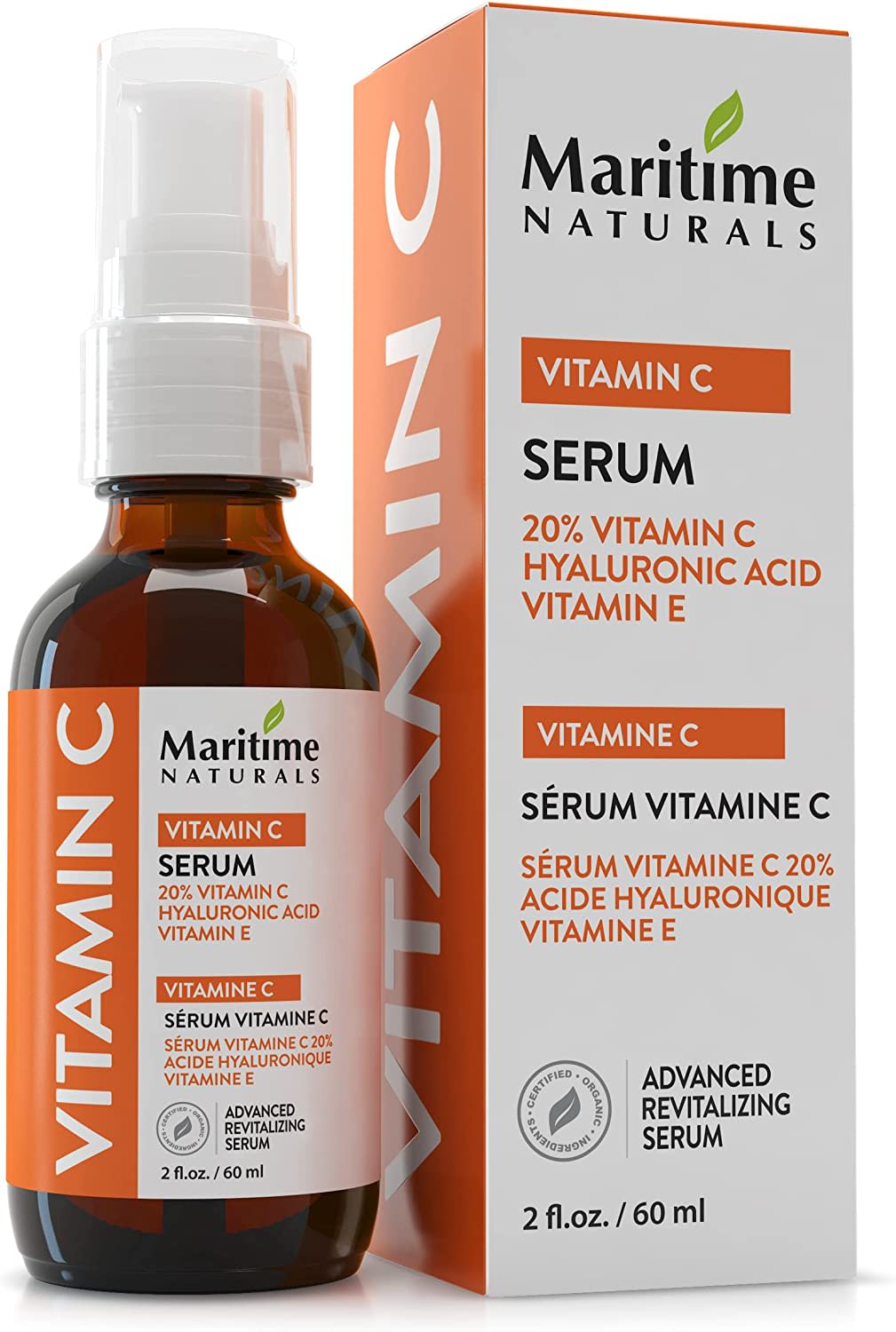 Check Canada's Premium 60ml 20% Vitamin C Serum price below:
add_circle
Quick absorption
add_circle
Refreshing feeling
remove_circle
The pump is a bit tricky
Clients have claimed that Maritime Naturals Vitamin C Serum has helped to reduce pores, clear up acne, prevent breakouts, and lessen the appearance of acne scars, leaving skin flaunting a healthier, glowing appearance.
Key Ingredients
This vitamin c serum for face has Sodium Ascorbyl Phosphate, a more recent and stabilized form of vitamin C that is mild, stable, and instantly ready to be absorbed into the skin. Once absorbed, it transforms into ascorbic acid. 
Effectiveness
This face serum is an excellent product and doesn't feel as heavy on your face as on other products. The smell is lovely - very subtle and citrusy. In two weeks, you'll observe visible results, making your skin look smoother and glowy with a matte look instead of the usual oiliness. 
Customer Reviews
This product deserves more than five stars. I immediately noticed a difference in my skin when I started using it. A year later, people constantly comment on how great my skin looks. The scent is a lovely delicate citrus, and a bottle lasts ages. Buy it - you won't regret it! - Dani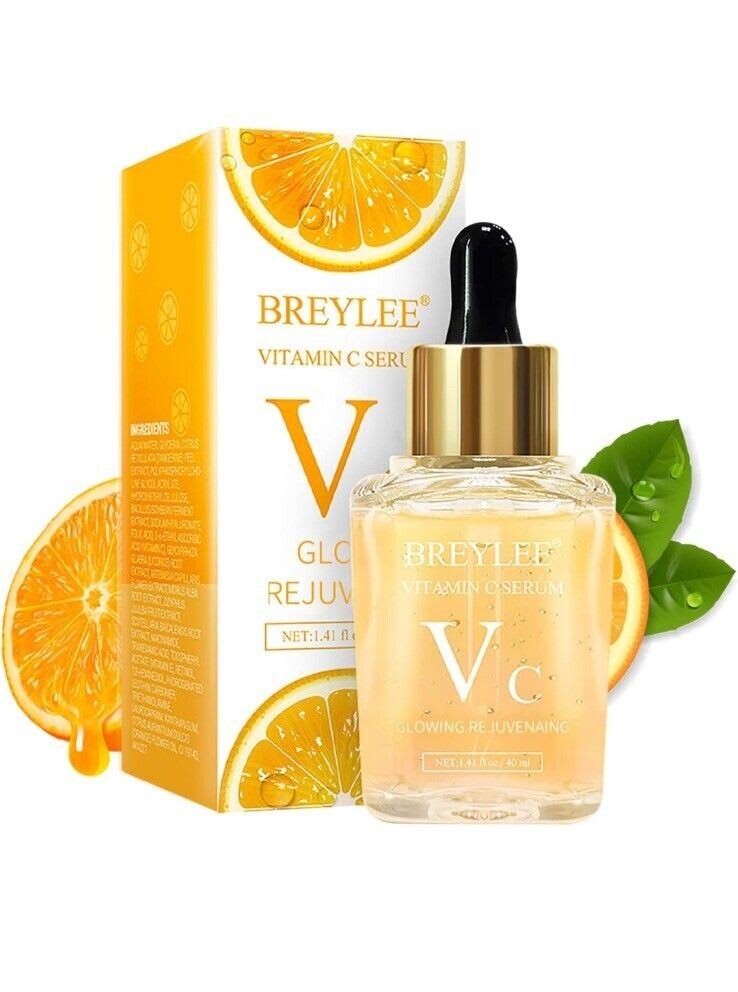 Check BREYLEE Vitamin C Serum for Face price below:
add_circle
Absorbs quickly into the skin
add_circle
Brightens and evens out skin tone
remove_circle
The texture is too runny
If you're dealing with hyperpigmentation, look no further than this vitamin c face serum from Breylee. It truly gives your skin the deep moisturizing hydration it deserves after exposure to harmful UV rays. 
Key Ingredients
See for yourself as you see visible results. This product brightens the skin while evens out the dark spots, thanks to its Niacinamide ingredients. Also, it contains Hyaluronic Acid, which is effective in deeply moisturizing and nourishing the skin. 
Effectiveness
Achieve the glow while feeling hydrated deep inside your skin – thanks to the powerful ingredients included in this product. It works like magic, absorbs quickly, and produces effects in just a matter of time. After frequent usage, it will make your skin feel luminous and healthy.
Customer Reviews
I love how bright it has made my complexion. I only use it in the morning, along with the tea tree oil serum. I use the rose tea tree oil serums at night. It is a good one and helps with some dark acne spots! - GoldeNola_Fire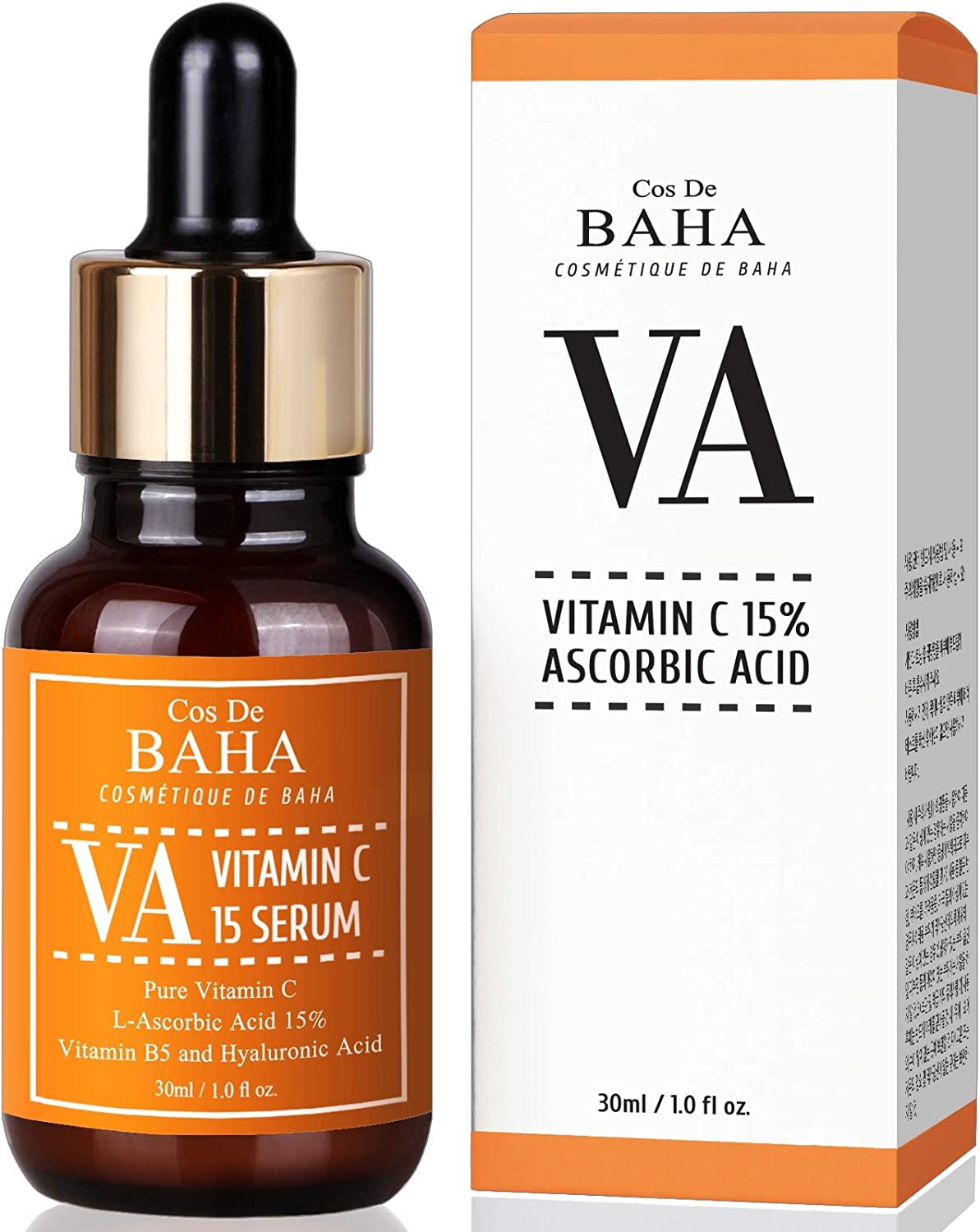 Check Cos De BAHA Real Vitamin C Serum price below:
add_circle
Lightweight texture
remove_circle
The serum does brown ever so slightly over time
Meet the secret to young, rejuvenated skin – the Vitamin C essence serum from Cos De BAHA! This skincare product is effective enough in battling the indications of aging before and after they begin through natural antioxidant protection. 
Key Ingredients
True enough, this face serum also works as a hydrating serum, thanks to its Hyaluronic Acid content which quickly hydrates, replenishes, and boosts the skin's capacity to retain moisture, revealing a more youthful, smoother complexion. 
Effectiveness
This daily facial anti-wrinkle serum is the best dark spot corrector for the face, breakouts, blackheads, and acne. You can use this serum under makeup with light, water, and non-sticky texture. Not only does it make your skin brighter, but it also makes your skin smoother and clear. 
Customer Reviews
I love this vitamin c; it is the best I have used. It felt so good on my skin; my dark spots are almost gone after two bottles. I am now about to order aging. The price is so affordable, and it works; I can't ask for anything more. - Reds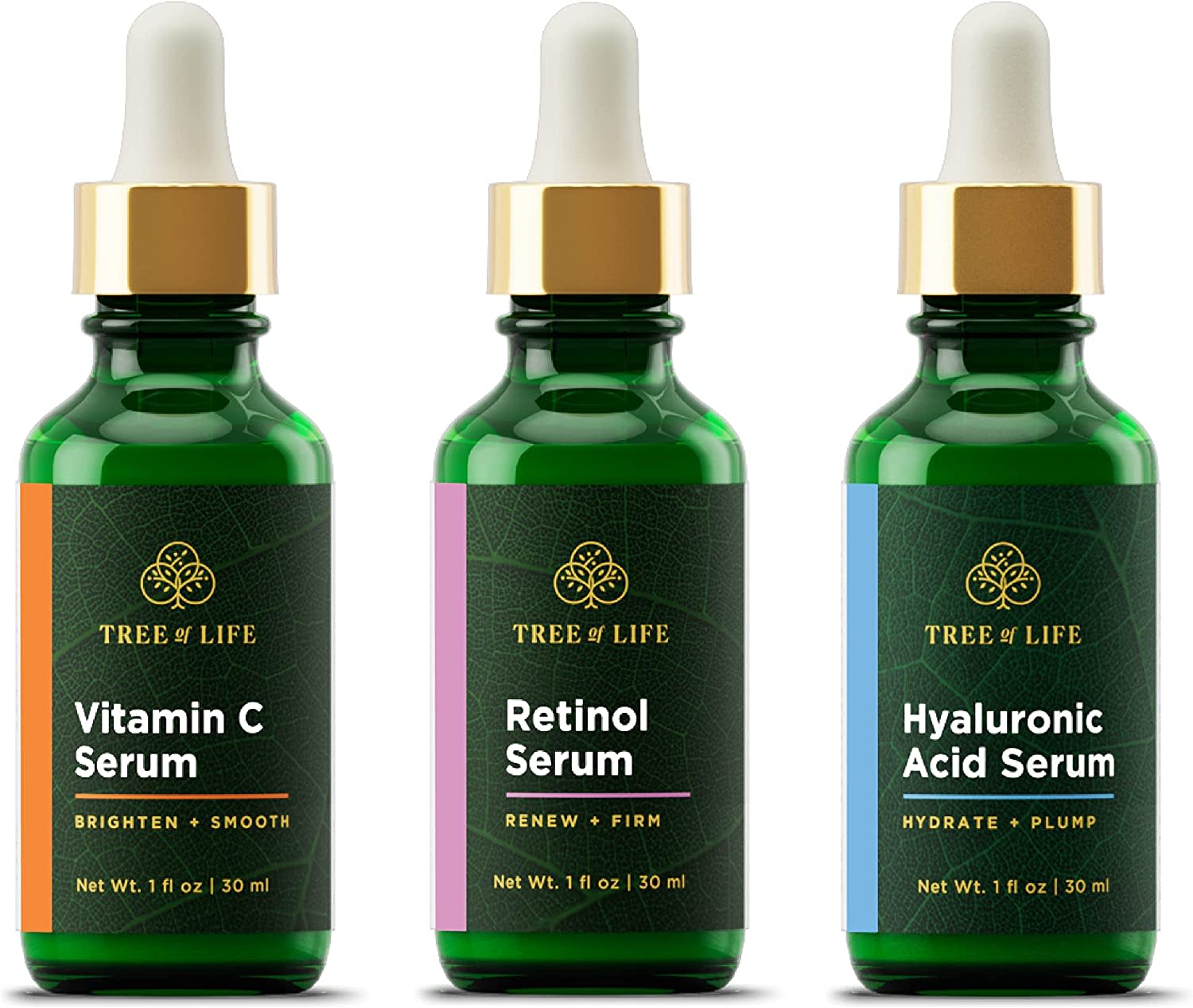 Check Tree of Life Anti Aging Vitamin C Serum price below:
add_circle
Suitable for all skin types
add_circle
Non-allergic, natural ingredients
remove_circle
The texture is quite thick
Meet this vitamin c serum, a well-known wrinkle reducer and a powerful moisturizer that helps retain up to 370% more moisture than the collagen protein molecule itself! This face serum also assists in the reduction of fine lines brought on by dehydration as we age.
Key Ingredients
Indeed, it's an effective moisturizer as the serum is infused with their exclusive Retinol and Hyaluronic Acid combination, allowing your skin to absorb Retinol fast while feeling calmed and calmed moisturized. 
Effectiveness
With anytime moisturizing serum, you can achieve a more youthful glow. The serum combo packs are all excellent, thick, and quickly absorbed into your skin. With just a couple of applications, you'll like how your skin feels smooth and hydrated while moisturizing the skin, increasing your skin's elasticity. 
Customer Reviews
Love, love, love. I have been using these days and nights for around four weeks and have seen remarkable results with my skin. I am knocked out by how much my pigmentation is fading, plus the little rough spots that somehow appear when you get older! - Stephanie
---
What is Vitamin C Serum?
A vitamin C serum has a concentrated amount of vitamin C, also known as ascorbic acid. Vitamin C is a powerful antioxidant that helps to protect the skin from environmental stressors such as pollution, UV rays, and free radicals, which can cause damage to the skin and accelerate the aging process.
Vitamin C has several benefits. It brightens and even out skin tone and stimulates collagen production for firmer, more youthful-looking skin. Vitamin C also has a soothing effect on the skin, helping to reduce inflammation and redness.
Vitamin C serums typically have a lightweight, fast-absorbing formula easily incorporated into a skincare routine. They are often used in the morning, after cleansing and toning, and before applying moisturizer and sunscreen.
---
Vitamin C Serum Benefits
With its natural substance that causes no harm to the skin, here are some numerous benefits of applying Vitamin C to the skin:
It addresses hyperpigmentation, lightening the dark areas of the skin

It helps speed up the healing of scars

It reduces the visibility of wrinkles and fine lines

It smoothens the skin

It can also shield the skin from pollution and UV rays

Rejuvenates the skin
---
Buying Guide: How to Choose a Vitamin C Serum
Indeed, several options are available to you when purchasing the best Vitamin C face serum. If you still need to decide what kind of Vitamin C face serum to select, we've listed several varieties to assist you in making up your mind.
Anti-Aging Serums

- These popular face serums combat the outward signs of aging. Retinol facial serums and Vitamin C work best for fine lines and wrinkles because they smooth and brighten the skin.

Whitening Serums

- This kind of serum is perfect for you if you have dark spots. Niacinamide and Vitamin C are two potent components to look for. They are known for their whitening and brightening abilities.

Exfoliating serums

are ideal for pores because they can clear up clogged pores and brighten skin. Hence, looking for exfoliating serums that include Vitamin C is best.

Hydrating serums

- It is an excellent choice if your face needs additional moisture and hydration. At the same time, it addresses your dry skin, and its hydrating abilities assist in lessening the visibility of fine lines and wrinkles, thanks to its Vitamin C component.
---
Best Vitamin C Serum Brands in Australia
Seeing a lot of options might be overwhelming, so it's also essential to consider the skincare brand with the best Vitamin C serums in Australia.
Breylee Vitamin C Serum
The Breylee brand is known for its skincare products infused with plant extracts. Breylee is also known for its quality of helping young people to cure pimples and acne. 
Eva Naturals Vitamin C Serum
The ingredients in Eva Naturals' products are botanicals, vegan ingredients sourced ethically, and safe, science-based actives. Each component was specially picked for its capacity to penetrate the skin deeply with potent concentrations of plant-based solutions while enticing the senses.
Kleem Vitamin C Serum
Kleem Organics creates cosmetics using only organic and natural ingredients from Mother Nature. These products can produce visible results without the harmful side effects that chemicals found in more conventional products can have on the body.
Cos De BAHA Vitamin C Serum
Cos De BAHA offers skincare products with the perfect combination of ingredients to meet your skin needs. They offer the best collection of skin care products like Hyaluronic Acid Serum, Vitamin C, Retinol, etc.
Antipodes Vitamin C Serum
Antipodes is a known brand that combines science and nature to provide plant-powered, high-performance skincare made with the purest ingredients possible. Their products are sustainably sourced and packed ingredients to produce fresh, healthy-looking skin.
---
Vitamin C Serum Price Range here in Australia
Vitamin C serums are a popular skincare product in Australia, known for their ability to even out skin tone, reduce the appearance of fine lines and wrinkles, brighten, and protect the skin from environmental stressors. The vitamin C serum price can vary depending on the brand, the concentration of vitamin C, and other ingredients. Here is a breakdown of the price range of top rated vitamin C serums in Australia, categorized into three price brackets.
Budget-friendly (under $30)
Vitamin C serums in this price range typically contain lower concentrations of vitamin C. They may include other ingredients to enhance the formula. They are an excellent option for those new to vitamin C serums or with a limited skincare budget.
Mid-range ($30 - $80)
These vitamin C serums may contain higher concentrations of vitamin C and additional ingredients such as antioxidants and hyaluronic acid. They are a good option for those seeking a more potent and effective serum without breaking the bank.
High-end (over $80)
Vitamin C serums in this price range typically contain the highest concentrations of vitamin C and other advanced ingredients, such as peptides and growth factors. They are a good option for those looking for a premium skincare experience and willing to invest in a high-quality product.
---
Where to Buy Vitamin C Serum in Australia?
There are several places to buy vitamin C serums online and in-store in Australia. Here are some options:
Beauty retailers: Many beauty retailers in Australia provide a variety of vitamin C serums from different brands. These stores also often offer skincare consultations and samples so that you can find the right product for your skin.

Department stores: Department stores offer a selection of vitamin C serums from high-end skincare brands. They may also offer beauty services and consultations to help you choose the right product for your skin type.

Online retailers: Online retailers have various vitamin C serums from different brands. These retailers often offer competitive prices, free shipping, and discounts for first-time customers.

Brand websites: Many skincare brands offering vitamin C serums also have websites where you can purchase their products directly. It is also a good option if you want to learn more about the brand and its manufacturing practices.

Pharmacies: Pharmacies carry a variety of vitamin C serums from different brands. These stores often offer lower prices and may have knowledgeable staff who can assist you in choosing the right product for your skin.
It is important to note that vitamin C serums can vary in concentration, formulation, and pH level. It is best to research, read on best vitamin c serum reviews, and consult a dermatologist to find the suitable vitamin C serum for your skin type and concerns.
---
Conclusion
With a slight drop, this vitamin C face serum does work wonders on the skin. Face serums do help to alleviate your skin troubles. Choose the serum from the list that best meets your needs.