Little handy gadgets that genuinely work in improving our bodies are hard to find. Yet, with today's advancement, you can now massage your body with a portable massage gun that targets your sore areas and shoo the pain away!
Interestingly, massage guns can help improve blood and lymphatic circulation in your body. Look no further; here are the best massage gun brands in Australia to buy.
---
10 Best Massage Guns in Malaysia 2023 - Top Brands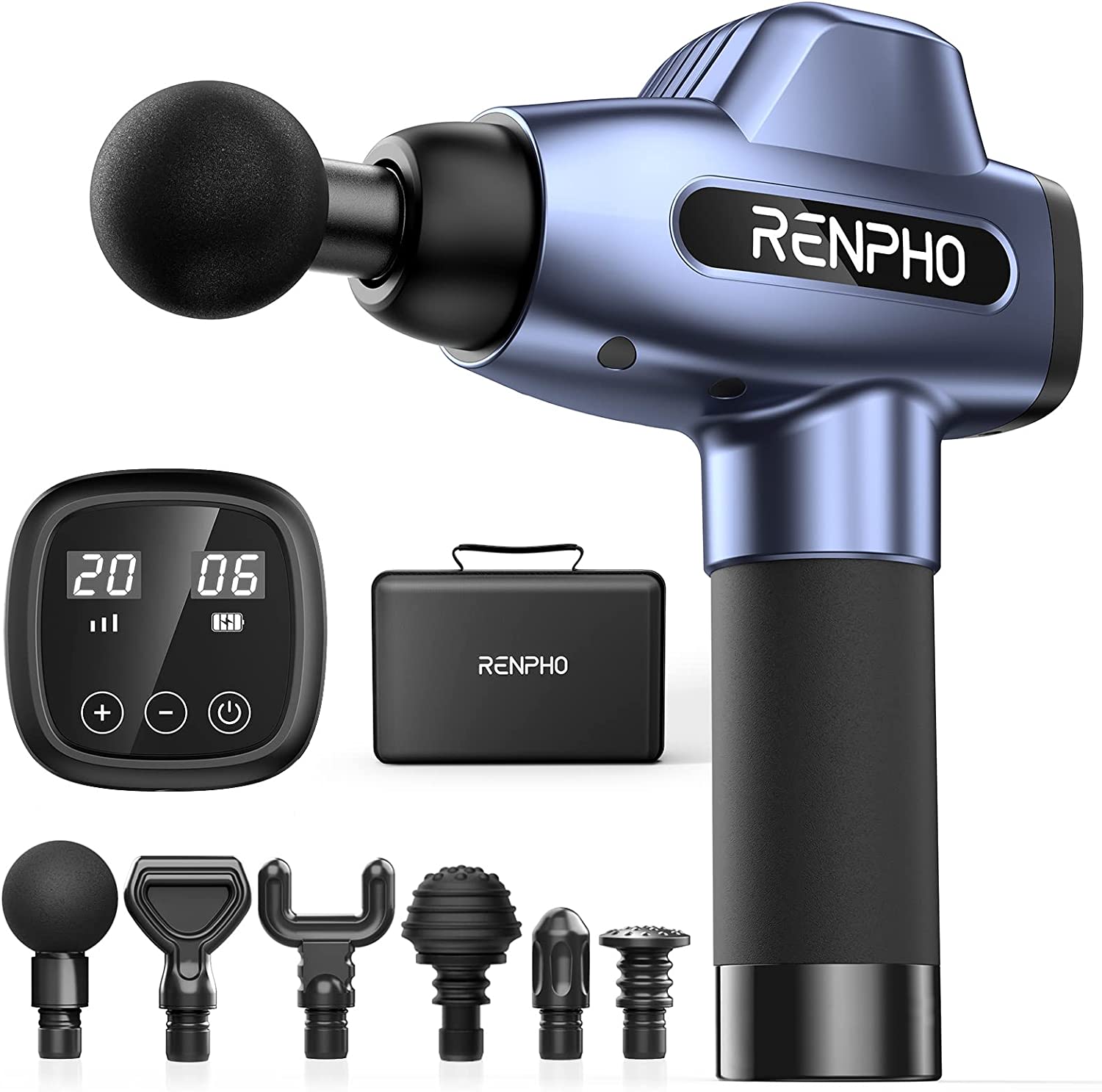 Check RENPHO C3 Massage Gun price below:
add_circle
Super long battery life
add_circle
Six professional massage heads
remove_circle
A bit heavy to hold
Specification:
Speed Setting: Up to 3200RPM

Power input: 60W/24V

Battery capacity: 200mAh

Noise level: 45dB
Why It's Our Top Pick
Meet the best-rated massage gun that you can find on Amazon! With a comfortable grip and convenient single-handed operation, this massage gun is ideal for athletes, rock climbers, fitness instructors, massage therapists, hikers, etc.
Key Features
The Renpho massage gun employs a 60W/24V brushless motor that runs silently at 45dB while producing 20 changeable speed forces and up to 3200RPM. It also has 8-hour battery life, allowing you to use and enjoy it longer. 
Why Buy This
After a strenuous day of work or exercise, this body massage gun allows you to select the massage intensity that will help you feel the most relaxed. You'll feel the massager working as it locates the tight spots using more percussion and vibration than kneading.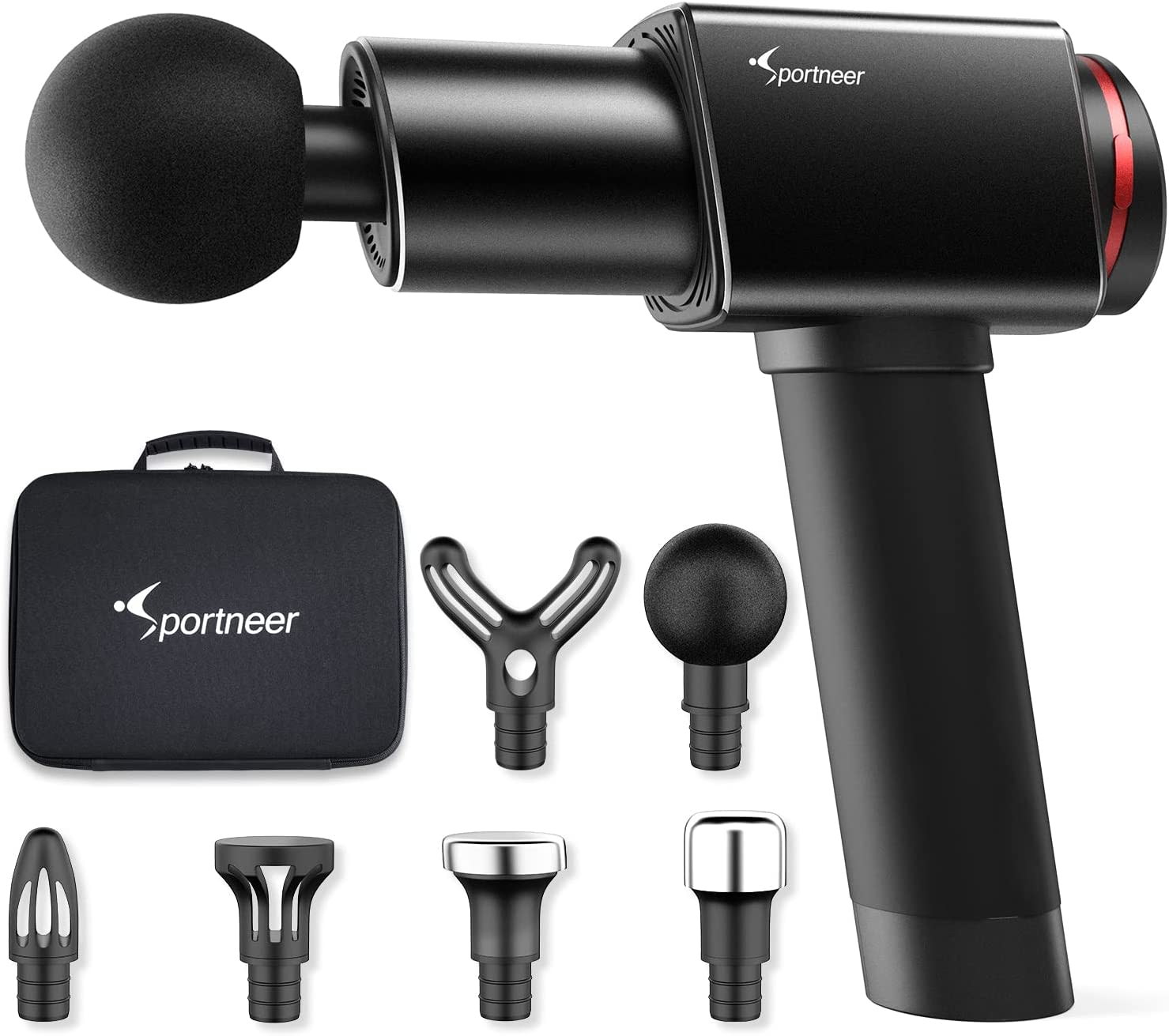 Check Sportneer Massage Gun price below:
add_circle
Whisper-quiet operation
add_circle
Large battery capacity
add_circle
Deep tissue massager
remove_circle
Strong vibration can be uncomfortable
Specification:
Speed Setting: 1300RPM - 3200RPM

Power input: 220W/16.8V

Battery capacity: 3350mAh

Noise level: 40dB
Scientific experts created and tested this deep-tissue therapeutic percussion massage gun for maximum effectiveness. Aside from relieving muscle spasms, this massage therapy gun eases myalgia discomfort and muscle tension and may improve workout performance.
Key Features
The six massage heads allow for simple positioning on your neck, shoulders, back, legs, arms, or thighs for full-body massage therapy in the comfort of your home. Thanks to its six adjustable vibration settings, this massager can work on anything from tense knots to general pain.
Why Buy This
Indeed, you're guaranteed a soothing massage with this best cheap massage gun. This massager is compact and portable, easily held in various positions with either hand. You may switch the attachments with ease. And its longevity is improved without adding excessive weight, all thanks to the battery.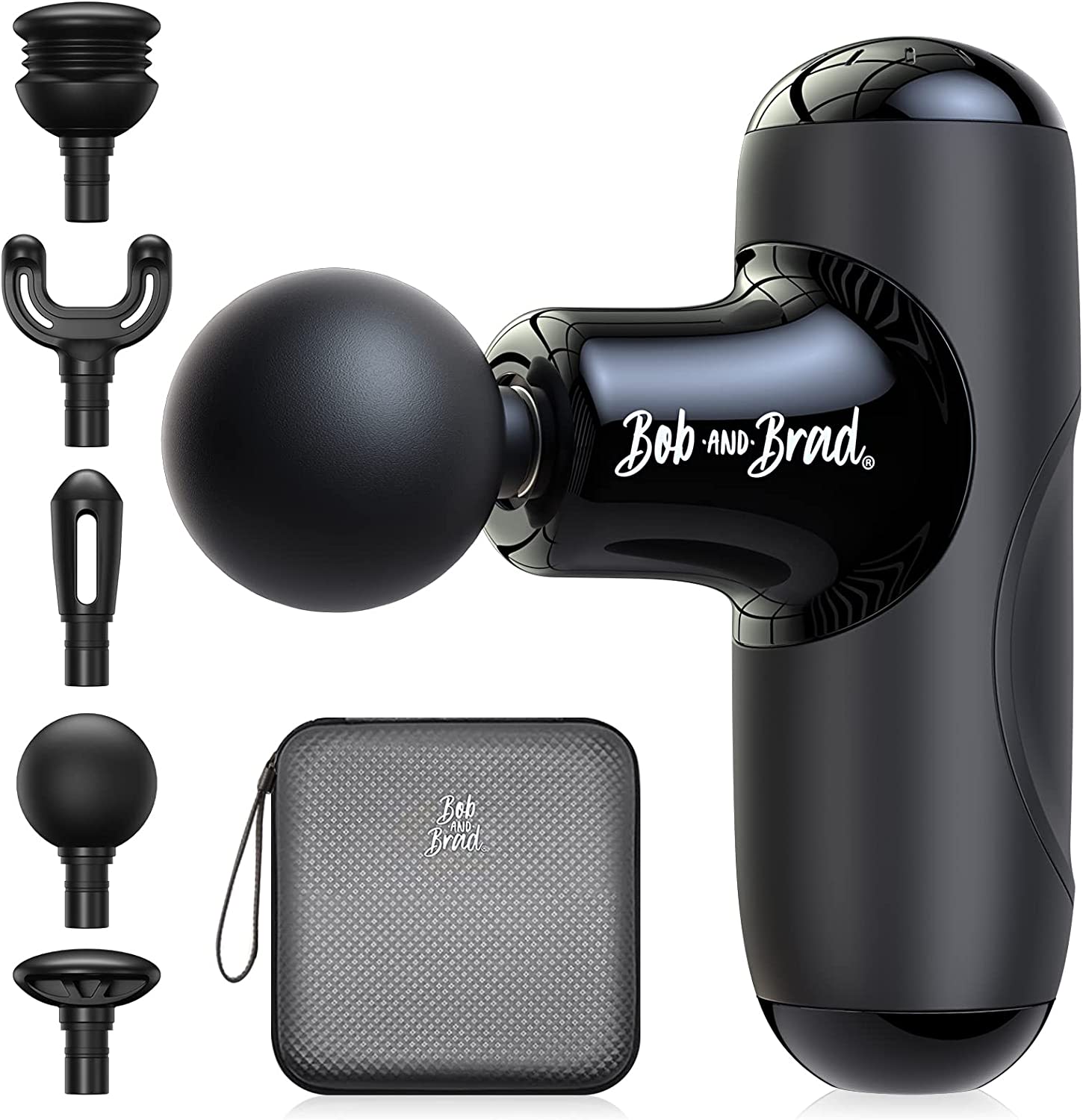 Check Bob and Brad Pocket-Sized Massage Gun price below:
add_circle
Sports-on-the-go
add_circle
USB-C charging
add_circle
Ergonomic Grip
remove_circle
The switch is somewhat difficult to operate
Specification:
Speed Setting: 1800-3000RPM

Power input: N/A

Battery capacity: 2500mAh

Noise level: 40dB
Say hello to your pocket-sized partner, who provides you with the best possible muscle care and portability! Small and lightweight – yet, powerful, making it perfect for bringing wherever you go.
Key Features
With five massage heads, it targets various muscle groups. Intense vibrations from the Q2 MINI immediately reduce pain and awaken muscles all over your body, providing a myofascial release and improving your body's capacity to repair and renew cells.
Why Buy This
Compared to larger body massage guns, this mini massage gun is easy to maneuver because it is smaller and fits securely in your hand. The massage gun and case are the same high quality as the attachments, the standard ones you would receive with any other gun.
Check RENPHO Active Deep Tissue Massage Gun price below:
add_circle
Long battery life
add_circle
A helpful set of massager's heads
add_circle
Quiet operation
remove_circle
Not great for travel size
Specification:
Speed Setting: 1800-3200RPM

Power input: 150W

Battery capacity: 2500mAh

Noise level: 45dB
Improved and more robust muscle massage gun – this deep tissue therapy gun from RENPHO offers more luxurious and intense sports massages with its powerful brushless motor, delivering high penetration.
Key Features
At only 1.5 pounds, this muscle massage gun deep tissue is ultra-compact and easy to handle. The package itself includes five massage heads that meet all your needs. It also runs smoothly and quietly with up to 45 decibels. 
Why Buy This
This muscle-massaging gun performs many tasks precisely as if a real masseuse were present to perform them for you. It is excellent for massaging the rotator cuff muscles, thighs, calves, stiff necks, and backs. The massager has a massive battery that can operate continuously for two weeks before requiring recharging.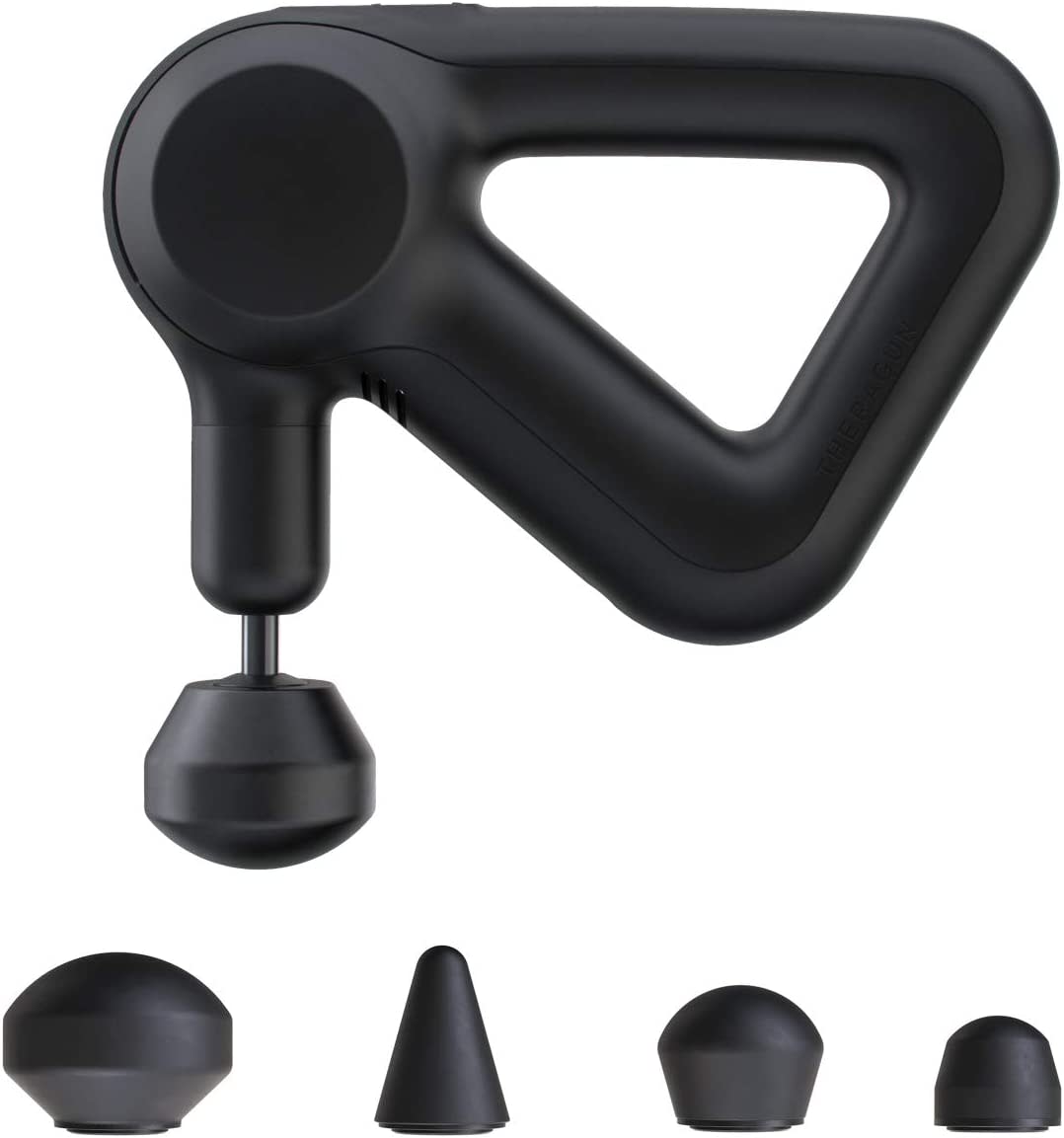 Check Theragun Prime Massage Gun price below:
add_circle
120-minute total battery life
add_circle
Customizable Speed Ranges
add_circle
Ergonomic multi-grip
remove_circle
The lowest setting is incredibly intense
Specification:
Speed Setting: 1750-2400RPM

Power input: 12V

Battery life: 120minutes

Noise level: N/A
The strength and efficacy of Theragun's deep muscle treatment are maintained. The device has a simple design while preserving the functions you need most! It eases discomfort while sooting tightness and tension, allowing you to recover faster in seconds. 
Key Features
What you'll specifically love about this product is its attachments are constructed of non-porous closed-cell foam that you can easily clean. It's equipped with an exclusive brushless motor to give a renowned deep muscle treatment in a tiny frame with barely any sound. Also, this massage gun operates via Smart App Integration. 
Why Buy This
Thanks to its ergonomic handle design, you can hold the Prime in various ways, actively lessening stress on your hands, wrists, and arms. Its speed range is also customizable, allowing you to choose your preferred speed to target those areas.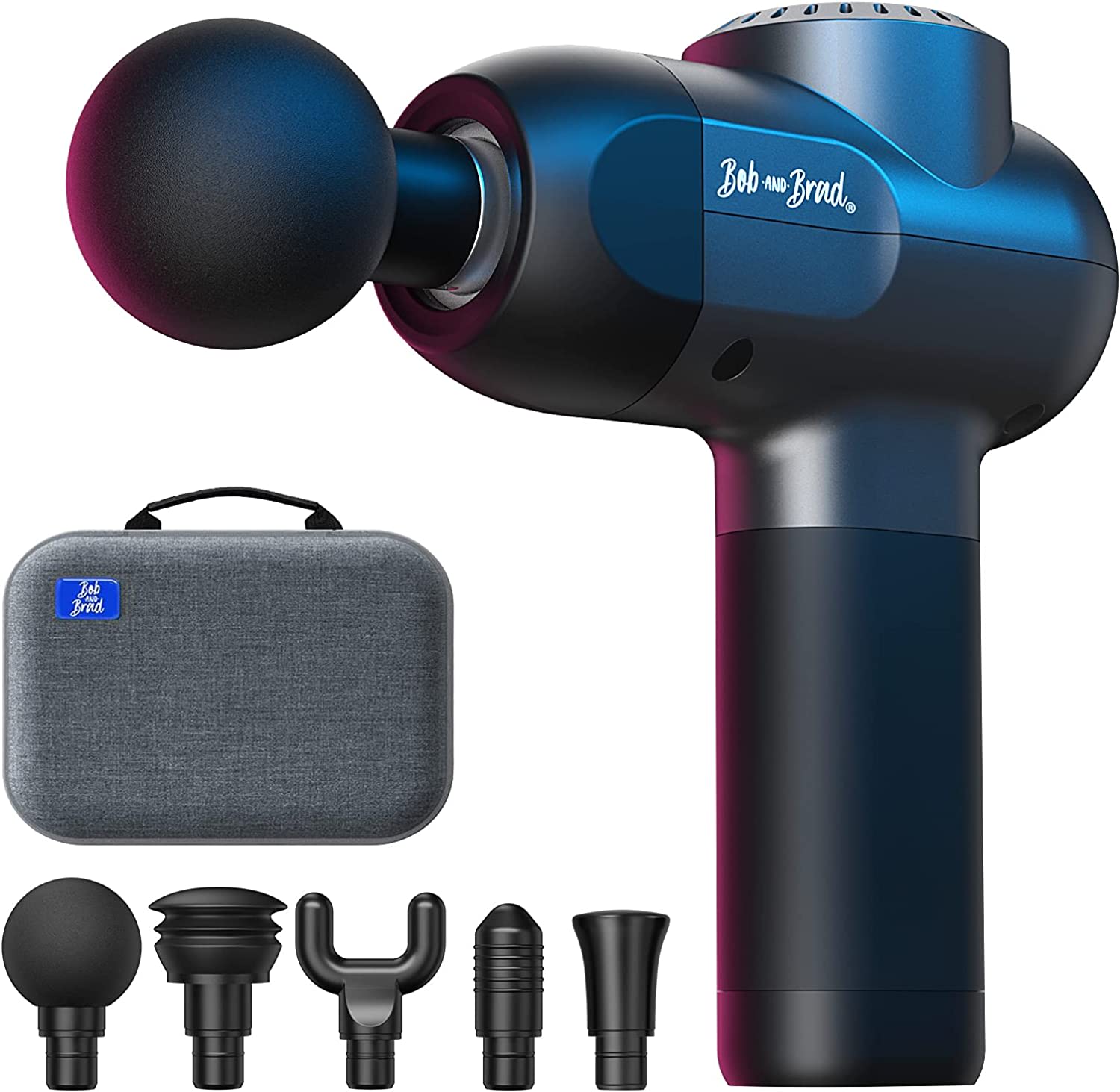 Check Bob and Brad Deep Tissue Percussion Massager Gun price below:
add_circle
Pros: USB-C Fast Charging
add_circle
Daily pain relief
add_circle
Deep tissue treatment
remove_circle
It does not turn on immediately
Specification:
Speed Setting: Up to 3200RPM

Power input: N/A

Battery life: 180 minutes

Noise level: 60dB
This body massage gun weighs only 1.5 pounds, making it simple to transport and store in any gym bag for the home gym office. It also comes with its case, which allows you to make the massager. This massage gun is simple to hold with its ergonomic silicone handle design. 
Key Features
Indeed, you'll get to meet this ultra-quiet muscle massager. It uses the most advanced noise reduction technology to reduce the noise of the massager while in use, the sounds being less than 60dB even at a maximum of 3200RPM. Also, it includes a built-in intelligent chip, working for 10 minutes automatic shutdown to prevent overusing. 
Why Buy This
This massage gun is incredibly built for pain relief – making it suitable for targeting your neck. Unlike other items on the market, it has a unique design to speed patient and athlete recovery. Deceptively powerful, the C2 deep tissue massage gun delivers a high-intensity massage that efficiently releases muscular tension while still feeling mild.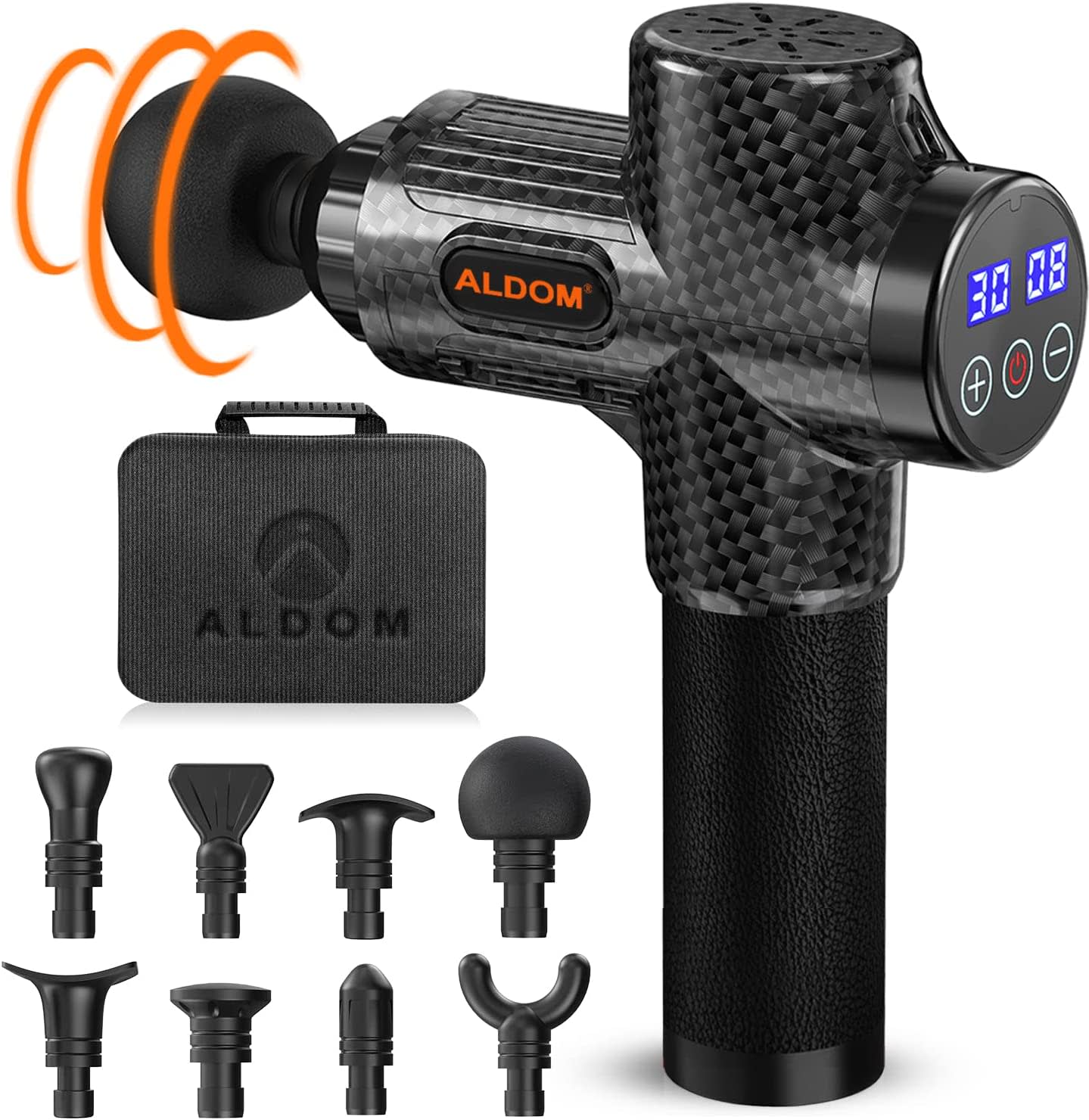 Check Aldom Massage Gun price below:
add_circle
Durable Rechargeable Battery
add_circle
LCD Touch Display
add_circle
Automatic Heat Dissipation
remove_circle
The massage gun is heavier and bulkier
Specification:
Speed Setting: 1800-4800 RPM

Power input: N/A

Battery life: 480 minutes

Noise level: 35dB
When used for 10 minutes daily, the muscle massager gun's big-capacity rechargeable battery can last up to 30 days. It only weighs under 1 kg, allowing easy one-handed usage with a grip. Best of all, it includes a beautiful journey to keep all the parts organized and simplify storage.
Key Features
With its eight trigger-point massage ways, this handheld massager has eight separate massage heads. It may target different muscle groups and massage various body areas. ALDOM massager guns have 30 distinct speed ranges to accommodate multiple massage requirements for various persons.
Why Buy This
Meet this premium massage tool that targets knots and aching muscles with great power and effectiveness! You'll genuinely value the ergonomic design because it makes it simple to carry and use for prolonged periods without feeling uncomfortable. The battery life is likewise excellent, lasting several uses before recharging.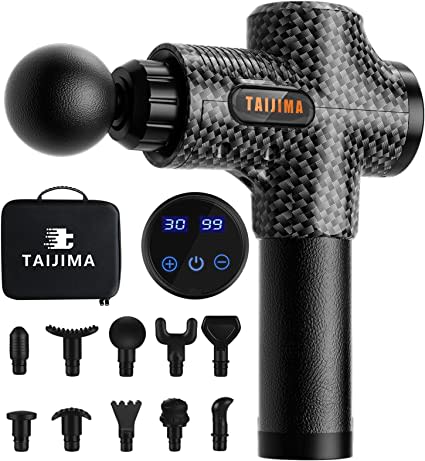 Check Tajima Massage Gun price below:
add_circle
High power but low noise
add_circle
Ergonomic silicone handle
add_circle
Deep tissue massage gun
remove_circle
Limited instruction manual
Specification:
Speed Setting: 1200-3200RPM

Power input: N/A

Battery capacity: 2500mAh

Noise level: 35dB
Deep tissue massage guns from Taijima relieve muscular tiredness and soreness while stimulating blood circulation and relieving lactic acid. This excellent massage gun has many speeds and heads, allowing you to control your preferred massage type.
Key Features
You'll love how this massage gun has ten massage heads. Its cordless massager with 30 speed settings and speeds as high as 3200 rpm transmits high-speed pressure pulses to your muscle tissue once each minute to relieve tight muscles. Also, you can effortlessly change the speed settings with the LED touchscreen. 
Why Buy This
Whether it's muscle relaxation after exercise or a daily body massage, you can discover the vibration amplitude that suits you best with this massage therapy gun. It includes a bullet head that targets smaller muscle points like palms and soles.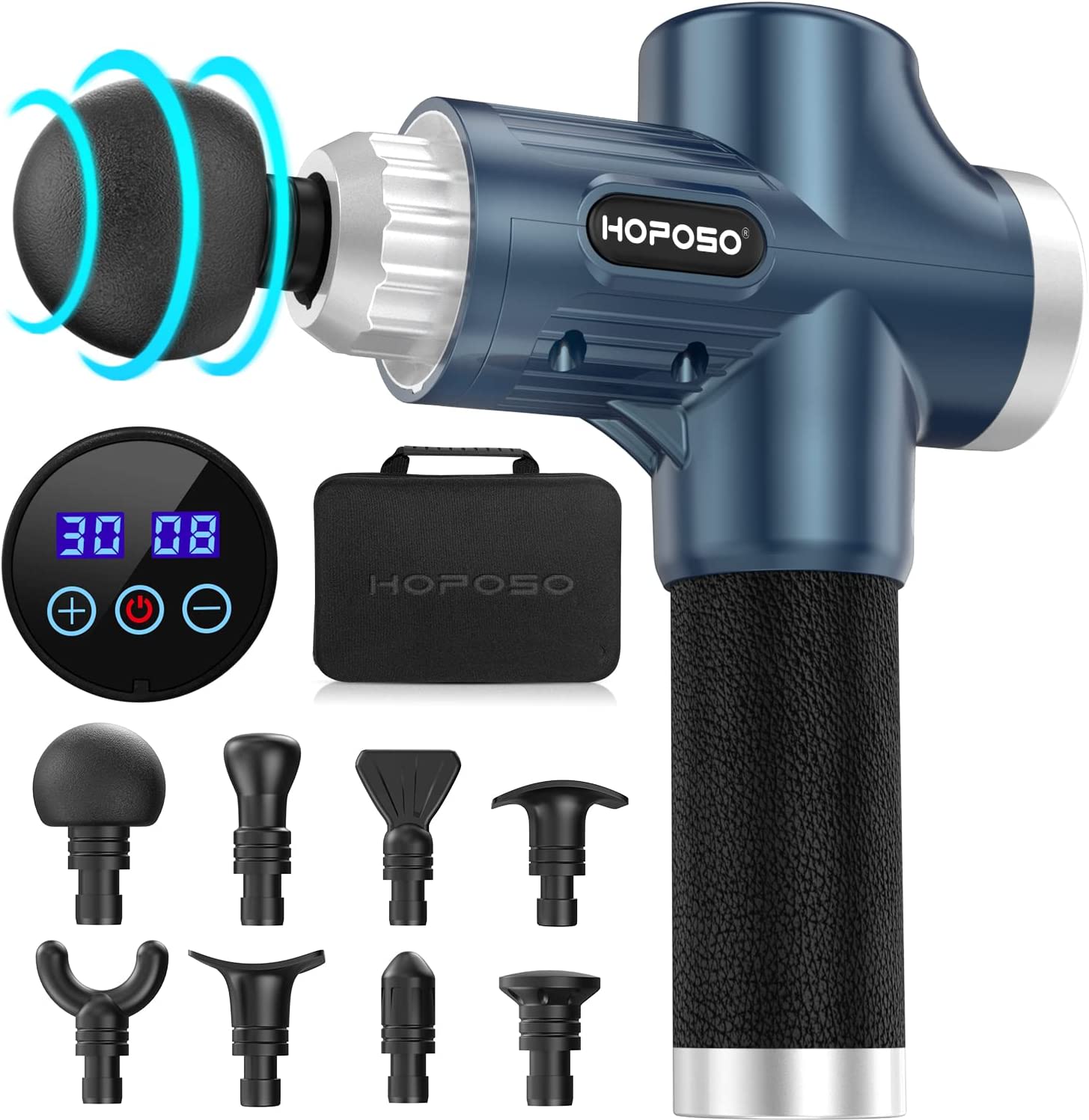 Check HOPOSO Massage Gun price below:
add_circle
30 adjustable speed
add_circle
Intelligent LCD
add_circle
New-generation noise reduction technology
remove_circle
The device is too heavy
Specification:
Speed Setting: Up to 4800RPM

Power input: N/A

Battery life: 500 minutes

Noise level: 35dB
This HOPOSO muscle massage gun is powerful and effective enough to relieve muscle stiffness during warm-up exercises. It incorporates a new percussion therapy that aids in a speedy recovery from injuries or stiffness brought on by work or physical activity.
Key Features
This massage therapy gun offers eight advantages, making it more efficient as you use it. It ensures your safety with its 10-minute automatic switch-off that protects the machine from discomfort caused by prolonged use.
Why Buy This
With eight replaceable massage heads, this massage gun allows you to choose the most suitable massage head to target various muscle groups for ultimate relaxation. It contains a strong, high-torque motor that can turn at up to 4800 revolutions per minute.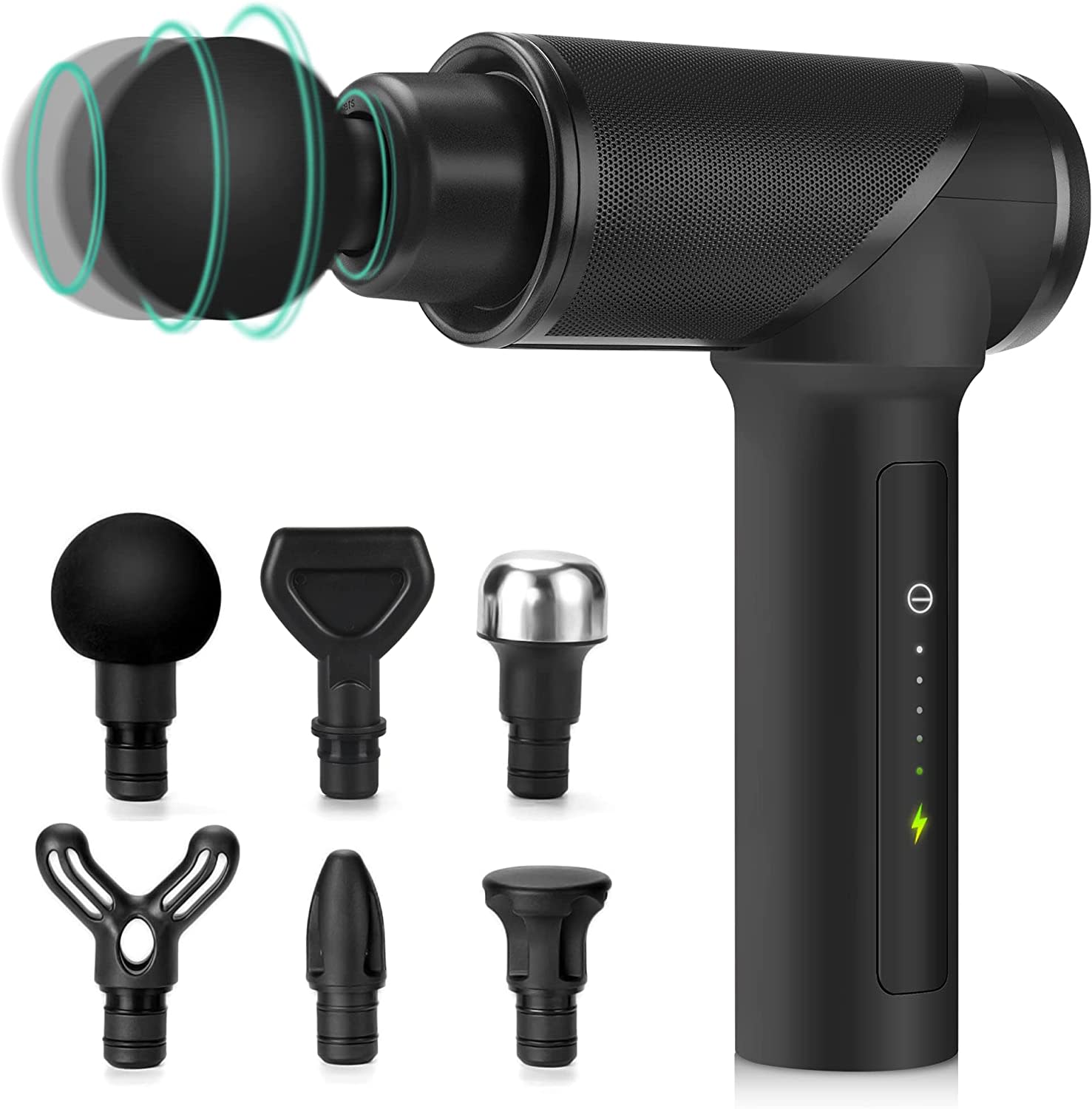 Check Medcursor Professional Deep Tissue Massage Gun price below:
add_circle
Powerful brushless motor
add_circle
Long battery life
Specification:
Speed Setting: 1200-3200RPM

Power input: N/A

Battery life: 180-240 minutes

Noise level: 45dB
Indeed, with its high intensity, this percussive massager performs incredibly well for regular massages, quickly reduces lactic acid buildup and muscle tightness, and increases flexibility and range of motion.
Key Features
With its weight of only 1.5 lbs, you can bring this wherever you go. Its buttons are easy to operate; you can turn it on/off and select the ideal massage intensity with only one button. The massager's 5-speed strength settings range from 1200 to 3200 rpm. They can be adjusted for daily and deep massage, awakening your entire body's muscles. 
Why Buy This
Indeed, these best massage gun reviews have mentioned the product's premium quality! This one performs the job admirably and is reasonably priced. It undoubtedly works to activate and warm up muscles before exercise. It also appears to speed up recovery – thanks to its high-intensity speed.
---
What is a Massage Gun?
Vibrations from a percussive massage gun warm your muscles and promote blood flow to specific places. Massage guns can significantly boost strength, kinesthetic awareness, and muscle endurance – while it reduces pain and enhancing muscular tone.  
---
Massage Gun Benefits
If you're still doubting about buying a body massage gun, here are some known benefits of a massage gun that might help you consider buying one:
Reduces pain, muscle sore

Improves blood circulation

Enhances athletic ability and muscle mass

Enhances recovery from injuries

Increases nervous system stimulation

Increases flexibility, elasticity, and mobility

Helps prevent injuries

Encourages lactic acid releases
---
Buying Guide: How to Choose a Massage Gun
Undoubtedly, it is a challenge to look for the best massage gun. Fret no more. Here are our quick tips when you are looking for massage therapy guns:
Power and speed options are available on the majority of massage gun types. It's best to choose a massage gun that has various speed options. 

Regarding portability, some models are more compact, lighter, and have longer battery life. Check for massage guns that have longer battery life. 

By incorporating characteristics like a longer handle, some massage guns may make it simpler to reach difficult-to-reach parts of the body – always consider which massage gun makes the work easy for you. 

Make it a habit to read product reviews. You'll learn from those reputable product reviews. 

Check the warranty period. Most massage guns are costly, so it's best to invest in a massage gun that guarantees your money. 
---
Best Massage Gun Brands in Australia
Finding the best massage guns will help you if you are familiar with the best brand of massage guns in Australia. 
Medcursor Massage Gun
Medcursor offers massage products that are reliable, comfortable, and cost-effective while utilizing cutting-edge technology to promote healthier lifestyles. Traditional and modern therapy approaches that maximize client wellness and health are incorporated into their products.
Aldom Massage Gun
The body massage gun from Aldom has always sold the most on Amazon. Aldom is known for their value for money products. Aldom offers a variety of massage therapy guns you can choose from. 
RENPHO Massage Gun
RENPHO provides individuals with reasonably priced lifestyle goods that would function to enhance users' health by being a straightforward addition to their routine daily activities.
Sportneer Massage Gun
Sportneer effectively merged sports with engineering, just like their company's name. They offer the most excellent goods and services in the spirit of healthy living and the pursuit of excellence to help you become stronger, healthier, and happier.
Bob and Brad Massage Gun
Bob and Brad are two physical therapists who set out more than ten years ago. Bob & Brad have created many items and established themselves as influential voices on social media, overcoming physical obstacles, improving health, and enjoying a good laugh.
---
Massage Gun Price Range here in Australia
Massage guns can range in price depending on the brand, quality, and features. In Australia, a massage gun price is from around AUD 50 to over AUD 800.
Lower-priced models, typically under AUD 100, may have fewer features and lower-quality materials. Mid-range models, priced from AUD 100 to AUD 400, often offer a good balance of features, quality, and affordability.
High-end models, priced above AUD 400, may offer additional features such as multiple attachments, adjustable speeds, and longer battery life. These models have high-quality materials designed for professional use.
Where to Buy Massage Guns in Australia?
You can buy massage guns in Australia in several places, both online and in-store. Here are some popular options:
Online retailers like Amazon, eBay, and Catch.com.au.

Sporting goods stores

Health and wellness stores 

Manufacturers' websites.
Before purchasing, compare prices and read reviews to find the best deal and quality product.
---
Conclusion
Indeed, massage weapons are therapeutic. Aside from that, it does target our sore areas. These little handheld gadgets work differently from the classic vibrating massagers and are the best! 
---
Related Articles