The gym is unquestionably the most crucial component when going to or practicing lifting. There is essential equipment not just for gym workouts but also for running. Asics, Nike, and Adidas have all released their models with unique features, making it tough to choose the appropriate one.
As a result, in this post, we will go over what you need to know to select the best pair of gym training shoes. Furthermore, as we progress through this article, we will provide you with fantastic gym and comfortable workout shoes for a better working-out experience. Without further ado, here are the top ten finest gym sneakers in Australia.
---
10 Best Gym Shoes in Australia 2023 - Top Brand Reviews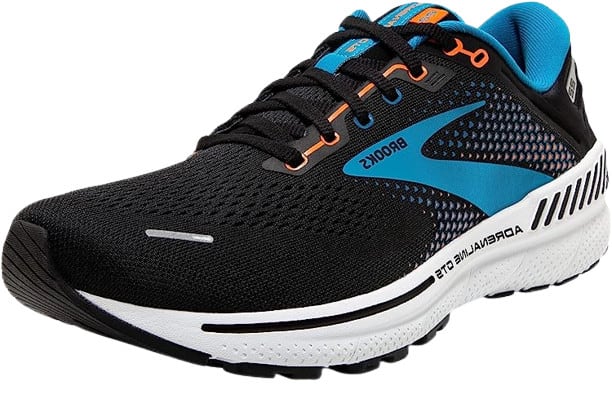 Check Brooks Men Adrenaline Gym Shoes price below:
add_circle
It has a cooling pad effect
add_circle
It is versatile and lightweight
add_circle
It has served you with different colors and styles
Why It's Our Top Pick
This Brooks men's shoe is ideal for gym goers and runners looking for a smooth ride with outstanding cushioning and reliable GuideRails support that won't take away from running fun. The Brooks Adrenaline GTS 22 is a PDAC A5500 Diabetic shoe that has received the APMA Seal of Acceptance. If you order Brooks running shoes, add 1/2 to one size larger than yours.
It also includes support elements and a cushion that provides the appropriate stability and support, making it ideal for overpronation while delivering high energy. 
Overview
The Brooke gym and running shoes are perfect for men urging to have a smooth and lightweight pair of gym shoes. It serves you excellent to outstanding features that give you support when used. 
Highlighted Features 
The brand provides support and soft cushioning for equal protection. It also features secure padding for comfy use. The midsole is 100% DNA LOFT cushioning, and the Segmented Crash Pad for an even softer, smoother ride and more straightforward flow from landing to toe-off.
Performance 
Brooke gym shoes have a modernized look that you can wear with any gym outfit and casual wear. Furthermore, the deliberate use of 3D Fit Print upper technology provides the structure and established fit for which the 
Why Buy This 
It has a holistic support system with guide rails that shifts the focus from the feet to the most injury-prone region of a gym user's or runner's body: the knees. GuideRails keeps you moving comfortably by controlling extra movement.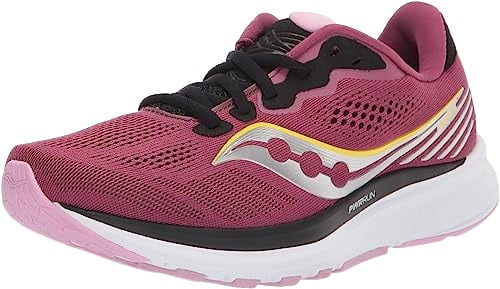 Check Saucony Women's Running and Gym Shoes price below:
add_circle
It has lovely lace and padding
add_circle
It has balanced cushioning
add_circle
It has a durable nylon mesh
Overview
So many gym shoes are available in our market, some of which are the best. So, if you are looking for the best women's gym shoes, the Saucony is perfect and essential. 
Highlighted Features 
The claimed brand has comfort over everything in the Saucony gym and running shoes. This shoe can do it all, with perfect balance and cushioning where you need it. You'll get a smooth fit and feel like you've never had before the moment you lace on.
Performance 
The Saucony brand has outstanding laces and cushions supporting your ankle by doing gym or recreational activities. It also serves the rubberized sole that allows you to bounce when used. It also has perfectly nylon mesh material for the cooling method. 
Why Buy This 
The said brand gives you the comfortable features of Perfectly balanced cushioning. It is also a renowned brand in Australia that women use whenever they go to the gym or run.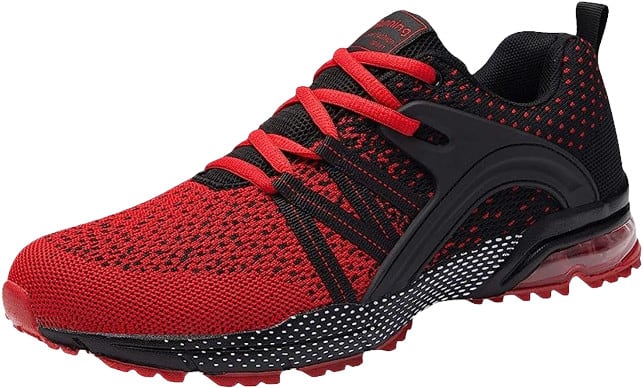 Check SKYT Running and Gym Shoes price below:
add_circle
It has lightweight material
add_circle
It is perfect for a ride, gym, and running activities
add_circle
It is also applicable to casual wear
Overview
The Skyt gym shoes are one of the best men's gym shoes we have on the list, the design is a bonus, but the performance will undoubtedly offer you a quality and extraordinary one. 
Highlighted Features 
High-Quality Synthetic Sole and Breathable Mesh Upper and Lightweight Mesh Upper give perfect breathability. Your feet will likely be able to breathe freely when running or walking. It is soft and safe, cushioning every step you take.
Performance 
It sports an anti-slip rubber sole, is lightweight, and has good bounce-back and durability. There is padding, which helps to absorb shock and protect your heel and ankle. 
Why Buy This 
Natural rubber cushioned fashion distinctive designs are active in a wide range. Examples include athletic events, running, walking, and short-distance travel or hiking. It can also be used as walking shoes outside and workout shoes indoors.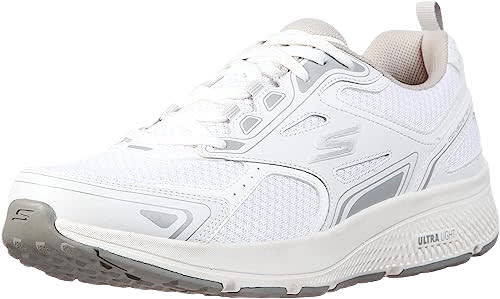 Check Skechers White Gym Shoes price below:
add_circle
It has in and out cushions for protection
add_circle
It has a rubberized sole
add_circle
It has cooling support
remove_circle
No guide rails
Overview
Indeed, Skechers shoes are one of the well-known brands not only in Australia but worldwide; their capacity to bring you better features is superb. This brand is also the best white gym shoes on the list, as it is customizable for similar fashion. 
Highlighted Features 
The Skechers GOrun Consistent is a well-cushioned lace-up runner and trainer that is ideal for a variety of workouts both in and out of the gym. The sensitive ULTRA GO cushioning midsole and a smooth leather and mesh fabric top make this a very responsive exercise shoe. Ideal for interval running, walking, running on the treadmill, and working out.
Performance 
Upper is made of smooth athletic leather with synthetic and mesh fabric details. The upper design is lightweight and highly ventilated. Mesh fabric panels, synthetic toe, and heel overlays—front lace-up with padded collar and tongue. 
Why Buy This 
The ULTRA GO midsole material provides comfort and responsiveness. The midsole structure is a metric for support and stability. It also has in-cushions and out-cushion soles, an Air Cooled Goga Mat insole for shock absorption and support, and a Mid-foot strike zone to increase efficiency in each stride.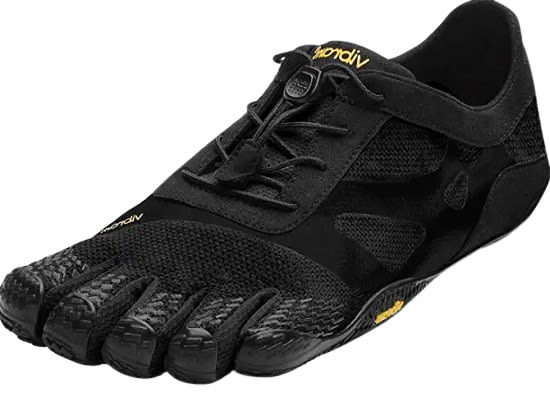 Check Vibram Men's Running and Gym Shoes price below:
add_circle
It has a canvas sock liner
add_circle
It has hemp mesh material
add_circle
It has a soft cushion and cooling features
remove_circle
No gel and elevated cushion
Overview
Flat shoes are for those who want gym shoes that have a grip whenever they use them. One of the best flat shoes you can have is the Vibram flat shoes which give you comfortable use. 
Highlighted Features 
Vibram is one of our thinnest, grippiest, lightest, and most comfortable FiveFingers ever, designed for customers who want a close touch with the ground with every stride. Soft hemp is upper is combined with the best Vibram outsole technology: Megagrip for wet and dry traction and Litebase for weight and thickness reduction.
Performance 
The lightweight and breathable hemp upper is soft and comfy. It works with the minimalist outsole to create one of our lightest FiveFingers. It also has excellent material that gives you comfortable use. 
Why Buy This 
Vibram has a minimalist design and those who enjoy feeling every step they take. It has a revolutionary outsole with gripping lugs that promote traction while also providing continuous sensory stimulation to the foot due to the sole's inherent thinness. It is the strength of combining Megagrip and Litebase to create a sophisticated outsole.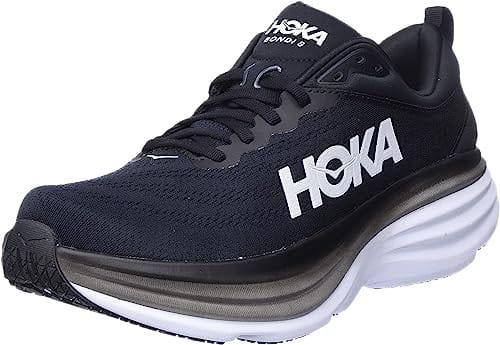 Check Hoka Men's Running and Gym Shoes price below:
add_circle
It is perfect for running
add_circle
It has a large sole and lace
add_circle
It has a quality nylon mesh feature
remove_circle
Limited ground feel
Overview
Hoka shoes are frequently touted as the most comfortable shoes ever and even as a cure to runners' persistent problems and ailments, largely thanks to their exceptionally cushioned, lightweight foam soles. 
Highlighted Features 
One of the best features of the Hoka gym shoes is their capacity to cure injuries. It has natural soles and materials that help your feet to be comfortable. Moreover, it has a large sole that prevents your foot from suffocating. 
Performance 
Hoka shoes are well-known for their thick and plush midsoles, which offer excellent shock absorption and can assist in lessening impact forces while doing gym exhibitions. Despite their hefty midsoles, many Hoka shoes are very lightweight, making them seem more comfortable and natural to run in. It is also ideal for lifting because the sole adjusts to the weight of what you are doing.
Why Buy This 
Hoka shoes come in several styles and designs, including road, trail, and racing flats, allowing gym users to pick shoes that meet their needs and tastes. Hoka shoes' cushioning and support make them a fantastic choice for gym goers and runners training for long-distance events like marathons or ultra-marathons.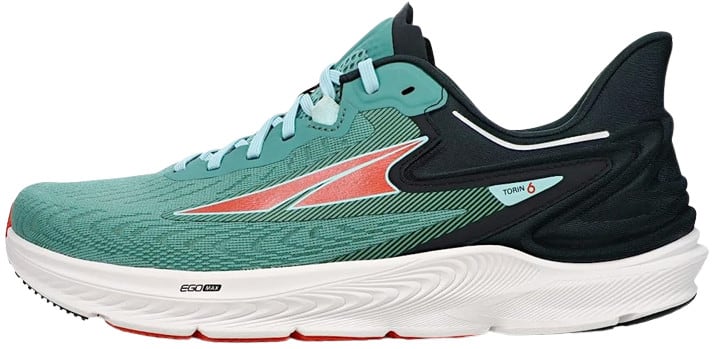 Check Altra AL0A7R6T Gym Shoes price below:
add_circle
It has a large sole and lace for wide feet
add_circle
It gives you a durable rubber pad
add_circle
It has different designs for fashion
Overview
Wide feet are those feet that need equal support to prevent injuries whenever you are running or doing gym activities. The Altra gym shoes are essential if you want a gym shoe perfect for large feet.
Highlighted Features 
Altra EGO MAX foam delivers increased energy return and a responsive yet soft, comfortable feel. It includes a soft, moisture-wicking fabric that will keep you going on any run, route, or distance. It is perfect for every road, with a responsive underfoot feel. 
Performance 
Balanced Cushioning keeps your heel and forefoot at the same distance from the ground, promoting excellent, low-impact form throughout your workout or run. Altra FootShape toe boxes allow your toes to spread and facilitate ideal, low-impact conditions in your gym workouts. 
Why Buy This 
Altra's FootPod Technology analyzes your foot's bones and tendons to enable natural movement underfoot. It also helps with long-distance runs and high-intensity exercise. It also boasts a high-quality sole and lace that keeps your foot secure in the shoe.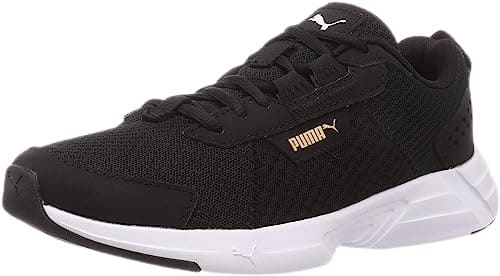 Check Puma Gym Shoes price below:
add_circle
It has a different design that is also perfect for fashion
add_circle
It is versatile
add_circle
It has quality materials used
Overview
You do not have to worry about finding which gym shoes are perfect. If you want a sole with extra grip on the floor, we present you the PUMA gym shoes, which give you that better service.
Highlighted Features 
The PUMA exercise shoes include Responsive foam cushioning suitable for all-day comfort. It also incorporates Zoned rubber for outsole traction and durability during training and regular use. Moreover, hemp mesh material prevents your feet from suffocating and sweating during gym sessions. 
Performance 
There are different performances that the PUMA brand might give you, from its quality material to its features; this brand will always satisfy you. The said brand is versatile and perfect for running, playing basketball, and other recreational activities. It serves you quality and yet durable gym shoes you can buy at a low price. 
Why Buy This 
The PUMA brand will undoubtedly be worth the price if you already have it. Indeed, this brand is well-known worldwide, but it also serves you the performance you cannot see on regular gym shoes. So, if you are looking for a gym shoe with a firm grip on the floor, this brand is perfect.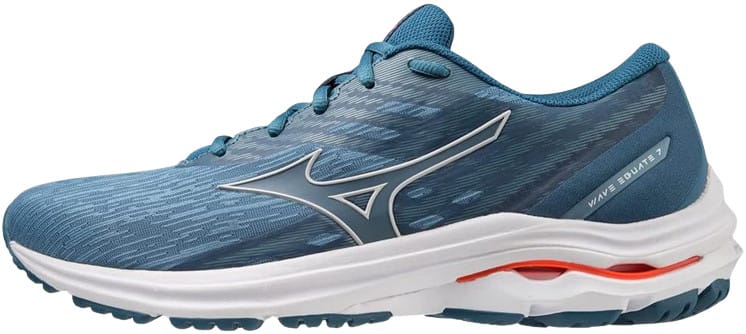 Check Mizuno Wave Equate 7 Gym Shoes price below:
add_circle
It has stability grip
add_circle
It has a large sole and an entrance
add_circle
The lace serves equal protection while in use
Overview
Heels in shoes are not like the heels we regularly see in beauty pageants; the heels on shoes are those elevated parts on the ankle that keep your ankle in shape and balance. So, if you are looking for one, the Mizuno brand is perfect and essential.
Highlighted Features 
With this shoe featuring Mizuno for the first time, your workouts and runs will be smoother than before. The heel wedge's Mizuno Foam provides excellent cushioning and energy return. The double fan-shaped wave can help with overpronation and allow fluid body movement.
Performance 
The heel wedge features Mizuno Foam, which provides excellent cushioning and energy return. The waveform can accommodate overpronation. The shoe has Mizuno Wave's renowned cushioning and stability and a wave, elevated inner that allows for seamless body movement while preventing the foot arch from collapsing.
Why Buy This 
The Mizuno Men's Wave Equate 7 Running Shoes are responsive stability shoes. They are best suited to slower or more consistent road runs. The propulsive and supporting ride also supports runners with minor instability around the feet and ankles. Shoe size is a personal decision, and everyone's feet are different, but in this brand, you do not suffer from pain or discomfort caused by bruised toes, chafing, blistering, or pins and needles.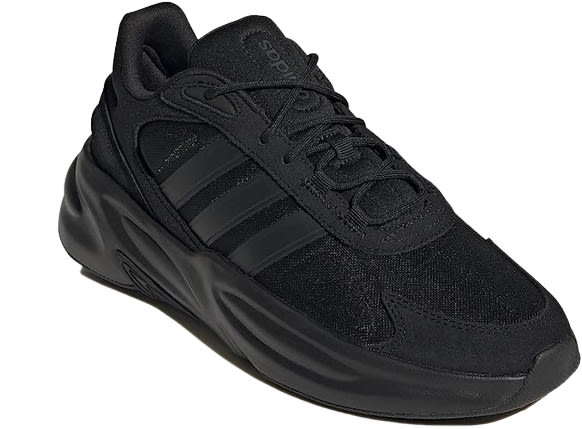 Check Adidas Ozelle Gym Shoes price below:
add_circle
It has a fabric strap upper material
add_circle
It has nylon mesh material
add_circle
It has cloud foam inter tank
Overview
These gym shoes are a fresh addition to the array of thick-soled trainers. Bold, creative design elements inspire these Adidas gym sneakers. They are comfy thanks to cloud foam cushioning and a light but hefty rubber outsole.
Highlighted Features 
The said brand gives you sole arch support for your feet; the sole arch support is typically the hard part or covering of your shoes where your feet are placed. Gladly the Adidas brand serves you that. It is also perfect for running and, of course, in the gym. 
Performance 
The performance of this brand is superb. Indeed, it is the most well-known brand of shoes, along with Nike. But Adidas will undoubtedly bring you to the highest level in fashion and other casual wear. 
Why Buy This 
The upper's diverse blend of materials elevates the basic sporty design. Go for it. Go low. Wear these sneakers anywhere. This top is made from various recycled materials and contains at least 50% recycled content. This product is only one of numerous solutions to help eliminate plastic waste.
---
What are Gym Shoes?
Gym or training shoes allow for various movements such as cutting, stopping, breaking, jumping, and swiftly changing direction. It makes a training shoe adaptable and suitable for multiple workouts. Training shoes are similar to all-purpose gym shoes. The flatter the shoe is, the more likely it is to be a training shoe. The technical word here is "heel drop," which refers to the distance between the heel and toe heights.
---
Gym Shoes Vs. Running Shoes 
Gym and running shoes are designed with specific activities in mind, and understanding their differences can help you make an informed choice based on your fitness needs. Here are the key distinctions between gym shoes and running shoes:
Design and Purpose
Gym Shoes

: Gym shoes, also known as cross-training shoes, are designed to support a wide range of activities commonly performed in the gym, such as weightlifting, strength training, cardio exercises, and agility workouts. They aim to provide stability, support, and versatility for various movements.

Running Shoes

: Running shoes are designed for running or jogging activities. They prioritize cushioning, shock absorption, and responsiveness to minimize the impact on your feet and joints during repetitive forward motion.
Cushioning and Impact Absorption
Gym Shoes

: Gym shoes often have firmer cushioning compared to running shoes. They focus more on stability and support, particularly lateral movements and weightlifting exercises requiring a solid base.

Running Shoes

: Running shoes prioritize cushioning and shock absorption to reduce the impact on your feet and lower limbs during each stride. They typically have softer and more responsive cushioning to enhance comfort and protect against repetitive impact injuries.
Sole and Traction
Gym Shoes

: Gym shoes typically have a flatter and wider sole with multidirectional patterns on the outsole. This design provides better stability and traction for lateral movements and quick changes in direction.

Running Shoes

: Running shoes have a curved or rocker-shaped sole to facilitate the heel-to-toe rolling motion while running. The outsole often features a specialized tread pattern that enhances traction on various surfaces encountered during running.
Flexibility
Gym Shoes

: Gym shoes offer flexibility in multiple directions to accommodate a variety of movements performed in the gym, such as lunges, squats, and lateral shuffles.

Running Shoes

: Running shoes prioritize forward flexibility to support the natural bending of your feet during the running gait cycle. They allow for smooth and efficient foot movements from heel strike to toe-off.
Weight
Gym Shoes

: Gym shoes tend to be more substantial and heavier due to their emphasis on stability and support.

Running Shoes

: Running shoes are generally lighter to minimize the weight on your feet and promote a more efficient running stride.
While gym and running shoes have specific purposes, choosing the right shoe for your intended activity is essential. Opt for gym shoes if you primarily engage in gym workouts, cross-training, or a combination of activities. Invest in specialized running shoes if your main focus is running or jogging. Remember that wearing the appropriate shoe for your workout can enhance performance, reduce the risk of injuries, and provide a more comfortable exercise experience.
---
Buying Guide: How to Choose Gym Shoes 
Your training shoes for gym are the most essential equipment to get right. Those trendy fashion shoes just aren't going to make it. The appropriate shoe allows you to get the most out of your activity while lowering your injury chance.
When choosing good shoes for gym, several factors must be considered to ensure you make the best decision for your fitness needs. Here is a buying guide that will help you pick the perfect gym shoes:
Purpose:

Determine the intention of your gym shoes. Are you primarily using them for weightlifting, running, cardio exercises, or a combination of activities? Different activities require different types of shoes with specific features.

Fit

: Proper fit is crucial for gym shoes. They should provide a snug yet comfortable fit without any pinching or tightness. Make sure there is enough room for your toes to move and flex. Try shoes in the afternoon or evening when your feet are slightly larger.

Arch Support

: Consider your foot arch type - low, neutral, or high. Look for gym shoes with appropriate arch support for your specific foot type. It will help prevent discomfort and potential injuries during workouts.

Cushioning:

Choose gym shoes with adequate cushioning depending on the intensity of your workouts. Running shoes have more cushioning to absorb impact, while weightlifting shoes have minimal cushioning to provide stability and support during heavy lifts.

Sole and Traction:

The sole of your gym shoes must provide good traction to prevent slips and falls. Look for shoes with rubber outsoles and multidirectional patterns for better grip on various surfaces.

Breathability:

Opt for breathable gym shoes to keep your feet cool and dry during workouts. Mesh or perforated uppers allow airflow, preventing excessive sweat and potential odor issues.

Durability:

Check the quality of materials and construction to ensure the shoes are durable enough to withstand regular gym use. Reinforced stitching, sturdy overlays, and high-quality materials will enhance the shoes' longevity.

Flexibility:

Gym shoes should offer flexibility to support natural foot movements. They should allow your feet to bend and flex without restriction, providing optimal comfort and performance.

Stability and Support:

Look for gym shoes that provide stability and support, especially if you engage in activities that involve lateral movements or quick changes in direction. Shoes with a firm heel counter and secure midfoot support will help prevent ankle injuries.

Price:

Set a budget for your gym shoes. While investing in a good pair is essential, you can spend your money wisely. Consider your requirements and balance the price and the features you need.

Try Before Buying:

Visit a local store and try on different gym shoes to assess fit and comfort.

Walk around, do a few movements, and check for discomfort or issues.

If purchasing online, read gym shoes reviews and consider sizing recommendations.
By considering these factors and prioritizing your fitness needs, you can choose the perfect pair of gym shoes that will provide comfort, support, and durability for your workouts.
---
Best Gym Shoes Brands in Australia
It's important to note that personal preferences and individual needs may vary. You may try on different brands and models to find the best gym shoes that fit your feet, offers the desired features, and align with your specific fitness goals.
Nike Gym Shoes
Known for its innovation and technology, Nike offers a wide range of gym shoes that provide excellent cushioning, support, and durability. Their shoes often feature breathable materials, responsive cushioning, and versatile designs for various gym activities.
Adidas Gym Shoes
Adidas is a famous gym shoe brand focusing on comfort, style, and performance. Their shoes often feature responsive cushioning, breathable uppers, and reliable traction. Adidas also offers options with specialized support for different types of workouts.
Reebok Gym Shoes
Reebok is well-regarded for its cross-training shoes, which are ideal for gym workouts. Their shoes provide stability, support, and flexibility, making them suitable for weightlifting, cardio exercises, and agility training. Reebok shoes often feature durable construction, cushioning, and excellent grip.
New Balance Gym Shoes
New Balance offers a range of gym shoes that prioritize comfort and stability. Known for their exceptional fit, New Balance shoes often have cushioning systems that provide shock absorption and support for various gym activities. They also offer options with wider widths for those who require extra room.
ASICS Gym Shoes
ASICS is known for its running shoes but also offers gym shoes with features suitable for different workout types. Their gym shoes often incorporate cushioning systems that provide shock absorption, support for lateral movements, and breathable materials for enhanced comfort.
---
Gym Shoes Price Range Here in Australia
The best gym shoes price in Australia varies depending on the brand, model, and features offered. Here's a general overview of the price ranges you can expect to find:
Budget Range: $50 - $100. You can find entry-level gym shoes in this range that provide basic functionality and durability. These shoes may have advanced features of higher-priced options but offer decent support and comfort for light to moderate gym activities.
Mid-Range: $100 - $150 In the mid-range, you'll find a more comprehensive selection of gym shoes with improved cushioning, support, and durability. These shoes often offer a good balance of quality and affordability, making them suitable for various gym workouts and activities.
Premium Range: $150+ In the premium range, you'll find gym shoes from well-known brands with advanced technologies, superior cushioning, and specialized features. These shoes are often designed for specific activities or cater to the needs of professional athletes. They provide exceptional comfort, stability, and performance for intense workouts or specific training purposes.
---
Where to Buy Gym Shoes in Australia?
In Australia, you can find the best comfy workout shoes from various retailers online and in physical stores. Here are some popular options for purchasing gym shoes
Sporting Goods Stores: Visit local sporting goods stores such as Rebel Sport, Sportsmans Warehouse, or Decathlon. These stores offer a wide range of athletic footwear, including gym shoes, and often have knowledgeable staff to assist you in finding the right pair.
Brand Retail Stores: Many well-known athletic brands have retail stores across Australia. Nike, Adidas, Reebok, New Balance, and ASICS have brand stores where you can find their latest gym shoe models and exclusive offerings.
Online Retailers: Online shopping provides a convenient option for purchasing gym shoes in Australia. Websites like Amazon Australia, The Iconic, and Catch.com.au offer various gym shoes from multiple brands. Additionally, the official websites of specific brands often have an online store where you can buy their gym shoes directly.
Specialty Fitness Stores: Some stores specialize in fitness equipment and apparel, including gym shoes. Examples include FitOnline, Workout World, and Gym Direct. These stores often have a range of gym shoes tailored to fitness enthusiasts.
Department Stores: Major department stores like Myer, David Jones, and Big W also carry a selection of gym shoes. While the variety may not be as comprehensive as specialty stores, they can be a convenient option with competitive pricing.
It's best to compare prices, check for ongoing sales or promotions, and read gym shoes reviews before purchasing. Additionally, consider trying on shoes in physical stores to ensure fit and comfort before buying online.
---
Conclusion
When selecting the best training shoes, there are numerous aspects to consider. The correct pair of training shoes will help you perform at your best while ensuring your investment will last.
Sifting through the unlimited training possibilities might be overwhelming. However, if you have the proper knowledge of the context of your training goals, it becomes a lot easier to narrow down the endless shoe options accessible. But remember to always buy based on your interests.
---
Related Articles