Among the must-haves for getting work done efficiently is to have a decent external monitor and make the most out of your day at work. Other than offering bright, clear and accurate colours, some of the best monitors even come with ultra-wide aspect ratio and curved screens to give a more comfortable experience.
In today's article we go through some of the best monitors you can get now to meet a number of needs and budget requirements. If you want to know how to pick a monitor on your own, do read our short guide below.
How to choose a monitor for work
Here are some of important aspects you can consider before deciding on a monitor for your work:
Consider the Type of Work You Do
Certain monitors are better suited to specific tasks. For example, you may need to get a monitor with quick reaction times if you work in gaming or video production. If you work in graphic design and animation, you will need a monitor that places a larger emphasis on screen resolution and colour clarity.
Determine a Comfortable Size
Larger screen sizes do not always mean better. If you like keeping your desk fairly open with more space around the workstation, then you should get a monitor with a smaller screen size. However, if you are always having multiple tabs and spreadsheets opened at the same time and hate to click on Ctrl+Alt+Tab so often, then a larger screen may be a better option to help you improve efficiency.
Look for a High Resolution
A monitor's resolution tells you how many pixels a monitor has. The higher the resolution, the more detailed the picture will look. If you're in graphics, video, or gaming, then it's generally a good idea to opt for something with a high resolution. But if you're mainly dealing with Excel spreadsheets and word processing, then an average screen resolution will work just as well.
Should You Get an Ultrawide Screen?
An ultrawide monitor is sometimes a better alternative to dual monitors. The wide monitor is able to deliver all the benefits of a dual monitor setup without the annoying gaps and bezels getting in the way.
Although ultrawide screens are generally geared towards gamers and movie buffs, many creative professionals also find them useful in their work as the wide screen provides more screen real estate to play with.
Curved or Flat Screens?
While flat screens are great for smaller desks and office space, a curved LCD screen dramatically improves viewing angles and works to offer a much more immersive experience. The curved edges reduce parallax distortion to let the sides of the screen appear much clearer. However, curved monitors do come at a much higher price than comparable flat screen models.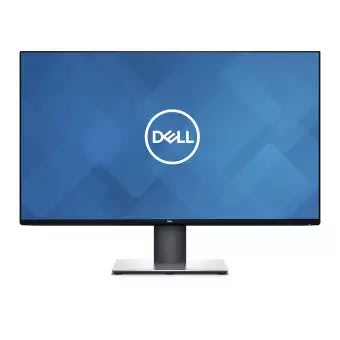 Dell UltraSharp U3219Q 32 Inch 4K Monitor
SGD 1298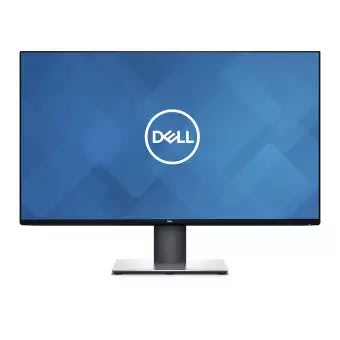 Dell's UltraSharp U3129Q is a business-pro-monitor that features a wide number of adjustment options to fit anyone's desk. You can orient the monitor horizontally or vertically and even swap between the two simply by spinning it with your hands. Featuring an Ultra HD 4K display with an impressive color depth of 1.07 billion colors, the U3129Q lets you see every aspect of your creative work in complete detail, so that you won't miss anything.
With Picture-in-Picture (PIP) and Picture-By-Picture (PBP) function, multitaskers can now easily view and control content from multiple sources simultaneously without slowing down their day-to-day work efficiency.
---
Dell UltraSharp 27-inch 4K Monitor (U2718Q)
SGD 909
The Dell U2718Q features a large 27-inch screen and a great 4K resolution to let you multitask efficiently with more on your screen. This UltraSharp Monitor's IPS panel works to present your work in outstanding detail and impressive accuracy even when viewed from the side.
Aside from that that, the U218Q even offers a large degree of adjustability to accommodate different postures at work so you can stay productive in any position comfortably.
---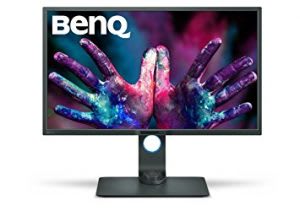 BenQ PD3200U Designer Monitor with 32-inch 4K UHD sRGB
SGD 1099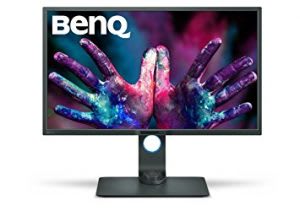 If you usually have multiple spreadsheets opened at a time, then you'll love the BenQ PD3200U Designer Monitor. It features a large 32-inch screen and 4K display to let you view several spreadsheets side by side with ease. Additionally, you even have the flexibility to adjust the height and tilt the monitor to view your documents and projects in portrait mode to avoid straining your eyes.
With BenQ's exclusive eye-care technology and blue light filter, the PD3200U lets you work in comfort as it reduces eye fatigue for you to stay productive all day. All in all, if you want to have the best spreadsheets and excel experience, then this is one of the best monitors to help you improve your work efficiency.
---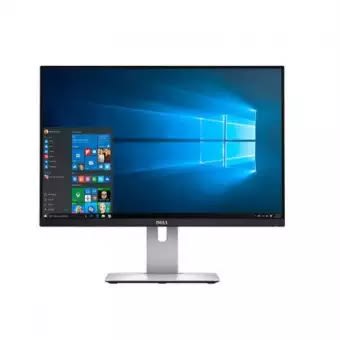 Dell UltraSharp Monitor U2415
SGD 349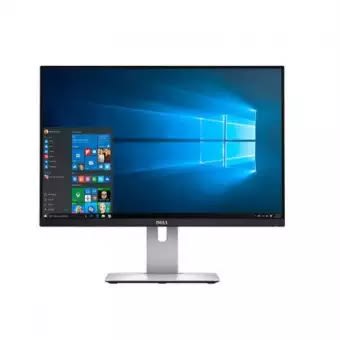 Not only does the Dell UltraSharp Monitor U2415 displays beautiful colours consistently at 99% sRGB coverage and a superb screen clarity, the monitor is also adjustable to fit any workspace or desk. This U2415 monitor lets you tilt, pivot, swivel, and adjust its height to help you do your best work from any angle you feel most comfortable in.
Despite a slightly smaller screen size of 24 inches, the monitor comes with a large 16:10 aspect ratio and a wide viewing angle. Working with this screen will deliver an experience of world-class screen performance that you'll enjoy comfortably.
---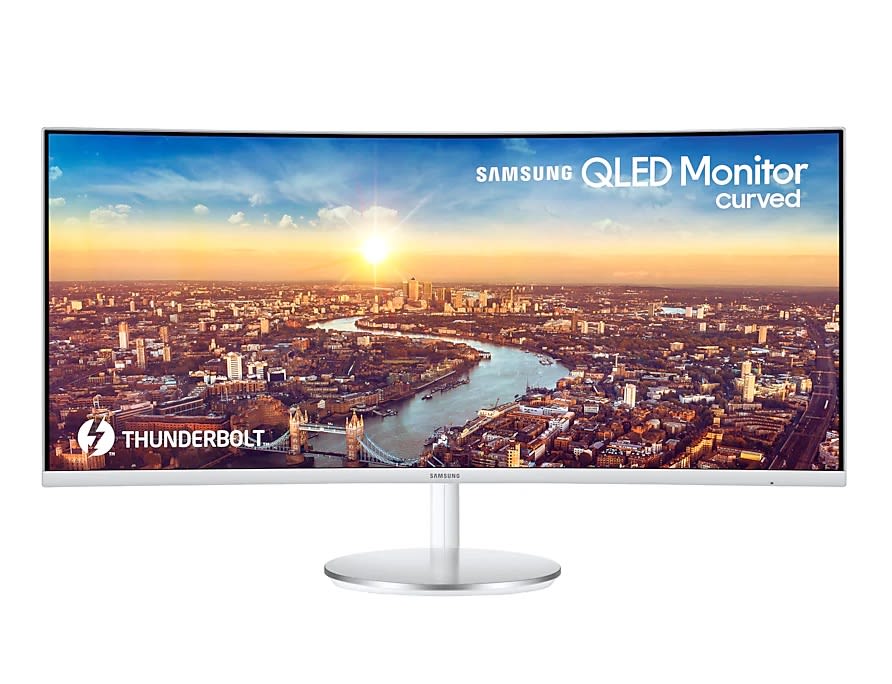 Samsung 34-inch Thunderbolt Curved Monitor (LC34J791WTEXXS)
SGD 1165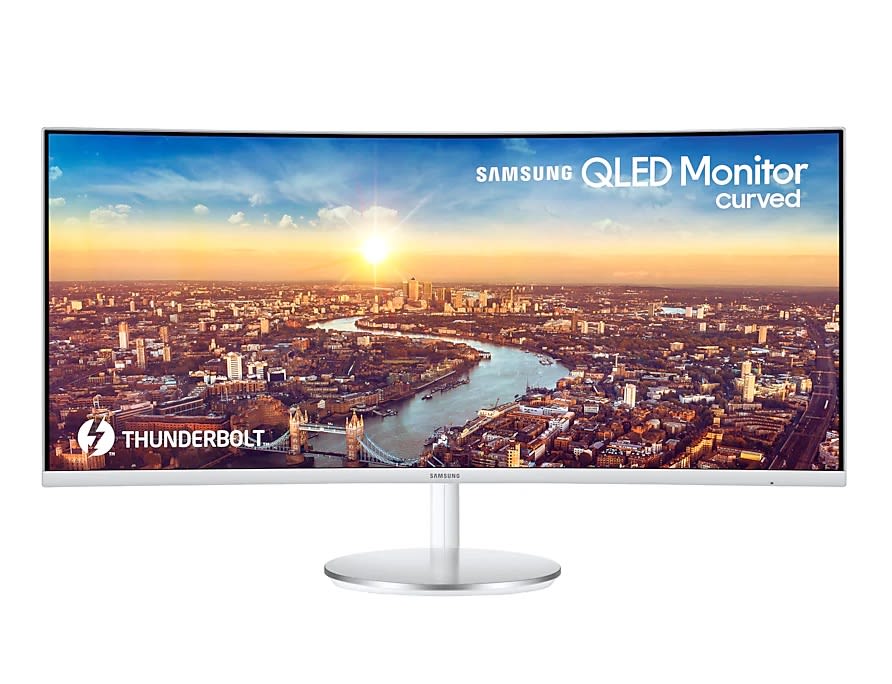 Looking for a curved monitor to make your endless days of work more comfortable? Then Samsung's 34-inch Thunderbolt Curved Monitor is the one for you. Samsung's curved monitor brings an incredible contrast ratio and 100% sRGB coverage. It also has quantum dot technology to add that extra sharpness to an already amazing display for you to catch every single detail in your creative work.
Whether you're editing videos or crunching numbers on a complex spreadsheet, the 34-inch ultra-wide screen is engineered according to the natural curve of your eyes. This feature essentially provides a more immersive and comfortable viewing experience.
---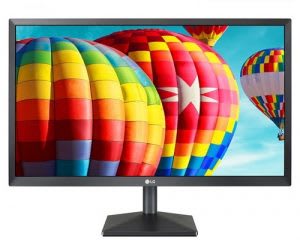 LG 24MK430 IPS Monitor
SGD 159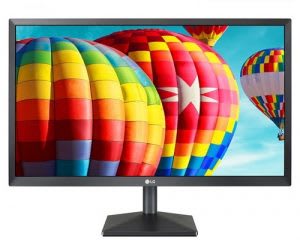 If you're a multitasker with a tight budget, then the LG 24MK430 LED Monitor may be a good wide screen monitor to get for your office. While it comes at an affordable price, the 24MK430 certainly does not fall short in the terms of features.
LG's full HD IPS display comes with AMD FreeSync and a refresh rate of 76Hz to provide you with a lag-free viewing experience. Meanwhile, the OnScreen Control lets users customize their display to accommodate both creative professionals and spreadsheet crunchers.
Once you've wrapped up your workday, you can switch the 24MK430 to game mode and enjoy your favourite games or wind down to a movie marathon with this versatile monitor.
---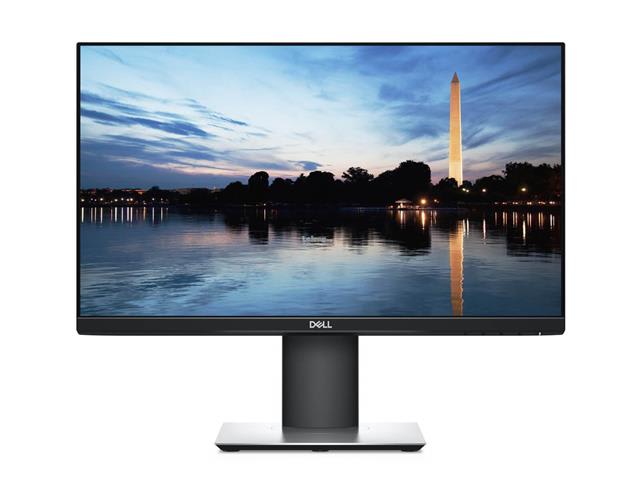 Dell Professional P2219H 22 Inch Monitor
SGD 249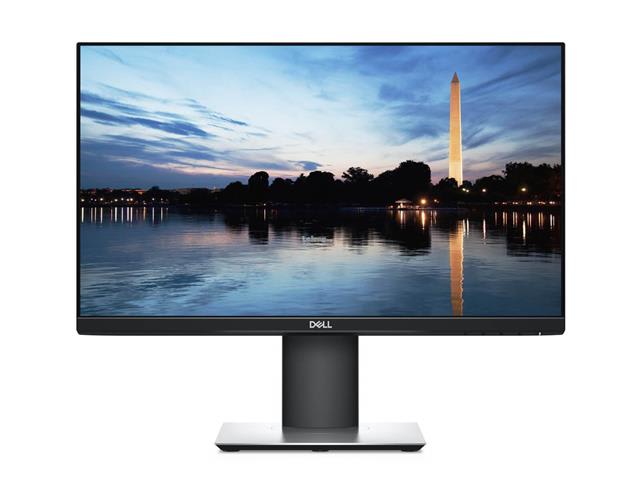 If all you need is a simple display at a low price point, then you don't have to look further than Dell's Professional P2219H Monitor. This compact monitor is small enough to fit just about any desk space without taking up too much space thanks to its thin profile and monitor base. The P2219H even features ultrathin bezels to let you enjoy a large, seamless display across multiple monitors.
Equipped with In-Plane Switching (IPS) technology, you get to enjoy vibrant colours from any angle you sit. Moreover, the ComfortView feature lets you stay efficient for longer hours without suffering from dry and tired eyes.
---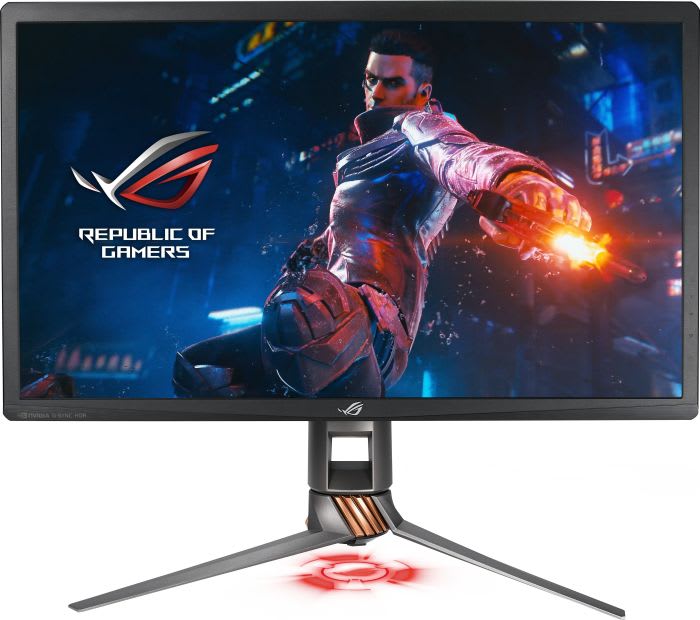 Asus ROG Swift PG27UQ Gaming Monitor
SGD 3199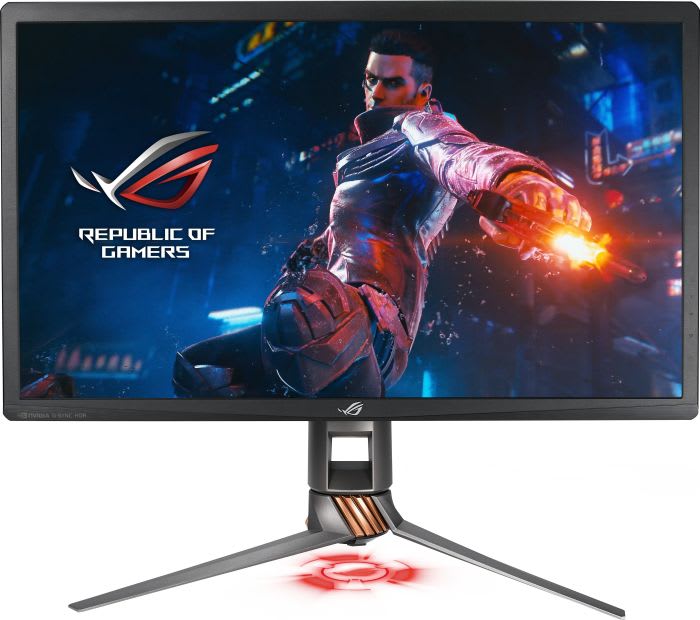 Asus ROG Swift PG27UQ may be pricey, but this premium gaming monitor is one of the best gaming monitors you can get if you've got the extra cash laying around.
The display features a gorgeous 4K Ultra-HD Resolution and a content refresh rate of 144Hz to offer extremely smooth visuals. That's ensures unmatched levels of details for you to enjoy a super immersive gaming session.
With HDR and NVIDIA G-Sync technology, the Asus ROG Swift PG27UQ might just be the most advanced monitor created that many gamers, professionals, and even creative content-creators will appreciate.
---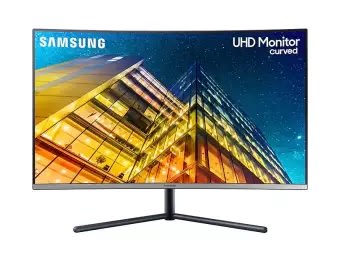 Samsung 32-inch UHD Curved Monitor (LU32R590CWEXXS)
SGD 631.00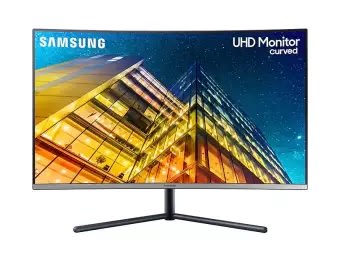 If you love to kickback with a movie after a hard day's work, then it is imperative to go for a UHD 4K screen. The display combines striking clarity, high contrast and a greater colour palette to let you enjoy visually realistic images.
In terms of clarity, Samsung's U32R590 Curved Monitor has a palette of 1 billion colours and a 2500:1 contrast ratio for you to experience a remarkably immersive movie session. The large monitor even features a sleek design and a V-slim metal stand that takes up less space on your desk so you'll have more room at your workstation.
---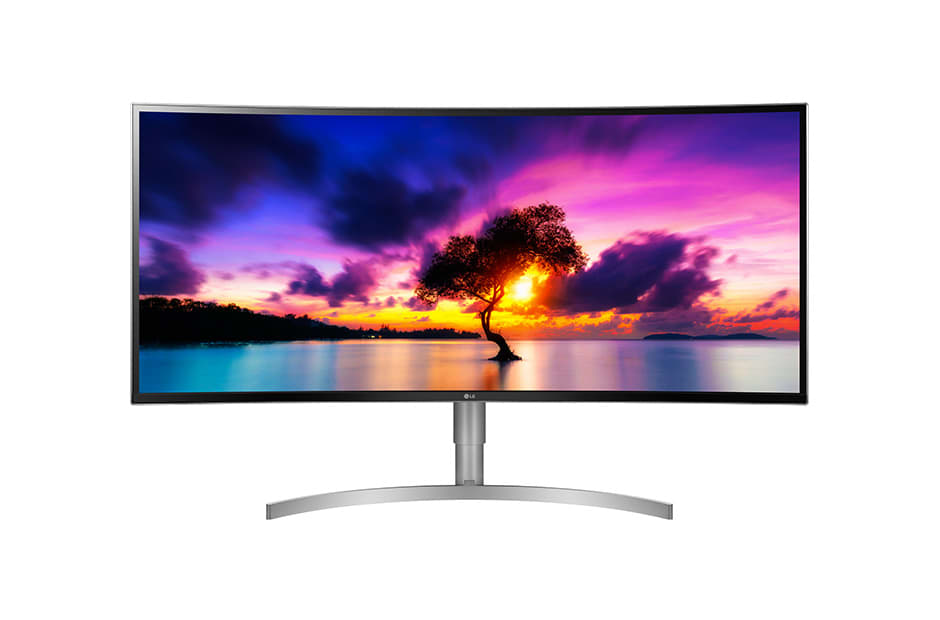 LG 38WK95C-W 38 Inch QHD Curved UltraWide Monitor
SGD 1999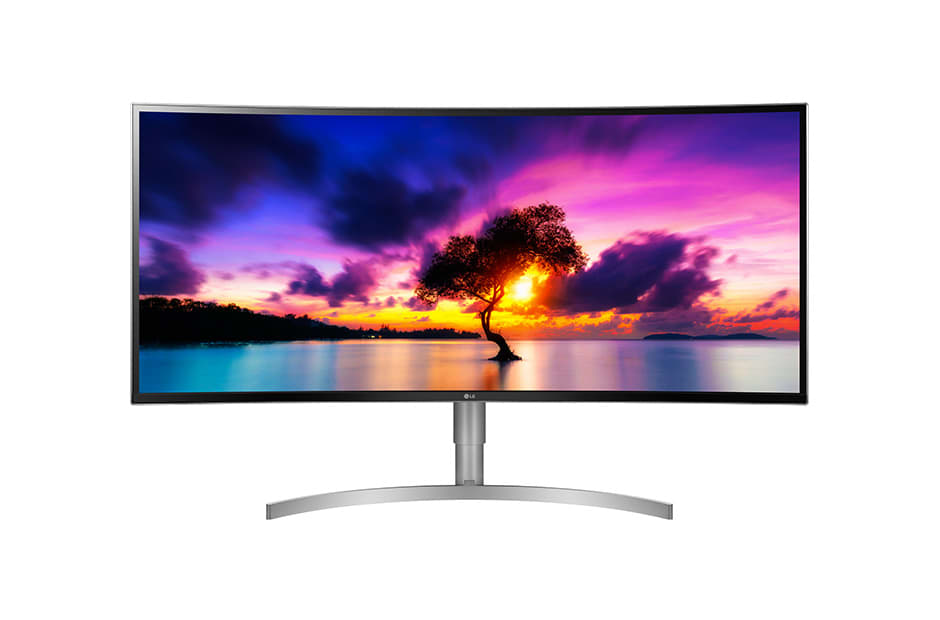 The LG 38WK95C-W QHD Curved Monitor lets you enjoy an ultrawide panel without sacrificing display resolution. In addition to the high 3,840 x 1,600 resolution, the IPS monitor boasts a 99% coverage of the sRGB color spectrum to display impeccably vivid and lifelike images. Whereas, the built-in Rich Bass lets you enjoy rich audio sounds for video editing.
With a huge 38-inch screen size and FreeSync support to prevent screen tearing, the LG 38WK95C-W QHD Curved Monitor offers an unrivalled amount of workspace. With that, you can have all your apps, websites, and spreadsheets opened simultaneously. Truly a monitor that's ideal choice for multitasking professionals.
---
LG 29" UltraWide FHD IPD Monitor (29WL500)
SGD 315
If you're a multitasker, an ultrawide monitor may be your best friend to get more work done. With a 21:9 aspect ratio, the LG 29" UltraWide FHD IPD Monitor gives you more room to work comfortably with multiple windows opened at the same time.
Featuring 99% sRGB color spectrum and an HDR compatible display, this IPD monitor delivers images with breathtaking clarity and exceptional colour fidelity to suit many creative professionals. The monitor even comes with Radeon FreeSync to let gamers enjoy seamless, fluid movements through their fast-paced games after a long day of endless spreadsheets.
---
Disclaimer: The pricing shown is just a good indication of how much these products are worth. The prices could change based on the e-commerce promotions that are going on. If some of the products are not available, do email us at [email protected] Thank you!