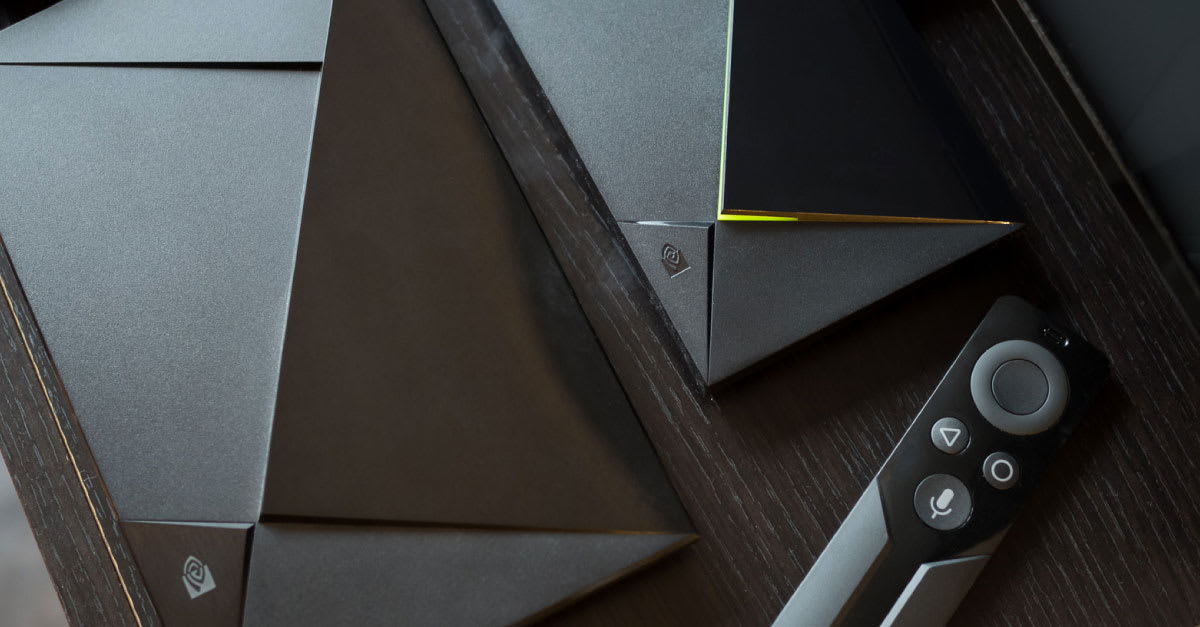 We all know the power of Android; from playing endless game titles to using the latest apps, it's all there for you. However, wouldn't it be so much better if we can have all of that on the big screen rather than just on our phones? Watch your favorite shows on Netflix, surf the web, see your friends on Facebook, or just relax and waste time on YouTube. If that's something you fancy, you definitely need to pick one of these.
1. NVIDIA Shield
Best for gaming
Price from SGD305.00
First on our list is a mobile gamer's dream come true, the NVIDIA Shield. At a glance, there is no doubt that when it comes to aesthetics, this one is a gem. It is super slick, has a dedicated remote controller, and has 4K HDR streaming capabilities.
In a nutshell, it can provide you with genuine entertainment at home, whether if it's from watching movies or playing video games. Aside from that, it has Google Assistant, which allows you to do voice search easily and accurately. Just speak the movie title, and it will be within reach in seconds.
The NVIDIA Shield is also the most powerful Android box today. It has the best specs for gaming and has the ability to cast your PC games straight to your TV without any lag. The only thing that might discourage you from buying this beast of a machine is its price; it's expensive at around SGD 319.00.
2. Sprkx Pivotal L008
Best Android TV box with Indian channels
Price from SGD124.00
Now, if you're a fan of Bollywood or everything showing in India, you can never go wrong with the Sprkx Pivotal L008. Although it has a hard-to-pronounce name, it does compensate for having a huge arsenal of 110 Indian & Hindi channels. It can have more by just paying its subscription fee of only SGD 12.00 a month.
Aside from the channels mentioned above, it also has about five pre-installed movie apps including KODI and Popcorn Time. The only downside is its RAM at only 1GB, which is by no means ideal for playing games. It does have a decent 8GB of storage so you can enjoy as many films as you can store in it.
The Sprkx Pivotal L008 can run social media apps without a problem. And it also has four USB 2.0 ports that can read a 1TB external storage device. It's easy to use and set up, and it's reasonably priced at only SGD 124.00.
3. Xiaomi Mi Box
Best for Netflix
Price from SGD86.60
Are you a big fan of Netflix? So are we! And the only Android TV box for that specific job is the Xiaomi Mi Box. Why we consider it to be the best for Netflix is due to its amazingly affordable price and 4K Ultra HD video capability.
For only SGD 75.40, you get to enjoy 2GB of RAM for speed, 8GB of storage for tons of download space, and a quad-core processor to run a few casual games you'd like. Aside from that, it's also compact and portable.
You can also cast straight from your phone using Google Cast. The only downside is that it only has a few ports available. It has one for USB, an HDMI port, and an AV port. Nonetheless, if you just want a reliable TV box for streaming high-quality videos, this one is for you.
4 people added this to their wishlist
4. MiniX Neo U9
Best for smart TVs
Price from SGD185.00
Next product on our list is a complementary Android box for smart TVs, the MiniX Neo U9. It's powerful and speedy, thanks to its octa-core processor and 2GB of ram. It also has Google assistant and has one of the best remote controllers on this list. Just flip its remote, and you have a decent keyboard right away.
But what makes it a neat pair for any smart TV is it superb wireless connection. It can catch Wi-Fi even beyond ten meters away. So if you have connectivity issues when using your smart TV, you can't go wrong with this MiniX Neo U9.
3 people added this to their wishlist
5. Portable HD Wi-Fi TV Box
Best Android TV box with digital tuner for car
Price from SGD72.00
If you want an Android TV box for your car, then the Portable HD Wi-Fi TV Box is for you. For starters, it's super small and portable. You can bring this device almost anywhere as it fits in your pocket.
It can also broadcast Wi-Fi signals and can support up to five devices at once. To install it in your vehicle, you only need to use a 5V and 2A charger or connect to your car's 12V/24V power output. Then attach the antenna cable to its USB port, and voila, it's done!
6. AC Ryan 4K ULTRA
Best Android TV box with Bluetooth
Price from SGD189.00
When it comes to connection reliability, nothing can compare to the AC Ryan 4K ULTRA. For starters, it has an internet LAN port that allows you to connect to the internet directly using a LAN cable. That means you're never going to have signal interferences, which is quite common when only connecting via Wi-Fi.
It's also pretty fast with a quad-core processor and has 4K capabilities as well. Aside from that, it has a huge storage space at 16GB. Plus, it has a more updated Android OS version (Android 7.1.2 Nougat) compared to most on this list, so you can install more of apps than usual.
You can also connect a lot of not-so-modern devices to transfer data as it's the only TV box on this list to have a Bluetooth connection feature. If you think you'll need that, then this product is definitely for you.
7. EfashionMall Android TV Box
Best Android TV box with camera
Price from SGD56.80
Last on our list is the cheapest of the bunch, but it's the only one with a built-in camera, the EfashionMall Android TV Box. For starters, it's not that quick when it comes to opening apps and has a tough time when launching games. It only has 1GB of RAM, which is quite the reason behind its lag.
Nonetheless, it allows you to stream videos and other typical things you can do with an Android TV box. The only advantage of this box though is that you can live stream straight from the TV using its camera. That also means you can do video calls on Skype and other messaging apps with similar features.
1 people added this to their wishlist
Disclaimer: The pricing shown is just a good indication of how much these products are worth. The prices could change based on the e-commerce promotions that are going on. If some of the products are not available, do email us at [email protected] Thank you