All babies come with a lot of responsibilities. From lulling them to sleep, to changing their diapers every few hours, parents are commonly left with very little time to do anything else. While most responsibilities may be time-consuming, preparing a good meal for your little one should not have to be difficult, especially when you have a reliable baby food blender.
Baby food makers come in handy for more than what they're designed to do. Most have steaming and pureeing capabilities to whip up delicious homemade meals suitable for a baby. To determine, we studied, researched and reviewed immensely to find out the best products, so you don't have to.
FAQ:
5 Tips to choosing a baby food blender:
Even though baby food makers share a common purpose, they're not all created equal. Here we will go through a few features that you should keep an eye out for when choosing a suitable one to buy.
Easy cleanups
Everyone knows that blending food is a messy affair. Between taking care of your baby and preparing meals, the last thing you want is to spend too much time cleaning a blender. Not to mention, hard to clean models can even be a potential breeding place for harmful bacteria!
A thoughtfully built blender should not come with too many crannies, ridges, and nooks where dirt and food particles can get trapped in. Some advanced blenders even feature an automatic cleaning mode to help make cleaning a fairly simple process. Hence, it is always best to check if the baby food blender has easily removable parts that are also easy to clean so that you can wash the blender from the base up.
Power
Almost all kinds of blender can blend soft foods into a smooth puree. However, if you want your device to be able to handle tougher items such as leafy greens with lots of fiber, you're going to need an appliance that has a powerful motor of more than 100W and well-designed blades to help you achieve that smooth, lump-free puree.
Materials
Most baby food blenders you see on the market are made from plastic as they're lighter and won't shatter. While, this is not much of a problem, there is the risk that some plastics contain Bisphenol A (BPA) that can leach into food and be harmful when ingested. As such, you might want to double-check to see if the model has BPA components altogether. To stay safe, some parents prefer to get one with glass jars instead of plastic.
Capacity
The capacity of the blender is yet another important factor to consider as it will determine how many portions of food you can prepare at a time. If you only intend to make single portions at a go, then it's totally fine to get one with smaller capacity. However, if you prefer to save time and prepare a whole week's worth of food at once, then you'll definitely need to get a blender with a larger capacity.
Consistency
When babies start off on solid foods for the first time, you'll no doubt need to ensure that the puree is completely smooth to avoid the risk of choking. However, as time goes on, it's likely that you'll want to increase the lumpiness of the food to get your baby used to chewing different textures. As such, a baby blender that is capable of producing foods with varying consistencies may be a better long-term investment.
---
Here's a list of the top baby food blenders we highly recommend.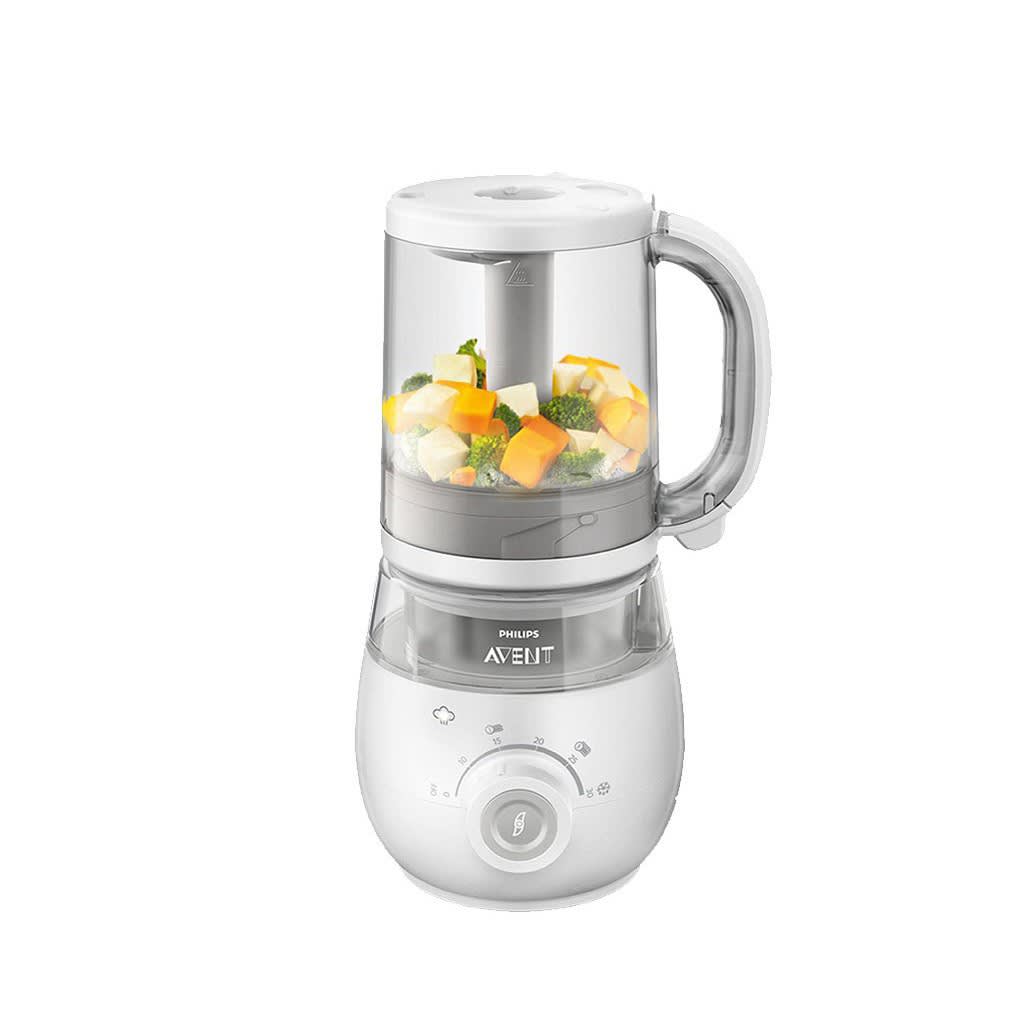 Philips Avent 4 In 1 Healthy Baby Food Maker
SGD 259.00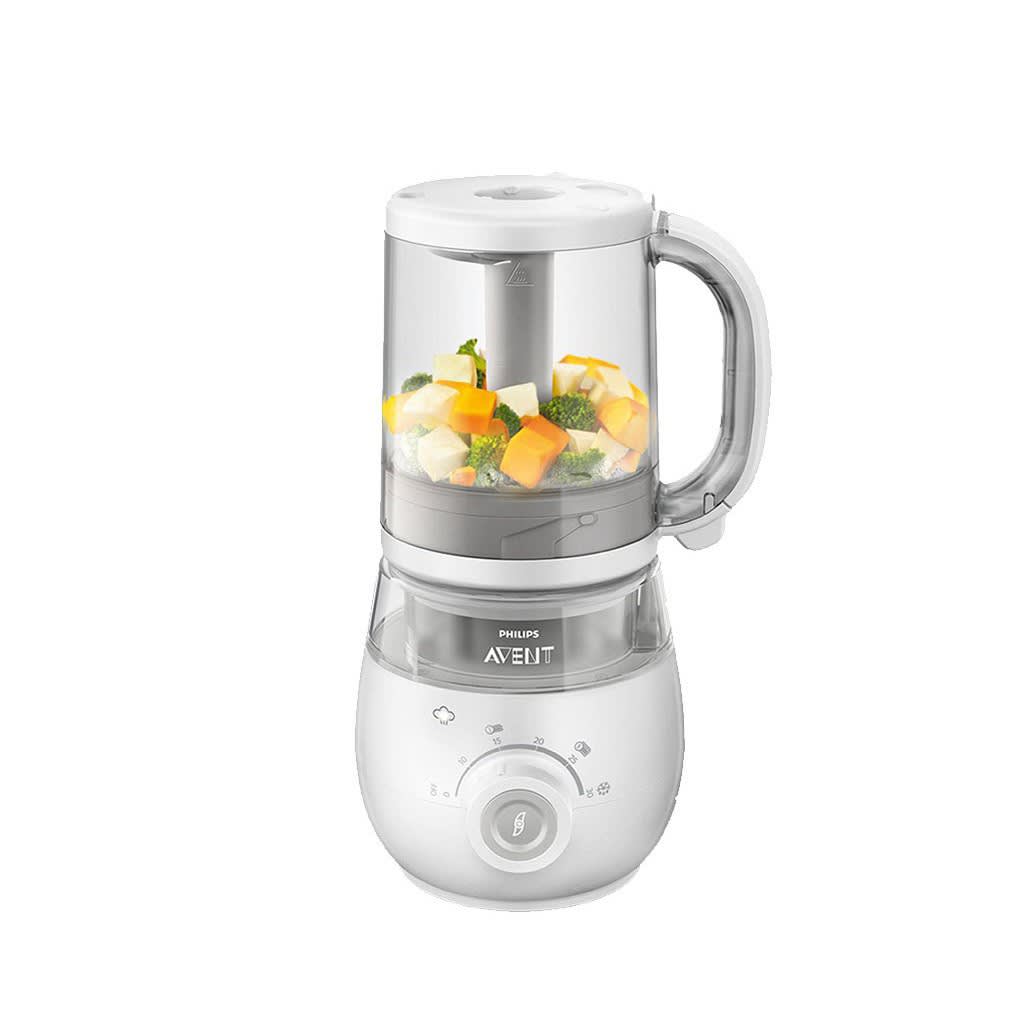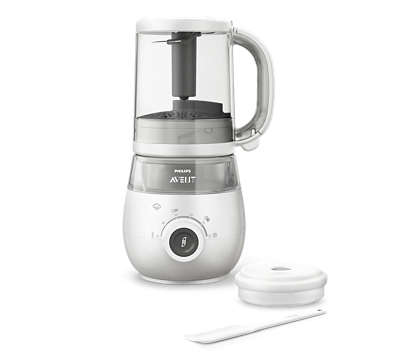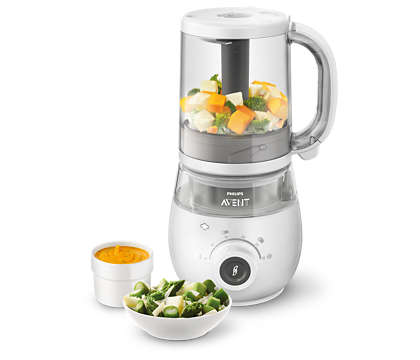 add_circle
Multi-purpose. Can be used to steam, blend, defrost, and reheat meals
add_circle
Large capacity
add_circle
Powerful blender to puree and blend meat, fish, and fruits
add_circle
Includes recipe book
add_circle
Dishwasher-safe
remove_circle
Water collects in the base during washing
remove_circle
Food trapped in parts that cannot be disassembled
Offering you both a steamer and blender, the Philips Avent 4-in-1 baby food maker is an easy and convenient choice for every stage of weaning. This versatile food maker even lets you spend less time in the kitchen as it helps you whip up multiple meals at a time thanks to its large 1L capacity.
Included with the baby food maker is a spatula, 120 ml storage pot, and a recipe book to help busy parents prepare perfectly tasty food for their baby. And if you have extras, no worries! You can freeze it up and quickly reheat the meal with Philips Avent 4-in-1 defrost feature the next time your little bub's hungry.
One of the best things about the food maker is how easy it is to swap from steamer to blender; all you need to do is to simply flip the jar to get the job done in no time! Many parents have expressed their amazement at how easy it is to clean the Avent blender. Unlike other more complicated setups, this baby food maker comes in only a few parts that are easily disassembled and even dishwasher-safe for easy-breeze cleanups.
Although it may not be enough for some parents, Philips Avent 4-in-1 food maker construction is completely BPA-free to remain safe for your baby. While it does tend to get a little noisy, this compact baby food maker certainly gets the job done and is recommended for busy parents and new mommies.
---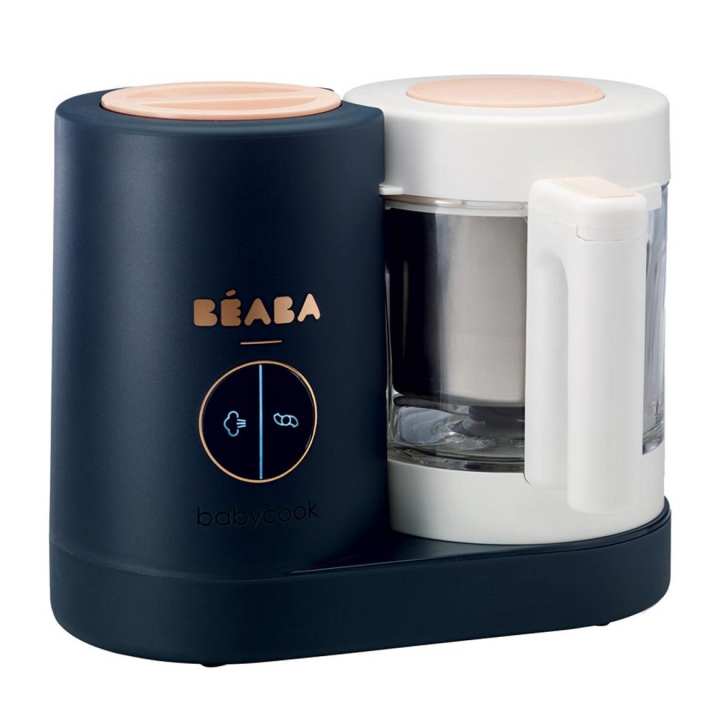 Beaba Babycook Neo Baby Food Maker
SGD 378.00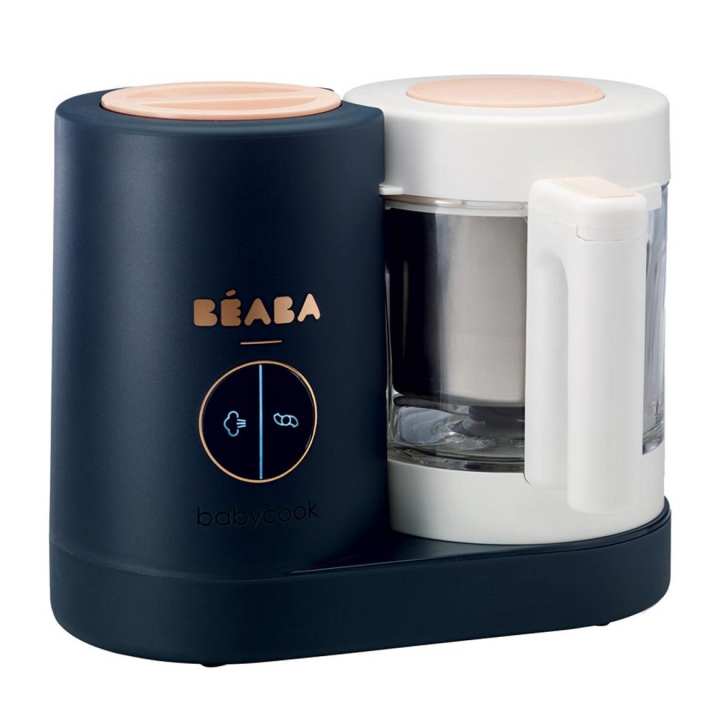 add_circle
Multi-purpose. Can be used to steam, blend, defrost, and reheat meals
add_circle
Large bowl capacity
add_circle
Unique blend feature to control consistency
add_circle
Double automatic switches for enhanced safety
add_circle
BPA, Lead & Phthalate free
remove_circle
Limited cooking guide
remove_circle
Time consuming
BAEBA Babycook Neo is the baby food maker everyone wants to love. With its sleek European design, glass bowl, stainless steel steaming basket, high capacity, large and easy-to-clean water reservoir, this is a fantastic purchase for parents who are looking to puree tasty food for their weaning or fussy toddler.
This multi-functional device's main features are steaming, chopping, and pureeing fruits as well as vegetables in just 15 minutes. Its glass jar has about 1.3L of max capacity (or 600g), with the inner components made of stainless steel.
In addition to its basic steaming feature, you can use the blender to defrost and reheat food, both of which worked really well for many parents upon research. They also find the blender to operate quietly and love the automatic shut-off feature. What several parents did not like is that certain foods such as broccoli and beans, took almost half an hour to steam.
Although the premium price tag is a little hard to swallow, this Beaba Babycook Neo baby food maker is best for early stages of weaning, and when you're prepping mashed food for your baby. Or if your baby is a veg-a-phobic toddler, it's a helpful tool to blitz up your carrots and broccoli secretly, infused with other ingredients to balance the tastes and nutrients.
---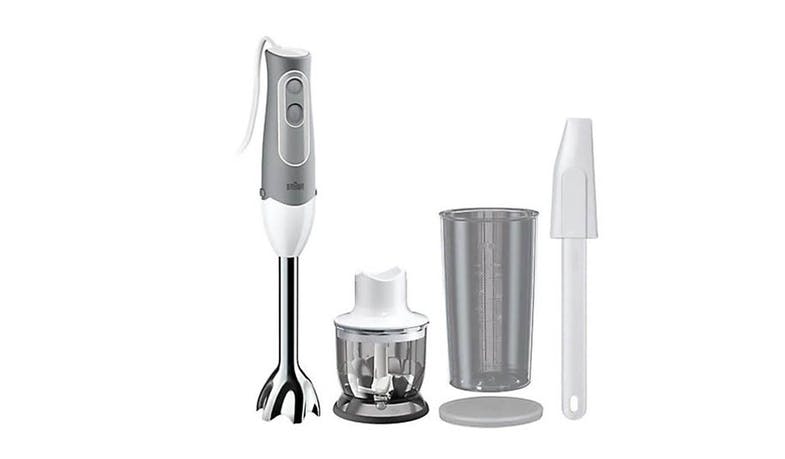 Braun MQ523 MultiQuick 5 Baby Hand Blender
SGD 109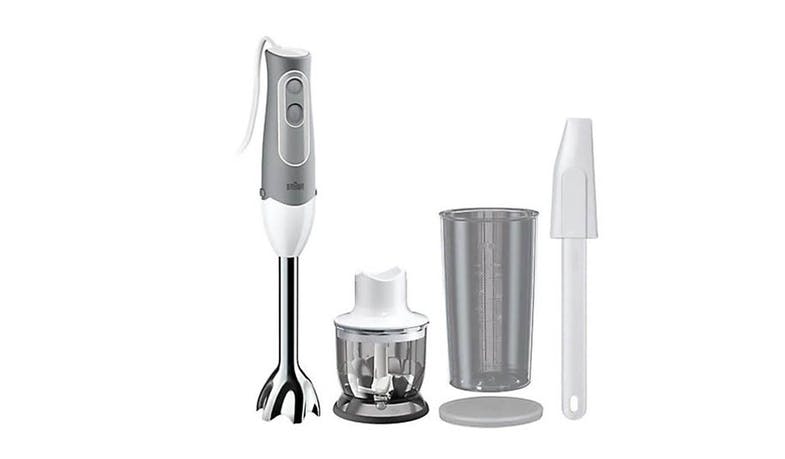 add_circle
POWERBell Plus Technology for smoother purees
add_circle
SplashControl Technology for easy cleanup
add_circle
One-handed operation speed control
add_circle
3 year warranty
remove_circle
May be easy-to-break
remove_circle
Complaints on motor failure
Hesitant to splurge on high-tech baby food maker? Pureeing food is best done with an actual blender, or immersion blenders. And that's why we'd choose Braun's MG523 MultiQuick 5 Baby Hand Blender.
This set is highly recommended over regular immersion blenders due to the accessories provided. It includes an immersion blender, food processor attachment (with capacity of 1.5 cup/128g), beaker, spatula, as well as a freezer container – all of which are BPA-free to protect your child's health.
Although it only has 2 speeds, parents still love that it can puree quite quickly. Featuring Braun's SPLASHControl technology, the blender is able to blend up large quantities of food directly in the given without causing a mess. The blender also has an ergonomic handle and is quite small to store away, which most users love about the product.
Aside from baby food, of course, they even used the immersion blender for making grown-up foods such as salsa, hummus, pesto, and even soups. It's a terrific buy that will last well beyond the baby food phase.
---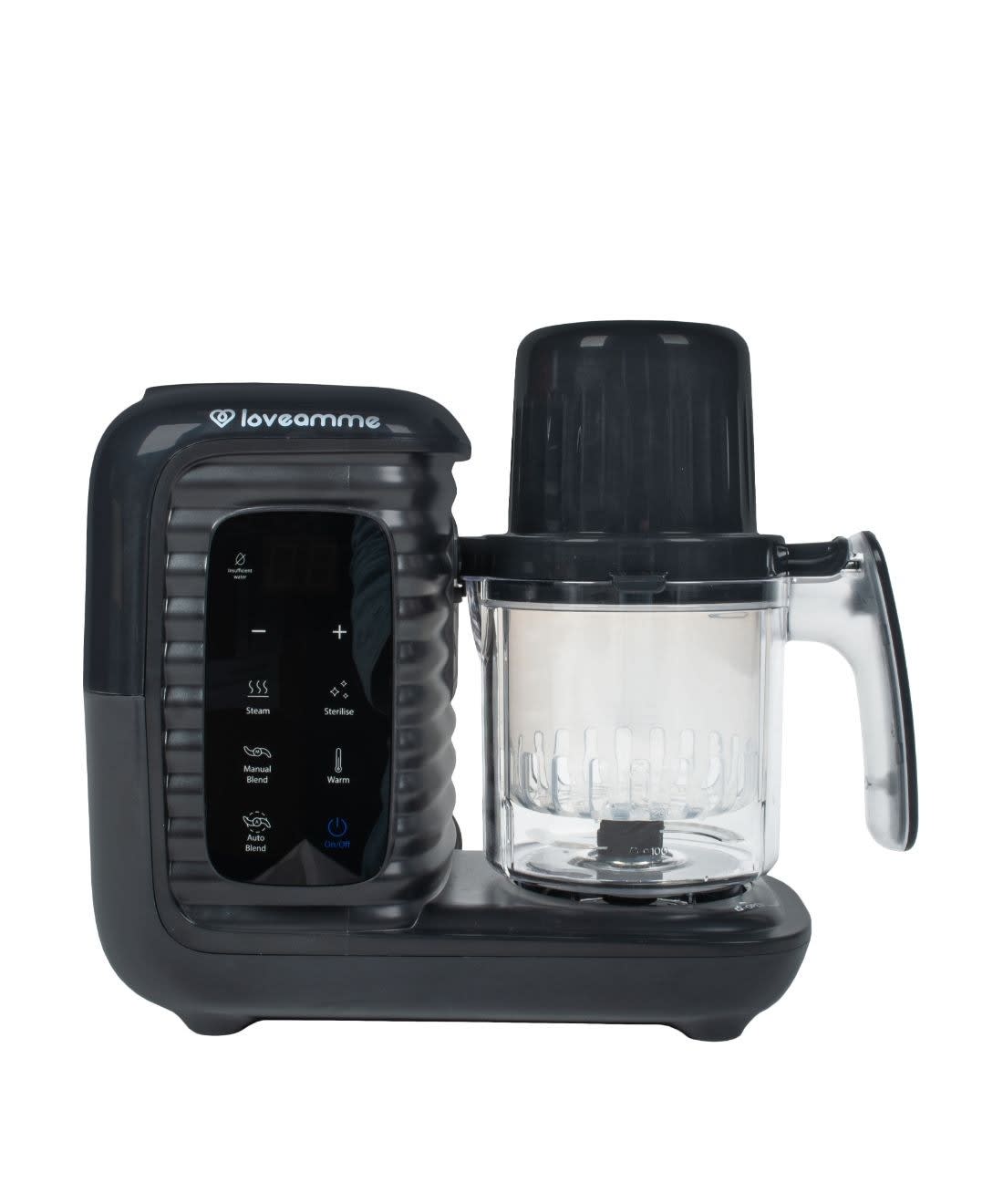 LoveAmme LoveCook Pro 7-In-1 Baby Food Processor
SGD 269.00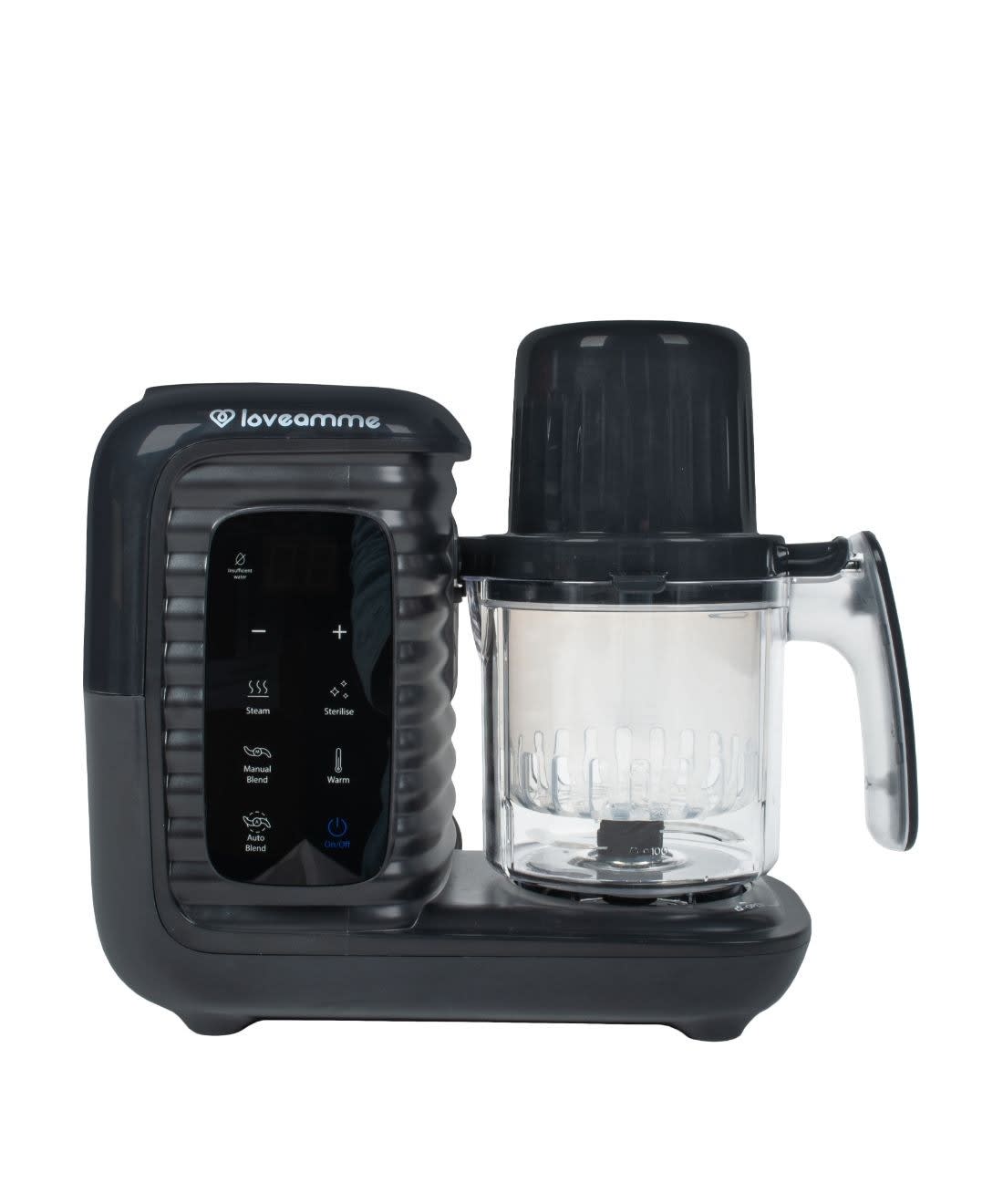 add_circle
Multipurpose. Can be used as a steamer, blender, reheat, defrost, steriliser, milk warmer, porridge/rice/pasta cooker
add_circle
Eacy access to water tank for a wipe clean
add_circle
Comes with Auto-Clean function
This is not a brand you often see on the internet. However, LoveAmme LoveCook Pro Baby Food Processor has made it to our list thanks to its sheer number of functions. The 7-in-1 food processor gives you everything you will ever need to prepare a healthy meal for your little one.
In terms of construction, the machine is made of BPA-free materials, and its blade utilising resistant 304 stainless steel which has holes in it to ensure no food is stuck. The jar holds about 300ml for blender capacity with power rated at 130w. Meanwhile, liquid capacity is at 200ml, and the blender's heating capacity at 300w.
The food maker not only features most of the typical steam + blend function, but it also includes sterilisation, milk warming, and even a mode for you to cook porridge, rice, and pasta. This handy food processor takes on the job of multiple appliances in one device to quickly cook up your baby's food in 15 minutes, giving you more time with your precious one.
Based on our research, we're confident to say that LoveAmme LoveCook Pro is a worthwhile investment for a food processor.
---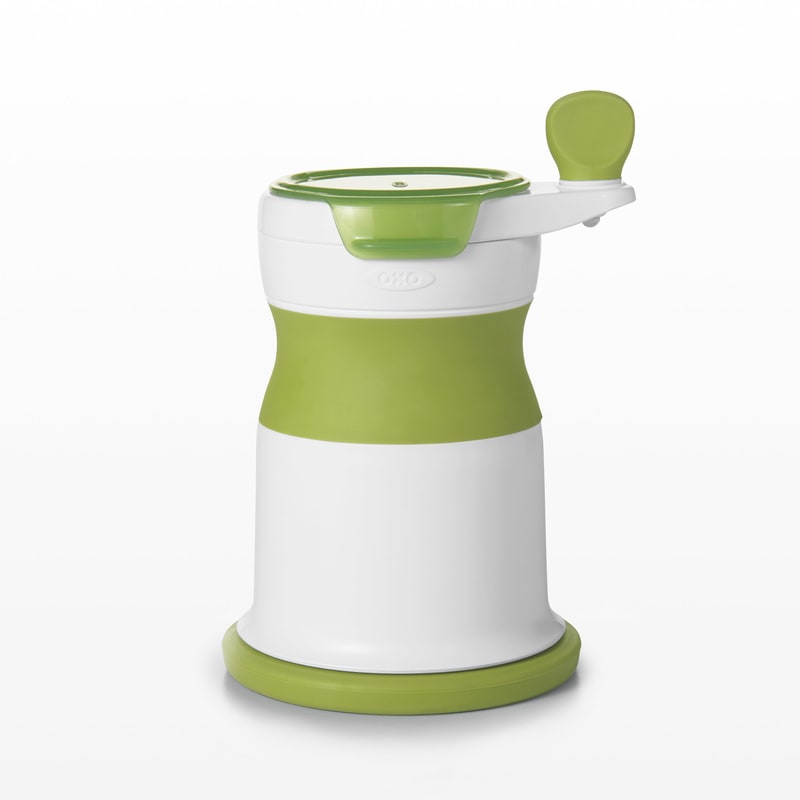 Oxo Tot Baby Food Mill
SGD 59.9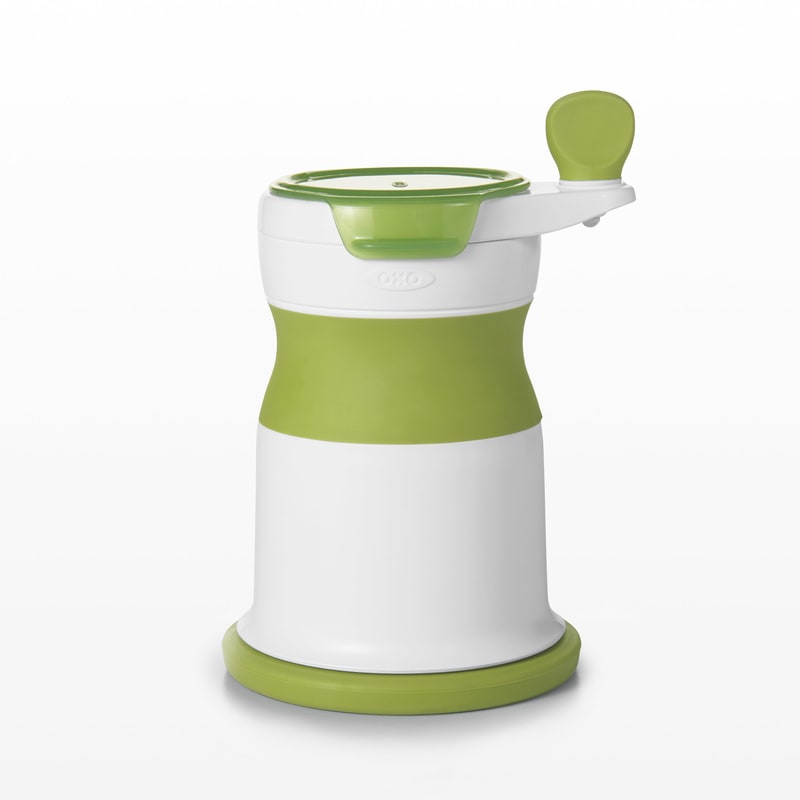 add_circle
Easily scoop or serve pureed food from top
add_circle
Non-slip grip for comfortable use
add_circle
Non-skid base for stability
add_circle
Easy to control puree thickness
add_circle
Top rack dishwasher safe
remove_circle
Food cannot be too soft or too hard to work
remove_circle
Plastic casing may fall apart
remove_circle
Big food chunks
Bringing a food blender with you during travels is extremely difficult. If not, totally out of the question. However, if you simply need a device to blend food on-the-go and churn out basic purees for your baby, then you'll find that OXO's manual food mill is just what you need.
Not only will the OXO Tot Baby Food Mill do a great job at mashing any soft food you can think of, but its small and compact size makes it perfect for traveling. All parts are BPA, Phthalate, and PVC-free. Moreover, the non-skid base does well to hold the device up as food is mashed and churned.
Some parents have even used the blender cum mill to mash up meat too. Though, they recommend chopping up the meat roughly with a knife beforehand. Because of the nature of the product, it can be slightly challenging to clean the product.
The obvious downside to this is that it does not come with a steamer, so you'll need to cook and pack your food beforehand, then blend them right before serving. All-in-all, this is a good, fairly easy-to-operate food mill that lets you make your own baby food quickly wherever you are.
---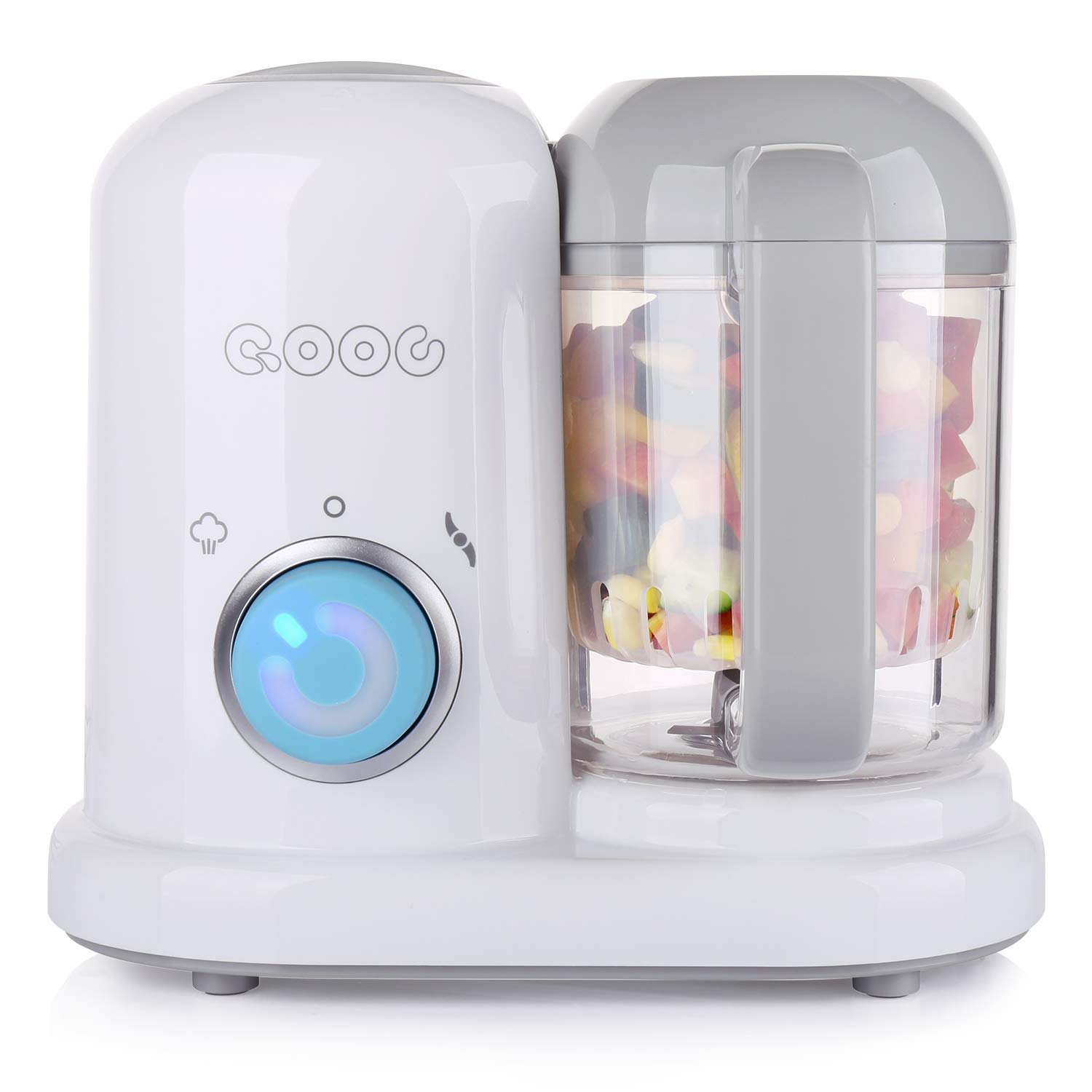 QOOC Mini Baby Food Maker
SGD 191.09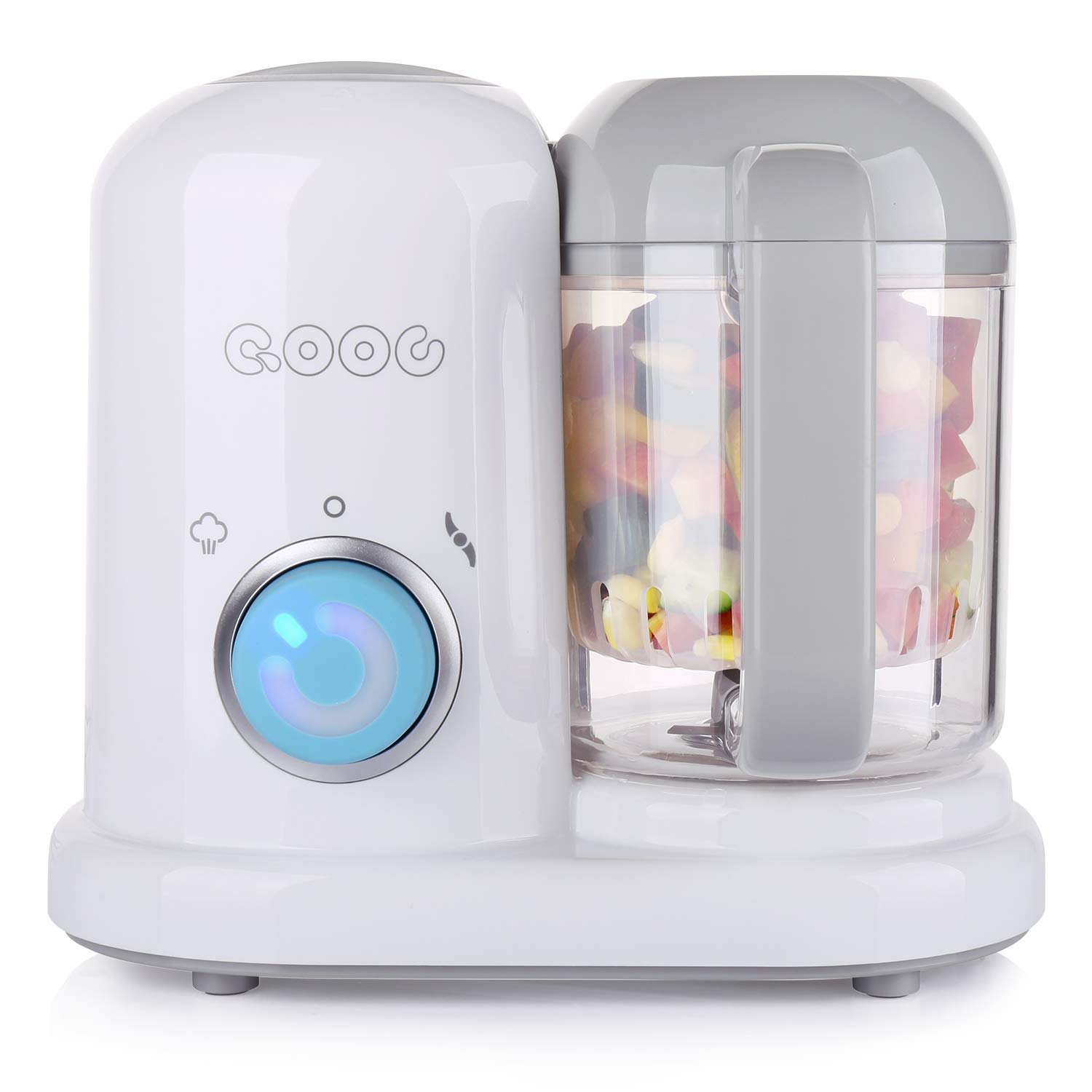 add_circle
Multi-purpose. Can be used to steam, blend, defrost, and reheat meals
add_circle
Convenient one-hand operation
remove_circle
No controls over blade speed
The QOOC 4-in-1 does everything you would expect of a baby food maker – steaming, blending, reheating, defrosting meals - and it does it all with a much smaller footprint! At only 10 inches long and 8 inches wide, parents with smaller kitchens will love how compact and space-saving this tiny kitchen helper is.
Other than that, this convenient little device even lets you set your preferred cooking time to suit a variety of food. Whether you're steaming meat, fish, or vegetables, you can count on the QOOC's mini baby food maker's unique steam function to help you prepare your meals to perfection.
Another great thing about this compact food maker that many parents love is its user-friendly interface. This food maker allows for a seamless one-handed operation with a quiet motor that won't startle your baby, making it perfect for multitasking parents.
At a very reasonable price, this package comes with a spatula, cooking basket, mixing lid, and measuring cups that are made of BPA, Lead, and Phthalate-free materials.
The only downside? It has a much smaller capacity than most other baby food makers – only 2 cups. However, if you're looking to only make small batches of food, then this is definitely the perfect fit for busy parents.
---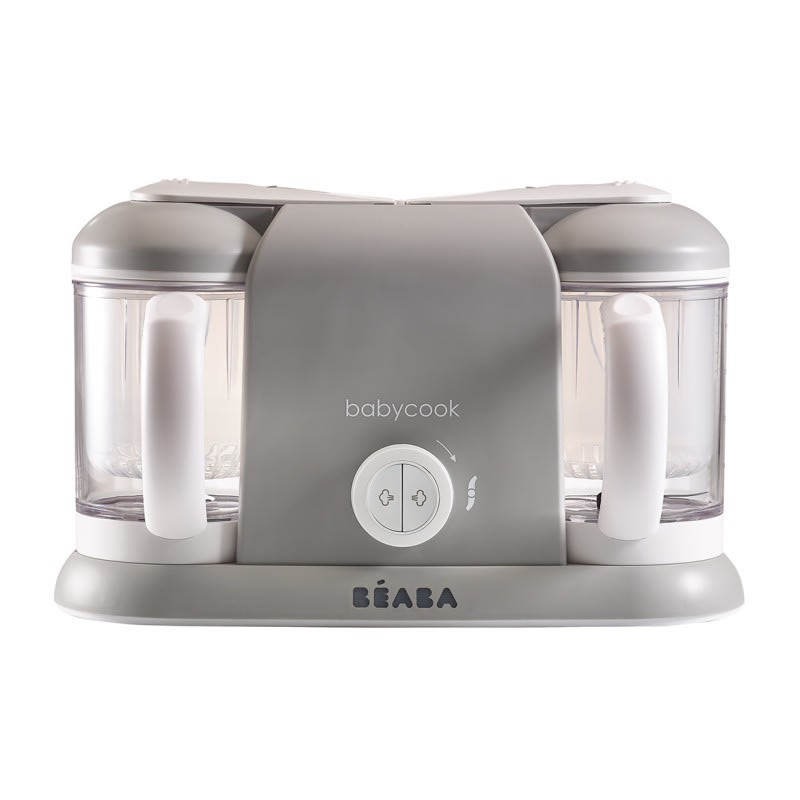 Beaba Babycook Duo
SGD 310.25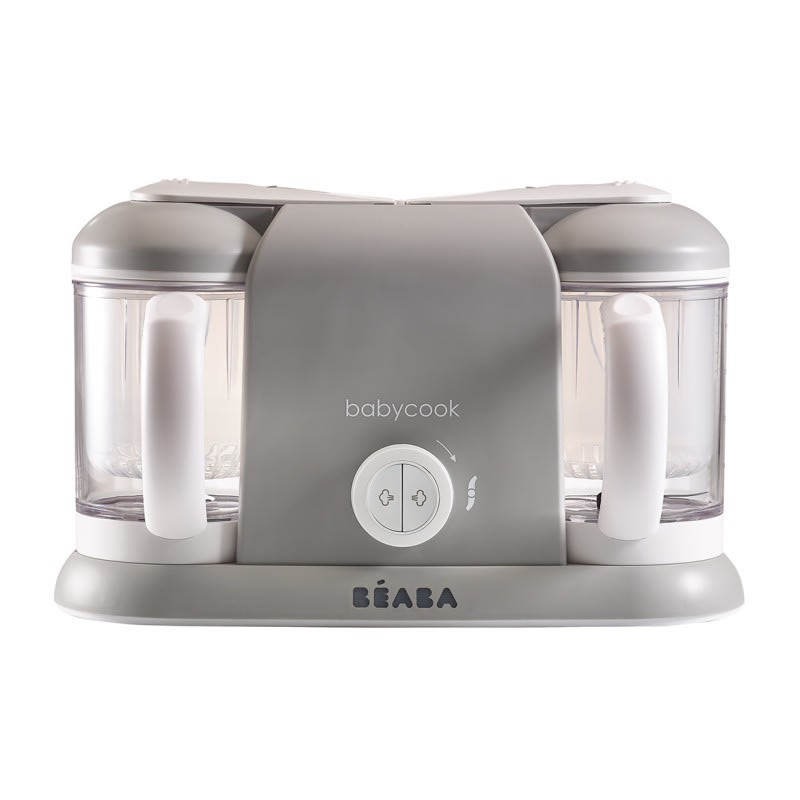 add_circle
Multi-purpose. Can be used to steam, blend, defrost, and reheat meals
add_circle
Two large bowls for cooking different meals at the same time
add_circle
BPA, Lead, and Phthalate free
add_circle
Convenient one-handed operation
remove_circle
Water deposits in reservoir causes mold growth
remove_circle
No speed control
One machine, so many uses. As with many other baby food makers, this large-capacity Babycook Duo blends, steams, defrosts, and reheats meals in one device. What really sets it apart though, is its ability to steam two separate baskets of food at the same time - perfect for those with twins!
We were extremely impressed by how much food each bowl could hold. With a combined capacity of 2.2L, busy mommies can choose to cook multiple dishes at one go or prepare a large meal for the entire family in no time. You can even choose to steam one basket and blend with the other one to cook a full meal in just 15 mins.
If you are concerned about it being underpowered, the Babycook Duo features one of the highest wattage listed here at 400W (steaming mode) and 130W (blending mode) to allow for a quick operation despite its larger capacity. This powerful baby food maker even comes with multipurpose blades that are strong enough to cut through chunks of food to turn into purees and sauces of your desired texture.
Although all materials are BPA-free for your reassurance, this baby food maker does not feature a glass jar which would have ticked off many parent's wishlist. Otherwise, this would've certainly be the God of all blenders.
---
Disclaimer: The pricing shown is just a good indication of how much these products are worth. The prices could change based on the e-commerce promotions that are going on. If some of the products are not available, do email us at [email protected] Thank you!