Let's face it; we've abused and messed up our world. The air we breathe today isn't as clean as it was a century ago, especially in a city where cars are relentlessly running around. And to think about it, what's on the line here is our health. Somehow, we've all taken our lungs for granted.
If you want to change that and breathe cleaner air, it all starts with changing our practices and opting for eco-friendly products. But that's not going to take effect right away, so here's another solution – buy an air purifier. It's not only you that's going to enjoy the air but also your family.
Air purifier purposes
No matter how clean you think Singapore is, there's bound to be air in your house or space that needs purifying due to the amount of air pollution emitted from human activities. The highest contributors to air pollution include the burning of fossil fuels, mining, agricultural activities, exhaust from factories as well as vehicles and more.
By investing in an air purifier, you don't only clean and breathe fresh air, but you're helping yourself to achieve the following:
Lower risk of an asthma attack

Minimize pet odours

Eliminate allergens and dust

Remove smoke smell and secondhand cigarette smoke

Reduce the level of carbon dioxide

Remove bacteria
Especially with the novel coronavirus floating around Singapore, it's now or never that you get an air purifier. Here are our best picks that will help you stay healthy and improve your life.
More: Guide To Understanding Dehumidifiers & Our Top 10 Recommendations to Buy
---
Top Air Purifiers in Singapore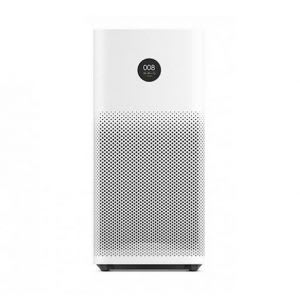 Xiaomi Air Purifier 2S
SGD 139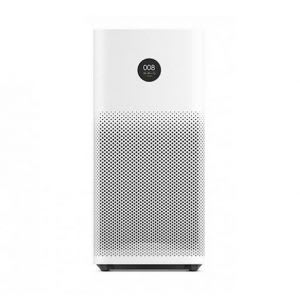 For most homes, especially if it's located far from the busy streets of Singapore, air isn't that bad. It just needs a little bit of refining to make things better. And that is what the Xiaomi Air Purifier 2S is built for – small, quiet, and does the job well.
Unlike most air purifiers that are quite loud when filtering air, the Purifier 2 is different. It only produces 30 decibels on night mode, which is as audible as the rustling leaves. It's the perfect thing for your baby, so say goodbye to frustrating midnight wakeups.
The best feature that makes it ideal for most homes is its 10-minute air purifying mode. So at times when foul odours or smoke gets in the house, you only need to wait 10 minutes and the air will be fresh again. This feature is effective for medium-sized rooms (30 square meters).
---
More: Destroy Bacteria and Allergens with These 10 Best Air Purifiers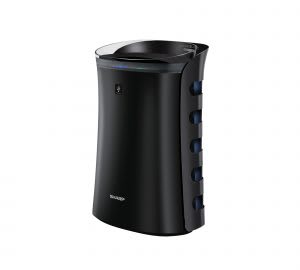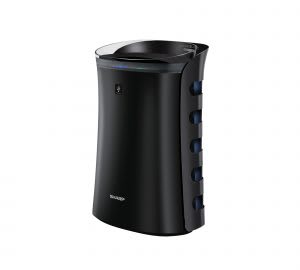 Are you living alone in a small apartment in the city? Well, that doesn't mean you have to endure low-quality air and suffer from annoying mosquitoes. Solve those two problems with one product, the SHARP FP-FM40E.
This machine is almost SGD 300.00, but it has superb build quality and effective in cleaning the air. You can cover a 25-square-meter room using this product. It has three basic functions, to provide cleaner air by collecting haze or dust particles, kill viruses and moulds with its ionizer, and zap down mosquitoes.
The only concern is that this air purifier with mosquito catcher is heavy and consumes quite a lot of power. It weighs around 5.8kg. However, it's not that bulky and doesn't really take a lot of space.
---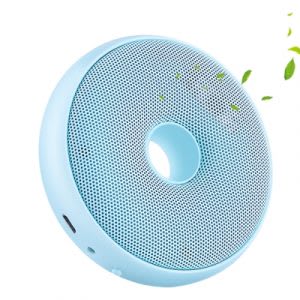 Donut USB Mini Portable Air Purifier
SGD 25.9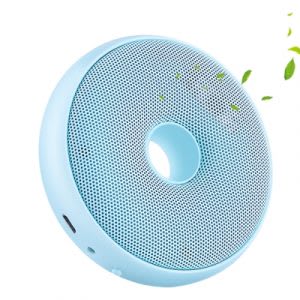 Sometimes, people want a handy and portable gadget that can clean the air for you anytime, anywhere. And if you're like that, the Donut USB Mini Portable Air Purifier is for you. It's the cheapest one on the list and is a rechargeable device. It's so small that you can place it in a shoulder bag.
This machine is ideal for those who love traveling or office workers. It's portable and is quiet, so it won't distract anyone. Although it takes a lot of time to see its results, it's still better than breathing in polluted air.
---
More: These 7 Best Affordable Air Purifiers Are Nothing But Value For Money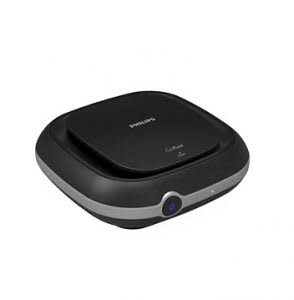 Philips GoPure 100
SGD 198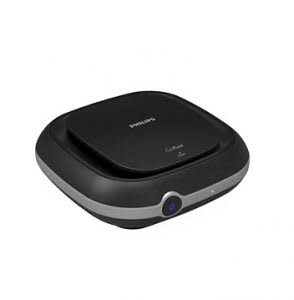 Well, houses and rooms aren't the only places where polluted air lurks. What you inhale in your car can be just as bad as the outside as air conditioners aren't designed to filter the air. Its primary purpose is to cool it. But don't worry though; Philips GoPure 100 Car Air Purifier is here to save the day.
First of all, it's compact. You can compare it to a medium-sized dictionary. Second, there's no gimmick to it when installing to your car – plug and play. We love that this air purifier is optimized to filter smoke and its odour, which is the most common issues for automobiles.
The GoPure 100 can clean the air in your car in just about 13 minutes. The only thing that you might dislike about it is its sound. Although it's not that loud, it still packs quite a volume. But it shouldn't be much of a bother if you turn on the stereo.
---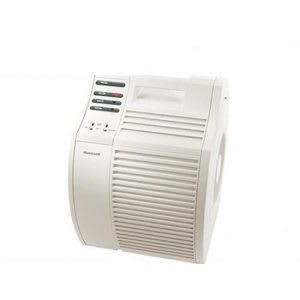 Honeywell 18400
SGD 640.2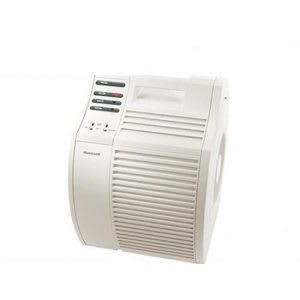 Next on our list is likely to be the boss – in price and filtration power – the Honeywell 18400. It can clean a large room's air (60 square meters) with ease. And even from afar, it can suck in animal hair and smell. When it comes to heavy-duty cleaning, this air purifier is the go-to machine.
For starters, its biggest strength is its extra fine filter; it can catch particles of up to 0.3 microns. That means 99.97 percent of the air is free from dust, allergens, pollens, germs, and just about anything that might cause a problem to your health.
The Honeywell 18400 and its series are one of the most used and doctor recommended air purifiers in the US. If you're very sensitive to microbes floating around, investing a machine like this that can cover a huge area might be your best solution. There are three downsides though, its price, power consumption, and loudness. Nevertheless, it's going to deliver excellent results.
---
More: 12 HEPA Air Purifiers for a Cleaner and More Hygienic Environment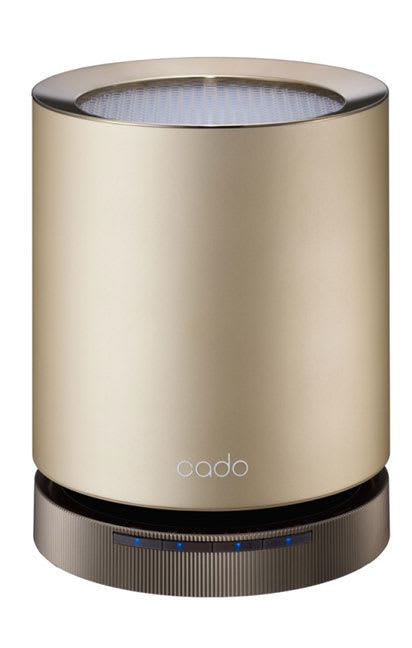 Cado AP-C100 Air Purifier
SGD 489.30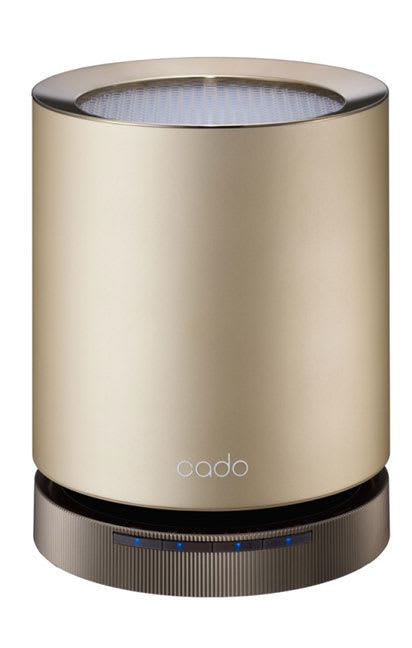 If you want an air purifier for your bedroom, nothing can beat the Cado AP-C100 Air Purifier. This machine, at a glance, is elegant and classy. It has a round aluminum body and has tactile command buttons located at its bottom.
What makes it ideal for any bedroom is its low sound level (30 dBA) – you'll have a lovely sleep all through the night. An electric fan would be significantly noisier when compared to this machine. So sound is an issue, you'll want this product even more.
Aside from the above, it also has a unique self-cleaning mechanism with a blue-light activated carbon filter. That means it kills germs and harmful pathogens in the air while also keeping its filter germ-free. It's durable and has a very long lifespan. Although it is quite pricey, it's definitely worth buying.
---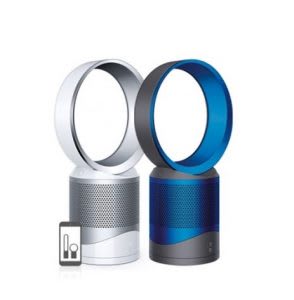 Dyson Pure Cool Link DP01
SGD 699.00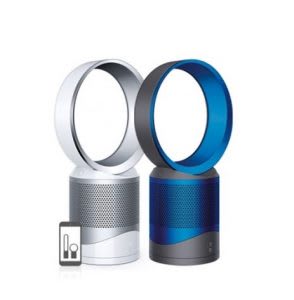 Next on our list is not only an air purifier but also as a pretty cool fan. At a glance, it's close to alien technology – air goes out of a bladeless fan. This attribute makes it incredibly safe for kids who are always curious about anything.
The Dyson DP01 filters dust, mold, and smoke. It's superb in taking out dust as its inhaust is located near the floor. Its body is made out of high-quality plastic, and it offers quite a number of fascinating features.
It has great oscillation, so clean air is evenly distributed around the room. And you get to see how pure your air is by checking its app. In a nutshell, it's a unique air purifier and fan. Although it may be expensive, it does provide a lot of aesthetics and gets the air clean.
---
More: The 8 Best Air Purifiers That'll Get Rid of Dusts Like a Dream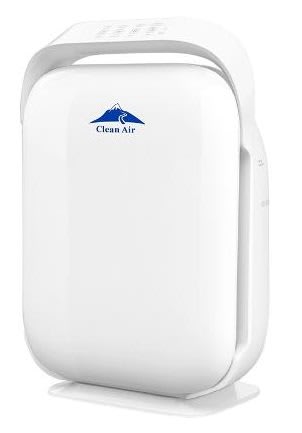 Clean Air AP-888
SGD 1500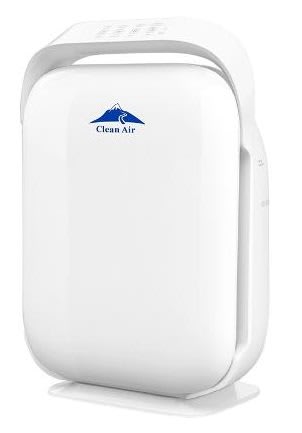 Offices are one of the most polluted rooms on this planet. However, nobody can recognize that because they're often air-conditioned and enclosed. But with people coming in and out, working while having a mild cold, bacteria can be lurking at every corner. And with that, we recommend having the Clean Air AP-888 in every office.
This air purifier is a beast; it can cover up to 80 square meters. Plus, it has turbo mode when things get too dusty. It kills germs, can remove foul odor almost immediately, and is robust. The only problem with this machine is its size, but when it comes to purifying, it's a must-have for huge workplaces.
---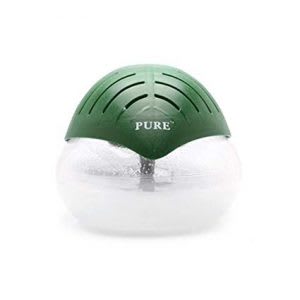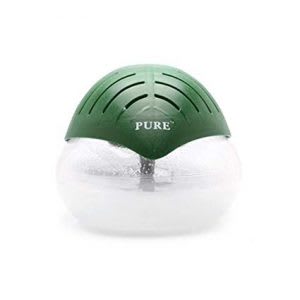 Second to the last product on our list is another affordable air purifier. And even though it's remarkably cheap for an air purifier, it does surprisingly well. The Pure 606A is not your everyday purifier; it's the only one on this list that uses water to clean the air you breathe.
For starters, it's not at all spectacular when it comes to clearing up smoke or eliminating microbes. It doesn't use the normal carbon filter or HEPA filter. However, it's super effective when eliminating odours because you can add fragrance or soap into the water.
The water when treated will act as a sponge that will take away the foul smells and add a refreshing scent into the air. Furthermore, as it does that, it'll also humidify the area subtly. Overall, it's worth purchasing, especially if you love cooking – it's great addition to anyone's kitchen that won't break the bank.
---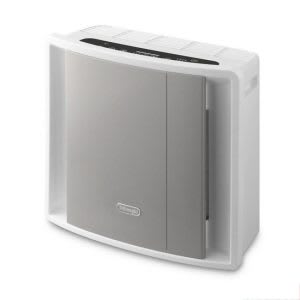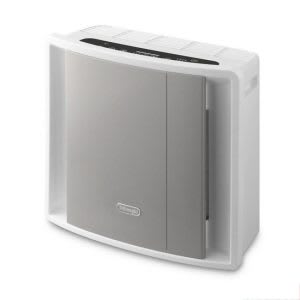 Last but not least is the DeLonghi AC150. It's quite big and feels more like old-school air purifiers. Nonetheless, it does a wonderful job at filtering polluted air four times over. It has the anti-dust, HEPA, active carbon, and photo-catalyst UV light filter – quite a mouthful.
It cleans the air slowly but thoroughly. First of all, bigger particles such as dust, hair, and fur are all captured in the first anti-dust filter. You can wash this filter from time to time, which prolongs the life of the other filters if you consistently wash it once or twice a month.
The HEPA and carbon filter makes sure that the pollens, bacteria, and foul odours are all caught. And the last filter, photo-catalyst UV light, will kill the tiniest microbes such as viruses. It's a great solution for those who have asthma or people who're easily prone to catching colds.
---
More: 10 Best Air Purifiers To Avoid an Asthma Attack!
---
The Benefits of Air Purifiers
Having an air purifier gives you a number of benefits for your health and living experience. And we're going to discuss them one by one to give you an idea of what you'll be getting out of these machines.
Cleaner Air
The first one is pretty obvious. The air around you will be cleaner, which means dust, allergens, and other harmful particles will be gone for good. This benefit can't be attained by normal cleaning or air-conditioning.

More: Have a More Inviting Home with These 6 Aroma Diffusers
Healthier Respiratory System
With less dust, toxins, and pathogens to inhale, you'll significantly reduce the chances of getting respiratory diseases and airborne infections. Furthermore, you'll also breathe easier, similar to what you experience when you go on a nature hike.
Improved Air Circulation
Proper air circulation discourages mold spore buildup. So aside from keeping your body healthy, your home will also be free from fungi that might deteriorate your furniture and wooden walls.
Less Dust on Furniture
Since air purifiers suck in dust almost 24/7, you'll notice a huge decrease in dust accumulation on your furniture. That means you won't need to clean them as often as you used to.
No Bad Odor
Air purifiers are also able to pick up odor through carbon filtration. Whenever you cook, use strong perfumes, or even fart, the odor will be gone in no time with these machines around. What used to take an hour to deal with now just takes a few seconds to a couple of minutes.
No More Allergies
Aside from dust and pathogens, air purifiers are also able to catch pollens and pet hair. With homes free from these nasties, you'll enjoy a sneezeless day every day.
---
How to Choose the Right Air Purifier for You
Choosing the right air purifier for your home isn't that hard. However, it can be quite challenging to choose which one is best for you with so many options available. If you want to purchase without any regrets, better read this quick guide to help you get the best one for you.
Main Purpose
The first thing you need to consider when buying an air purifier is "why." Why do you have to buy one? Air purifiers are not a necessity for everyone. Some live an exceptionally healthy life without it. However, it doesn't mean they're useless.
If you need one because you have allergies that are easily triggered by dust or pollens, it's best to invest in a heavy-duty machine. But if you only need one to get rid of certain odours, opting for any of the air purifiers above should get the job done. Another solid reason why an air purifier is a must-have is when a baby is around and living in the city.
Coverage
The next thing you need to put in mind is the machine's coverage. The bigger the air purifier, the more air it can filter out. If you live in a huge house and you want to clean all the air inside it, then go for a machine like the Honeywell 18400. However, if you're in an apartment, opting for a smaller one should do the trick for you. There's no need to buy a huge air purifier if you're living alone in a studio-type apartment.
Power Consumption and Noise
Lastly, think about its placement and noise level. Do you need to use it every hour of the day? If so, although it might be tempting to buy a bigger machine for the job, it could also disturb you in your sleep. It might be best to get a medium-sized or small air purifier and turn it on all day as its less noisy and doesn't require that much electricity.
---
Conclusion
Air purifiers are one of the best home appliances you can buy for the family. Although it's not essential, it does provide a lot of benefits. It can keep everyone healthy and make them less prone to contagious viral infections.
Disclaimer: The pricing shown is just a good indication of how much these products are worth. The prices could change based on the e-commerce promotions that are going on. If some of the products are not available, do email us at [email protected] Thank you!