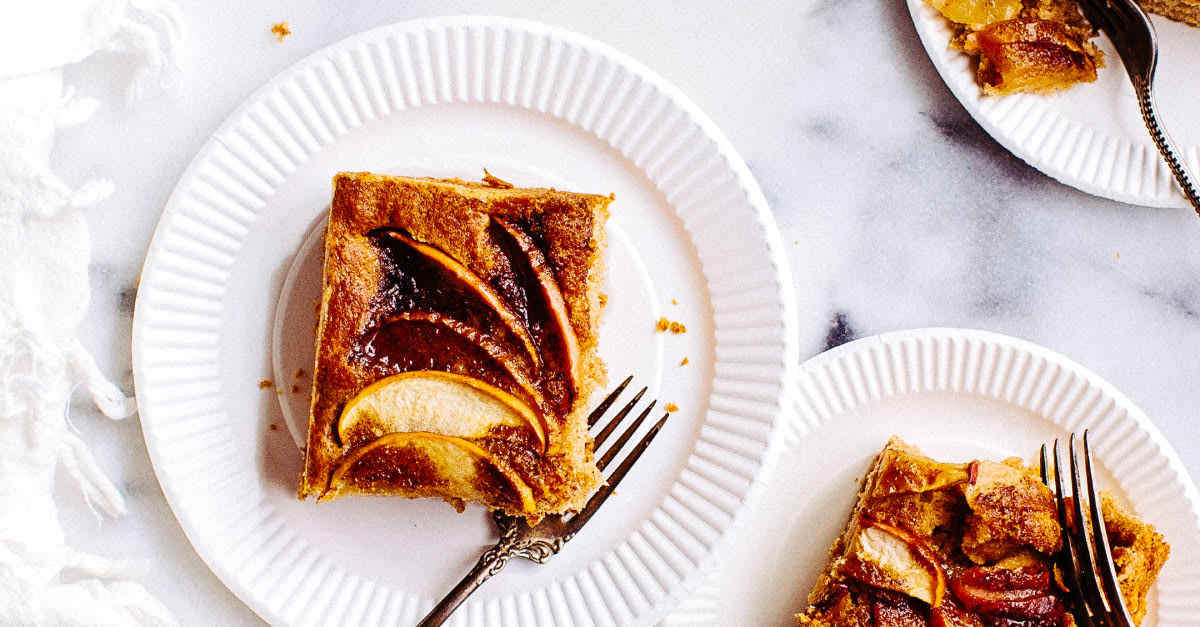 Even if you are not into baking, it is undeniable that the oven is a kitchen essential whether in daily home cooking or leisure baking. With a diversity of pre-programmed functions, it makes defrosting, heating, grilling, roasting… basically everything, easier with just one touch.
Without further ado, here are the best ovens for baking: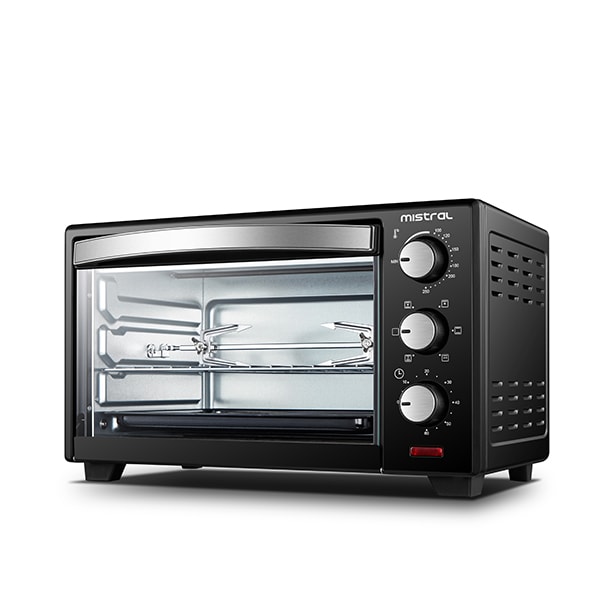 Mistral Electric Oven (MO350)
SGD 88.00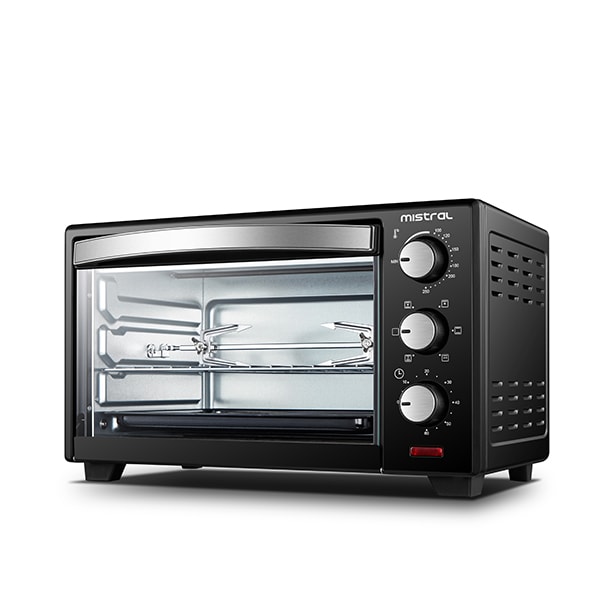 add_circle
Value for money
Good looking, big in capacity and affordable... do you see why it's our top pick?
The Mistral Baking Oven MO350 comes well equipped with a baking tray, grill rack, crumb tray and tong (for rotisserie). This oven lets you cook many kinds of dishes as it gives you the option to set the baking temperature manually from 100 to 250 Degree Celcius.
And because controls are so straightforward, this adds on to the charm of the Mistral MO350 Baking oven as a great beginner oven. More manual controls to let you tackle any kind of baking goods include a 60 minutes timer.
Whether you fancy a soft or golden-brown cookie or a medium-rare steak, this oven presents you the ideal textures and tastes in a relatively wide temperature range. Baked goods that have turned out good by reviewers of the oven include cakes, muffins and egg tarts.
---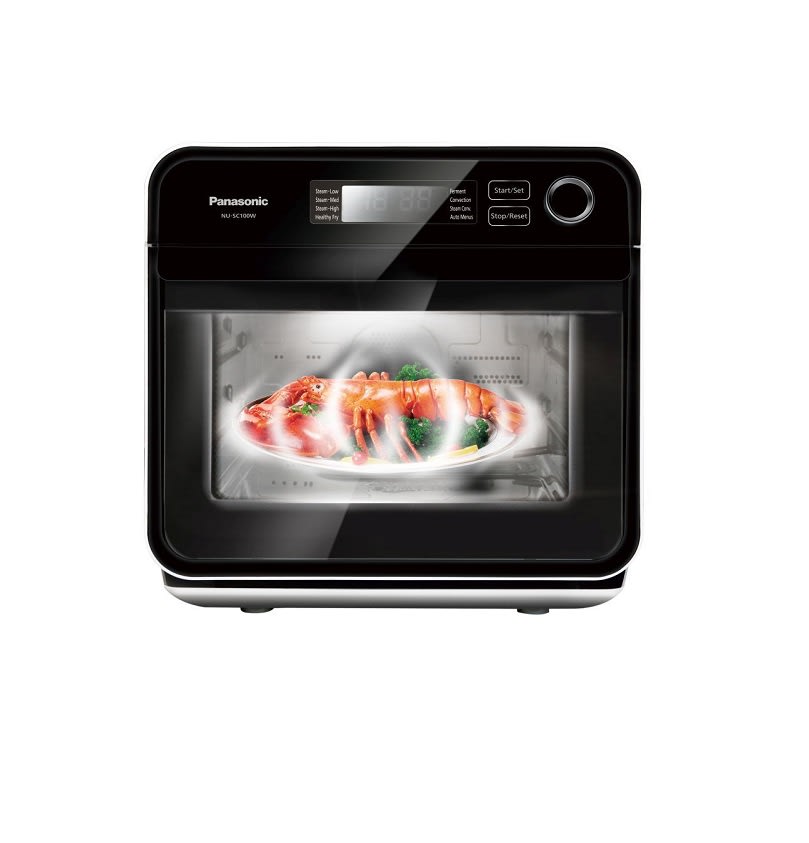 Panasonic Steam Oven NU-SC100
SGD 357.02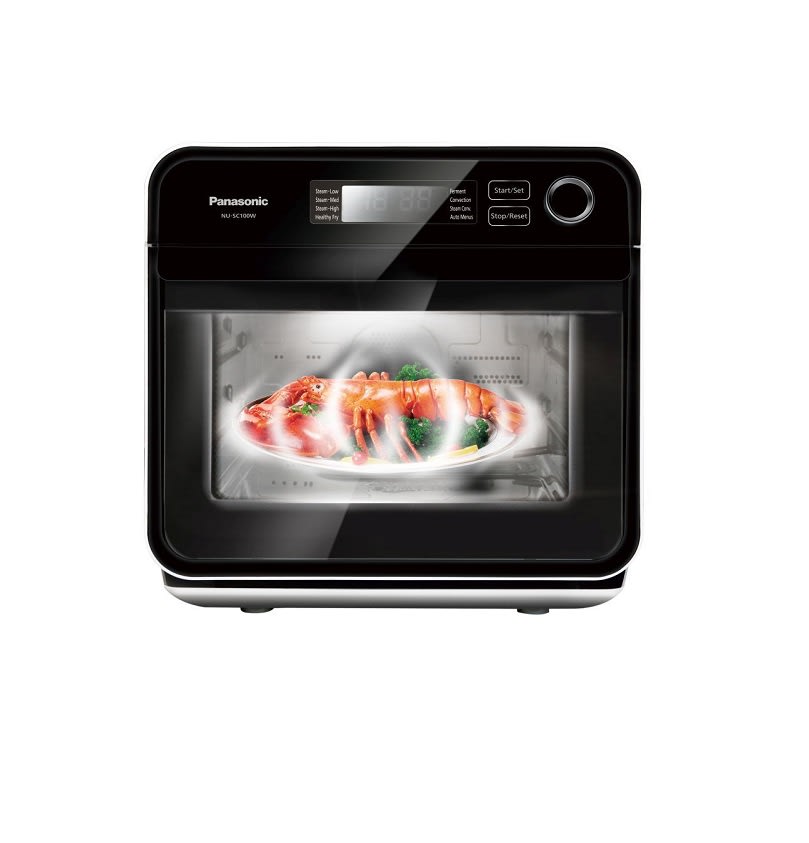 add_circle
Versatile in use
add_circle
Unique steam feature
add_circle
Compact, cute design
remove_circle
The unique design also means useable tray size is limited
Don't judge this little one by its cubic compact size. Inside, it offers sufficient 15L of space that is more than enough to fit in one whole chicken. And, the oven can bake, steam, fry and ferment as well. All of which sounds good for most household cooking.
This oven's most unique feature, unlike other ovens, is definitely its steam function. By using steam to cook food, it requires less oil than frying, thus it's a healthier choice that lets you retain the same, good ol' taste. The steam function can cook 2 trays of food, with one tray on top of the other.
And you can choose between 3 temperature settings too to cook a variety of food from steamed Bok Choy (vegetables) to an entire fish. To add, using the steam function will preserve the nutrients in your favourite food better. You can even sterilise dishes, baby bottles and other items with high-temperature steam.
In terms of baking functions, it'll bake your favourite cakes, bread and other pastries. Speaking of which, the oven also has a fermentation setting to let you rest your bread dough and culturing yoghurts in a controlled space.
The oven is quite a popular product among reviewers, saying that they can prep various cuisines in this cute oven, from Christmas cookies to even Nyonya dishes like Otak-otak.
---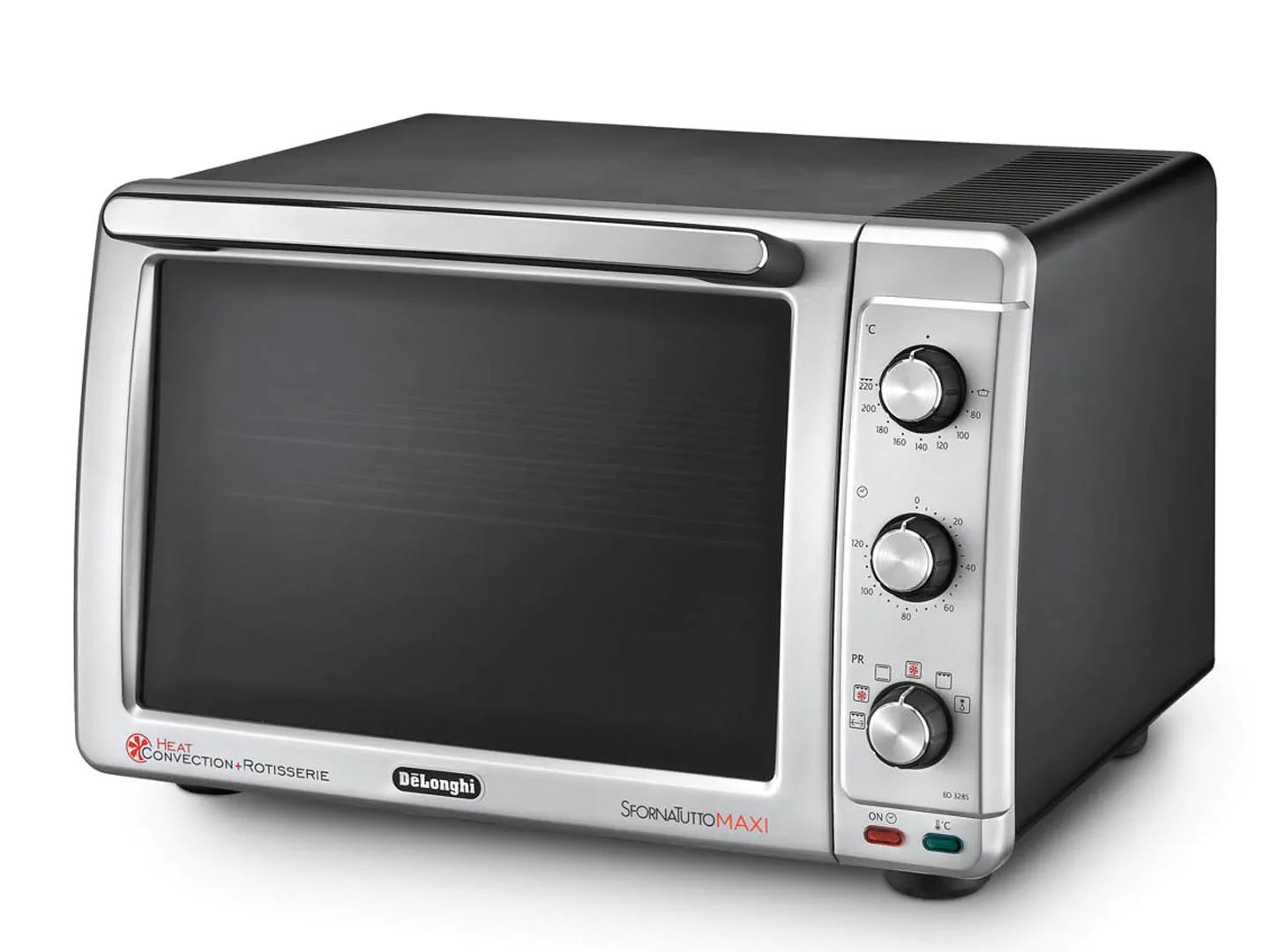 Delonghi Electric Oven EO32852
SGD 299.00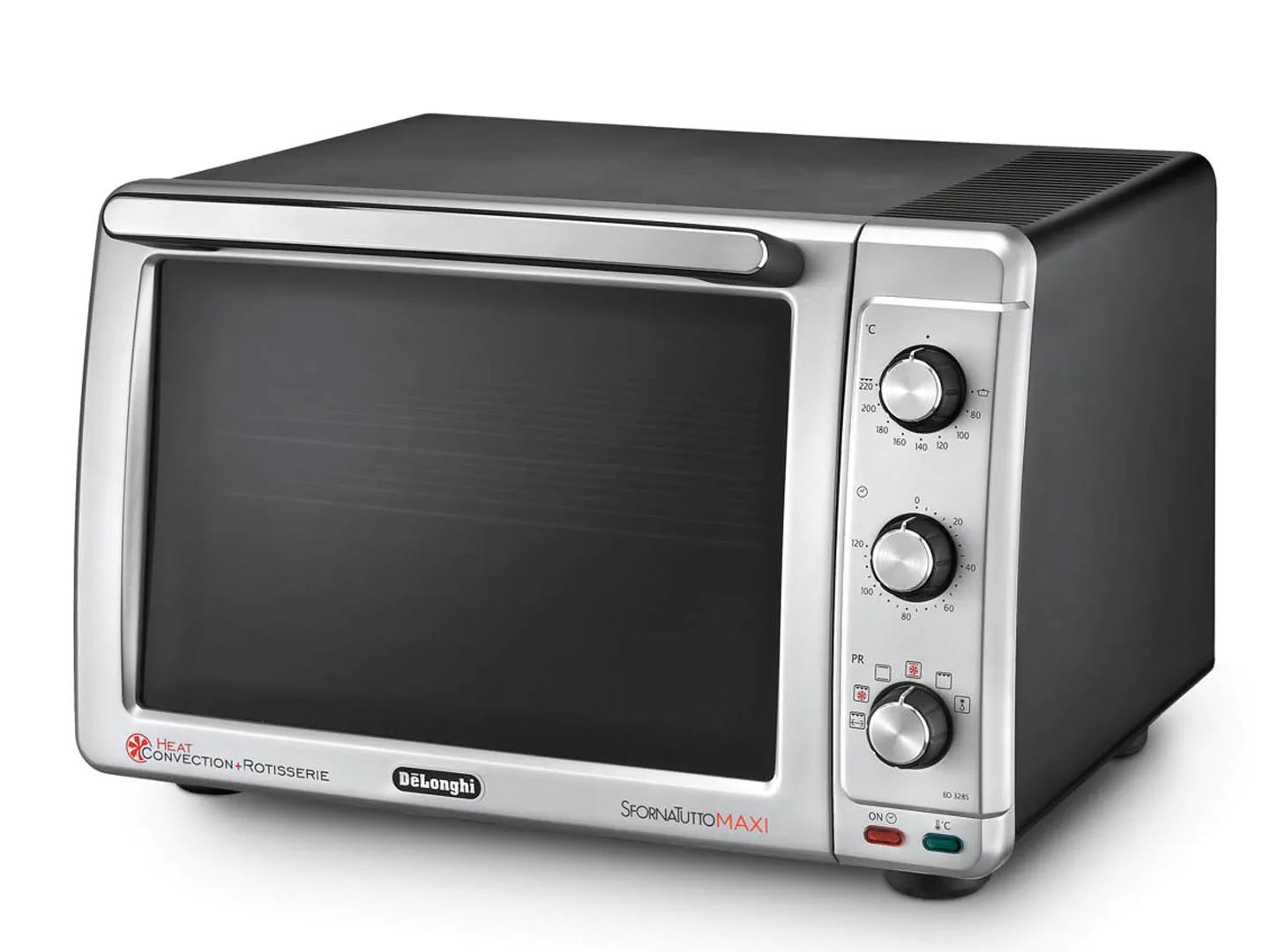 add_circle
Stable performance
add_circle
Good design - helps with energy consumption
add_circle
Simple-to-use design
remove_circle
Temperature setting can only go clockwise - unable to reduce timer
To do light or quick baking, convection ovens are the best as they contain a fan inside to evenly distribute heat and cook everything perfectly. So, if you like to bake small goods like muffins, cookies, brownies, pastries and similar, let it be the Delonghi Electric Oven. The oven lets you bake, grill, gratin, defrost, rotisserie and keep food warm with maximum precision in every recipe.
Despite the compact design, this oven contains a 32L capacity, letting you perfectly cook rotisserie a whole chicken. Designed with a double glass door, this oven is dedicated to optimising the performance of heat convection for uniform heating and shorter cooking time. With the walls enamelled with DuraStone, it makes cleaning and preserving the oven much easier.
Some reviewers have noted that the oven is able to maintain a constant temperature through its operating time. Moreover, small features like the "ready" light to indicate that the oven is ready to bake, is quite accurate and convenient. Plus, the double glass door and inner insulation material actually help with reducing chances of heat loss.
---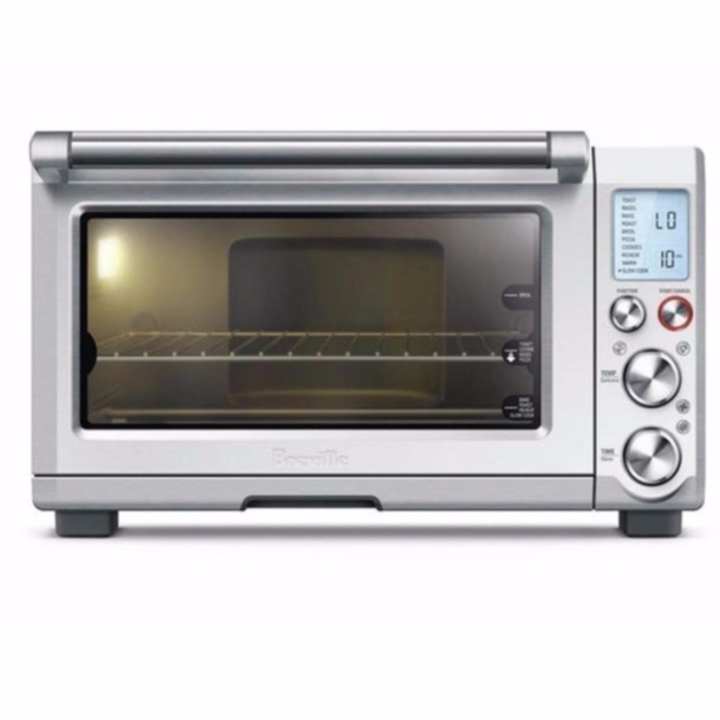 Breville Smart Oven (BOV845)
SGD 698.00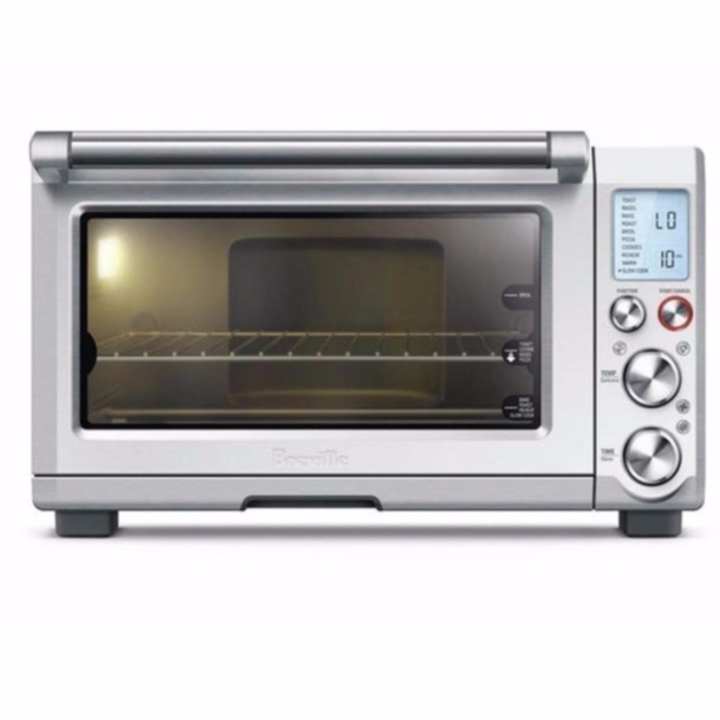 add_circle
You can turn off the convection fan
add_circle
Consistent performance
Through the elegant, design-oriented exterior which complements the aesthetic of your kitchen, Breville's Smart Oven Pro possesses more than it looks. Although a toaster oven, it can perform almost all kinds of cooking, with 10 modes including grill, toast, pizza, cookies and crumpets.
Besides the use of its convection fan (to evenly distribute heat), the oven utilises an intelligent technology called Element IQ which precisely controls temperature and cooks food to perfection in the shortest time possible, be it cookies or toasts. If you're worried about overcooking foods that you want to grill or broil, not to worry as you can turn off the fan - something that makes a convection oven a good investment.
Speaking of which, the temperature setting offered on this oven is impressive, from 50 deg.c. all the way to 230 deg.c. For broiling, it can go all the way to 260 deg.c.! Not forgetting, but the amazing feature is the smart oven's magnetic auto-eject rack (the middle rack position) which makes removal of hot items a lot easier and safer.
Users generally love its consistent performance and commonly talk about the spacious capacity. It's packed with so many features that make it nice for beginners to consider. The only thing to overcome is that steep price.
---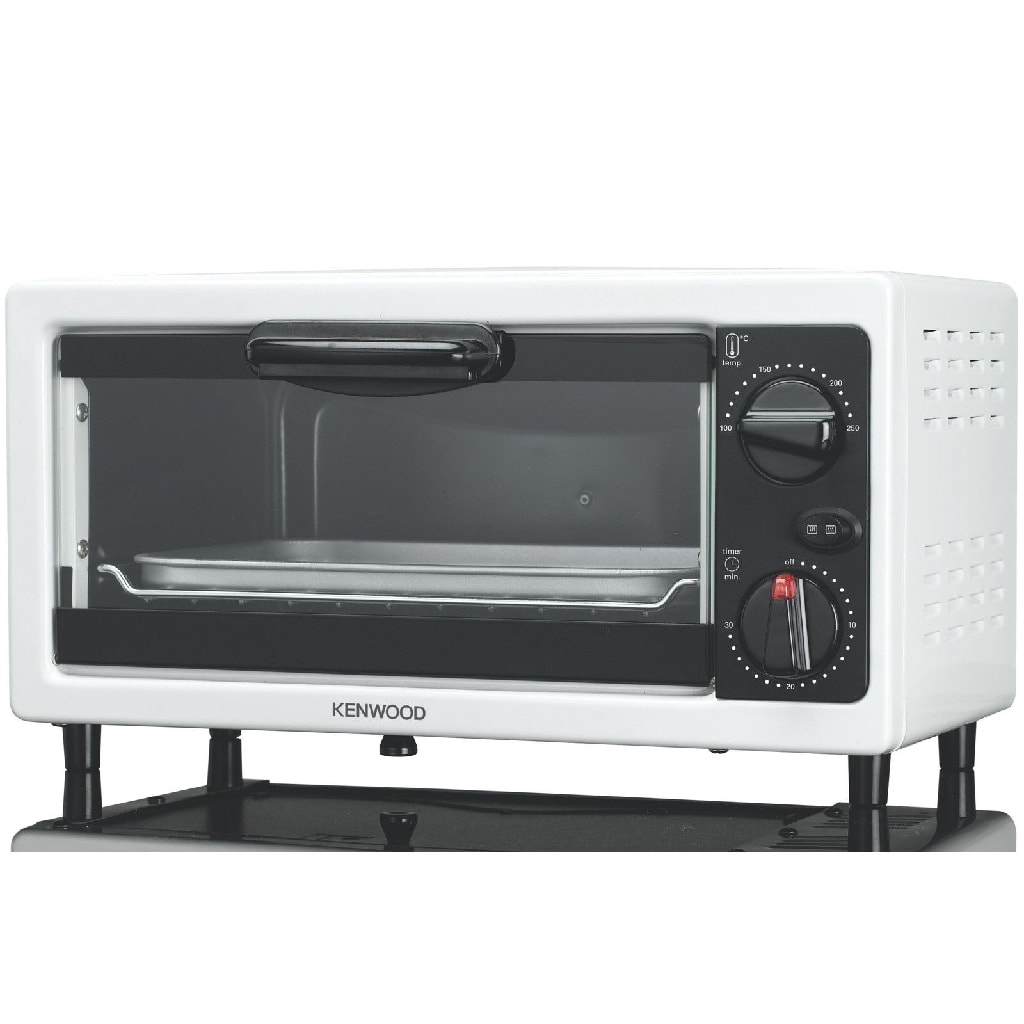 Kenwood MO280 Oven Toaster
SGD 49.00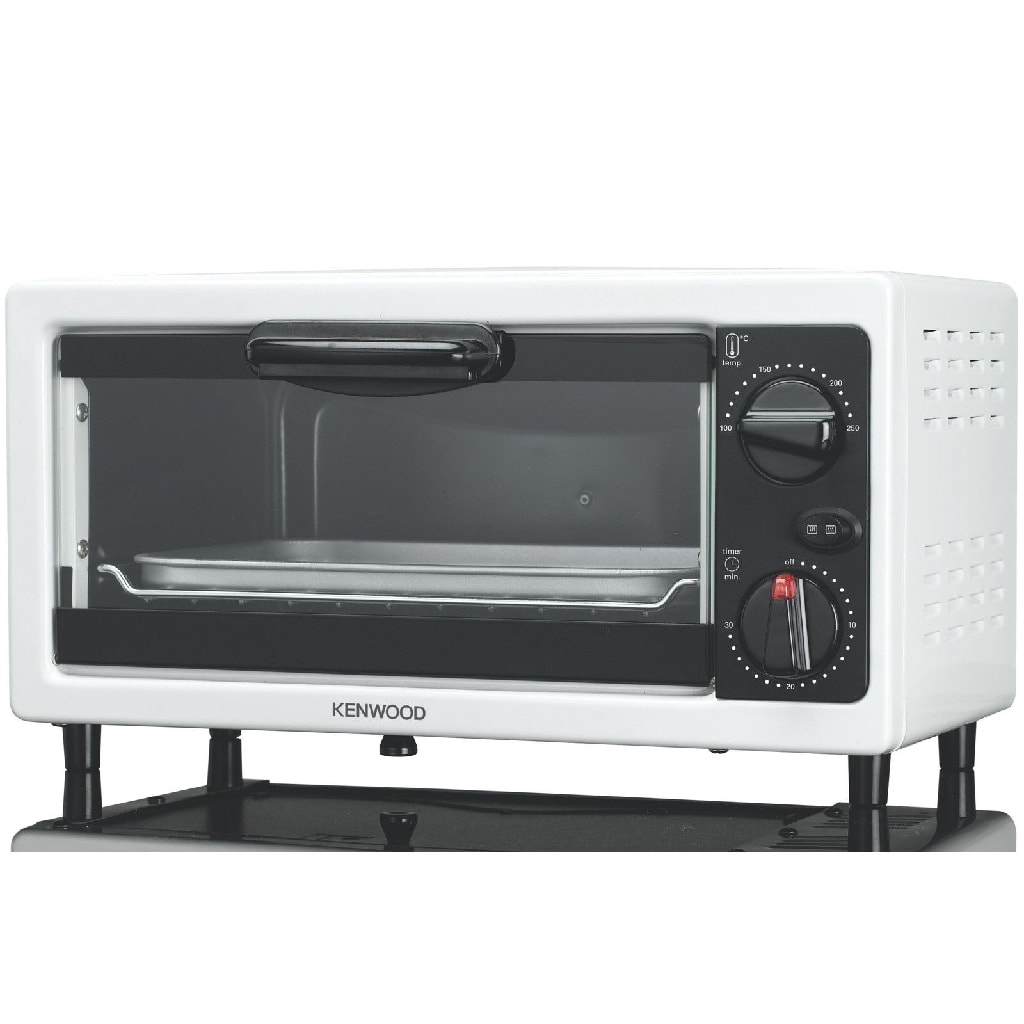 add_circle
Good temperature range
add_circle
Very affordable
add_circle
Compact and simple design
add_circle
Easy to clean and maintain
remove_circle
Limited use due to its intended use
remove_circle
Small capacity for baking
Do you just want to do light baking at times while maintaining the simplicity of your device? Try the Kenwood MO280. It may be small with a 10L capacity and that it's just average in performance at 1100w. But it is capable of more than just toasting the perfect bread. It can bake small pastries and cookies. and even do some grilling.
This oven is simple in design, with very little removable accessories to maintain and clean. And if you're worried about any tedious cleanup after baking, the oven is designed with a non-stick cooking surface and opening base for crumb removal.
In terms of performance, the oven is rated by users to perform quite well, toasting bread well on both sides without needing to flip it. Moreover, the capacity is actually larger than most toaster ovens. And despite the simplicity in its use, the temperature range is 100-250 deg.c. But one thing you may not like is that the timer only goes up to 30 minutes. That should still be sufficient for most simple baked goods.
It also has a built-in timer featuring auto shut off function to give you a peaceful mind.
---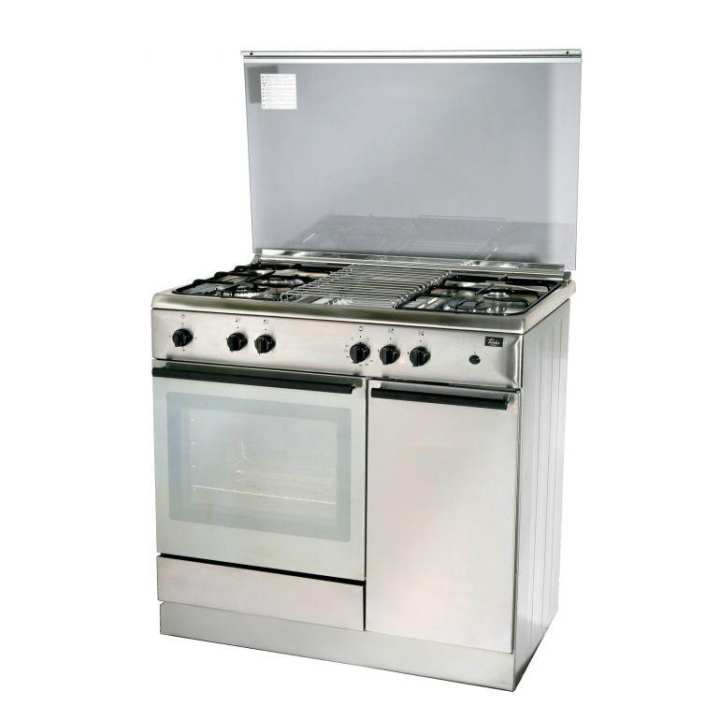 Turbo Incanto T9640WSSV
SGD 1193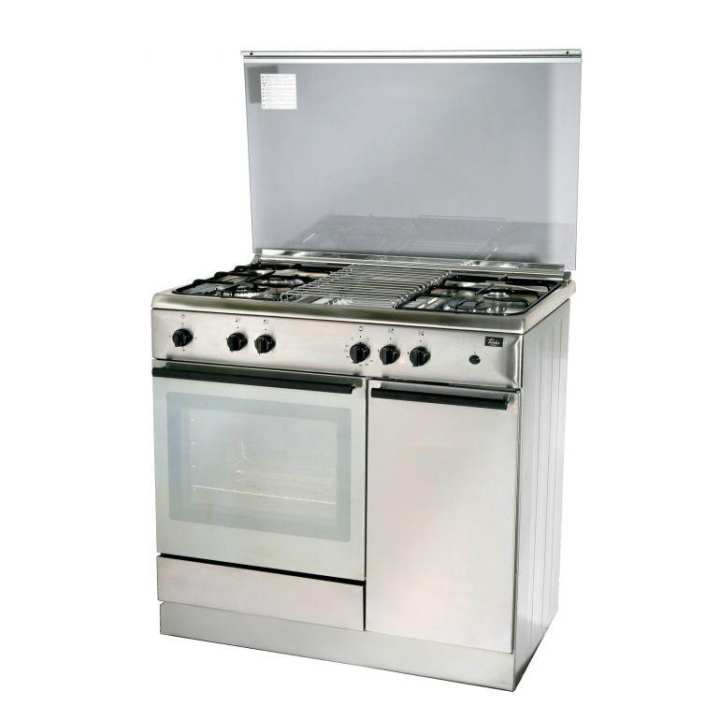 add_circle
Cook almost anything you want
add_circle
Good built quality
remove_circle
Definitely not for the beginner
remove_circle
Uses gas to operate; not so energy-friendly
If you do a lot of baking and other kinds of cooking such as broiling, you need a gas-type oven. They may not be cheap, but they're durable, heats up fast and can handle heavy loads.
The brand Turbo is known for its good quality in cookware. And their Incanto T9640WSSV oven does not disappoint. This freestanding oven comes included with 4 gas stove on top of it, providing a spacious 52L capacity and pot support to endure the load. It also has precise temperature control to make sure every portion of your food is cooked as intended.
Its construction will be able to handle heavy-duty jobs for a long time, being made of stainless steel which ensures easy-cleaning as well. But of course, the large unit means there's more to clean. But if you're a passionate chef, professional or not, and you'd like to coincidentally replace your current hob, consider the Incanto T9640WSSV.
---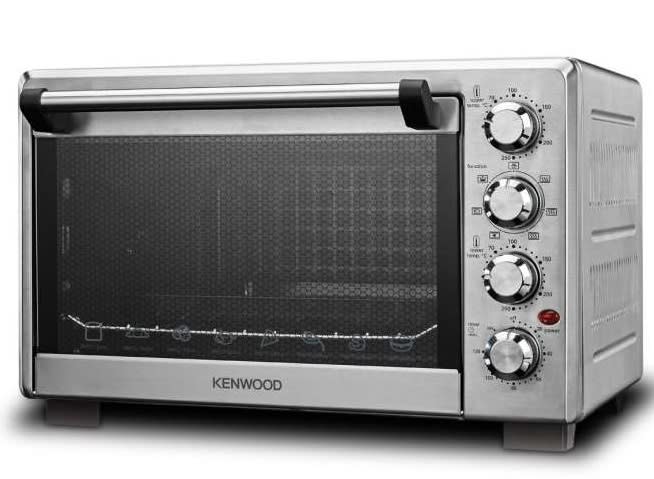 Kenwood Electric Oven MOM880BS
SGD 288.00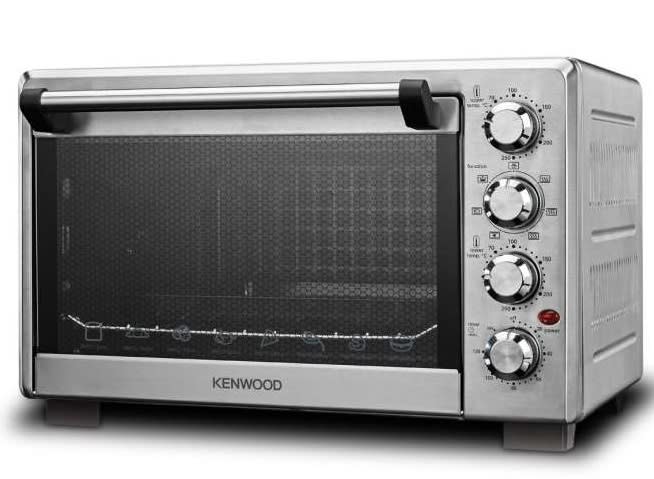 add_circle
Dual temperature system
add_circle
Good temperature range (100-250 deg.c)
add_circle
Large capacity in a compact body
remove_circle
Cannot choose heat direction
If you'd like to keep it simple with a countertop oven, this is one of the few models to consider. It's a convection oven, so you can perfectly bake treats such as cookies, muffins and any other small pastries without much problem.
With an ample capacity of 32L, the Kenwood Electric Oven is the perfect fit for your kitchen cabinet. Made of stainless steel, this versatile oven promises a more durable unit as opposed to traditional ovens. It also includes fermentation setting and moisture control to open up a broad range of cooking choices to meet your craving needs.
Moreover, you can cook poultries and meat with the rotisserie function. The convection fan ensures that your food cooks evenly. Even so, as the oven uses a dual temperature, you can have the base and the upper temperature be set differently to cook your food more precisely. Worried about frozen meat? This oven has a defrost function too!
---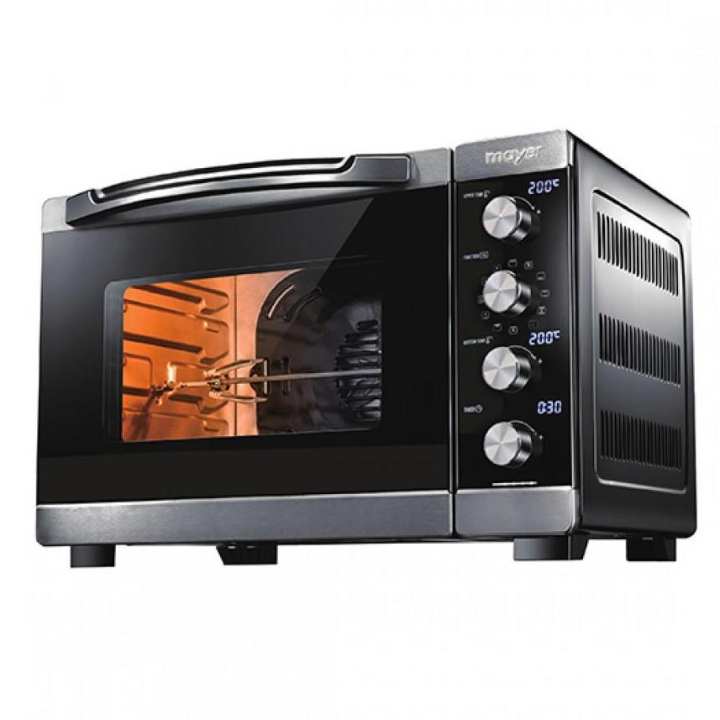 Mayer Smart Electric Oven MMO40D
SGD 375.00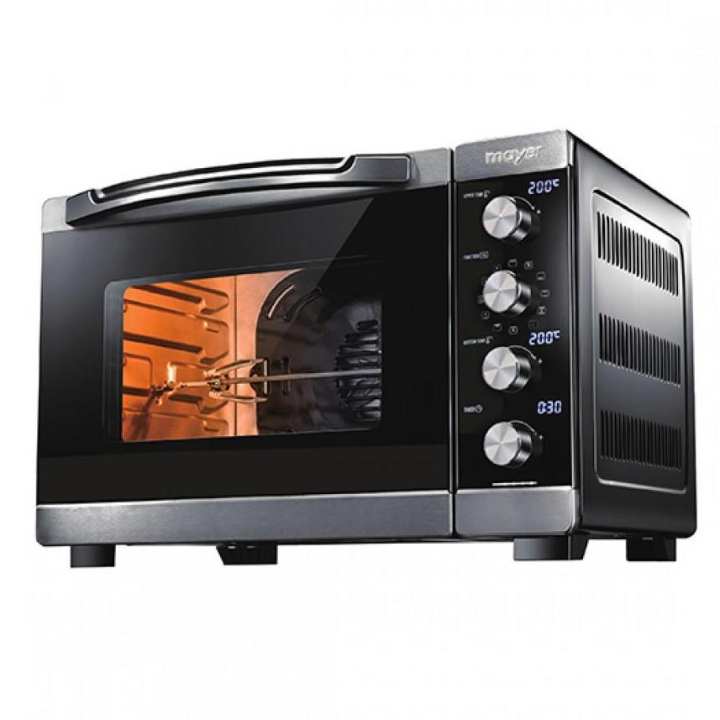 add_circle
Versatile in use - option to turn off the convection fan
add_circle
Good timer length
add_circle
Satisfactory temperature range
add_circle
Has PowerCutOff memory function
remove_circle
Average built
remove_circle
Oven fan is a little noisy during operation
Convection ovens use a fan to distribute heat evenly so your food will be cooked as quickly as possible, and it's great for cookies, brownies and such. But for large and thick baked goods like cakes, this is not the best function as the outside may brown too fast, leaving the inside not fully cooked.
Luckily, we identified Mayer's MMO40D oven as a convection oven that lets you turn the fan on or off.
Built with a "U" shape heating element, the Mayer Smart Electric Oven ensures uniform heat distribution and energy efficiency within its huge 40L capacity. This oven considers every specific cooking need by allowing you to fully take control of the upper and bottom heat separately. If you happen to be in a hurry, it also provides 12 pre-set baking functions ready for you!
The oven provides a timer that can run up to 3 hours and a temperature range from 60 to 230 deg c. For precise cooking, the oven also has a real-time temperature display. Moreover, in case there's an electricity trip at home or some sort, the oven has a 5-minute PowerCutOff memory function.
This is one of the most versatile convection ovens to cook almost anything you want!
---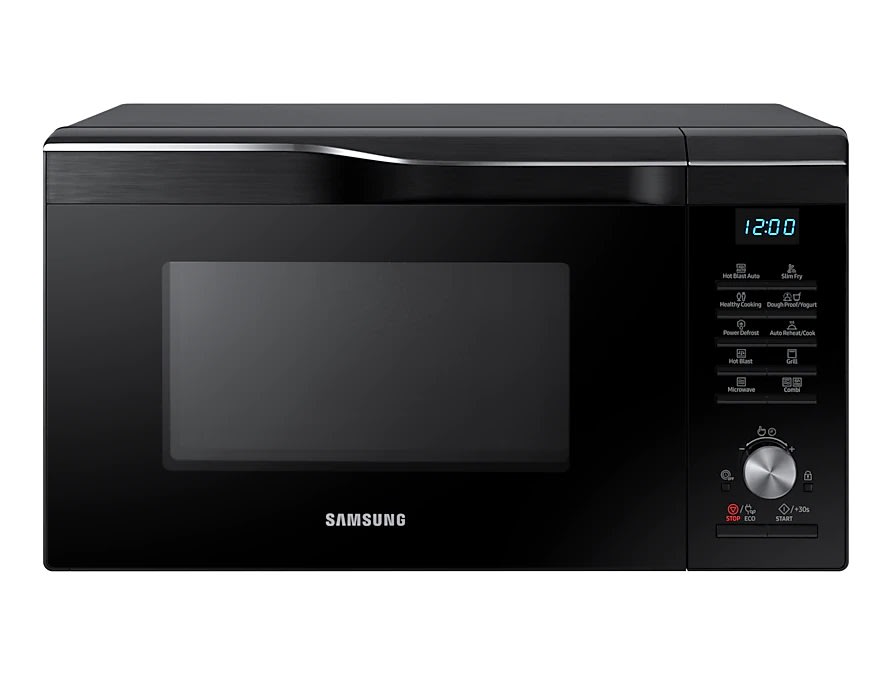 Samsung Microwave Convection Oven MC28M6055CK
SGD 399.00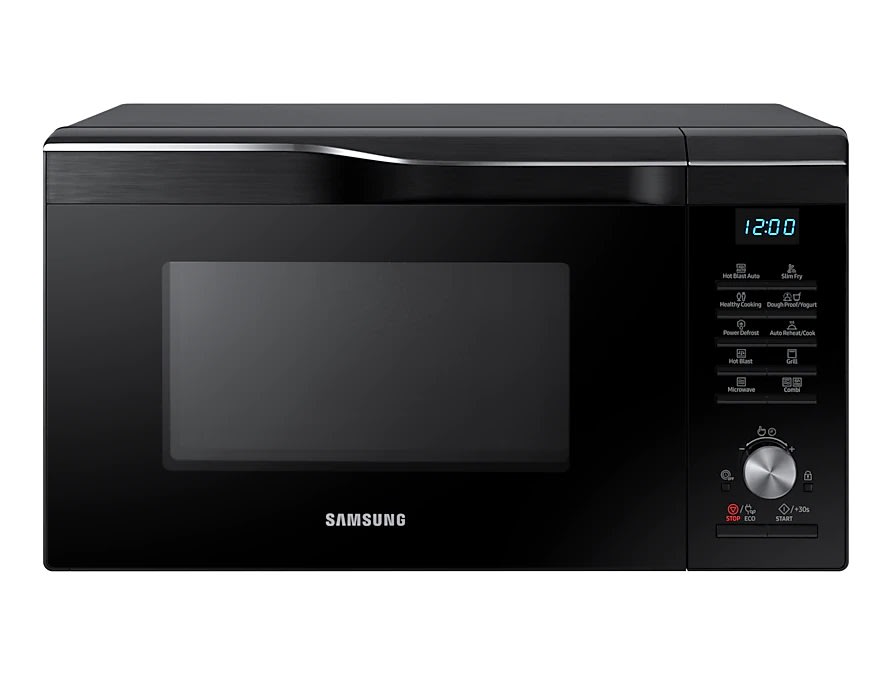 add_circle
Versatile in use
add_circle
Option to turn off glass turntable
add_circle
Overall, good performance on all functions
remove_circle
No manual temperature setting
Microwave ovens of today are quite versatile but still limited to their functions. However, if you can't decide whether you need a baking oven or a microwave oven, then the popular Smart Convection Oven MC28M6055CK by Samsung is a good pick.
Being partial "convection", your regular microwave oven can now bake simple brownies, bread and cookies. This Samsung Microwave Convection Oven is equipped with a 28L capacity. Just remember to turn off the rotating glass turntable if your food is huge
Built-in with Slim Fry technology, it also enables you to enjoy a mouth-watering crispy texture on your food using only a touch of oil. The most exciting thing is, it includes a scratch-resistant ceramic interior which makes cleaning super simple and convenient.
Users love that this oven cooks and heats up for well, with one of its features called Hot Blast that cooks and browns food perfectly. Moreover, the Slim Fry function is reported to fry food well, that some reviewers stopped using their air fryers altogether. Overall, many users and professional reviewers rated the oven as an all-round performer with above-average results.
The only exception is that there's no manual temperature control, so some experimentation in timing is needed.
---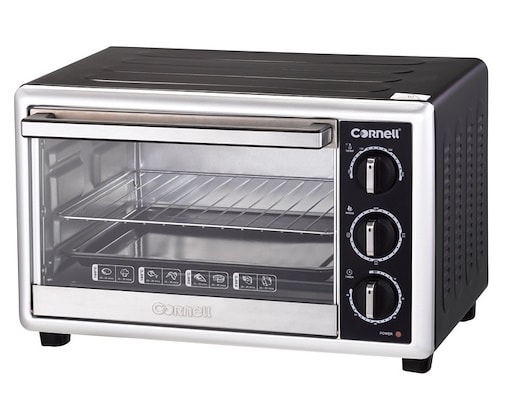 Cornell CEO-E20SL Electric Oven
SGD 64.00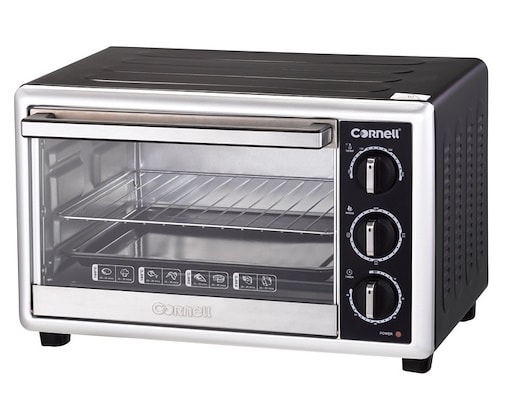 add_circle
Satisfactory performance
add_circle
Stable in temperature
add_circle
Good temperature range
remove_circle
Average timer duration at 60 minutes max
remove_circle
Small space means food may get cooked faster than expected
While a full-fledged oven is great for baking almost anything that you want, you will have to admit that it can take up quite a big space. Plus, if you're strapped for cash or aren't sure if you'll be baking often, then a smaller oven should do the trick.
Look to Cornell's CEO-E20SL Electric Oven, a highly functional, conventional oven that comes at a bargain price with a generous wide interior.
It has adjustable temperature settings from 100 to 250-degree Celsius and utilises stainless steel elements to bake simple pastries and cakes as well as cook. The oven is also extremely light to carry around which makes storage a lot easier. In terms of built, the insides are made with stainless steel for extra durability.
One thing to note is that this oven is inevitably ideal for those who only use an oven occasionally. And of course, due to the small size of 20L, space is limited. Some users have tested that they were "barely able to fit a 9-inch tart" on the grill instead of a baking tray. Moreover, the limited space also means your food is nearer to the heating element as thus, it's best to keep a close eye on your baked goods.
If you don't mind the obviously-small space, then this is a great oven with sturdy performance. Reviewers have noted that temperatures are accurate. The built is also light, small and compact.
---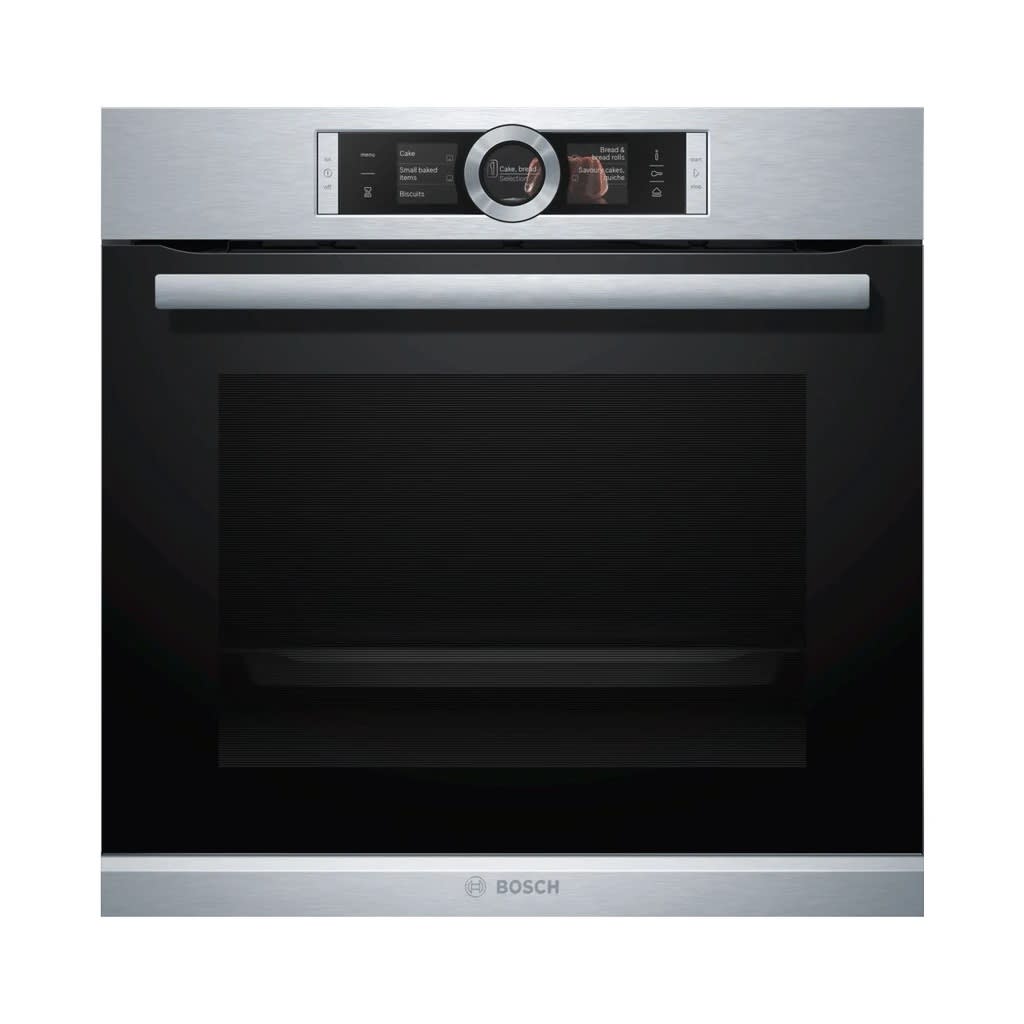 Bosch Series 8 Built-in Oven HSG636ES1
SGD 3679.00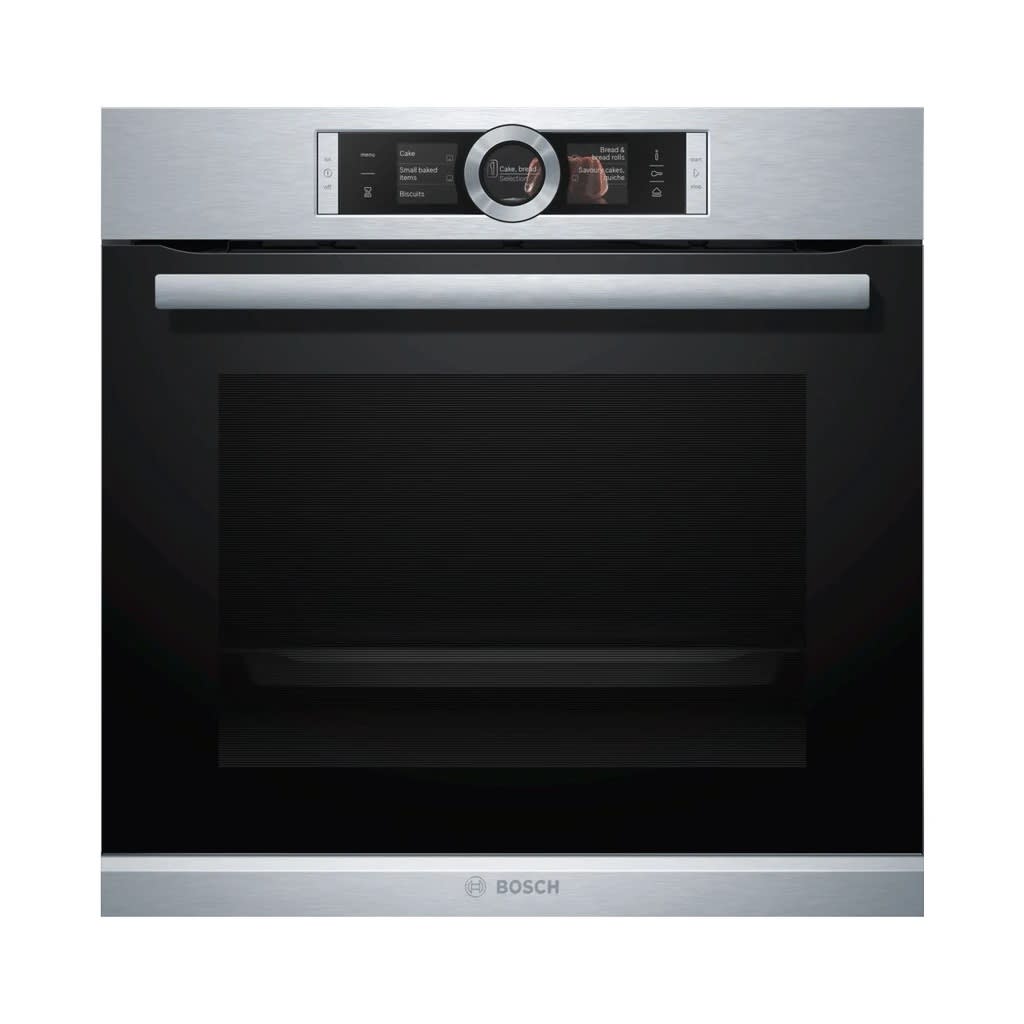 add_circle
Stable performance throughout all functions
add_circle
Has self-clean features
add_circle
Nice design and built
Precision and built quality are what you need when you're tackling a business in baking. Because consistency is key, hence your equipment has got to deliver good results every single time.
Get ready to be amazed by the latest Bosch Series 8 Built-in Oven with its superior performance and classy design that will blend seamlessly into your kitchen.
Featuring a series of advanced technology, it can adjust the heat, temperature and time accordingly for countless dishes in an auto mode. Other functions to cook certain food includes steam, roast and low-temperature cooking. You can even fermentation your doughs or defrost food in the oven, talk about a do-it-all device.
Not forgetting, but other design features for convenience include touchscreen control and EcoClean Direct for easy maintenance to transition your baking experience from a newbie into a pro. Moreover, the child lock ensures that no one will accidentally open the oven while it's cooking.
---
Disclaimer: The pricing shown is just a good indication of how much these products are worth. The prices could change based on the e-commerce promotions that are going on. If some of the products are not available, do email us at [email protected] Thank you!
---
Why have an oven for baking?
The only main reason why you'll want an actual oven that's meant for baking is so that your pastries and cakes will cook as intended. While today, other ovens such as one for toasting or for roasting can do simple baking, your limitations can only go so far.
Most ovens are designed to provide a certain result best for certain tasks. And this is the same for ovens that are for baking; they'll have a specific built and features to help you perfect that beautiful cookie crisp, or ensure your sponge cake cooks with fluff.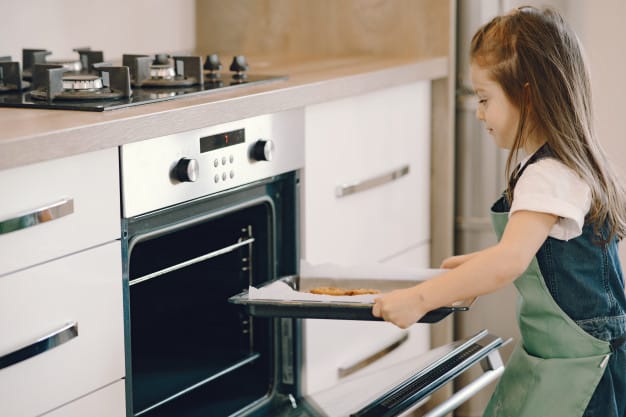 ---
Where to buy?
Thankfully, there are many places to get your hands on an oven for baking! Here are our top recommendations:
Online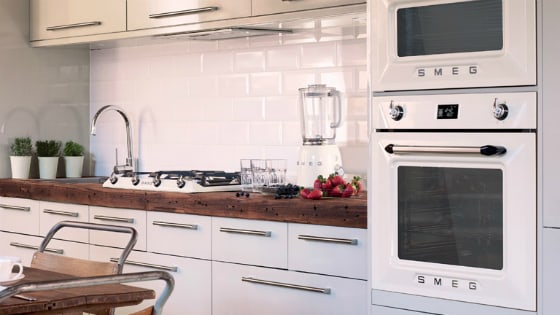 Bonus!
Goh Sin Huat on Shopee - We like this merchant as they offer a lot of appliances. The prices are reasonable too, with express deliveries and warranties. They also offer installation of certain products including built-in ovens, gas stoves and more.
Note: Most prices displayed on the merchant's site does not include installation fee. Please enquire merchant on installation service.
---
Offline
Courts Megastore, Tampines - Specifically their Megastore, next to Ikea Tampines. Why? Because it's the biggest electrical store in Asia.
Challenger, Bugis Junction - If you're a challenge member, then why not utilise your vouchers or special discount? If not, there are 40 stores in Singapore if you can't go to this branch.
Mega Discount Store, Stadium Walk - Several forumers (and Redditors) recommend this wholesale-store, especially if you are settling into a new home or family.
Harvey Norman Flagship Store, Raffles Boulevard - There are just many more products neatly displayed in this branch. It's also the flagship Harvey Norman store, so you can enjoy their customer service in locating a specific product.
Best Denki, Ngee Ann City - Enjoy sales at Best Denki's flagship store in Orchard Road. The Japanese-branded store carries many Japanese models and also other popular international brands such as Tefal and Ariston.
---
When to buy?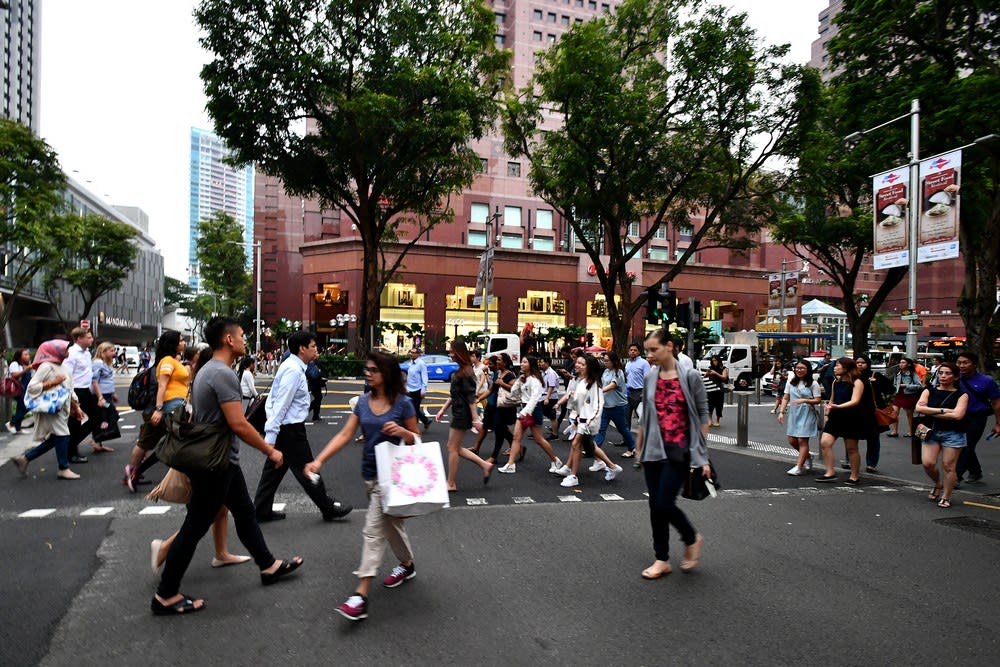 You probably know that the best times to buy anything including appliances are during big online sale festivals. Besides noting down the store's anniversary sales, here are also when you can buy an oven:
Great Singapore Sales - (June to July)
To celebrate our love for shopping (and encourage economic growth), enjoy the best of the best on this particular sale season, offline or online. Watch out for discounts from your banks, or favorite department stores such as Robinsons, will be offering discounted deals.
11.11 - (Single's Day, 11th November)
11.11 is when e-commerce sites compete and offer the lowest deals possible. As this period originated from China (To celebrate being single), China-branded e-commerce sites such as Lazada will heavily offer irresistible discounts. Lucky us, many websites of any Asia origin participate in this sale season too, including Shopee and Qoo10 too. The best thing about shopping online during 11.11 is where you can easily compare products and prices. Or, read the many reviews and comparisons we have here on ProductNation before you purchase!
More: Hey Singles, It's Time to Shine This 11.11 Shopping Festival
Black Friday & Cyber Monday - (The next Friday & Monday after Thanksgiving)
Aside tech products, anything electronics including appliances goes as low as they can during this season. On Black Friday, American-based stores will offer the best deals around on home appliances to encourage retailers to shop. Whereas Cyber Monday is more tech-focused but some stores do extent appliances deals too.
No worries, as most majority online (and offline) stores treat this period as the same, so you can go shop on the best day of your choice.
More: 30 Black Friday Deals You Shouldn't Miss on Amazon Singapore
---
Features to consider when choosing an oven for baking:
Temperature setting
Having multiple or flexible temperature setting options is vital as it allows you to bake different goods. Microwave ovens typically offer you with the option of low, medium, and high heat. Generally, most ovens (electrical and gas) cover up to 260 degrees Celcius. For baking goods such as a cake, we recommend having an oven that can bake in at least 200 degrees Celcius.
Size
Unless you're going to be baking a big amount or tall foods, you generally need a 60cm wide oven. Big ovens can hover at about 90cm wide, and they usually come in the form of built-in ovens. As you may have guessed it, the bigger ovens are definitely much better at cooking a larger amount of food at once. Aside from width, do check to make sure to check how many racks you'll want in your oven.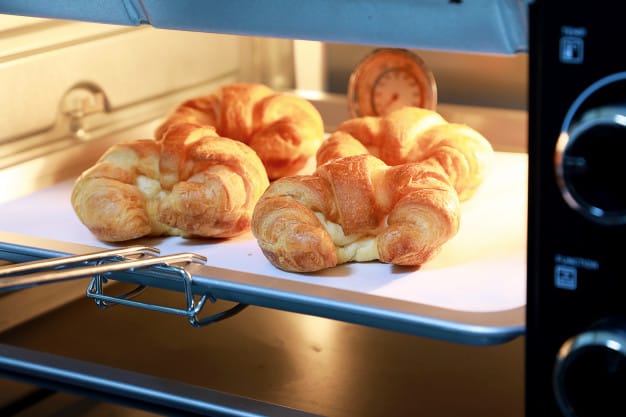 Built and features
The oven is something where its built matters. This device is going to be handling heat and therefore it should be hardy for years to come. First, you may want to figure out if you rather a built-in or a free-standing oven. Built-in ovens can be mounted to blend in well with your kitchen cabinets or stove, adding a classic touch. Meanwhile, free-standing ovens give you the flexibility of placing it anywhere you want.
Secondly, many ovens today are made with materials that complement cooking and baking. For example, having a glass door that is multiple-layered offers you heat protection and a view to check on your food easily. Moreover, the door should be able to open at various angles to lower the risk of accidental shut when dealing with hot food.
Thirdly, you may want to check if the oven has self-cleaning features or is made with materials that are easy to clean and maintain. This ensures that food residue and smell don't linger, as well as need less effort to clean.
Additionally, some ovens do offer pre-set modes to bake specific items such as cookies and pizza.
Brands
We are blessed with many good brands that produce great quality ovens and are available in Singapore. Of course, you may recognize household names like Panasonic, LG and Samsung. While there's nothing wrong with those brands especially if their oven features suit you, but home appliance-focused brands take the icing on the cake.
The names that constantly pop up for their quality and reliability (yet high-price) are Miele, Fisher & Paykel, KitchenAid, Thermador and Bosch. If you are strapped for cash, then go for mid-range oven brands such as Samsung, LG, Bosch and Whirlpool.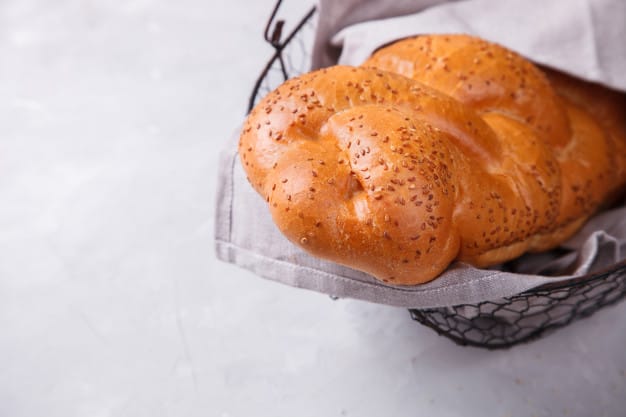 Price
Only you yourself will know what you really want to pay for. Generally, baking ovens (mainly free-standing models) should cost you from S$200 onwards. Meanwhile, higher-end or heavy-duty and built-in ovens can cost starting from S$600 and into S$1000 range. If you rather a budget oven or one for light usage, good-value brands like Cornell, Mistral, and Kenwood have several models that go for under S$200.
Warranty and installation
Ovens are hardy appliances especially if you get a good one. Still, warranties are typically between 1 to 2 years from the date of purchase even from popular brands. As such, we recommend a brand that offers a minimum of 1 year in warranty. Meanwhile, installation fees are generally not included in the fees of ovens such as built-in models. Therefore, please remember to check with merchants on this.
---
Best oven types for baking:
A good oven can get things done perfectly but, the right one will satisfy your needs with the results you desire. Here are the best and common oven types we have summarised to help you figure out which suits you the best.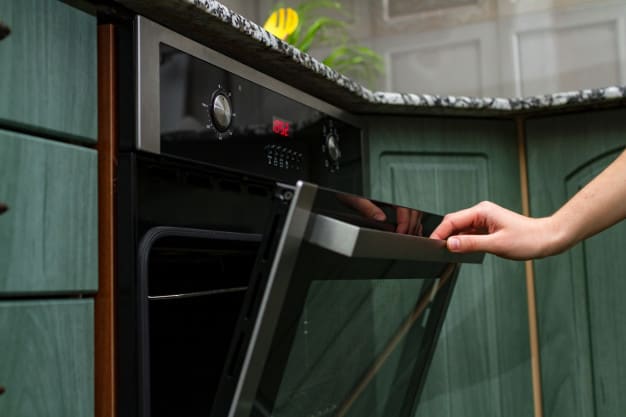 Gas oven
Applying the principle of burning gas, this one generates an instant heating power compared to an electric oven. While its fluctuating temperature results in uneven heating, many agree that it retains the moisture in food well and is especially great for juicy roasts. In such cases, a gas oven may not be your type if you are into brown and crispy crusts.
Pros: More humid than electronic ovens, cheaper to operate in the long run, heat up quicker than electronic
Cons: Still safe, but has a very small risk of gas leak and fire.
Electric ovens
As the majority of the households are turning away from gas appliances, the electric oven has emerged to be leading the baking trend in the market. Generally, it can be found in two varieties: conventional oven and convection oven.
A convection oven is engineered with a fan to circulate the heat inside whereas the conventional oven heats from the bottom up in a traditional way. With that, the convection oven is able to deliver a more consistent and efficient result in cooking.
But if you're baking something that needs more precise heating instructions such as angel food cake or macarons, conventional ovens are best.
Pros: Cheaper to buy upfront than gas ovens, safest to use, very common and easily available, has many temperatures and special features such as a timer.
Cons: Can be drying compared to using gas. Also costs more to run in the long haul than gas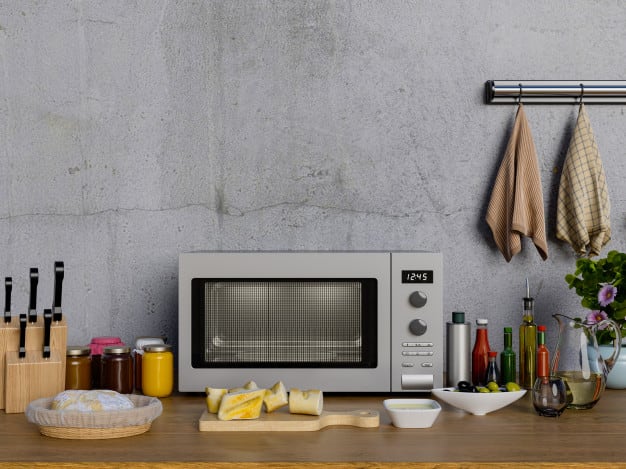 Microwave oven
Utilizing electromagnetic waves, this oven heat things up more evenly from inside out. It is true that microwave oven can now do more than reheating, still, it is unlikely to hold the temperature for tasks like roasting or browning. The microwave oven is best for simple baking such as oven mug cakes.
Pros: Cheap, easy to operate
Cons: Limited in temperature setting and baking capabilities
---
Maintaining an oven
No matter what you do to your oven, it's maintaining it that'll extend the life of the oven. After baking and cooking, it is best to clear any residue lingering in the oven so that your next batch of food will taste and smell just as intended. Not to mention, this prevents the habitation of unwanted bacteria (when your oven is not in use).
There are a few simple rules that anyone can follow, and none are complicated as you may think:
Cleaning the inside of the oven after use.
Only use special features for their intended use (example: toasting mode for toasting, not baking!)
No need for deep-cleaning under or behind the panel of oven knobs; this is to reduce risk in electricity failure.
Always unplug whenever you are cleaning the oven.
Have your oven be placed in an area where there are good airflow and ventilation for the oven's motor to avoid overheating.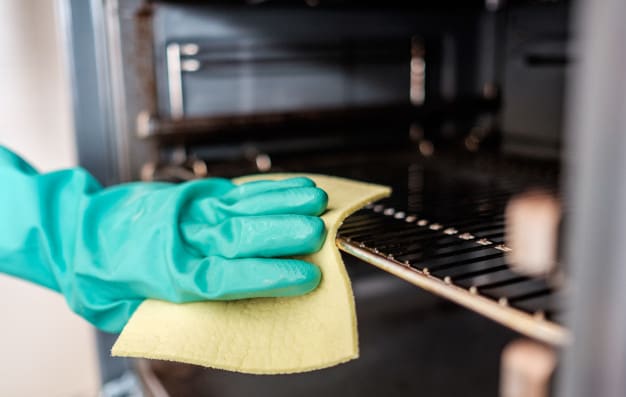 Cleaning a baking oven
Sure, some ovens have a self-cleaning function. But that's just nifty little feature to keep your oven well-maintained when you're baking very often. With that, we still recommend cleaning your oven thoroughly every once in awhile.
Here are some quick tips to cleaning your oven easily and efficiently:
Remove oven racks when you clean; those things can be quite oily!
To deep clean your oven's interior, coat surfaces with a paste of baking soda + water. Let it sit overnight then wipe away with a damp cloth.
For oven racks, just wash with normal soap and water. Then dry with a clean cloth after.
Avoid greasy hands by wearing cleaning gloves.
Bonus: Quick baking tips for every oven
We mentioned earlier that one of the ways to prolong your oven's life is to use the correct modes accordingly. But, knowing how to cook and bake with an oven is also just as important! Plus, you may never know if you are bad or cooking, or if you're just using your oven wrongly.
Before you go on a baking spree, here are the things to take note of:
Avoid opening the oven door when baking/cooking. This can cause a drop in temperature, contributing to uneven cooking.
Do not overfill your oven. If the oven is very full, it can lead to improper airflow which can affect cooking results. A few inches in between the pans will do.
Speaking of which, central placement of your baked/cooked goods offers the best cooking results.
If you do have more than one item to cook, separate them onto two different racks if possible.