Whether you have a small kitchen in an apartment or just prefer to have a cooker that you can bring along with you, consider a portable induction cookers. They are speedy, safe, and energy-efficient appliances that let you enjoy a hot meal no matter where you are.
Usually available with 1 cooking zone, their small and compact size also means you get to quickly store them away once you're done, leaving plenty of countertop space free for other more important things.
However, just a quick search online will reveal that the market is saturated with all kinds of portable induction cooker, and we understand that picking the right one can be frustrating. Good news is that we have done the necessary research to pick out some of the best portable induction cookers below to help you create effortless meals in no time.
We've also did research on the differences between cooking with gas and electricity, which you can read on after this list.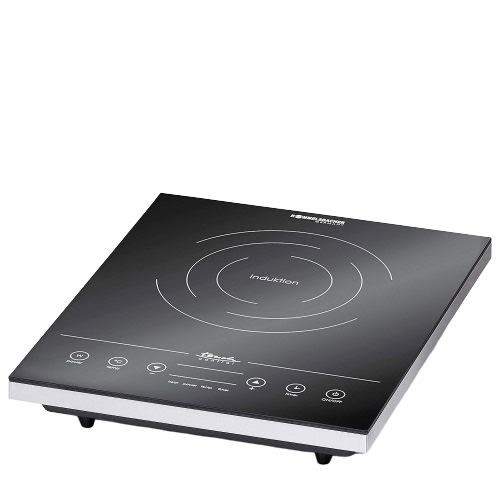 Rommelsbacher CT 2010 Induction Cooker
SGD 107.5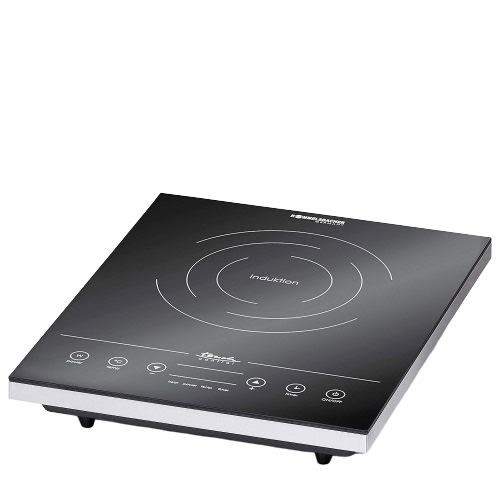 add_circle
Good sensitive sensors with soft touch control
add_circle
Power and temperature control ensures better cooking
add_circle
Smooth easy to clean surface
add_circle
Automatic pot recognition
remove_circle
Not suitable for use with larger pans
remove_circle
No booster function
remove_circle
No child lock
Rommelsbacher CT 2010 is the perfect choice for when you're looking for some extra cooking space at home or you want a portable way to cook on the go. All you need is a ferromagnetic pan as this cooktop is equally effective and useful in the kitchen, an office, and even an apartment.
The 2,000-watt model from Germany is one of the highest rated portable induction cooktops currently available and we're not even surprised. Featuring a choice between 10 power and temperature settings, 180-minute timer, and sensitive touch control sensors, the CT 2010 offers you plenty of cooking flexibility to whip up the perfect meal.
Despite its small profile, many reviewers have noted how fast this induction cooker heats up to allow them to get cooking pronto. The touch sensors are also very responsive, so you won't have to worry about spending too much time and effort just to get to the right settings.
Featuring an easy-to-clean frameless glass ceramic top and automatic switch off with residual heat indicator for added safety, the Rommelsbacher CT 2010 is designed for optimal convenience and superb results.
---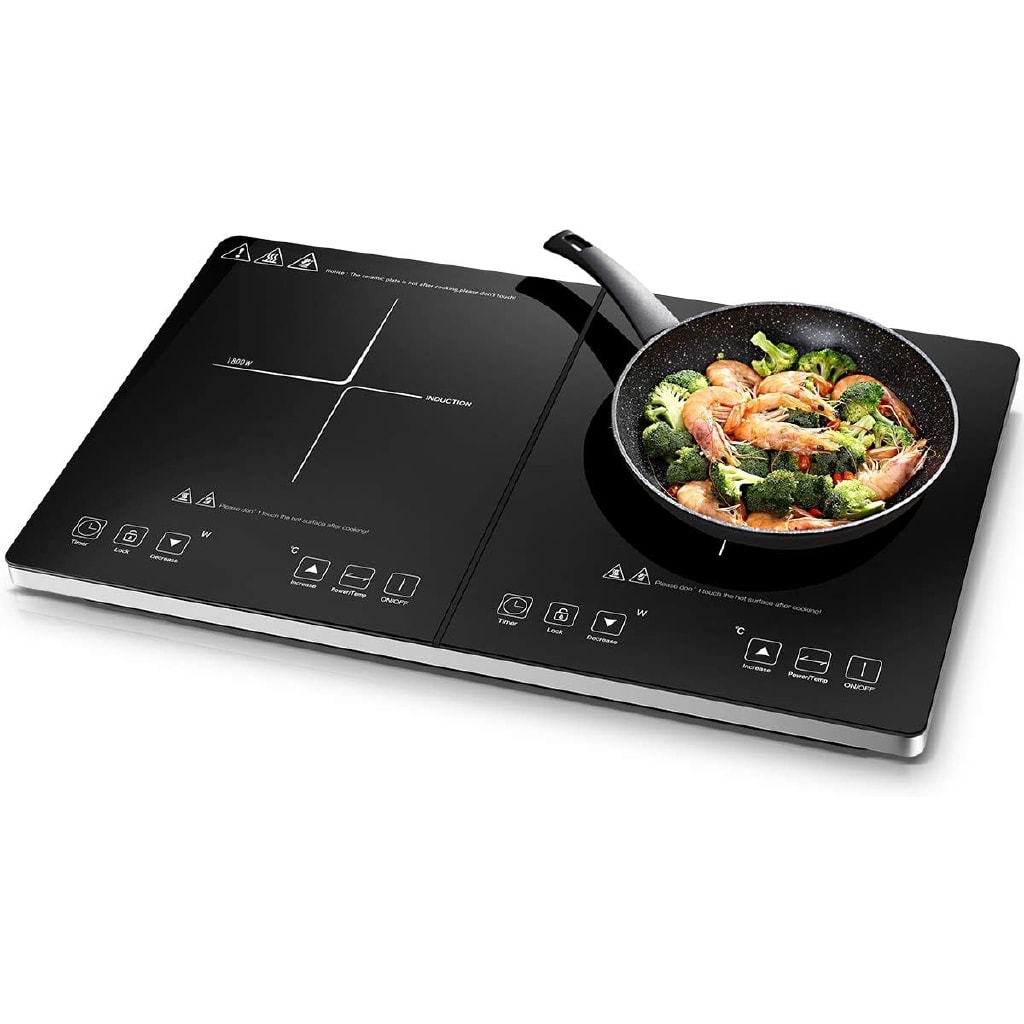 Amzchef Double Induction Cooker
SGD 102.2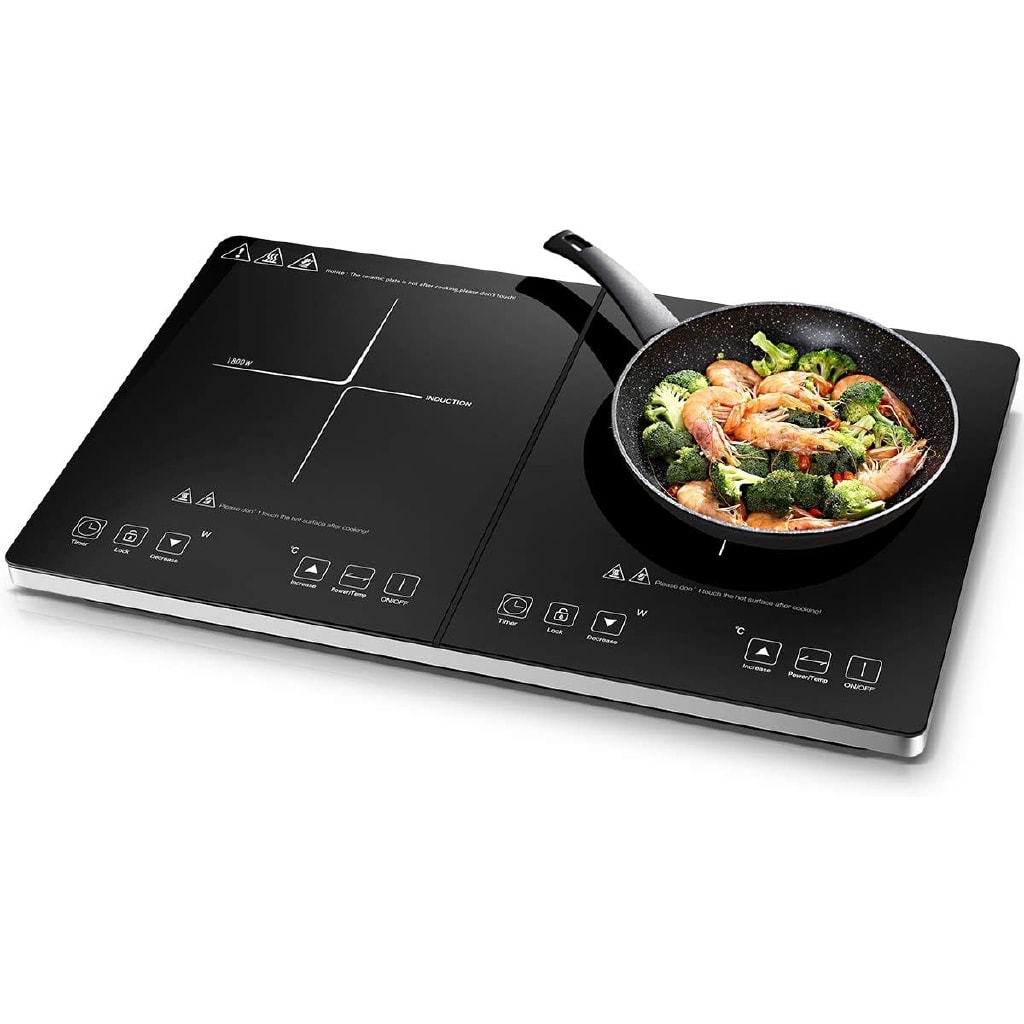 add_circle
Good portable induction hob that is easy to use
add_circle
Easy-to-understand manual
add_circle
Good safety features including child lock and auto safety switch off.
add_circle
Compact design for easy storage
remove_circle
No booster function
remove_circle
only 1,000W and 1,800W cooking zones
The Amzchef Double Induction Cooker offers a unique polished glass design that is not only easy to clean, but also offers a beautiful and modern appearance. Designed with safety in mind, this induction cooker even comes with controls for child safety to prevent any unwanted burns or accidents.
With a combined power of 2800W, this double induction cooktop offers users the chance to operate each stovetop independently. The left burner supports 9 settings for cooking whereas the right burner has 5 settings to let you warm your milk while stir frying with the other. It even features a 3-hour timer and safety switches for each cooking zone to ensure automatic shutoff once the timer is done.
Since it is a heat-generating appliance, naturally there are concerns of overheating and hot surfaces. Fortunately, Amzchef has addressed this by designing their induction cooker with an effective heat dissipation system that utilises dual powerful fans to ensure instant cool down of the induction hotplate. This means you won't have to worry about accidentally coming in contact with a hot surface.
So, if you need a portable cooktop that lets you safely work two pots simultaneously, then the Amzchef Double Induction Cooker may just be your best bet.
---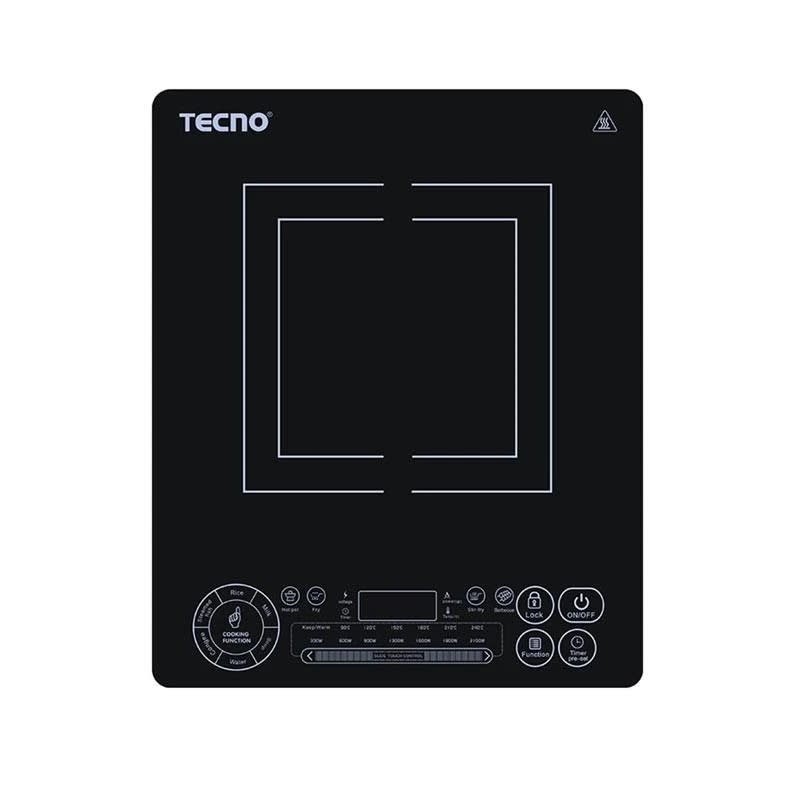 Tecno TIC 2100 Ultra Slim Portable Induction Cooker
SGD 129.00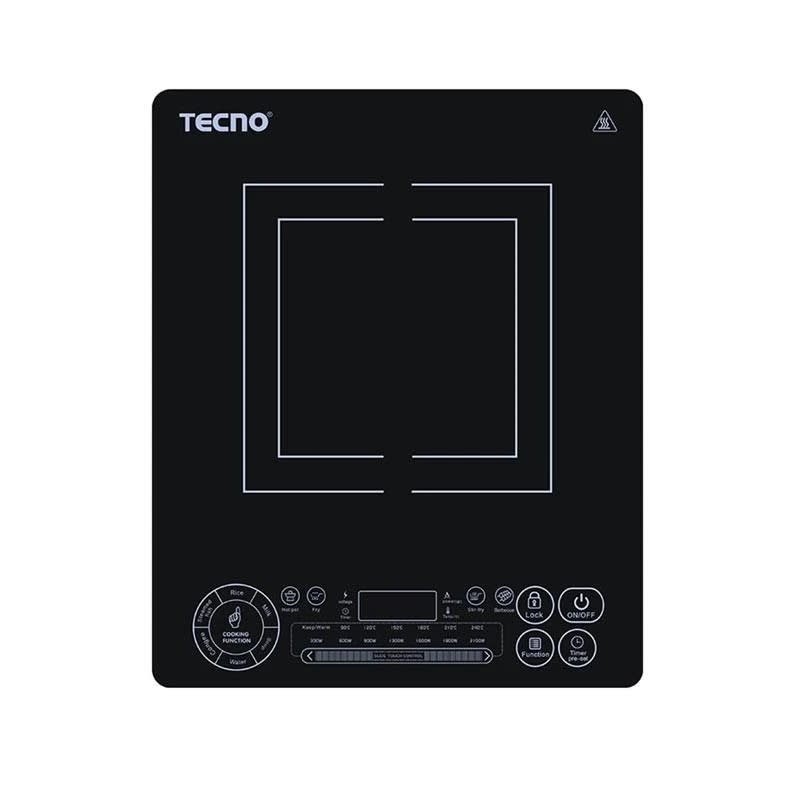 add_circle
Slim design makes for easy portability
add_circle
10 cooking programs and 6 preset time functions
add_circle
Child lock function
remove_circle
Not suitable for use with larger pans
remove_circle
No booster function
At 2100W, the Tecno TIC 2100 is not only powerful, but it's also attractive to users looking at design and size. As its name suggests, this is an ultra-thin unit measuring at 32 x 39 x 3cm and is about 50% thinner than the other cooker units discussed on our list.
Tecno's powerful induction unit also features 10 cooking options with 6 preset time functions to help you perfectly cook rice, milk, soup, water, congee, and steamed fish. It also comes with a sensitive sliding touch control which means you won't have to spend too much time and effort just to fiddle with the settings.
In terms of power, the cooker supports up to 2100W for you to easily set the temperature so that you may either boil water fast or keep food warm at a lower temperature, making it an ideal alternative to take along for a steamboat or hotpot session with your friends.
Featuring a smooth, frameless glass surface design, the TIC 2100 model is also super easy to maintain as it only requires a simple wipe down with a damp kitchen towel to be as good as new.
---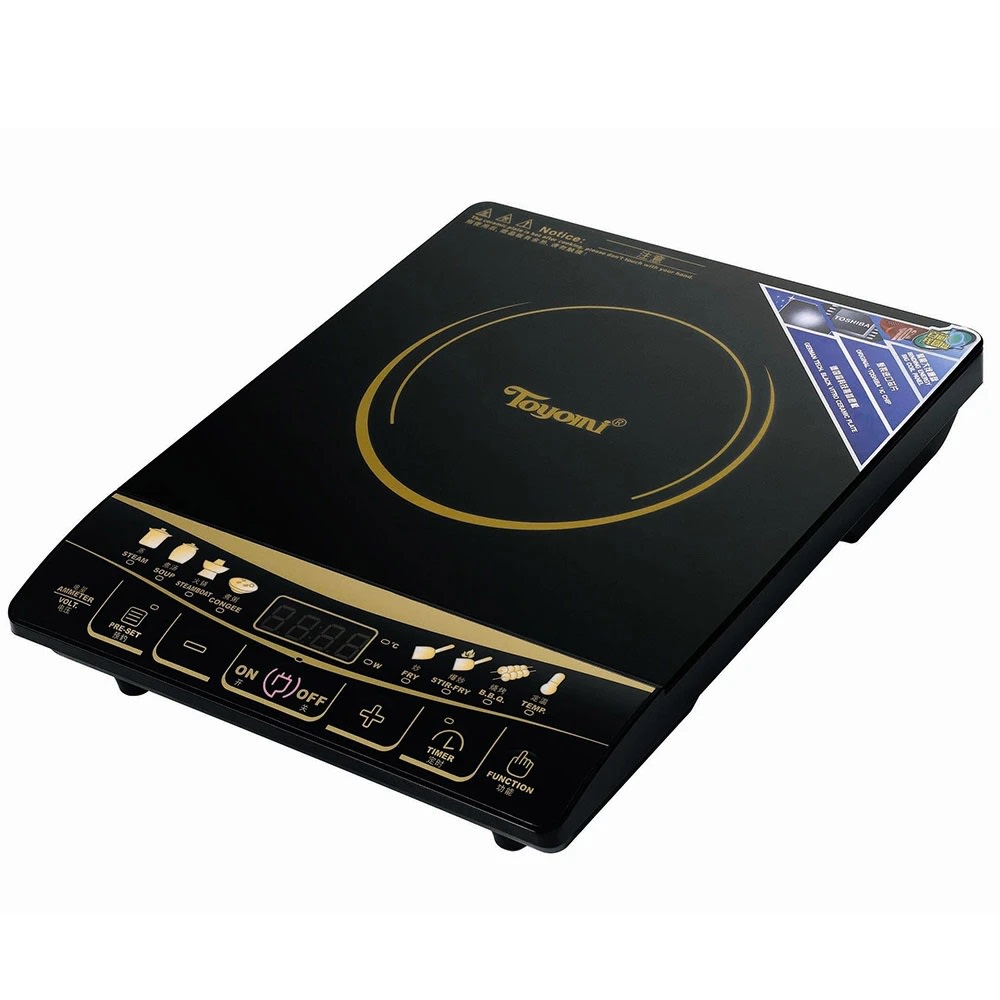 Toyomi Induction Cooker IH08V08
SGD 69.90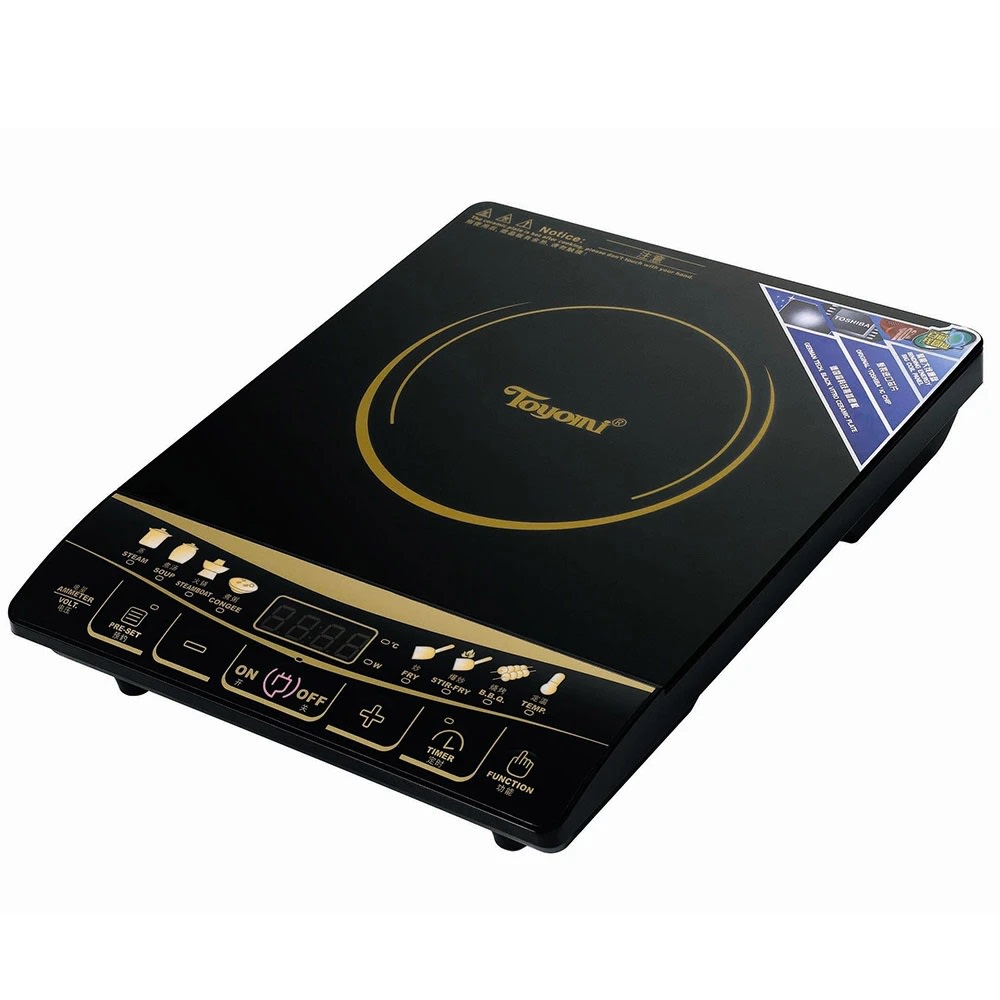 add_circle
8 Levels of heating power
add_circle
Large LCD Display
add_circle
Overheat protection
add_circle
Auto Power Shut-Off
remove_circle
Not suitable for use with larger pans
remove_circle
No booster function
remove_circle
No Child Lock
The Toyomi Induction Cooker IH08V08 comes at a very good deal. At a reasonable price, this cooker set includes a stainless-steel pot with a lid. Now this is particularly helpful if you do not currently own an induction compatible pan or pot in your kitchen yet.
This induction cooker provides 8 power levels, from 120 to 2200 W, making it one of the most powerful unit on the market. Featuring a German tech Vitro Ceramic plate, the IH0808 has been designed to handle large and heavy pots without breaking a sweat.
Furthermore, the large LCD display is positioned in the centre of the control panel so that you can easily check and monitor the settings. On top of that, this induction cooker is not only easy to use, but it's also safe with a child-lock function so that your little ones do not turn it on by accident.
With additional safety features such as the automatic pan detection, overheat protection and power shut-off functions, the Toyomi induction cooker is both a convenient and safe appliance to help you save plenty of time and money.
---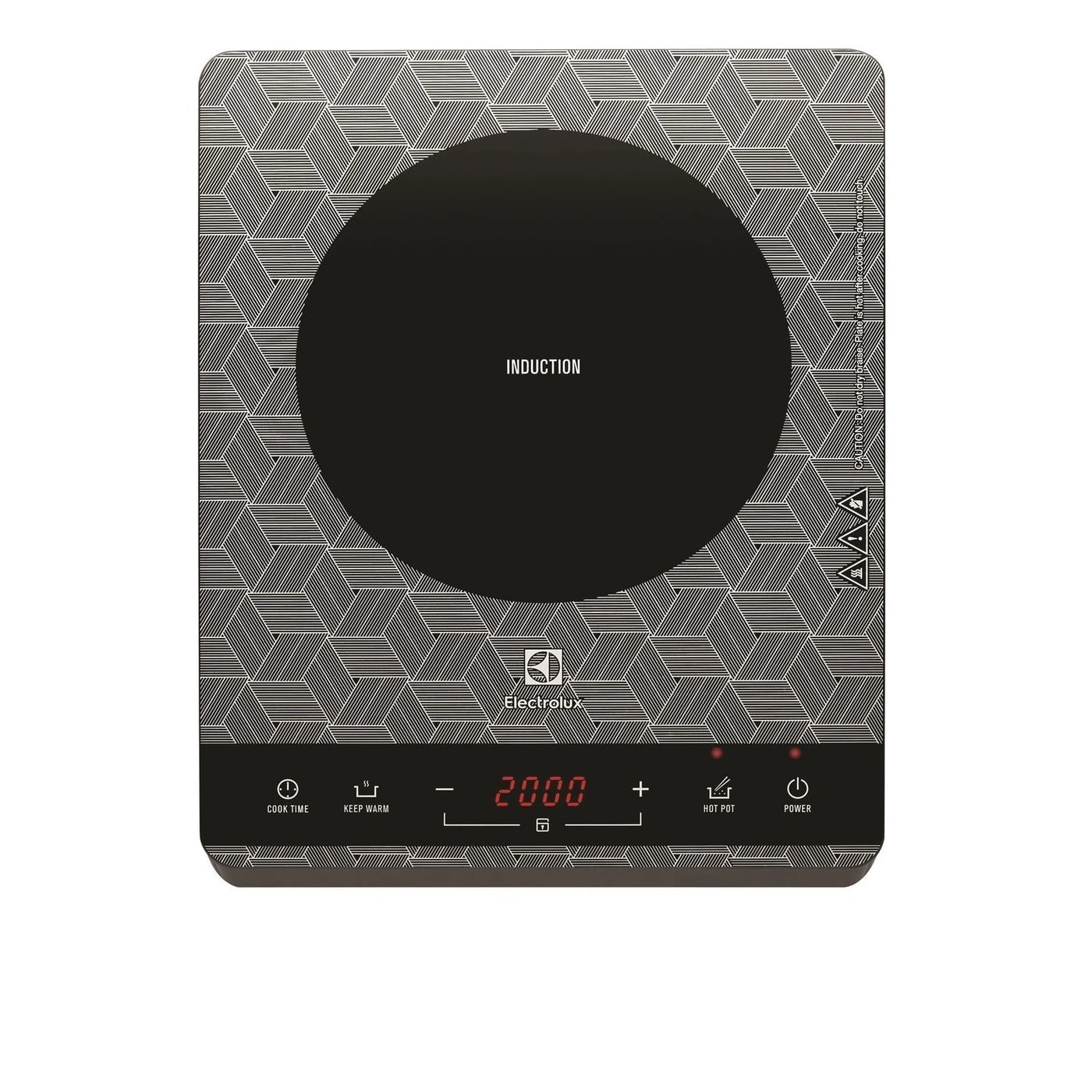 Electrolux ETD29PKB Table Top Induction Cooker
SGD 75.66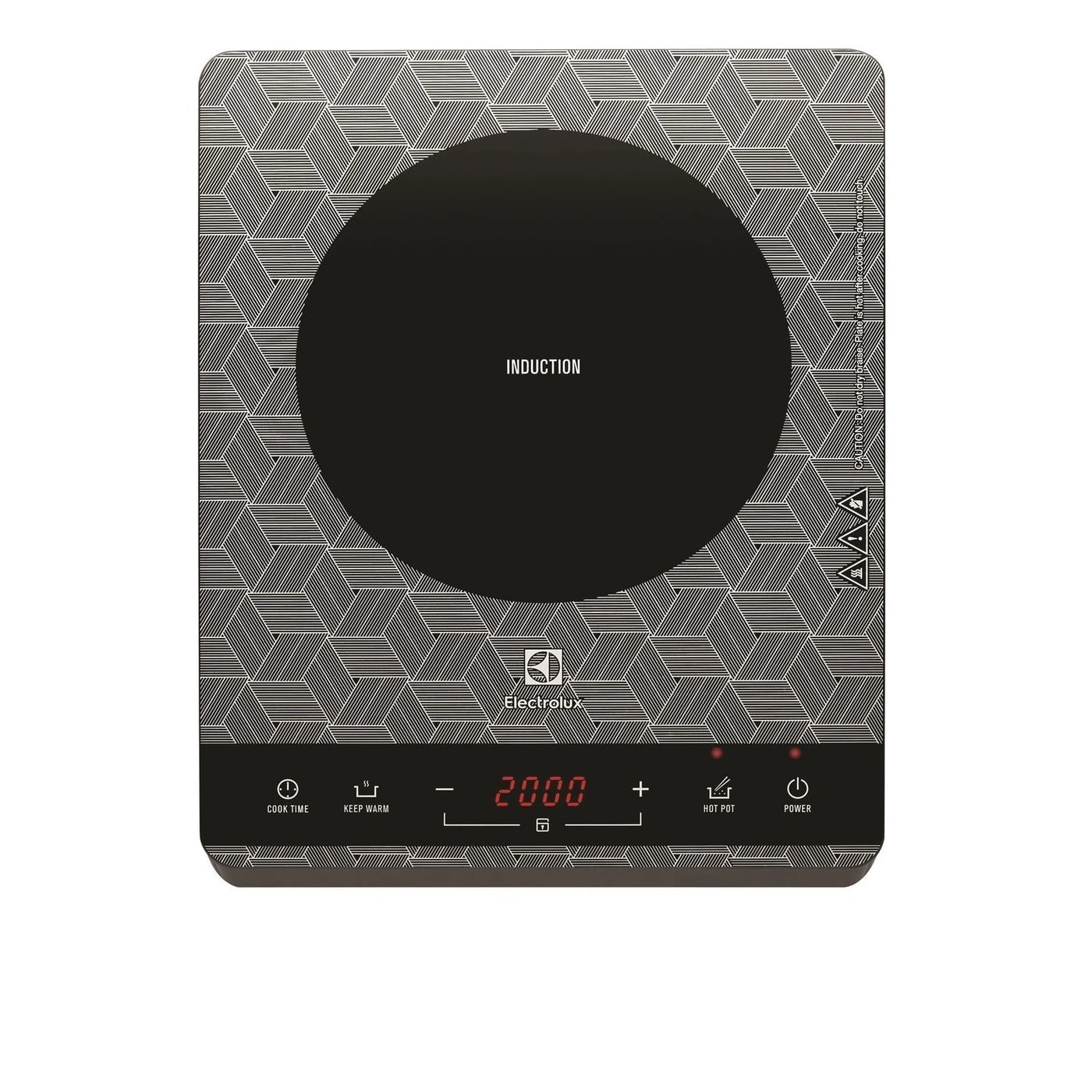 add_circle
Fast and even feating
add_circle
Keep warm function
add_circle
Safety features include pot detection, auto cut-off and child lock
add_circle
Cool touch surface
remove_circle
Touch buttons not very sensitive
remove_circle
Timer starts at 30mins, difficult to set shorter timer durations
remove_circle
No temperature control
Electrolux's single burner ETD29KB Table Top Induction Cooker gives you the flexibility to prepare a delicious meal anywhere in your home.
This small but powerful table top induction cooker uses 2000W of power with 8 levels of heat settings to instantly and consistently heat your food to perfection. Also featuring a built-in timer, a clear LED display, and an easy-to-use control panel, this convenient and compact kitchen tool is a no-brainer to have with you.
Electrolux Induction Hob is designed to heat the cookware directly to ensure the cooktop stays cool and safe to eliminate any concerns of accidental burning or hot cooking environment. It even features an auto cut-off system and child lock for added security.
Numerous reviewers have given this product a thumbs up, notably on its quick and quiet operation. Overall, the ETD29KB induction cooker is definitely a reliable tool to help you cook much faster and have your meal ready in no time.
---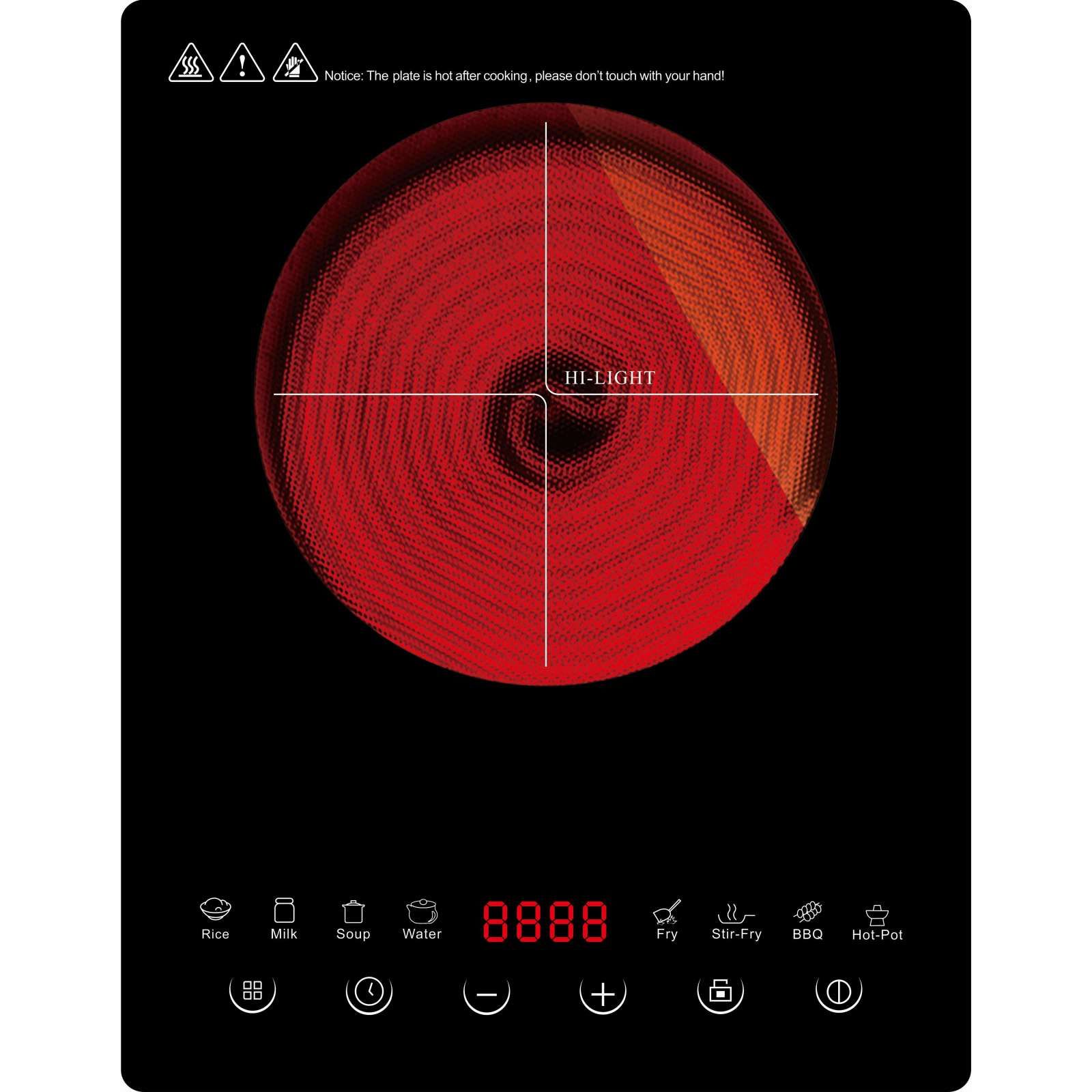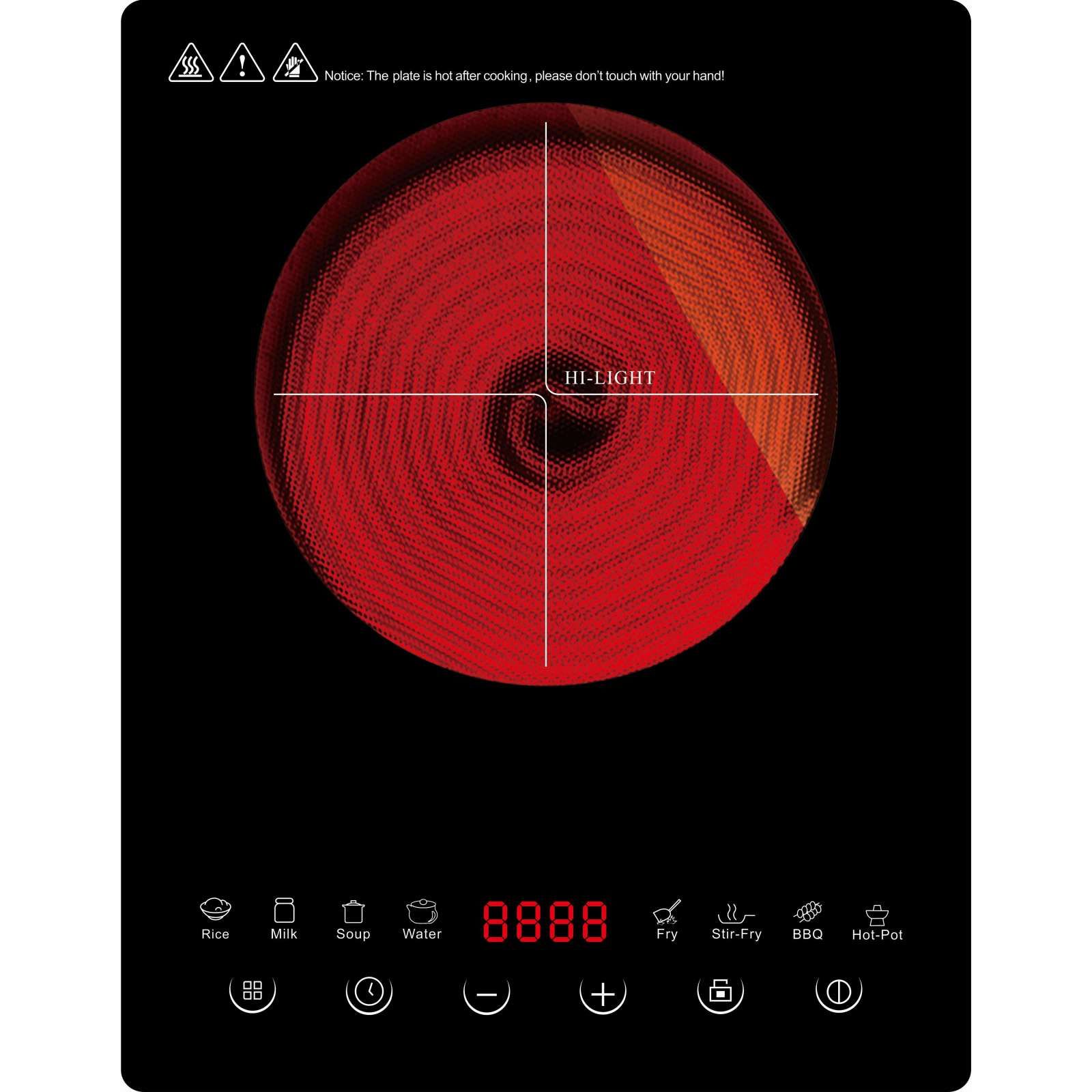 add_circle
8 Cooking functions and useful presets
add_circle
Overheating protection
add_circle
Works on any pot
remove_circle
No booster function
If you don't want to get another set of pots and pans just to use your cooker and prefer instead to just cook with the ones you already have, then the Mistral MCC317 would make a good choice.
This 2000W instant-heating infrared heat cooker works with any pot and features an easy-to-clean glass surface top that ensures better heat distribution. It even comes with 8 intelligent cooking functions and a pre-set menu to help you prepare a variety of dishes effortlessly. Meanwhile, its 4-hour timer makes it simple for you to be in full control without needing to watch over it all the time.
The MCC317 ceramic cooker also has overheat protection and child lock feature, so you can be sure of extra safety while using it. Aside the high-quality glass cooker plate that won't bake spills and are simple to clean, this cooker also has handles at the side for you to carry and move it around without having to come in contact with the hot surface.
Moreover, there's also a bright electronic display and convenient controls on the cooker to allows for monitoring the progress of your meals. All in all, it is a safe and perfect choice for any kitchen setup.
---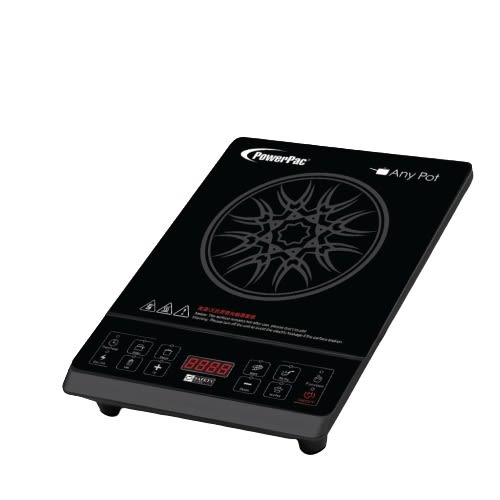 PowerPac Ceramic Cooker (PPIC833)
SGD 41.9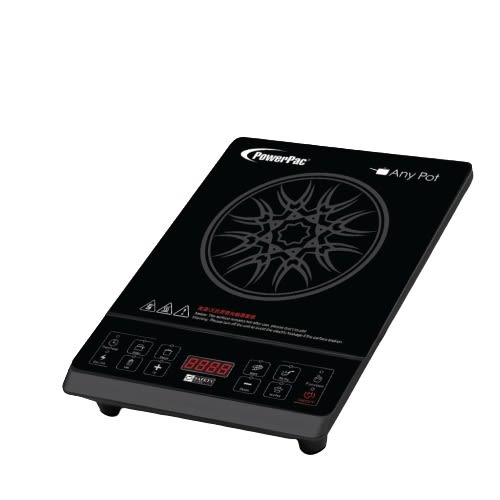 add_circle
Highly efficient infrared heat source
add_circle
Conveneint preset buttons
add_circle
Works on any pot
remove_circle
May be noisy to operate
remove_circle
No child lock
PowerPac's Any Pot Ceramic Cooker delivers highly efficient infrared heat source to let you prepare meals with any cookware of your choosing, even large woks! At a relatively small footprint of 360 x 280 x 65mm, this compact yet solid burner delivers adjustable heat controls from 200 to 2000 watts to offer faster heating time.
The PPIC833 ceramic cooker features a decent number of preset menus to help you effortlessly boil soup, water, milk, fry, BBQ, and even host a steamboat party. Constructed from durable ceramic glass, you can rely on this PowerPac cooker to handle large and heavy pots without cracking.
Besides the simple profile on this product, is also the incredibly affordable price of under SGD50. Thus, it's the perfect cooker for anyone who's new to induction cookers.
However, one downside to this is its lack of special safety features. But as long as you keep your hands off the hot surface, the PPIC833 ceramic cooker will make for the perfect companion for convenient cooking anytime, anywhere.
---
---
Frequently Asked Question:
Portable gas stove vs Induction cooker
Both portable gas stoves and induction cookers are convenient to use but they each come with their own pros and cons.
Compared to induction cookers, gas stoves can achieve higher flames much easily, making it a suitable choice for most Asian cooking as you can achieve that "wok-hei" (charcoal) taste. The flames also spread themselves along the bottom sides of the pan to ensure your meals cook quickly and evenly.
While portable gas stoves offer instant, constant flame that you can adjust easily, you will also need to make sure you bring along of a bottle of gas with your cooker. If you cook frequently, you'll find yourself needing to replace these bottles quite often.
Another drawback with gas stoves is their safety issue as they're more prone to fire accidents and gas leaks. Also, since you'll be cooking with an open flame, there are less steps you can take to reduce energy consumption, unlike electricity. Additionally, cleaning is not as easy as the gas hob comes with many external parts that need to be removed and clean individually.
Induction cookers, on the other hand, are much safer to operate, and they come in a variety of sleek, glass cooktop designs that can help enhance the overall kitchen décor. Not only is the flat glass top easy to maintain, but they also offer a much more stable work surface for you to place your pots and pans on.
The downside with induction cookers is that they tend to cook food more slowly compared to gas stoves. Since this type of cooker runs on electricity, it also means that the operation cost may be much higher than using a gas stove in the long run.
Depending on the type of induction cooker you use, some may not work with the type of cookware you have at home. Certain induction cookers use electrical conduction to produce heat and will then require a metal pot that is magnetic for it to work.
However, if you don't fancy getting special cookware, you can always opt for ceramic cooker. But you'll still need to make sure it has a flat base due to the physical nature of induction cookers.
Disclaimer: The pricing shown is just a good indication of how much these products are worth. The prices could change based on the e-commerce promotions that are going on. If some of the products are not available, do email us at [email protected] Thanks!