Now that Singapore has entered the Circuit Breaker Period, it's time to do our part by staying at home instead of going out unnecessarily. That means no eating out, walking in the park or even going to the gym. So, what do you do to keep fit then? By bringing the gym to your home!
If you're struggling to keep fit at home, one of the most no-brainer and popular forms of getting a full body workout involves the use of an exercise bike. You can perform interesting choreographies with them (via Spinning classes) to increase stamina, endurance or just to keep fit by doing simple cycling.
More: 9 Kettlebells To Include Into Your Full Body Workout Regime
What are the benefits of exercise bikes?
Instead of going outdoors, anything is much more convenient when you can do it right at home without the need to travel. You won't have to worry about your looks or going out on time as well, because it's going to be just you, working out for yourself.
Excellent for weight loss and cardio
Exercise bikes are excellent machines for weight loss and cardio. Just like outdoor cycling, exercise bikes tone up the muscles on the legs by strengthening them up through the pedaling. Well, hello long and slim legs!
An exceptional way to get your heart rate up, exercise bikes won't put stress on your back, hips, knees, and ankles compared to other workouts that may impact your joints. Instead, they can strengthen your heart and lungs while improving your body's way of utilizing the oxygen. With the right method and posture, they will surely get you to the next level!
More: 8 Best Yoga Mats For All Pro & New Yogis
How many calories can you burn with exercise bikes?
According to Harvard Health Publishing at Harvard Medical School, a 155-pound (70.3kg) person who cycles vigorously for half an hour on the exercise bike burns an estimated amount of 391 calories on average.
However, the number of calories burned on exercise bikes can vary prior to several factors. These include a person's body weight, gender, speed and persistence. Therefore, calorie burns are not the most crucial to focus on as there are wide-ranging benefits that exercise bikes offer. No matter how much you burn, your heart health, stress level, and endurance will improve in the long run.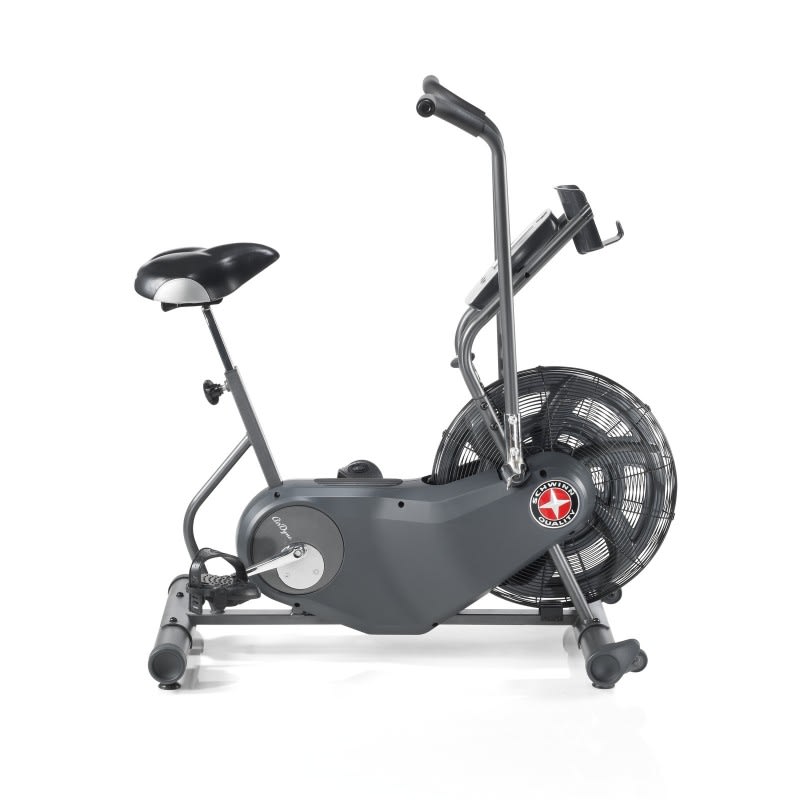 Schwinn AD6i Airdyne
SGD 1499.00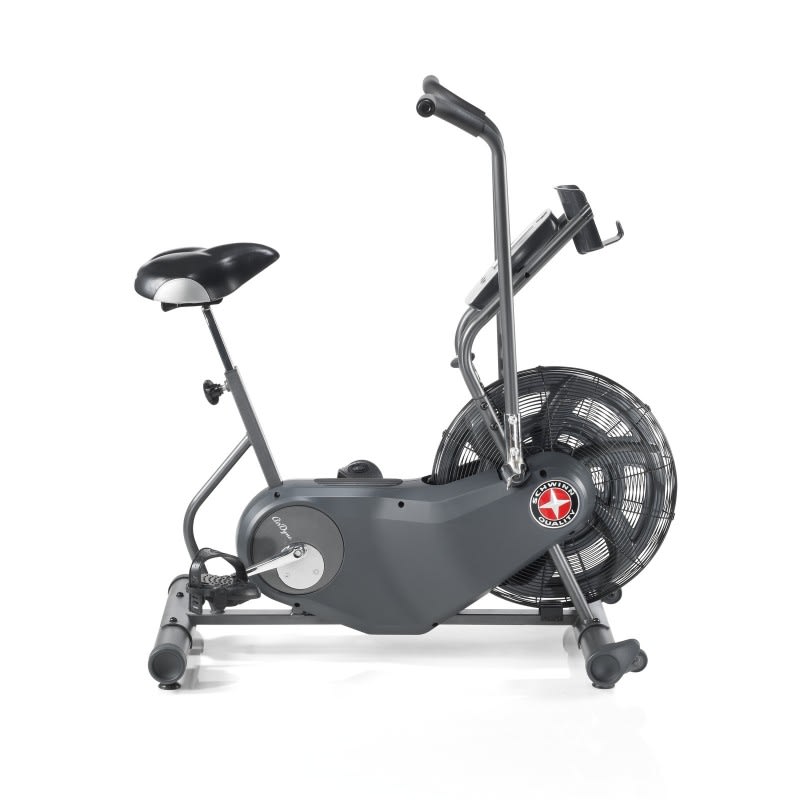 Boost up your energy with Schwinn AD6 Airdyne. Known to be one of the best exercise bikes out there, this bike has got the features and results to prove so. Its wind resistance nature helps to give you the full-body cardio workout. Thanks to its extra-padded oversized seat, working out is always a bliss!
---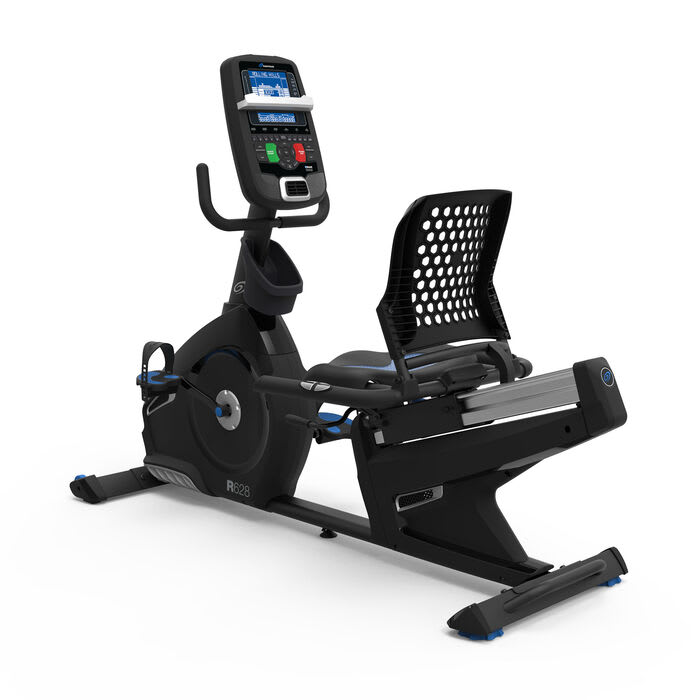 Nautilus R628 Performance Recumbent Bike
SGD 1599.00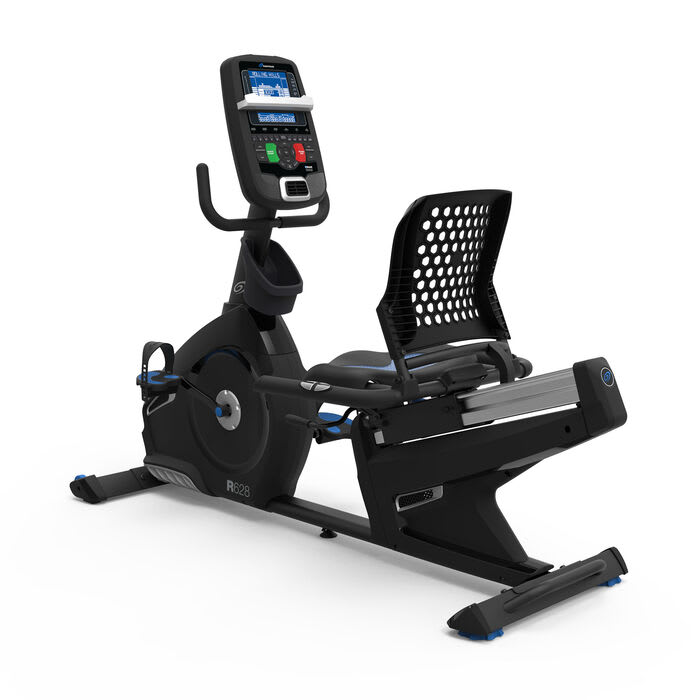 If you experience discomfort easily at your back, then you should consider a recumbent bike rather than an upright one. Designed for the serious cyclists with back problems, Nautilus Recumbent Bike delivers a build that offers comfort as well as fun with its slew of training programs.
There's also bluetooth connectivity and a complimentary app-based tracking tool that lets you exercise with different scenes as well as other online sportsmen. This bike will keep you going and beating, whenever and wherever.
---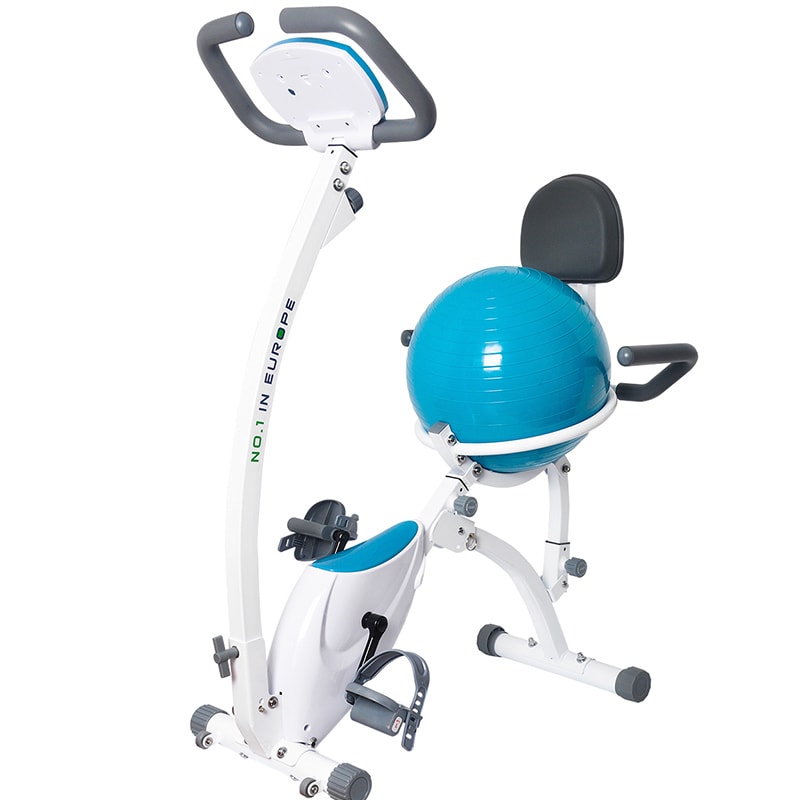 X6 Exercise Bike
SGD 199.00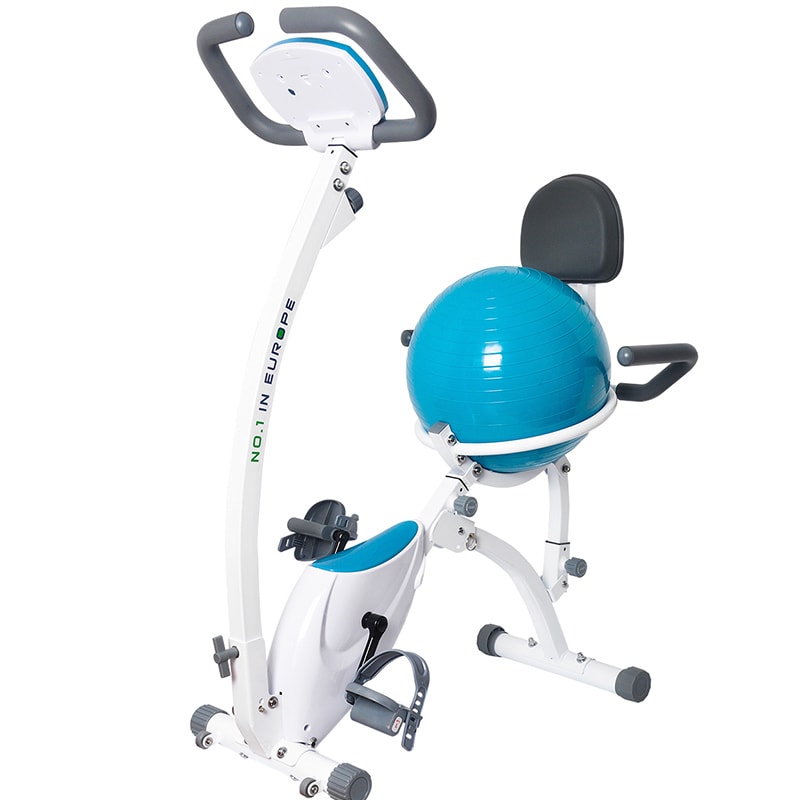 Pedal your way to the fit line with the innovative X6 Exercise Bike. This recumbent bike is designed with a unique feature of a horse riding experience as you cycle by using a yoga ball as its seat. Besides the quality flywheel with varying resistance setting up front for users' preferences, this bike has a height-adjustable seat that is made to be all-age friendly, even for the elderly!
---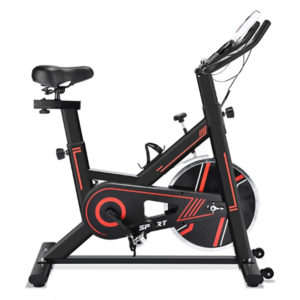 Spin Bike Basic
SGD 229.00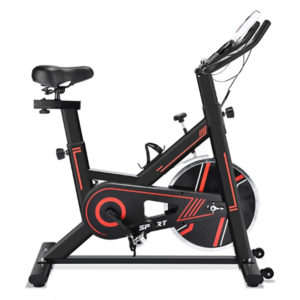 If you're planning to stay fit while sticking on the frugal lane, go for this machine. For such an affordable price, Spin Bike Classic is a great choice for those who'd like to keep their heart rate in check.
This self-assembling bike comes with a heavy duty frame build and retractable wheels so you can move it anywhere in the house! Its handlebars design encourages a great training posture, while the padded seat is cosy enough to get you going on the pedal for a longer run. All in all, this is an affordable bike that'll get the job done while keeping your pockets in check.
---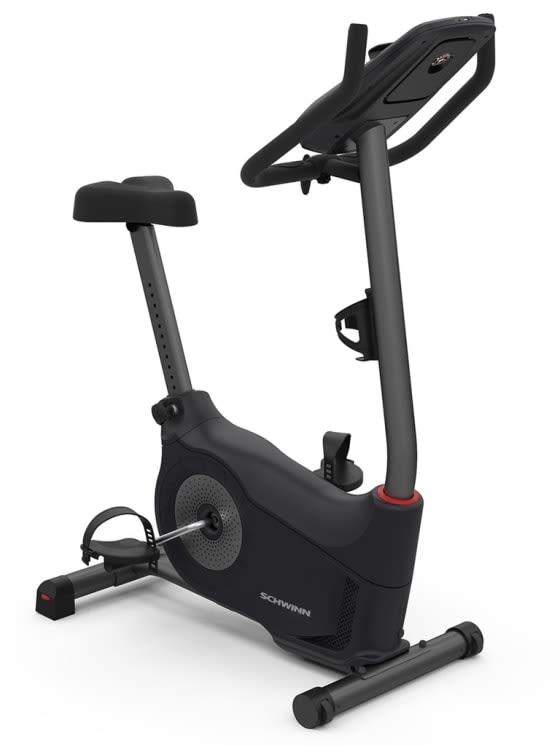 Schwinn 130i Upright Bike
SGD 629.00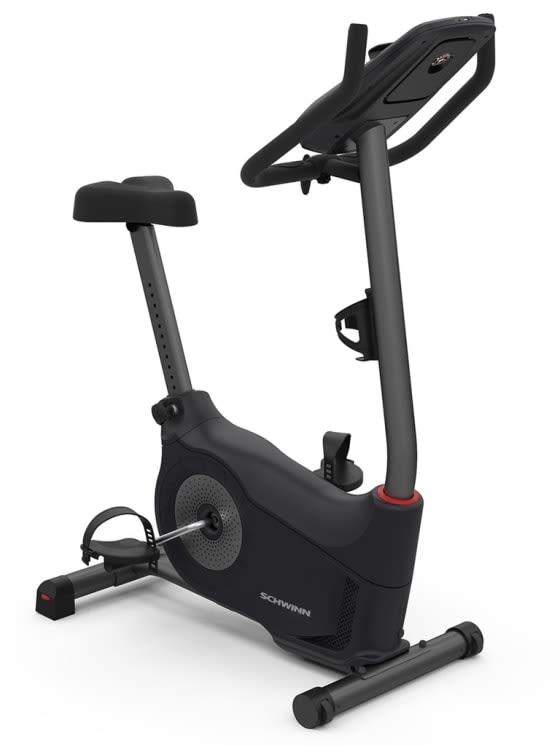 A reason to have upright bikes is that it gives you a more realistic and consistent feel to riding outdoors compared to recruitment bikes. Moreover, they encourage activation of abdominal muscles due to the upright position needed. So if that's what you're looking for, then get the Schwinn Upright Bike that's made for all the fitness enthusiasts.
This upright bike features 22 amazing customizable training programs through its LCD screens and 20 levels of resistance to build your strength. With a padded contoured seat and two contact levelers, you'll definitely get the maximum support and stability you need while focusing on your exercises.
---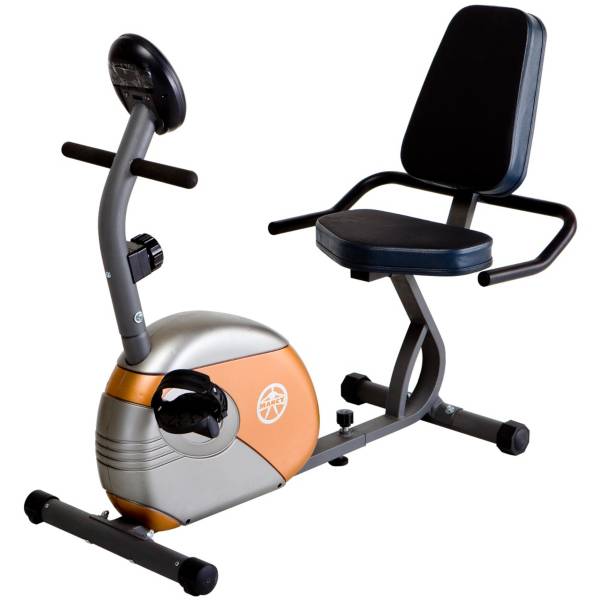 Marcy Recumbent Exercise Bike
SGD 323.00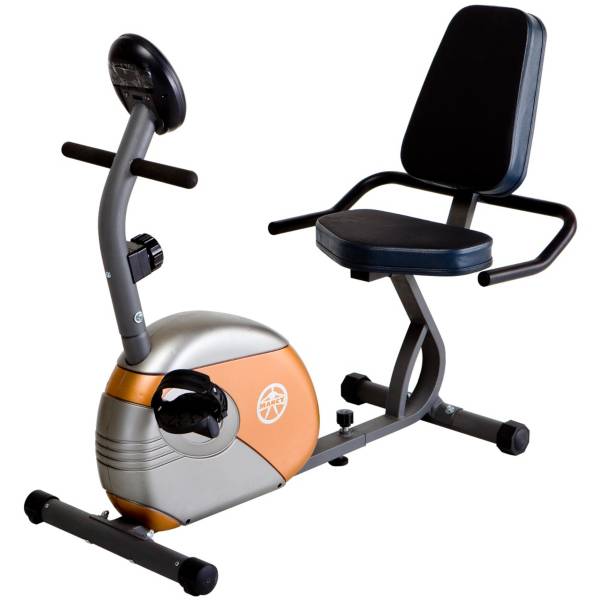 A well-known brand name in the fitness industry, Marcy has come up with its own recumbent exercise bike that features eight resistant levels simulating different terrains. Its ultra-functional LCD computer screen offers a sharp display and great readability while the padded seat and weighted pedals are ergonomically designed to provide an ultimate, comfortable workout!
---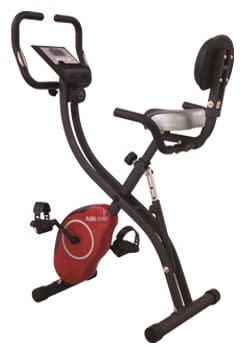 AIBI Gym Foldable Exercise Bike AB-B775
SGD 799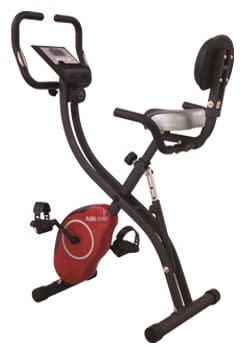 Put comfort into your training with this AIBI Exercise Bike that ensures no strain or pressure during each pedal. Although it's a smaller recumbent bike compared to its competitors, it provides full coverage comfort with its large backrest and seat.
Aside from comfort, this compact bike offers eight resistance levels for users to choose from as well as a small LCD screen that displays details such as calories speed, burned, distance and time.
---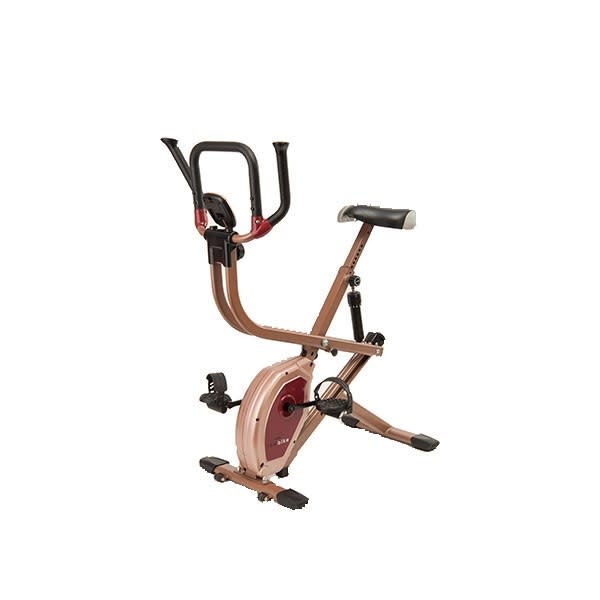 OTO Row Dual Exercise Bike
SGD 328.00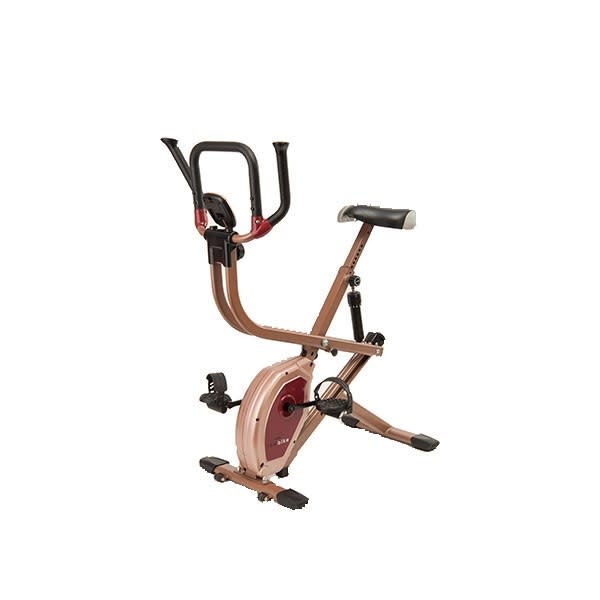 Exercise bikes normally get you to work out your legs, but not with OTO Row Dual Bike. This machine allows you to get into a pulling up position mimicking rowing action while you cycle those pedals so you can also work on those arms! Aside from providing adjustable strength level and tension for the movements, this bike is also easily foldable to put away out of sight.
---
Disclaimer: The pricing shown is just a good indication of how much these products are worth. The prices could change based on the e-commerce promotions that are going on. If some of the products are not available, do email us at [email protected] Thank you!