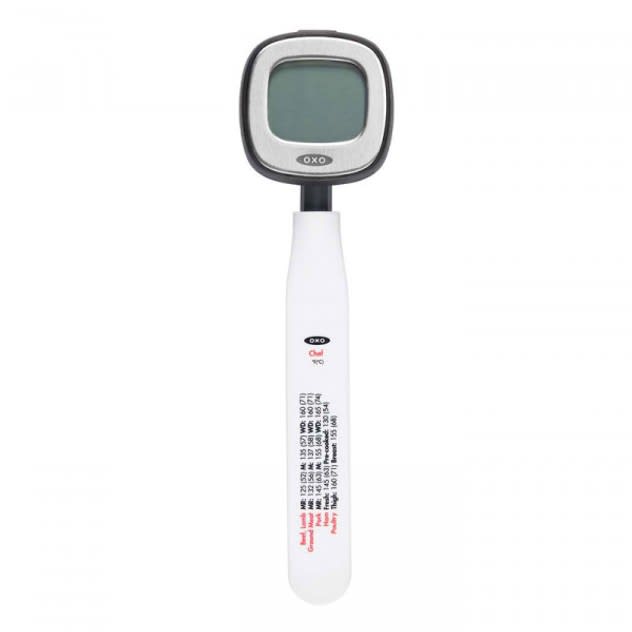 OXO
OXO Good Grips Digital Instant Read Thermometer
Where to buy

TheMarket NZ
OXO
OXO Good Grips Digital Instant Read Thermometer
Pros & Cons
add_circle
Fast response time for quick and accurate temperature readings.
add_circle
Easy-to-read digital display.
add_circle
Waterproof design for easy cleaning and maintenance.
remove_circle
It can be more expensive than other thermometers on the market.
Summary
Specifications Temperature range: 30 to 150°C (-22 to 302°F). Power source: Battery operated Accuracy: Not specified Display type: LCD Resolution: Not specified Size and weight: 108x16.5x268 mm (0.07kg) Overview The OXO Goodgrips Digital Instant Read Thermometer is a high-quality thermometer that provides precise and dependable temperature readings for food and liquids. Its digital display and quick response time make it a convenient and user-friendly tool for cooking and baking. Performance The OXO Goodgrips Digital Instant Read Thermometer is dependable with quick temperature readings. It has an easy-to-read digital display and a probe designed to offer reliable readings even in difficult-to-reach regions. Because the Thermometer is waterproof, it is simple to clean and maintain. Why Buy This It is an excellent investment for anyone who enjoys cooking or baking. Its quick response time and precise readings make it a vital tool for ensuring that food is cooked to the proper temperature, and its user-friendly design makes it simple for both rookie and professional cooks. The Thermometer is also constructed to last, with sturdy materials that assure consistent performance for years.
Articles