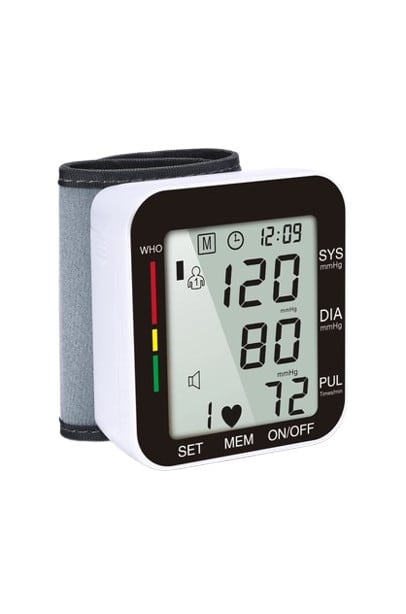 NZSell Digital Automatic Wrist Blood Pressure Monitor
Where to buy

TheMarket NZ
NZSell Digital Automatic Wrist Blood Pressure Monitor
Pros & Cons
add_circle
Portable, lightweight design
add_circle
Easy-to-read LCD.
add_circle
Blood pressure trend memory.
remove_circle
It may require proper positioning
Summary
Specifications Power Source: Battery Measurement Method: Oscillometric Display: Digital Accuracy: Reliable Memory Storage: Yes The NZSell Digital Automatic Wrist Blood Pressure Monitor is a dependable and convenient device for wrist measurements. The produced readings are accurate, and no manual inflation or deflation is required. It is an excellent option if you appreciate the ease of use of autonomous blood pressure monitors. Features Due to its lightweight construction and small dimensions, the blood pressure monitor is easy to wear and transport. Its automatic inflation and deflation technology eliminates manual pumping: Systolic and diastolic blood pressure, pulse rate, and other functions, such as aberrant heartbeat detection. Performance The NZSell Digital Automatic Wrist Blood Pressure Monitor has many valuable features. The device's memory can store multiple readings, allowing users and buyer to monitor their blood pressure over time. Multiple users may share a display with options for various user profiles and inflation rates.