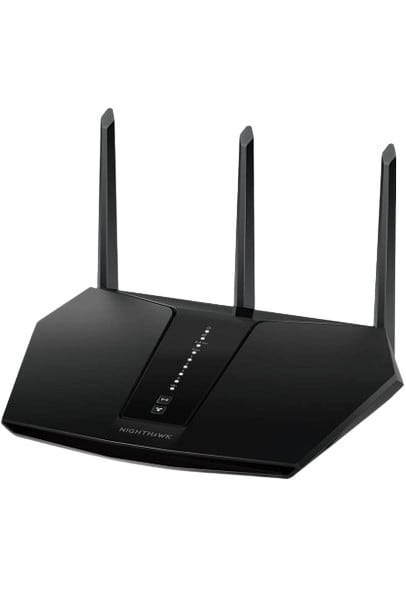 NETGEAR
NETGEAR Nighthawk AX2400 AX6 5-Stream WiFi 6 Router
Where to buy

TheMarket NZ
NETGEAR
NETGEAR Nighthawk AX2400 AX6 5-Stream WiFi 6 Router
Pros & Cons
add_circle
Advanced beamforming for coverage and range
add_circle
MU-MIMO device connectivity
add_circle
The Nighthawk app simplifies setup and management.
remove_circle
It may cost more than other routers.
Summary
Specifications: Wireless Standards: WiFi 6 Speed and Bandwidth: High-speed LAN and WAN Ports: Multiple LAN ports, 1 WAN port USB Ports: 1 USB port Security Features: Enhanced security features Router Software: NETGEAR router software If you require a WiFi router with an exceptional range, the NETGEAR Nighthawk AX2400 AX6 WiFi 6 Router is your best option. The Nighthawk AX2400 with WiFi 6 (802.11ax) technology outperforms its predecessors in speed, capacity, and overall performance. Features: Due to its architecture for extended coverage, the Nighthawk AX2400 is ideal for larger residences and other locations where WiFi signals must travel long distances. Using cutting-edge beamforming technology, it intelligently focuses the WiFi signal on the devices that require it the most to improve performance and coverage. Performance: The Nighthawk app makes it simple to configure and administer the router. It also lets you prioritize devices for optimal performance, modify network settings, and create guest networks. It has multiple Ethernet ports for wired connections and a USB port for file sharing and video transmission.
Articles