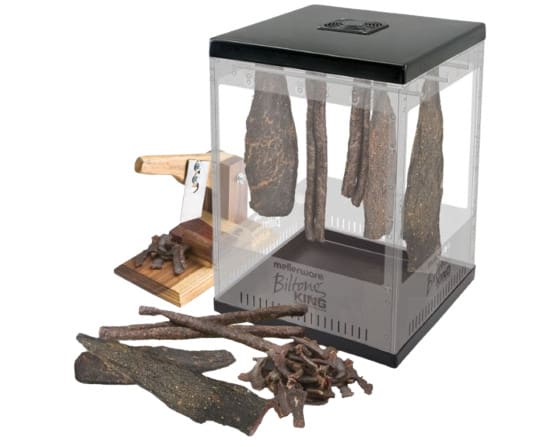 Mellerware
Mellerware Biltong King Food Dehydrator
Where to buy

TheMarket NZ
Mellerware
Mellerware Biltong King Food Dehydrator
Pros & Cons
add_circle
Large meat drying chamber with hanging rods.
add_circle
Temperature-adjustable thermostat.
add_circle
Adequate heat and airflow for even drying.
remove_circle
Limited Versatility
Summary
Specifications: Dehydrating Capacity: Large Temperature Range: Adjustable Heating Source: Electric Timer and Auto-Shutoff: No Airflow System: Natural convection The Mellerware Biltong King Food Dehydrator is an excellent option for drying your meats and making delicious biltong. It is designed with carnivores in mind and provides features and functionality optimized for preserving meat. Due to the programmable thermostat, you can dry meat at the optimal temperature for flavor and preservation. Features: The ventilation mechanism of the Mellerware Biltong King Food Dehydrator ensures that the meat dries evenly by alternating between hot and cold air. You can observe the drying process through the transparent top of the dehydrator without influencing the drying environment. Performance: This food dehydrator performs exceptionally well in preserving meat. The meat is properly dried by meticulously controlling the temperature and circulating cool, dry air while its flavor and texture. Using this dehydrator, you can confidently dry roots for jerky or long-term storage, such as biltong.
Articles