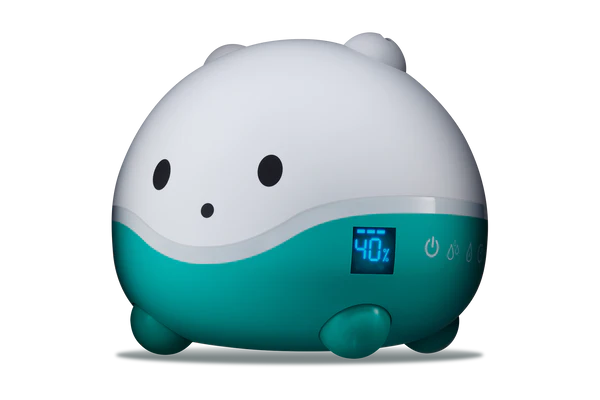 Little Hippo
Little Hippo Wispi - 3-in-1 Humidifier, Diffuser & Night Light
Where to buy

TheMarket NZ
Little Hippo
Little Hippo Wispi - 3-in-1 Humidifier, Diffuser & Night Light
Pros & Cons
add_circle
3-in-1 device that functions as a humidifier, diffuser, and night light.
add_circle
The large water tank provides up to 12 hours of continuous use.
add_circle
Portable and compact design
Summary
Specifications Tank Capacity: 1.6L Power consumption: Not specified Coverage Area: 10-20m2  Mist output: 80-160ml Type of Humidifier: Not specified Run Time: 8-12 hour run time Overview The Little Hippo Wispi is a baby-specific 3-in-1 humidifier, diffuser, and night light. It is one of the best humidifiers in New Zealand, and it offers a variety of advantages for infants, such as soothing dry skin, reducing congestion, and promoting a better night's sleep. This device is simple to use and ideal for parents looking for a quick way to improve their baby's respiratory health. Features The Little Hippo Wispi 3-in-1 Humidifier, Diffuser, and Night Light have several standout features. It is a small, portable device that fits easily into a nursery. The device has a large water tank that can run non-stop for up to 12 hours, ensuring your baby's room is comfortable all night. It also works as a diffuser, so you can add essential oils to create a relaxing and soothing environment. The night light feature emits a soft, comforting glow that helps to soothe and calm your baby before bed. Performance It performs excellently. It offers immediate relief to infants with respiratory problems such as dry skin and congestion. The device is simple to operate and maintain, and its large water tank allows for up to ten hours of continuous use. The diffuser feature works well, allowing you to use your preferred essential oils to customize the atmosphere in your baby's room.
Articles