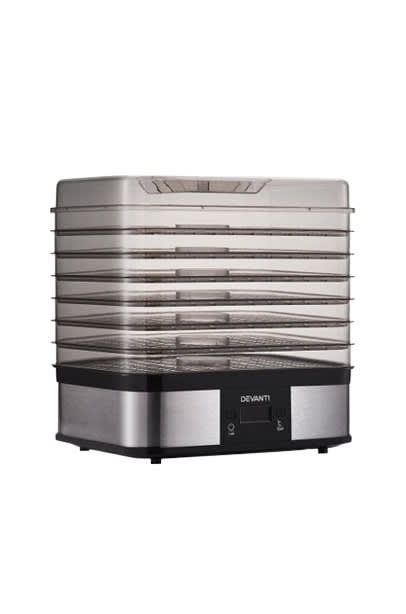 Devanti
Devanti Food Dehydrator with 7 Trays - Silver
Where to buy

TheMarket NZ
Devanti
Devanti Food Dehydrator with 7 Trays - Silver
Pros & Cons
add_circle
Flexible, removable trays for cleaning.
add_circle
Powerful heating element and rear-mounted fan for airflow.
add_circle
Controlled drying temperature.
remove_circle
It may be more extensive and more expensive.
Summary
Specifications: Dehydrating Capacity: 7 Trays Temperature Range: Adjustable Heating Source: Electric Timer and Auto-Shutoff: Yes Airflow System: Convection The silver Devanti 7-Tray food dehydrator is a large and powerful machine designed for industrial drying operations. Due to its large capacity and powerful features, it is an excellent option for heavy-duty drying needs at home or in the workplace. The unit's silver finish lends it an elegant appearance, making it suitable for use in industrial and commercial environments. The containers can be moved and removed for customized drying and maintenance. Features: The Devanti food dehydrator comes with many helpful accessories. To ensure uniform drying across all trays, the back of the appliance is equipped with a fan and powerful heating elements. The glass door enables simple monitoring of the drying process without opening the machine, ensuring uniform drying at all times. Performance: The Devanti Food Dehydrator is a high-performance appliance that reliably dries food. It utilizes a powerful heating element and a fan to rapidly and evenly dry food while preserving its texture, flavor, and nutritional value. The temperature settings allow for the dehydration of fruits, vegetables, meats, and botanicals.
Articles