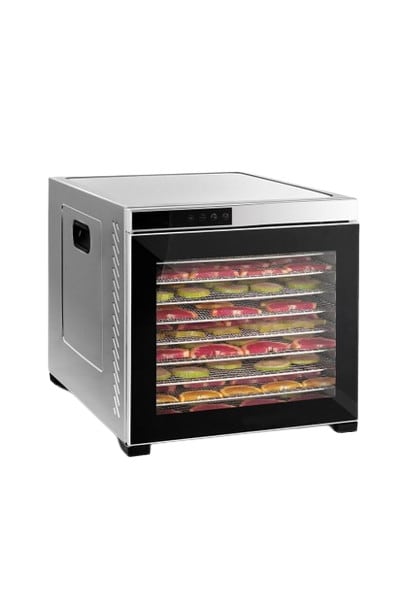 Devanti
Devanti Commercial Food Dehydrator
Where to buy

TheMarket NZ
Devanti
Devanti Commercial Food Dehydrator
Pros & Cons
add_circle
Large herb-drying capacity.
add_circle
Controlled drying temperature.
add_circle
Powerful fan and practical airflow for even drying.
remove_circle
More expensive compared to smaller
Summary
Specifications: Dehydrating Capacity: High Temperature Range: Adjustable Heating Source: Electric Timer and Auto-Shutoff: Yes Airflow System: Forced Dehydrating herbs means their flavor, aroma, and nutritional value, and the Devanti Commercial Food Dehydrator is the ideal appliance for this. This food dehydrator can simultaneously dry a substantial quantity of vegetation.  Features: Regardless of the type of herbs you are drying, the Devanti Commercial Food Dehydrator's temperature settings will allow you to attain the optimal intensity. This characteristic preserves the plants' nutritional value, flavor, and essential oils while drying them at the ideal temperature. Performance: The outstanding performance and durability of the Devanti Commercial Food Dehydrator allow for continuous and extended use. It will last many seasons of herb preservation due to its sturdy construction and reliable components.
Articles