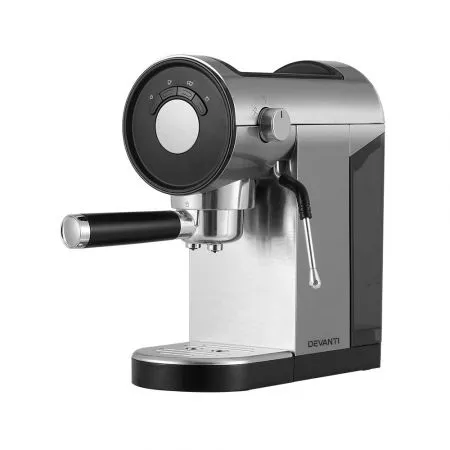 Devanti
Devanti Coffee Machine Espresso
Where to buy

TheMarket NZ
Devanti
Devanti Coffee Machine Espresso
Pros & Cons
add_circle
Compact and portable size for easy transport and storage.
add_circle
Versatile brewing options with compatibility for ground coffee or coffee pods.
add_circle
15-bar pressure pump for optimal extraction of espresso.
remove_circle
Smaller water tanks and bean capacity may require frequent refilling.
Summary
Specifications Pressure: Typically, espresso machines operate at a pressure of 9 to 15 bars for optimal extraction.  Boiler Capacity: The boiler capacity can vary, ranging from small boilers with around 500ml to larger boilers with several liters of capacity.  Grouphead: The group head is part of the espresso machine that facilitates the extraction of coffee by forcing hot water through the coffee grounds. Depending on the machine, it may come in different sizes, such as 58mm or 54mm.  Portafilter Size: Portafilter sizes can also vary, typically ranging from 54mm to 58mm, and may be single or double-spouted.  Milk Frothing: Some espresso machines have a built-in steam wand for manual milk frothing, while others may have an automatic system. Size and weight: 14 x 29 x 30cm & 8kg Overview The Devanti coffee espresso machine is considered one of the best mini espresso machines on the market due to its compact size, portability, and versatility in brewing espresso on the go or in small spaces. Features The Devanti Coffee Machine Espresso features a 15-bar pressure pump for optimal extraction, a steam wand for frothing milk, and a removable drip tray for easy cleaning. It is compatible with ground coffee or coffee pods, providing flexibility in brewing options. Performance The Devanti Coffee Machine Espresso is a compact and portable espresso machine that is ideal for small kitchens, dorm rooms, offices, or travel. It has a modern design with easy-to-use controls, a removable water tank, and durable stainless steel construction.
Articles