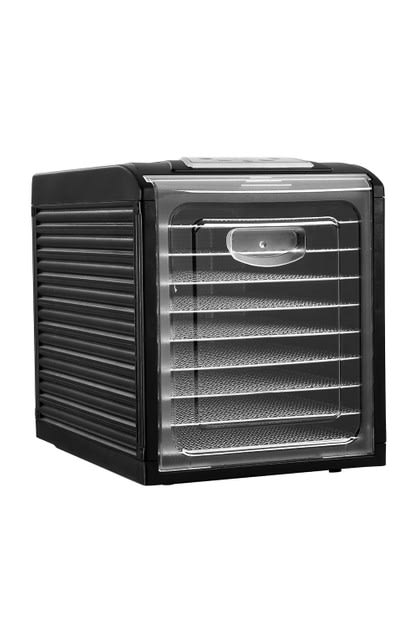 Devanti
Devanti 9 Tray Food Dehydrators Commercial Beef Jerky Maker Fruit Dryer Black
Where to buy

TheMarket NZ
Devanti
Devanti 9 Tray Food Dehydrators Commercial Beef Jerky Maker Fruit Dryer Black
Pros & Cons
add_circle
Nine-tray commercial dryer.
add_circle
Durable commercial construction.
add_circle
Precision thermostat.
remove_circle
Its bulk and several trays require lots of space.
Summary
Specifications: Dehydrating Capacity: High Temperature Range: Adjustable Heating Source: Electric Timer and Auto-Shutoff: Yes Airflow System: Forced The Devanti 9 Tray Food Dehydrator is suitable for commercial use because it has a large capacity and can quickly dry large quantities of food. This professional food dehydrator's nine large trays make it ideal for dehydrating large amounts of food simultaneously.  Features: Due to its commercial-grade construction, the Devanti 9 Tray Food Dehydrator is heavily for users. The streamlined black design makes it an attractive addition to any commercial kitchen or food preparation area. This dehydrator's thermostat is programmable, allowing you to dry food optimally.  Performance: The Devanti 9-Tray Food Dehydrator is unique because it consistently provides reliable dehydration. Due to the powerful motor and superior airflow system, all containers will dry thoroughly and uniformly.
Articles