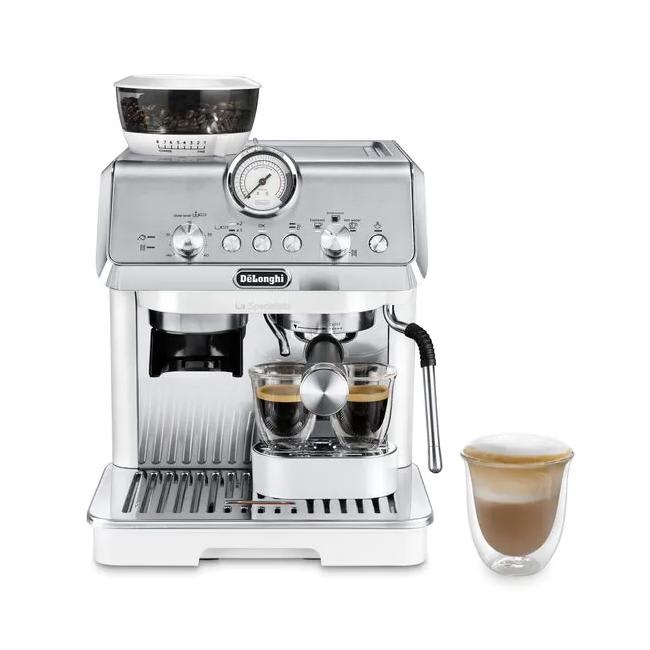 Delonghi
Delonghi La Specialista Arte Manual Espresso Machine
Where to buy

TheMarket NZ
Delonghi
Delonghi La Specialista Arte Manual Espresso Machine
Pros & Cons
add_circle
Dual heating system for optimal temperature stability.
add_circle
Sleek design with stainless steel housing.
add_circle
Convenient features like a hot water spout and cup warmer.
remove_circle
Requires ample counter space due to its relatively large footprint.
Summary
Specifications Pressure: 19 bars (high-pressure pump for optimal espresso extraction). Boiler Capacity: 2L (large capacity boiler for extended use). Grouphead: Dual heating system with independent group head heating. Portafilter Size: 58mm (standard portafilter size for commercial-grade espresso machines). Milk Frothing: Manual steam wand for frothing milk to your desired texture and temperature. Size: Approximately 14.2 x 17.3 x 14.8 inches Weight: Approximately 31.7 lbs Overview The DeLonghi La Specialista Arte Manual Espresso Machine EC9155W is an excellent choice for espresso lovers who care a lot about being able to handle the brewing process by hand. With this machine, you can make personalized, high-quality espresso drinks. Features The La Specialista Arte has a 19-bar solid pressure pump, a built-in, conical burr grinder, and a dual heating system for better temperature stability, all of which make it possible to brew coffee at an excellent level. Performance The DeLonghi Espresso Machine EC9155W is an elegant and modern espresso machine with a stainless steel housing, easy-to-use controls, and many useful features like a cup warmer, a hot water spout, and an indicator that shows how much water is in the machine.
Articles