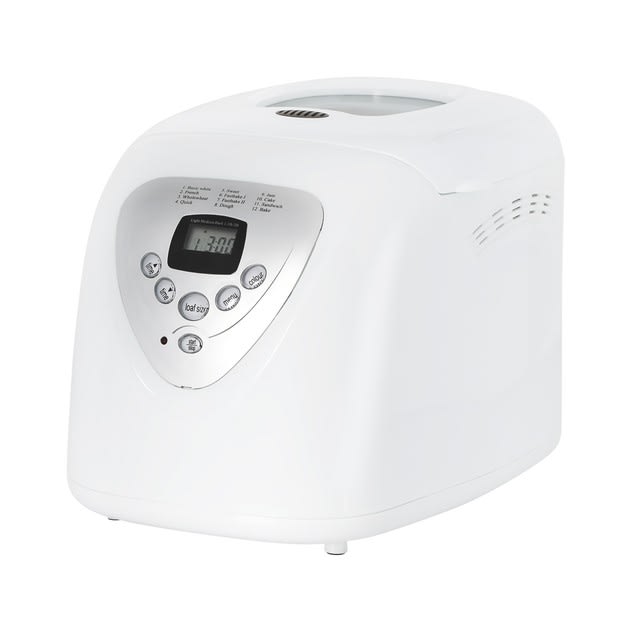 Craig & Russell
Craig & Russell Bread Maker
Craig & Russell
Craig & Russell Bread Maker
Pros & Cons
add_circle
Simple to use with just 3 easy steps: add ingredients, select the cycle, and start!
add_circle
Cook and clean thanks to the thermo casing efficiently, a non-stick coating
add_circle
Keep on top of proceedings with the easy-read digital display
Summary
Specifications Capacity: 1Kg Power: 700W Programs: Not specified Delay Timer: 13 hour Bread Type: Not specified Crust Settings: Light, medium, or dark Kneading Blade: Aluminium - Non-stick coated Overview If you want to start making fresh bread at home but don't want to break the bank, the Craig & Russell Bread Maker is a great option. The bread machine has a wide variety of functions for its affordable price, including 19 distinct programs for making everything from white and whole wheat to sweet and gluten-free loaves. Features The bread maker's 1.5-kilogram capacity means it can bake plenty of loaves for a large family or group. It's easy to plan with the timer's 13-hour delay function; just set it the night before, and you'll have fresh bread in the morning. The bread machine has a straightforward control panel and basic equipment, including a measuring cup and spoon, a kneading blade, and a hook for removing the finished loaf. Performance According to testimonials from satisfied buyers, the Craig & Russell Bread Maker is a fantastic buy for the money. The buyer appreciated that the bread machine's 19 settings allowed them to bake everything from simple white bread to more elaborate fare like French bread and pizza dough.
Articles