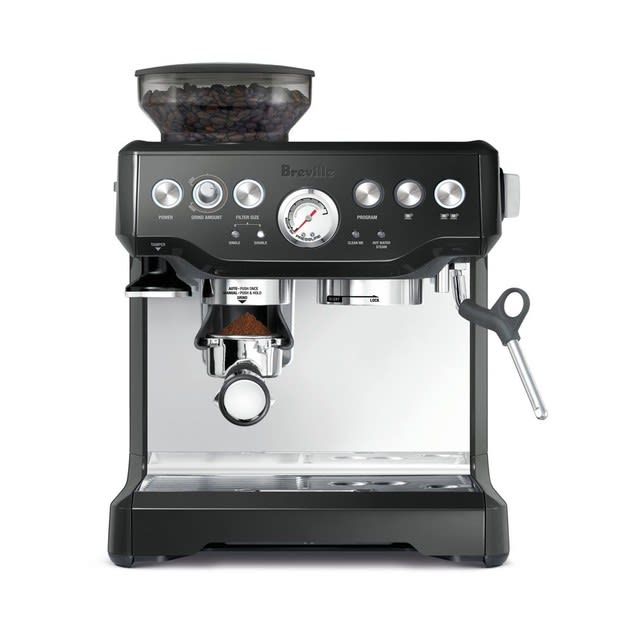 Breville
Breville The Barista Express - Black Sesame
Where to buy

TheMarket NZ
Breville
Breville The Barista Express - Black Sesame
Pros & Cons
add_circle
Built-in, conical burr grinder for fresh and customizable coffee grinding.
add_circle
Precise thermocoil heating system for optimal water temperature.
add_circle
Sleek design with user-friendly controls and removable water reservoir.
remove_circle
Relatively large footprint may require ample counter space.
Summary
Specifications Pressure: 15 bar pressure pump  Boiler Capacity: Thermocoil heating system with a 67 fl. oz (2L) water tank  Grouphead: 54mm stainless steel single or double-wall filter  Portafilter Size: 54mm portafilter size  Milk Frothing: Steam wand for manual milk frothing  Size and weight: Dimensions of approximately 12.5" (W) x 12.6" (D) x 13.1" (H) and weight of approximately 23 lbs (10.4 kg) Overview The Black Sesame Barista Express is one of the best espresso machines with an integrated grinder. This is due to its reliable performance, user-friendly interface, and ability to easily create delicious, freshly brewed espresso, which is a sentiment shared by most people. Features With its strong 1600W Thermo coil heating technology, the Barista Express keeps the water temperature exactly and regularly at 195 degrees Fahrenheit, which is the right temperature for making espresso. Because the conical burr grinder has different settings, the coffee beans can be ground right before use. This keeps their freshness and taste. Performance This Breville is a The Barista Express, an espresso machine with a conical burr grinder built in, and is meant to make making espresso as easy as possible. In addition to an easy-to-use control panel and a water container that can be removed, the machine comes with a stainless steel frothing pitcher and tamper.
Articles