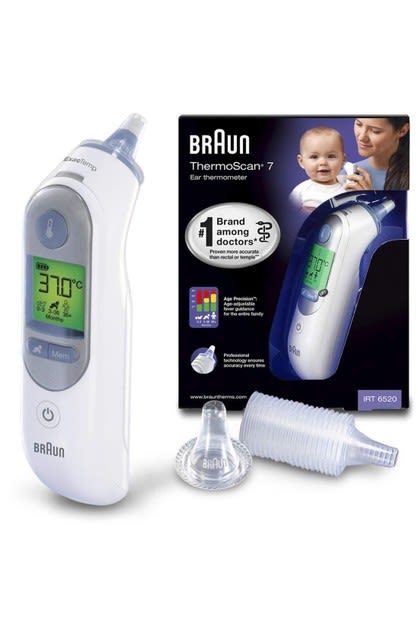 Braun
Braun ThermoScan 7 Ear Thermometer
Where to buy

TheMarket NZ
Braun
Braun ThermoScan 7 Ear Thermometer
Pros & Cons
add_circle
Provides accurate and reliable temperature readings.
add_circle
Easy to use and provides results in seconds.
add_circle
Features a memory function for tracking temperature readings over time.
remove_circle
More expensive than some other thermometers on the market.
Summary
Specifications Temperature range: Not specified Power source: Battery operated Accuracy: Not specified Display type: LCD Resolution: Not specified Size and weight: 0.36kg Why It's Our Top Pick? The Braun ThermoScan 7 Ear Thermometer is one of the best thermometers in New Zealand, providing quick and precise temperature readings. Its comprehensive features and ease of use make it an excellent choice for parents and caregivers who want to protect their loved ones' health and well-being. While it is more expensive than other thermometers and requires the replacement of disposable lens filters for hygienic reasons, its many advantages make the investment well worth it. Overview The Braun ThermoScan 7 Ear Thermometer is a high-quality thermometer with quick and accurate temperature readings. This Thermometer is designed for use in the ear and gives fast and precise results, making it an indispensable tool for parents and carers. Performance It is well-known for its precision and dependability. Its innovative pre-warmed tip and positioning guidance technology assist assure precise readings every time, and its memory feature saves the last nine temperature measurements for simple tracking over time. The Thermometer also has a large, easy-to-read display and a fever indicator to warn users of dangerous temperatures. Why Buy This The Braun ThermoScan 7 Ear Thermometer is vital for parents and carers who wish to ensure precise temperature readings for their loved ones. Its advanced features and dependable performance make it the best choice for individuals looking for a high-quality thermometer on which they can rely.
Articles