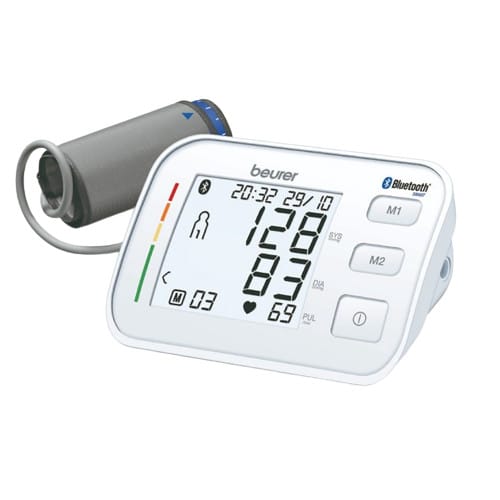 Beurer
Beurer Upper Arm Blood Pressure/Pulse/Health Monitor Bluetooth Digital Display
Where to buy

TheMarket NZ
Beurer
Beurer Upper Arm Blood Pressure/Pulse/Health Monitor Bluetooth Digital Display
Pros & Cons
add_circle
Reliable blood pressure readings.
add_circle
Bluetooth data transfer and tracking.
add_circle
Easy-to-read digital display.
remove_circle
May require smartphone
Summary
Specifications Power Source: Battery Measurement Method: Oscillometric Display: Digital Accuracy: High Memory Storage: Yes If you want to double-check your blood pressure at home, the Beurer Upper Arm Blood Pressure/Pulse/Health check with Bluetooth and Digital Display is an excellent option. The device is simple and accessible to use and provides precise health data. Bluetooth connectivity and a digital display make monitoring your blood pressure at home straightforward. Features This blood pressure monitor has an adjustable, flexible, and comfortable upper-arm cuff, making it ideal for extended use. The device's digital screen displays your pulse rate, systolic and diastolic blood pressure levels, and other vital signs. Bluetooth functionality allows customers to pair the monitor with their mobile devices effortlessly and submit data to an app or program for in-depth analysis. Performance The Beurer Upper Arm Blood Pressure/Pulse/Health Monitor provides accurate and reliable measurements. It includes a function for storing numerous sizes so that users can monitor their development over time. In addition to intuitive user interfaces and the ability to detect irregular heartbeats, many modern monitors also can detect irregular heartbeats.
Articles