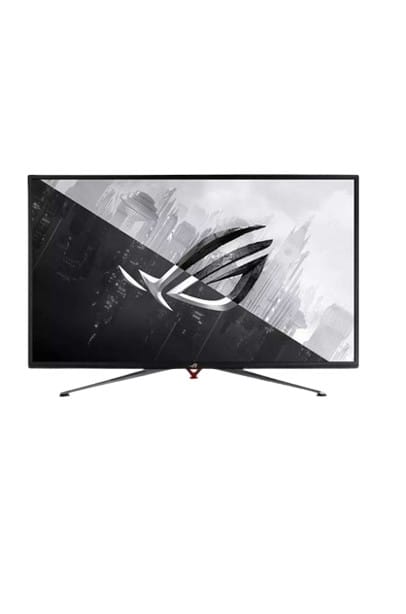 ASUS
ASUS ROG Strix XG43UQ 43"
Where to buy

TheMarket NZ
ASUS
ASUS ROG Strix XG43UQ 43"
Pros & Cons
add_circle
Stunning 4K display for lifelike visuals.
add_circle
Play smoothly with a high refresh rate and minimal response time.
add_circle
Large screen for immersive gameplay.
remove_circle
The monitor's large size may not suit those with limited desk space.
Summary
Why It's Top Pick: Are you scouting for the best gaming monitor nz? Many players like to use the 43-inch ASUS ROG Strix XG43UQ gaming monitor. With its vast 43-inch screen, the ASUS ROG Strix XG43UQ is an excellent player choice. A big screen makes getting into a video game more accessible because you can see more. The screen's 4K Ultra High Definition (UHD) resolution shows pictures that are very clear and full of color. Because there are so many pixels, every feature in your games will be clear. It's excellent for fast-paced action games because the high update rate keeps motion blur to a minimum. Specifications: Screen Size: 43 inches Resolution: 3840 x 2160 (4K Ultra HD) Refresh Rate: 144Hz Response Time: 1ms (MPRT) Panel Type: VA Connectivity: HDMI 2.0, DisplayPort 1.4, USB 3.0, USB Type-C The ASUS ROG Strix XG43UQ is the best 4K gaming display money can buy, and we're happy to show it to you. This monitor's 43-inch screen is big enough to steer clear pictures and make games more exciting. Features: The 4K quality of the XG43UQ gives you clear and detailed images that bring your games to life. The 1ms monitor's response time and 144Hz refresh rate work together to eliminate blurring and ghosting, making games more responsive and accurate. Performance: There is talk about the good things about the ASUS ROG Strix XG43UQ. First, the big screen puts you right in the middle of everything. The 4K resolution ensures that the pictures are beautiful and every detail is precise. The fast refresh rate and low response time will make it impressive to play games and put you ahead of the race.