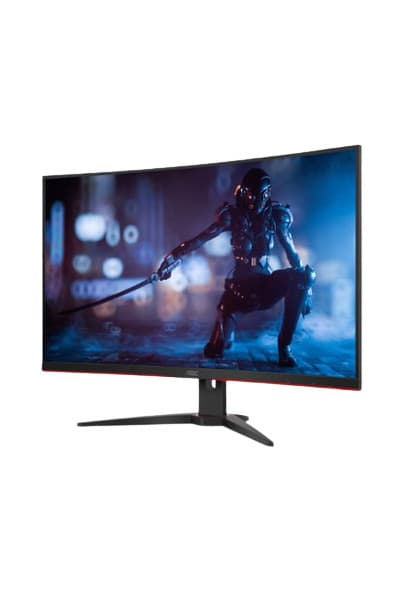 AOC
AOC C32G2E 32" Curved Gaming Monitor
Where to buy

TheMarket NZ
AOC
AOC C32G2E 32" Curved Gaming Monitor
Pros & Cons
add_circle
Immersive 32-inch curved display for an enhanced gaming experience.
add_circle
Full HD resolution for sharp and detailed visuals.
add_circle
High refresh rate and quick response
remove_circle
The larger size may require more desk space and a suitable viewing distance.
Summary
Specifications: Screen Size: 32 inches Resolution: Full HD (1920 x 1080) Refresh Rate: 165Hz Response Time: 1ms Panel Type: VA (Vertical Alignment) Connectivity: HDMI, DisplayPort, VGA We're here to explain why the AOC C32G2E is the best 32-inch game monitor you can buy. This monitor's outstanding performance and eye-catching curved screen create an exciting game experience on a bigger screen. Features: The AOC C32G2E gaming panel has features that are on the cutting edge. Its 32-inch screen is curved, which makes playing games more exciting and engaging. Full HD gives you sharp and clear pictures to see every detail of your games. Performance: Is It Worth It to Get the AOC C32G2E 32-Inch Gaming Monitor? First, the 32-inch screen size gives you a better place to watch video games. The form makes you feel more like you're in the game than before. The fast refresh rate and short response time make the game experience smooth and responsive, and the Full HD resolution makes the graphics clear.
Articles