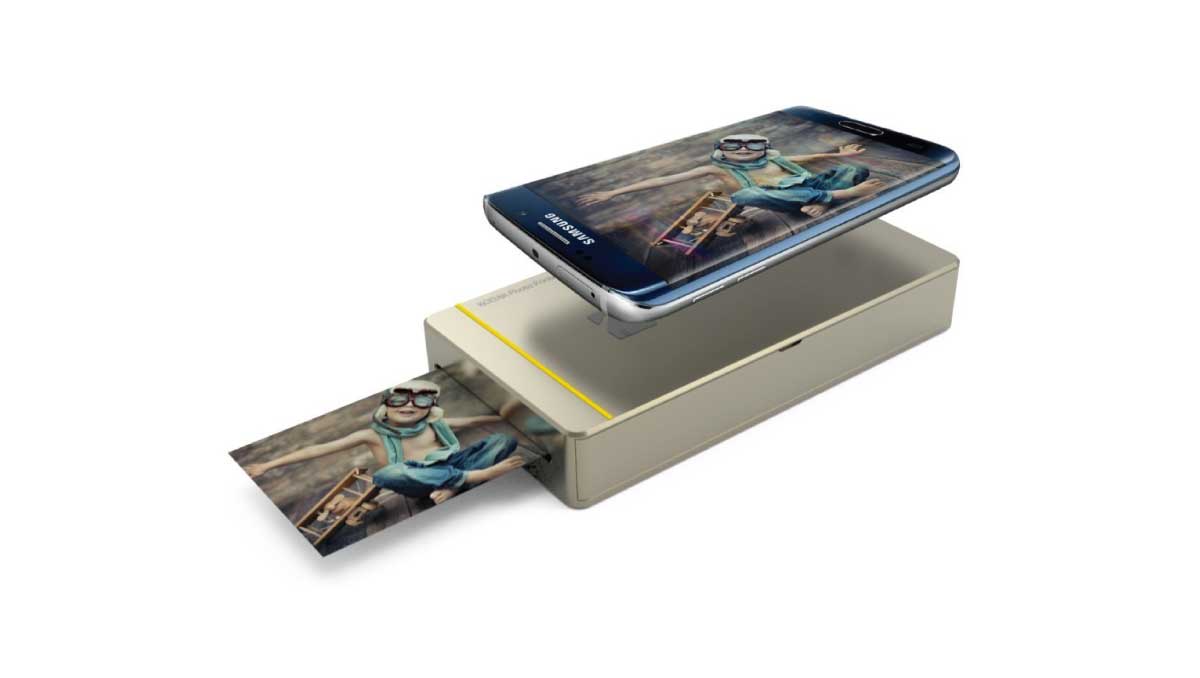 Digital technology brings so much advancement to photography, making it easy to snap pictures of every lunch you've ever had. Still, all the Facebook and Snapchat albums of this world can never deliver that old-world charm of holding a piece of history in your hands, before proceeding to sharpie all over it. We've got our picks of the best photo printers to put your pictures on paper like how your parents used to do… Just without the negatives or going to a shop.
1. Kodak Photo Printer Mini
Best Photo Printer for Android Smartphones
Price from RM620.00
Our memories of Kodak have always been their ubiquitous films and prints from days past, but their Photo Printer Mini is definitely designed for modern smartphone photographers. Measuring about the same as a large power bank, Kodak's Photo Printer Mini prints high-quality photos on 54x86mm credit card sized prints using dye-sublimation that dries up instantly with brilliant colours lasting up to 10 years. Using an all-in-one paper and colour ink cartridge, maintenance and refills are quickly done via a side door on the printer itself.
Android smartphones benefit greatly using NFC One Touch for Android to connect to this beautiful matte finished printer for instant connection and a highly customizable print experience using Kodak's companion Photo Printer app.
2. Fujifilm Instax Share SP3
Best for iPhones
Price from RM636.00
Printing instant photos may feel like a thing from the past but the angular futuristic Fujifilm Instax Share SP3 is anything but old. iPhone photographers and social media junkies will rejoice at the Instax Share SP3's ability to not only print photos from the device but also grab snaps from Facebook, Instagram, Flickr and Google Photos when you've logged into your account on the Fujifilm app. Using 318 dpi resolution dye-sublimation prints, the SP3 produces crisp saturated photos in the iconic Instax square format with the ability to reprint with a touch of a button for sharing with friends.
Packed with a built-in battery good for 160 photos, the Instax Share SP3 is a fun little printer with a powerful editing app for iPhone users to print chic square Instagram styled photos wherever they are.
3. HP Sprocket
Best Mini Photo Printer
Price from RM520.00
HP's Sprocket is one of the tiniest instant photo printers we've laid our eyes on. Using ZINK, a printing technology developed originally by Polaroid, the Sprocket does not require ink or dye transfers to print its 50x76mm pictures. Instead, it uses a specially coated paper that activates its colour prints by heat in a single 50-second pass. This method does not require any additional hardware from the Sprocket giving it its simple packaging and diminutive size.
A built-in battery rated for 30 prints powers this printer and prints via Bluetooth from HP's massively fun Sprocket App. The pocketable Sprocket is a joy to bring with you anywhere and the charm to instantly print lasting digital photos to pin up on your wall.
4. Prinics Pickit M1
Best Instant Photo Printer
Price from RM499.00
The Prinics Pickit M1 is an unassuming portable instant photo printer that looks like a regular power bank from afar. Slightly thicker than a Samsung Galaxy Note 8 smartphone at 24mm, the 248g Pickit M1 is a compact dye-sublimation type printer with integrated paper and ink cartridges that hold 10 54x86mm photo papers. The M1 uses D2T2 print technology to deliver laminated pictures with deep and excellent colour reproduction that is lasting and water-resistant – all in 60 seconds.
The Pickit App is rich with editing tools and connects directly to the printer using NFC and WiFi Direct without the need for an external router. With a print resolution of 291 dpi, the M1 is a tiny instant printer that punches above its class and size.
5. Paperang P1
Best Cheap Photo Printer
Price from RM175.00
We can't stop gushing at how cute and quaint the Paperang P1 is. Measuring 83x83x45mm, the 200g P1 is essentially a basic gadget using nothing but a roll of thermal paper with a serrated edge top to tear off the prints just like a receipt printer. This speedy little printer produces monochromatic photo prints that can be converted and previewed from the colour photos taken from your phone.
The Paperang App allows editing on your black & white pictures or creates graphics, texts, QR codes and also the ability to print unusually long photos that only this printer can do. You can keep printing with it as long as you can source its inexpensive 57mm thermal printing paper rolls. Powered by a built-in 1,000mAh battery and Bluetooth connectivity, the Paperang P1's unique approach to photo printing makes it very endearing.
6. Canon Selphy CP1300
Best Portable Photo Printer
Price from RM510.00
Canon's Selphy CP1300 is a compact photo printing lab capable of printing 4R postcard sized prints that gets its photos from devices through USB, WiFi connectivity and a full-sized SD Card slot. Its consumables come in the form of a separate 18-paper and ink cassette that loads into the front and side respectively. The CP1300 is powered by a supplied power cable but Canon sells an optional battery pack that lasts 54 prints for true mobile photo lab capabilities.
While no apps are needed, wireless printing standards like AirPrint and Mopria are supported while controls come from buttons to manipulate its articulating 3.2" colour LCD display that not only displays menu items but directly showcases photos from inserted SD cards for selection and quick edits. It only takes 50 seconds for the CP1300 to print high-quality pictures guaranteed to last up to 100 years.
7. LG Pocket Photo 2 LINE Edition
Best Photo Printer with Bluetooth
Price from RM788.00
LG's Pocket Photo 2 photo printer uses ZINK technology to print 51x76mm photos in 313 dpi resolution in a svelte fashionable form factor. This particular example is the limited LINE edition series featuring Brown the bear with a unique brown coloured finish. On a full charge, the Pocket Photo 2 prints up to 30 photos taking an average of 60 seconds for each print.
Connectivity is the Pocket Photo 2's strong suit as it supports wireless printing from NFC and Bluetooth without cables. LG's Pocket Photo App provides a mobile editing suite for photos and lets you print out QR codes that link to your personal social media platforms for easy sharing in your printouts.
8. Epson L805
Best WiFi Photo Printer
Price from RM1,149.00
Easily the most substantial and powerful photo printer in our selection here, the Epson L805 is surprisingly the most economical as well. A full-sized Micro-Piezo ink-head printer integrated with 6 high capacity tanks, the L805 is capable of yielding 1,800 4R photos with print speeds as fast as 12 seconds per print. A reliable workhorse, borderless A4 sized prints can be achieved at 5,760 dpi with a larger colour gamut thanks to its 6 tanks of coloured ink that can be refilled for ultra-low-cost operations.
WiFi connectivity with Epson Connect makes printing directly from smartphones, tablets, computers or online cloud storage devices easy. You can even use your smartphone as a scanner to capture documents and directly print it using the L805.
9. Sony Picture Station DPP-FP70
Best Camera-Friendly Photo Printer
Price from RM741.00
Sony's Picture Station DPP-FP70 is a field photographer's best friend. It supports major memory card formats such as Compact Flash, SD/SDHC, xD to Sony's own Memory Stick/Pro/Pro Duo directly from the printer's on-board card slots. On its side is a port for PictBridge-compatible cameras to directly print and the option for a Bluetooth module to be added to the printer.
On top of the DPP-FP70 lies an articulating 2.5" LCD display surrounded by a bank of buttons to navigate on-screen options with editing functions to correct lighting, red-eye, colour, adding texts and even perform automatic touch-ups. Printing is done using dye-sublimation on photo papers that are loaded from a cartridge at its front and an ink cartridge at its side. The DPP-FP70's photo quality comes out very nice with natural colours and a quick print of 43 seconds per photo.
Disclaimer: The pricing shown is just a good indication of how much these products are worth. The prices could change based on the e-commerce promotions that are going on. If some of the products are not available, do email us at [email protected] Thank you!