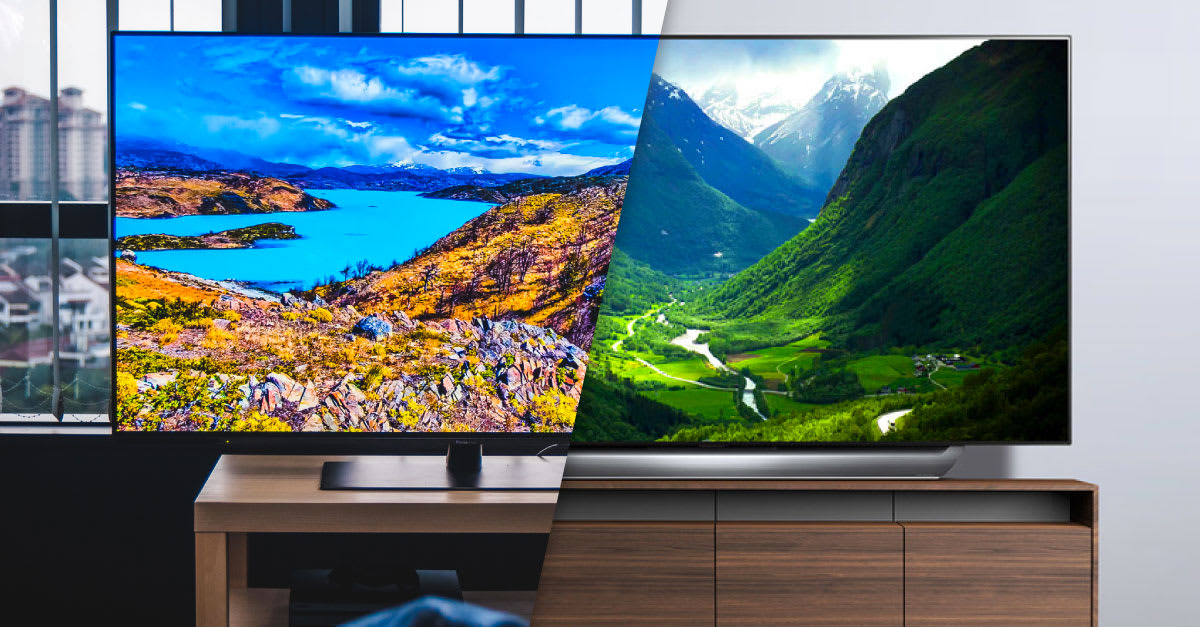 The world's first 4K OLED TV took the world by storm in 2014 for its superior colour and detailed display. Wait, what is OLED?
Standing for Organic Light Emitting Diode, the pixels in an OLED TV light themselves up without relying on backlight LEDs done to common LED TVs. In short, you get a truer colour to reality on an OLED screen.
So you're thinking of getting one, but don't know where to start? Well, you have a couple of options to choose from. Assuming you choose your TV like how you choose a smartphone, one of the newer models you can get is the Panasonic FZ950K.
https://www.youtube.com/watch?v=iCnbaaNvpow
What makes Panasonic's OLED TV line special is that they are tweaked to be Hollywood-tuned, a quality pursued exclusively by Panasonic to deliver the closest quality one can get to the filmmaker's vision. To cut short, Hollywood professionals use Panasonic to grade their films, equating to us seeing what filmmakers imagined.
Is Hollywood-tuned better? How do you know if it's for you? We put the Panasonic up against another 4K OLED TV, the LG C8. Read on to decide for yourself as we compare their main strengths.
OUR FIRST LOOK: Hardware Specs
The Panasonic FZ950K (left) and the LG C8 (right)
The Panasonic FZ950K's panel rests comfortably on its sturdy aluminium neck, being flat and wide at the bottom. Looking at the LG C8, you'll notice its wide but narrow stand, made from aluminium with a plastic finish. While it supports the panel well, it's easy to worry about it toppling over.
LG's stand also does not have a neck like Panasonic's, making it impossible to place a soundbar below the screen while it is possible to do so on the Panasonic.
Both televisions have the standard component inputs. If wall-mounted, only the side inputs for Panasonic's (2 HDMI, 2 USB and 1 ethernet) are accessible. LG's C8 would also face the same issue, with only 1 USB and 3 HDMI ports accessible from the side, and the rest of the panel at the back.
LOOKING AROUND: Navigation & User Interface
Panasonic FZ950K's Menu UI stays simple with its box styles
... whereas LG C8's Menu UI spots a colourful look.
Setting up both TVs are quite straightforward. On both menu styles, the Panasonic FZ950K looks plain with its simple box style as compared to LG's modern and colourful menu set up. Navigation and typing on the Panasonic can be tiring as you move around with the navigation arrows on the included traditional wand-style remote.
Looking at the LG C8, it shines with its Magic Remote Control, allowing you to navigate like how you do with a mouse on a computer. Just point, click and scroll. This makes navigation much easier on the fingers.
PERFORMANCE
Picture Perfect?
We were amazed by the realistic colours on Panasonic's Ultra Bright Panel. You can choose from several modes such as Cinema and Dynamic. Adjust the brightness and contrast as you wish, increasing or decreasing saturation and sharpness. With HDR10+, you can't deny the Panasonic FZ950K for its superior and rich yet, sometimes oversaturated colours which can be fixed by its settings.
While the preset colours are good on the Panasonic, place it beside the LG and you can see differences in colour. We should remember that Panasonic is Hollywood-Tuned. It's so real, it's as if you're watching from the film set itself. On the LG C8, thanks to its Dolby Vision feature, details and colours look generally balanced and pleasing, making it easy on the eyes.
Breathtaking Scenes
Moving on to video, we were captivated by the clarity of videos played on both TVs.
Playing Ant-Man 2's trailer at 60 Hz on the Panasonic, there are visible, unwanted ghosting produced on quick motions. You can turn this off but ghosting and jerking of movements are still slightly visible. We did find smooth and good colour gradation on the Panasonic a plus point.
On the other hand, LG brings the cinema screen right back to your home. Depending on the settings, you'd either have no jerking (which is hardly noticeable), or no ghosting (something that can be uncomfortable to look at). A downside to the LG C8 is that we found colour gradation to be less smooth compared to the Panasonic FZ950K, resulting in banding (harsh lines instead of smooth gradients).
Music to Our Ears
The built-in Cinema Sound Pro system on the Panasonic FZ950K does great at providing clear and crisp sound quality without any extended sound system. You can also tweak settings such as bass, noise reduction and sound modes like Stadium and Cinema. With the volume at just 30/100, Sony PlayStation's God of War sounded clear even from 8 meters away.
With its Dolby Atmos system, the LG C8 sounds great just as expected. While designed to emit direct sounds at certain areas in a room, we found the audio to be a little lower than the Panasonic at the same volume. The LG C8 does have the upper hand on delivering a full cinematic experience thanks to Dolby's enhancement for audio clarity.
Smarter Than a Fifth Grader?
For the Panasonic FZ950K, you'll have the Panasonic Media Center app. Having several pre-installed applications and many free apps available for download, you can play games, browse news on Al-Jazeera, and watch Netflix or YouTube.
While easy to navigate and understand, the interface looks too simple and generic. To also note, while our downloaded apps did work, some were not optimized to 4K in resolution.
Moving on to LG C8's WebOS smart platform. It has several pre-installed apps and a good collection of apps available for downloads.
Its interface may look confusing at first but it's easy and fast to adapt. The LG also has voice control features where you can utilise to interact with its other smart features.
CONCLUSION: What Do We Think?
Both televisions are just as expected. We like the Panasonic for its sturdy build, accurate and smooth colours. With no Dolby Atmos present, Panasonic's strong and clear sound quality is also impressive. For LG, we enjoy its great user interface, ease of navigation and usage, with more attractive smart features.
Prices for both televisions start from RM 10,999 (55-inch). In terms of paying for picture quality (which is the highlight of having an OLED TV), no doubt Panasonic has our attention.
Review Breakdown - Who Did It Better?
| | | |
| --- | --- | --- |
| | Panasonic | LG |
| User Interface | | √ |
| Visuals | √ | |
| Audio | √ | |
| Special Features | | √ |
| Price | √ | |
We think that LG C8 is a good choice for a general balance of everything. However, we have to give it to Panasonic FZ950K for its finer details, colour accuracy, realism and feeling of involvement in films, something that many TV manufacturers still struggle to deliver.
Disclaimer: The pricing shown is just a good indication of how much these products are worth. The prices could change based on the e-commerce promotions that are going on. If some of the products are not available, do email us at [email protected] Thank you!