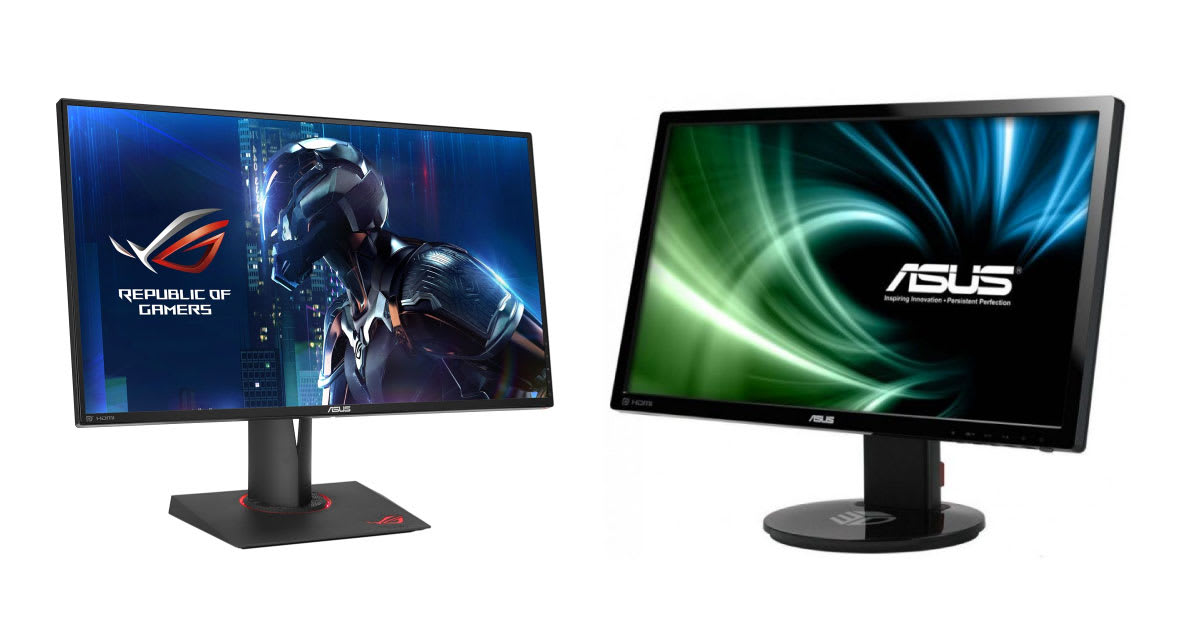 Gamers usually buy the best mouse, the best keyboard but they ignore one important piece of hardware: the monitor. A monitor makes a huge difference in terms of gaming experience. Sure, a normal monitor might suffice but if you really want to take your gaming experience to the next level, here's a list of gaming monitors to get you started!
1. ASUS PG279Q
Best 27-inch IPS G-Sync gaming monitor
Price from RM3,899.00
Bring your games to life with the ASUS PG279Q. It features a 27-inch IPS panel which can pull-off a 4ms pixel response time and 165Hz refresh rate – leaving little to no motion blur. This is great if you're into Call of Duty or other fast-paced first-person shooting games!
It also comes with the Nvidia G-Sync which is designed to make your gaming experience as silky smooth as possible. The best part is that it doesn't matter whether your FPS climbs or drops staggeringly; the Nvidia G-Sync does its job effectively and efficiently.
2. AOC AGON AG322FCX
Best 144Hz curved monitor
Price from RM1,520.00
Do you like monitors curvy? If you do, then you'll love the AOC AGON AG322FCX! With a curvature of 1800R, you'll know that it's curvy – just the way you like it. That's not all, it also has beautifully thin bezels on its side and on the back, plus four light strips that are customizable – red, green and blue for your aesthetic pleasure!
Another thing that is noteworthy about this monitor is its refresh rate of 144Hz. The 144Hz refresh rate allows the images you see on the screen to be fluid-like and sharp, resulting in a gaming experience like no other!
3. BenQ PD3200U
Best 4K gaming monitor
Price from RM5,477.89
This monitor from BenQ utilizes a 32-inch IPS panel – so you know it's humungous! Besides being huge, it incorporates 4K native resolution. Simply put, they offer 3840 x 2160 pixels of resolution that's capable of delivering crisp and clear imagery of the environment your character is in. This way, you won't miss a single detail!
In addition, the IPS panel provides a wide viewing angle, so there's also no sign of colour dimming or shifting no matter which angle you're looking from – rich and vibrant colours all the way! You know you're in for a treat when you're using this baby!
4. ASUS VG248QE
Best budget 1080p gaming monitor
Price from RM1,399.00
ASUS has released another incredible monitor: the ASUS VG248QE. It's a monitor that comes with full HD 1080p support. This allows you to experience a whole spectrum of colours when you are playing your favourite game.
With a lightning-fast refresh rate of 144Hz and a 1ms response time – say goodbye to sluggish motion scenes in games! This monitor also comes with an ergonomic design which allows you to swivel, pivot, tilt and adjust its height to make the best out of your viewing experience.
5. Acer XR382CQK
Best gaming monitor ultrawide
Price from RM4,149.00
Acer is going big with the Acer XR38CQK. It comes furnished with a curved 37.5-inch IPS Panel – the curvature of the monitor and its stunning size makes it the perfect monitor to fully immerse yourself in your games no matter which angle you choose to view and play your games from!
If you play games that support an ultrawide resolution, this monitor is designed for you as its surround effect will pull you in and stop you dead in your tracks with its amazing resolution. Take gaming to new heights with this beast of a monitor!
6. Dell UP3017Q
Best OLED monitor
Price from RM5,067.81
The Dell UP3017Q packs a punch in terms of design – it features a near non-existent bezel design which makes it absolute eye candy. This ultra-thin monitor is an impressive feat from Dell, at 7.44 inches, it's almost razor-thin. Dell has really outdone themselves this time!
Besides that, this is an OLED monitor which means it does not use backlighting like LED, so it's not susceptible to uneven pictures and backlight bleeding. This allows it to display mesmerizingly accurate and vibrant colours that truly stimulate your visual senses!
7. ASUS VP28UQG
Best gaming monitor with HDMI for PS4
Price from RM2,866.24
Why should you get a gaming monitor for your PS4 when you have an HDTV? Well, if you want a better picture, darker blacks and better colour saturation, then you should definitely invest in a gaming monitor for your PS4 – this is where the ASUS VP28UQG comes in.
It has two HDMI 2.0 ports which make it the perfect monitor to get when your console relies on HDMI connection. Not only that, this monitor also comes with a unique feature – the ASUS Eye Care technology. This technology from ASUS removes flickering and lowers blue light the monitor emits – reducing eye fatigue when you game with this monitor!
More: Top 7 Computer Monitors You Should Consider Upgrading To
Disclaimer: The pricing shown is just a good indication of how much these products are worth. The prices could change based on the e-commerce promotions that are going on. If some of the products are not available, do email us at [email protected] Thank you!