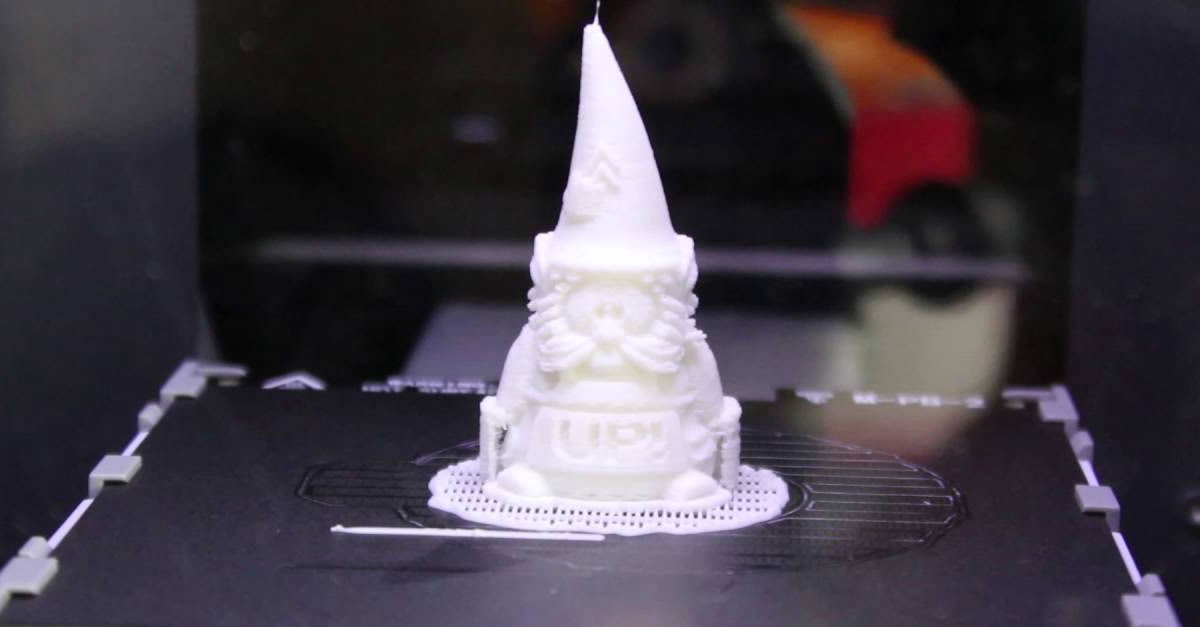 3D printing or additive manufacturing is a process where 3-dimensional objects are assembled from a digital file. In the past, 3D printers weren't cost-effective for most people and were relegated to large corporation factories and laboratories.
Recently, 3D printers have become more affordable. Many hobbyists, enthusiasts, students and small businesses now make use of them, realizing their enormous creative potential. As prices have dropped, more consumers are looking to get one, either for personal or business use.
3D printers are used as a low-cost method for rapid prototyping or for making one-off items. However, investing in a 3D printer can still be costly. This is especially true for people looking for a professional package or heavy volume printer. The large majority of 3D Printers available for the direct consumer purchase make use of Melted Extrusion Modelling printing technology which uses plastic filaments.
As 3D printing involves melting plastics, you should make sure you're in a well-ventilated area, and that you're wearing proper safety equipment when printing. The huge range of machines available on the market can get complicated if you're not sure what you're looking for.
Let us shed some tips along the way as we talk about these best 3D printers you can get in Malaysia to help you make an educated decision on what best fits your needs.
Best value 3D printer - great for beginners
Price from RM3,314.15
Out of all 3D printers that a beginner can start with should be the Snapmaker 1.0. Why? This simple yet sturdy 3D printer is very easy to assemble (in under 30 minutes), understand and upgrade thanks to its modular built.
A one-of-its-kind printer, you get the option to create anything you want as the printer has a 3D module, laser engrave and CNC woodcarver. Add the fact that there are many helpful guides and available upgradeable parts online, the Snapmaker is one device that beginners can use from their early projects into more advanced ones.
Our Review
In the market for an easy-to-use 3D printer? We think highly of what the Snapmaker 3-in-1 3D Printer offers. It doesn't just 3D print, but also has a CNC (wood) carver and a laser engraver. Moreover, the printer also has its own 3D Computer software, which has presets for you to choose from. In short, it's the ultimate printer for beginners to start their 3D printing journey with.
Read Full Review
2 people added this to their wishlist
Best cheap 3D printer
Price from RM1,420.35
This low-cost 3D printing solution comes in an unassembled DIY kit form. The low price point provides an excellent opportunity for enthusiasts to purchase their own set whether it's for home or work use. Despite the hassle of having to self-assemble this printer, the learning experience gained and testing a 3D printer yourself provides an in-depth understanding of the mechanisms at work.
The printer will also be useful in the future as you solve problems dealing with the printer. In spite of the low cost of what you get is a full-featured 3D printer capable of printing models at up to 220x220x270 mm in size. There's also multifilament support, TF card support and standard nozzle at 0.4mm. The printer supports Windows and Mac operating systems.
1 people added this to their wishlist
Best 3D printer for high-quality prints
Price from RM6,130.00
The UP BOX + is the Ferrari of Tier Time's range of 3D printers, powerful yet elegant. As the brand took notes from users of their original UP BOX 3D printer, they took to upgrade it with more new updates.
This newer UP BOX + has the ability to print at 100 microns for a smoother, more professional finish, larger filament spool, auto-pause filament and blackout detection. This is to prevent print jobs from being ruined by electricity blackouts or filament running out.
It also comes with fully automated platform levelling, improved 3rd party filament support and even greater connectivity to allow the printer to function in Mac, Windows or Linux as well as from any smart devices. Moreover, the maximum print size of the output has also been increased to 255x205x205 mm. Also included in the package is a comprehensive toolkit with various spares for the printer.
1 people added this to their wishlist
Best 3D printer for heavy volume
Price from RM1,439.00
The Anet A3 is a mid-range 3D printer comes fully assembled. It's a 3D printer capable of printing models at a maximum 150x150x150 mm in build volume. This printer comes with a built-in LCD, a 0.4mm nozzle (changeable up to 0.1mm), multi 3d printing filament support and also supports computerless printing utilizing a TF card up to 16GB.
The printer is constructed mostly of aluminium featuring a full metal chassis supported by some high quality plastic components to give it a robust build which can handle the stress of printing multiple 3D models.
Best 3D printer for home
Price from RM2,800.00
This mini-sized 3D printer is ready to use out of the box. It comes ready assembled for less hassle and can print 3D models up to a maximum size of 120X120X120 mm. The printer features Wi-Fi connectivity, touch screen control, iPhone and iPad control App, power failure blackout resume function and built-in HEPA air filtration.
All of this comes packed in a sleek, sturdy and portable designed printer which allows for easy portability from place to place. The print quality is exceptional from a single nozzle 3D printer, and it has the capability to print in 0.15 mm layers. Moreover, you can also transfer 3D print files wirelessly from any smart device for basic printing without needing a computer.
Best large 3D printer
Price from RM3,500.00
If you need to print larger models but don't have money to spend on an industrial 3D printer, this offering from Creality is one of the few affordable choices available locally. The CR10-S4 has the capability to print models at up to 400x400x400 mm in size.
Creality's printer is shipped as a 3-part kit and requires some assembly before use. It works with a variety of filament types and comes standard with a 0.4mm print nozzle. You can also change this to 0.3/0.2 mm. In terms of software, compatibility, the printer works with Linux, Windows and OSX. Impressively, its Industrial Grade PCB was designed to run for 200 hours continuously.
Best 3D printer pen
Price from RM218.00
Although essentially a toy, a 3D printer pen such as this one can introduce you to the world of 3D printing for the price of a toy. The printer works the same way as a real 3D filament printer and accepts standard ABS filaments. How it works is that filament is heated in the pen and extruded through the nozzle as you manually draw or trace your 3D objects.
The drawback is the inability to load files for automatic printing. Still, this one is a great gift for your kids or if you're a teacher who wants to explore 3D printing in the classroom.
However, do supervise and ensure that children wear safety gloves and eye protectors when they use the pen, as it involves heat and electricity. Plus, the nozzle and filaments can get very hot while they melt. The manufacturer even includes a disclaimer on letting children use the 3D pen unsupervised.
Disclaimer: The pricing shown is just a good indication of how much these products are worth. The prices could change based on the e-commerce promotions that are going on. If some of the products are not available, do email us at [email protected] Thank you!