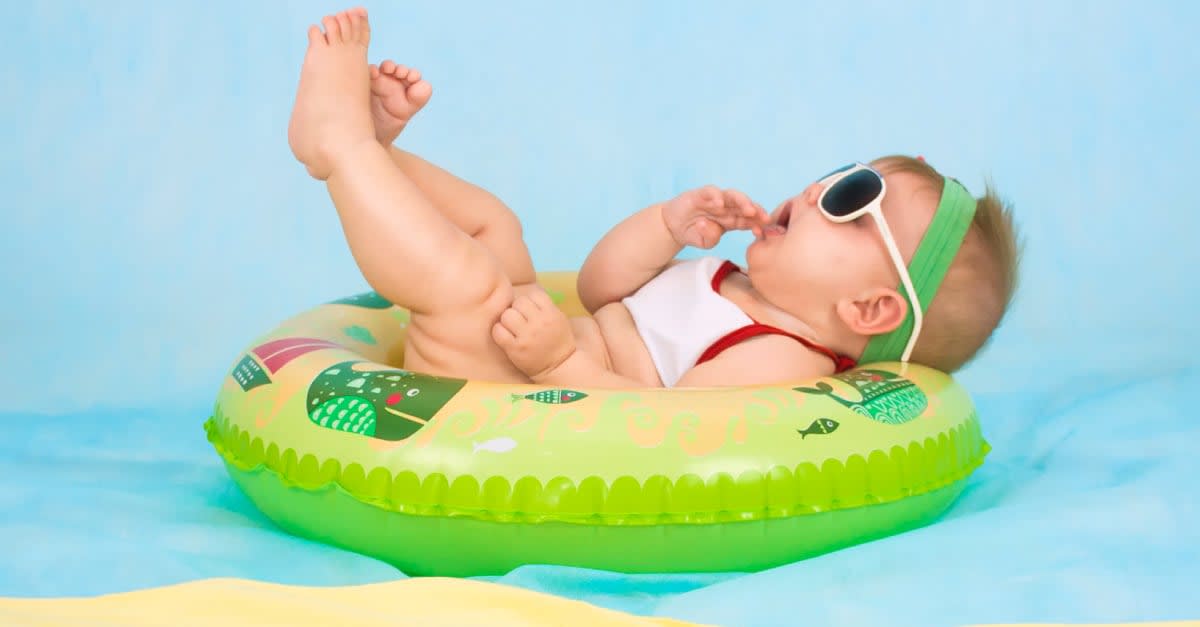 When it comes to parenting, there are ups and downs. Luckily for the moms and dads, parenting is made easy with helpful baby gadgets. From simple inventions to electronic ones, watch out for these gadgets that will keep you ahead of any parenting challenges.
1. BEABA Baby Cook Food Maker
Best food gadget
Price from RM809.00
Prepare healthy meals for your little one with the BEABA Baby Cook. Designed to steam, blend, defrost, and reheat any type of food, it achieves the consistency that you want in only 15 minutes. Also able to warm and sterilize baby bottles, rest assured that cleaning this food maker will be a cinch.
2. Boon Squirt Baby Food Spoon
Best feeding gadget
Price from RM42.97
A spoon that was birthed from a revelation, the Boon Squirt Baby Spoon packs your baby's food and dispenses it at the same time, making one-handed feeding possible. Ideal for stage 1 and 2 baby food, it only takes a pop on the cap to seal food, and off to feeding you go!
Note: Suitable for babies above 4 months old
3. AngelTalk Portable Fetal Doppler
Best baby heartbeat gadget
Price from RM88.00
Track your baby's heartbeat with ease with the ultrasonic AngelTalk Portable Fetal Doppler. Battery powered, this gadget can hear your baby's heartbeat as early as 12 weeks. It is designed with a recording function, allowing you to walk down memory lane anytime.
4. VTech Digital Audio Monitor
Best baby monitor gadget
Price from RM399.00
Ensure your baby is safe even at a distance with the VTech Digital Audio Monitor. Producing clear audio, this monitor comes with five levels of volume settings and sports a speaker and microphone for two-way communication. Not only that, it also acts as a night light, thanks to its ceiling projector to ensure your child gets a good night's sleep.
5. Inflatable Baby Float with Canopy
Best swimming gadget
Price from RM33.80
Make way for fun pool times under the sun with this inflatable baby float. Designed with a handy shade cover to protect against harmful UV rays, this float will always keep your little one shaded while having the fun. The attached wheel also acts as a safety feature for them to hold on too!
1 people added this to their wishlist
6. Adjustable Mini Clip Stroller Fan
Best stroller gadget
Price from RM26.50
Us Malaysians would know that the weather can get extremely hot some days. But with the Adjustable Mini Clip Fan, your baby will never be in discomfort! This adorable themed mini fan can be powered either by battery or USB, and can operate for as long as six hours with adjustable fan speed. A simple clip onto your baby's stroller is all it takes for a breezy experience!
7. Baby Belt Safety Harness
Best tool belt
Price from RM14.90
Whether your child is just learning to walk or needing assistance to do so, the Baby Belt Safety Harness is helpful to assist them to find their balance. Made using breathable material, it comes with a handle design to harness your baby softly, keeping them from any discomfort!
8. Baby Anti-Choke Syringe Feeding Device
Best anti-choking tool
Price from RM9.00
Say goodbye to choking when it comes to feeding with this Anti-Choke Syringe Feeding Device. Designed with a shunted shaped nipple, this syringe prevents direct placement towards the throat, avoiding choking. Its fixed ring and double handle design allows for one-handed feeding as well; anytime, anywhere.
9. Iveco Baby Activity Spiral Crib Toy
Best crib tool
Price from RM14.00
Keep your child entertained in bed with the Iveco Baby Activity Spiral Crib Toy. Brightly coloured, this toy rattles, crinkles, jingles and squeaks to become a multifunctional educational tool for your child. Apart from enhancing your child's coordination, it can be pulled, squeezed, and grabbed at, producing fun sounds.
10. Xiaomi Mitu Baby Barber Device
Best haircut tool
Price from RM89.90
Style your little one's hair however you'd like all thanks to the Xiaomi Mitu Baby Barber Device. Designed with a close-fitting double knife that is detachable, this baby device reduces the pulling sensation on the scalp. Easy to wash with water, it can be kept sanitary at all times for your child's hygiene.
11. Baby Silicone Bath Bru Comb
Best hair tool
Price from RM2.90
Gently cleanse your child's scalp with this silicone bath comb. Made with the softest silicone shell, this baby comb massages your child's head into ultimate comfort. It is ideal to use during bath time on wet hair, and can even be lathered with shampoo.
12. Baby Teether Chewable Thumb
Baby teething tool
Price from RM11.30
Your child's teething phase can be quite challenging as your baby gets easily irritated - but not with the Baby Teether Chewable Thumb. This teether has a soft and textured teething surface made from flexible silicone that wraps securely around your baby's hand like a mitten, to prevent sore fingers. You can now trust that your child will be in comfort all day long!
13. Kids Elephant Erasable Magnetic Board
Best writing tool
Price from RM5.00
What's a more perfect tool to teach your little one how to write than a lightweight, fun-sized erasable board? This Erasable Magnetic Board is a fun and practical way to develop your child's writing and creativity skills. Made with a magnetic pen tool that sticks onto the board, losing the pen will be the last thing to worry about!
14. Toddler Safety Belt Walking Wings
Best walking tool
Price from RM15.90
Keep your precious one walking in balance with the Toddler Safety Belt Walking Wings. Ideal for children aged six to 14 months, this walking wing is great at keeping your child upright, building their confidence and ability to walk in no time!
15. Tommee Tippie Explora Cool & Mesh Weaning Bowl
Best weaning tool
Price from RM27.90
Make your baby's weaning phase a delightful one with Tommee Tippie's Explora Cool & Mesh Weaning Bowl. This bowl comes with a unique cool and mash section, along with a leak-proof lid and spoon for travel to make feeding easy. Its triangular base makes scooping food so easy, your baby will always want to have another meal!
Disclaimer: The pricing shown is just a good indication of how much these products are worth. The prices could change based on the e-commerce promotions that are going on. If some of the products are not available, do email us at [email protected] Thank you!