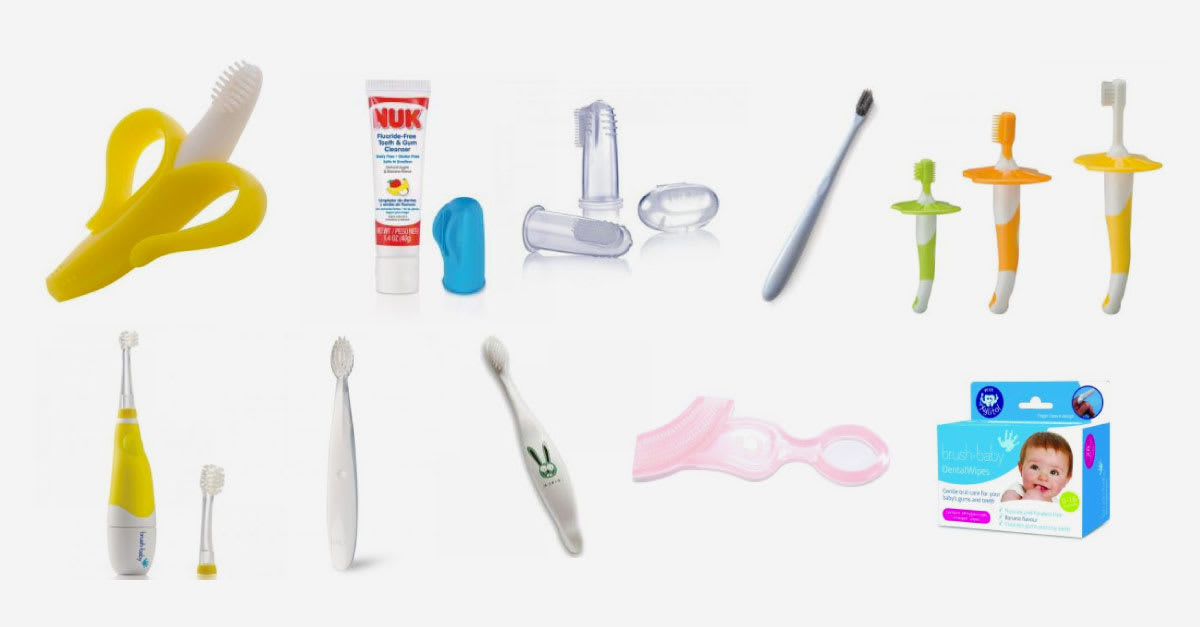 Has your kid started teething yet? If yes, celebrate this exciting milestone by getting him his first toothbrush to keep those pearly whites clean and healthy. However, the grand entrance of these chompers may cause your baby some minor discomfort, so we've narrowed down the top tools to give your baby's oral health the best possible start.
1. Baby Banana Teething Toothbrush For Infant
Best baby banana toothbrush
Price from RM15.90
Your teething baby will love brushing with this extremely cute toothbrush. The smart banana peel handles, foster independence as their little hands hold on to it. Gentle, flexible bristles clean residues away from teeth and gems, while the flexible silicone provides a softer cleaning on the teething surface. This toothbrush with silicone bristles makes as an ideal teether for massaging your baby's sore gums.
2. Brush Baby BabySonic Electric Toothbrush
Best electric toothbrush
Price from RM65.09
This award-winning electric toothbrush is specially designed for toddlers when their teeth start growing. The tiny brush head and soft bristles ensure that delicate teeth and tender gums are gently taken care of.
Soft sonic vibration is produced once the brush is activated, ensuring that the baby's teeth are thoroughly but gently cleaned. An in-built 30-second pulse reminder will assist parents in the process of cleaning their baby's teeth.
3. NUK Infant Tooth and Gum Cleanser
Best teeth and gum cleaning brush for babies
Price from RM64.90
Does your baby love it when you massage their gums? This unique 3-sided finger brush fits snuggly on a parent's finger and feels gentle on a baby's tender gums. A channel of delicate nubby bristles allows you to massage and clean the front, back and top of the mouth simultaneously.
The brush is flexible so that parents can bend their finger to thoroughly clean baby's little mouth. It comes with fluoride-free toothpaste, which means it is safe to swallow. This finger brush is safe and suitable for babies ageing three months and older.
4. Radius Pure Baby Toothbrush 6m+ Ultra Soft
Best soft bristle toothbrush
Price from RM29.30
Radius Pure Baby Toothbrush 6m+ Ultra Soft is designed for the tender teeth and gums of babies at six months and above. The radius, smooth oval head is perfectly designed to clean a baby's mouth thoroughly, so parents do not have to worry about any risks.
Made from ultra-soft vegetable-derived bristles for cushioned brushing, it gently massages your baby's mouth and removes bacteria build-up on their teeth. The easy-to-hold handle allows you to clean their mouth effortlessly.
5. Nuby 1Pk Silicone Finger Toothbrush With Case
Best traveling toothbrush
Price from RM10.50
The Nuby 1Pk Silicone Finger Toothbrush is highly recommended for beginners, as it comes with a case that allows you to store the brush hygienically, and it's also ideal for travelling. This classic finger toothbrush allows you to brush and massage your baby's gums with your finger. It's equipped with a triple-action surface with options for cleaning and soothing delicate teeth and tender gums.
6. Jack N' Jill Toothbrush
Best eco-friendly toothbrush
Price from RM31.70
The Jack N' Jill Koala Toothbrush is great for your little one's teeth, and it's earth-friendly. Made from 100% corn starch and extra soft nylon bristles, this toothbrush is biodegradable all the way down to its packaging.
The bristles are made from BPA- and PVC-free materials, ensuring durability and the safety of your baby. When disposing of the toothbrush, break off the head and discard it thoughtfully.
7. Bamboo Charcoal Soft and Ultra Fine Bristles Toothbrush
Best bamboo charcoal toothbrush
Price from RM5.50
This toothbrush is a fun way to teach your kids about being an environmentally responsible consumer. A wheat stalk handle toothbrush with bamboo charcoal-enhanced bristles is proven to clean your kid's mouth efficiently, as charcoal is one of nature's best absorbing and cleaning agents.
Your baby's teeth will enjoy all the charcoal's natural goodness, resulting in his teeth being the cleanest they've been. The ultrafine ends of the bamboo charcoal bristles are useful for deep cleaning and protect children's delicate gums while brushing.
8. Brush-Baby Chewable Toothbrush
Best chewable silicone toothbrush for babies
Price from RM24.90
This toothbrush is adorably disguised as a teether for babies that love to bite and gnaw on everything they can get. BPA-free and made of 100% silicone, it will help prepare your baby for a good brush once their teeth begin to grow.
The innovative design is accustomed to gently massage and soothe your little one's sensitive gums while cleaning all the nooks and crannies as your baby chews. For soothing relief for your baby's gum, pop this brush in the freezer overnight, and voila, you're good to go.
9. Combi Baby Japan Baby Toothbrush Step-up Set
Best Japanese toothbrush set
Price from RM41.50
For life-long oral hygiene, kick-start your baby's oral care from the milk teeth stage with the Baby Toothbrush Step-up Set. The detachable protection shield prevents your child from pushing the brush towards the throat; it also comes with a comfortable grip for their cute hands.
10. Brush Baby Dental Wipes
Best disposable finger toothbrush
Price from RM36.80
Start cleaning your child's mouth even before those pearly whites start sprouting up. Brush Baby Dental Wipes is perfect for establishing a gentle and healthy oral environment for your bouncing baby. The soft xylitol wipe protects your baby's mouth against decay, keeping their gums clean and soothes teething pain.
These disposable wipes are gently formulated and proven safe for babies from 0 to 16 months. Just gently wipe over their gums, tongue, cheeks for a healthy smiling baby.
11. Philips Sonicare For Kids
Best for 2-year-olds
Price from RM244.50
Philips has gamified the brushing experience to keep kids entertained as they learn about oral care. This Bluetooth-enabled toothbrush synchs with an interactive app that offers plenty of exciting rewards when they brush their teeth properly. There's a wee, furry monster in the app which prompt kids at least twice a day, acting like a brushing coach that visually guide your kids and keep track of their brushing session and total performance.
Through a series of challenges, games, rewards and brushing techniques, your child will develop a healthy oral habit. A built-in 2-minute timer will encourage your child to brush for a recommended amount of time. This electric toothbrush also comes with a rubberised brush head with two modes designed to help protect and nurture growing teeth.
12. Oral-B Kids Battery Power Toothbrush With Extra Soft Bristles
Best electric toothbrush for 3-year-olds
Price from RM63.00
At this stage of their evolving oral health, kids begin to lose some baby enamel as their teeth start to grow. The rotating extra soft bristle brush is ideal for young sensitive teeth, gum and tongue brushing, and even cleaning up hard-to-reach areas.
This electronic brush cleans multiple surfaces in six ways with its raised centre row bristles, which help clean chewing surfaces. Featuring your child's favourite collectable Disney characters, every brushing session is even more exciting now.
13. Oral-B Stages Power Kids Electric Rechargeable Toothbrush
Best rechargeable toothbrush
Price from RM234.00
The Oral-B Stages Power Kids Electric Rechargeable Toothbrush moves with an advance oscillating-rotating motion. Built with a distinct head shape, it surrounds each tooth to thoroughly dislodge plaque, helping your kids achieve a fantastic time as they get the most out of their oral care routine.
This rechargeable electric toothbrush features extra-soft bristles that are gently compatible with younger teeth. Also, the Disney musical timer helps to motivate kids to brush longer and better.
14. Flipper Owl Design Portable Toothbrush Holder With Sand Timer
Best toothbrush timer for kids
Price from RM27.90
Encourage your child to a lifelong practice of fun and healthy brushing with a beautiful jolly little owl. The colourful owl also functions as a holder that's perfect for hanging little toothbrushes, and the sand timer lasts for a minute once it's turned over. Rotate twice to use it for two minutes; that's a sufficient amount of time to get those teeth sparkling clean.
Disclaimer: The pricing shown is just a good indication of how much these products are worth. The prices could change based on the e-commerce promotions that are going on. If some of the products are not available, do email us at [email protected]tnation.co. Thank you!