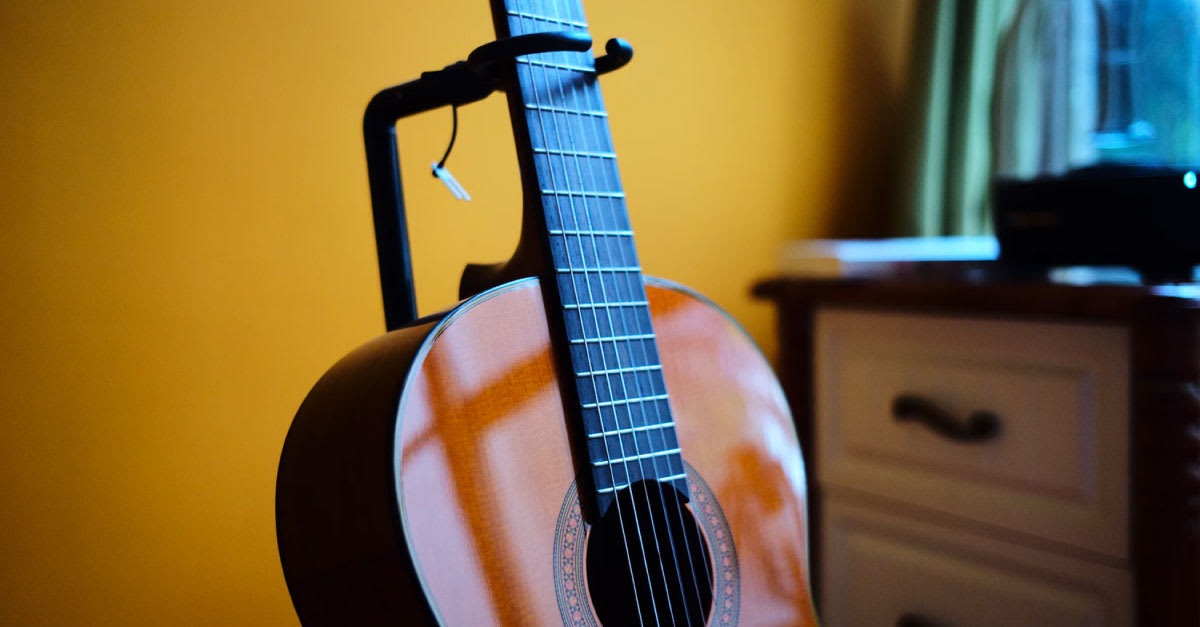 It's your first time in the guitar store. You look around and see hundreds of guitars – all different shapes and sizes. The store attendant asks you what guitar you have in mind. Does it have an EMG pickup? Humbucker? Fender maybe? Or how 'bout an Ibanez? Getting your first guitar can be a traumatic experience, but this list has everything you need to know:
Best on a budget – low-action, ideal for beginners
Price from RM99.00
First thing's first. Ask yourself how committed you are. Acoustics are notoriously hard to pick up. But if you want to jam out with a couple of chords and sing along with your friends, the JZL Sapele Wood Acoustic is perfect for you. Sapele wood is a great clone of the mahogany, so it sounds nice and thick.
Best acoustic guitar
Price from RM18,370.00
If you're in love with the acoustic, maybe it's time for an upgrade? By designer Andy Powers, the Taylor 914ce is equipped with V-Class bracing for maximum sustain. You can play as is or plugged into an amp. The piezoelectric pickup is not sensitive to magnetic fields which means no audio feedback. The result? Absolute clarity.
Best for kids and people with small fingers/hands
Price from RM3,025.00
Whether you're looking to get a guitar for your little one or if you prefer something a little more portable, you can count on the Taylor GS Mini-e Koa to get you around the fretboard. It even has a built-in digital tuner so you'll be in tune anywhere you go.
Best classical guitar for fingerstyle
Price from RM3,870.00
The art of fingerstyle is a dying art. But if you're into one of those old school Spanish rockers, then give the C11 Electric Classical Cutaway a try. It's a hybrid which means you can use it plug and unplugged. With its wide neck and extended neck, you'll have access to all the emotional notes at the top end.
Best electric guitar on a budget – includes single-coil and humbucker pickup
Price from RM730.00
If you want to be front and center, then you should be shredding on the Yamaha Pacifica PAC012, an absolute classic in entry-level electric guitars. It gets the most of out its single-coil/humbucker combo. With 5 settings, you pretty much have all the genres down. This guitar even features vintage-style vibratos so you can really make those notes scream.
Best electric guitar for Blues– includes p90 pickups
Price from RM14,185.00
When it comes to blues, the iconic Gibson Les Paul comes to mind. Think Eric Clapton, Jimmy Page, and Slash. With Gibson's patented p90 pickups, you'll get the thick sound you need for blues music. Alternatively, you can also take a look at Gibson's cheaper Epiphone models for a pretty good clone.
Best for Jazz – includes humbucker pickups
Price from RM26,820.00
If you're looking for the absolute best when it comes to Jazz guitars, the Gibson 1959 ES-175D is the way to go. This model defined a generation and pretty much every Blues artist during the 50s had this under their sleeves – including the King of Blues B.B. King. The modern version is equipped with twin MHS humbuckers that reduce noises.
Best for Hard Rock
Price from RM4,620.00
For hard rock musicians, the best tone should sound like a cross between blues and metal. For this, the go-to choice would be the Gibson SG popularized by Australian band AC/DC. With its double black, open-coil humbucker pickups and mahogany body, this guitar just resonates with brightness and is perfect for a five-minute guitar solo.
Best for Metal – includes humbucker pickups
Price from RM3,100.00
Ibanez has been known to design guitars perfect for metal and hardcore music. With their thin necks and extended fret range (24-frets), even the mid-tier guitarist can easily start shredding all over the fretboard. The Ibanez RG is arguably the most popular of the Ibanez series.
Best for Rock – versatile, includes Floyd-Rose locking system
Price from RM8,630.00
Arguably the most versatile guitar, the Fender Stratocaster has been used in all genres ranging from country, blues, metal, and rock. The Strat is known for its clear, tinny tone – resonating from its single-coil pickup – making it easy for guitarists everywhere to customize their sounds. In some sense, it's possibly one of the 'cleanest' guitars around.
Disclaimer: The pricing shown is just a good indication of how much these products are worth. The prices could change based on the e-commerce promotions that are going on. If some of the products are not available, do email us at [email protected] Thank you!