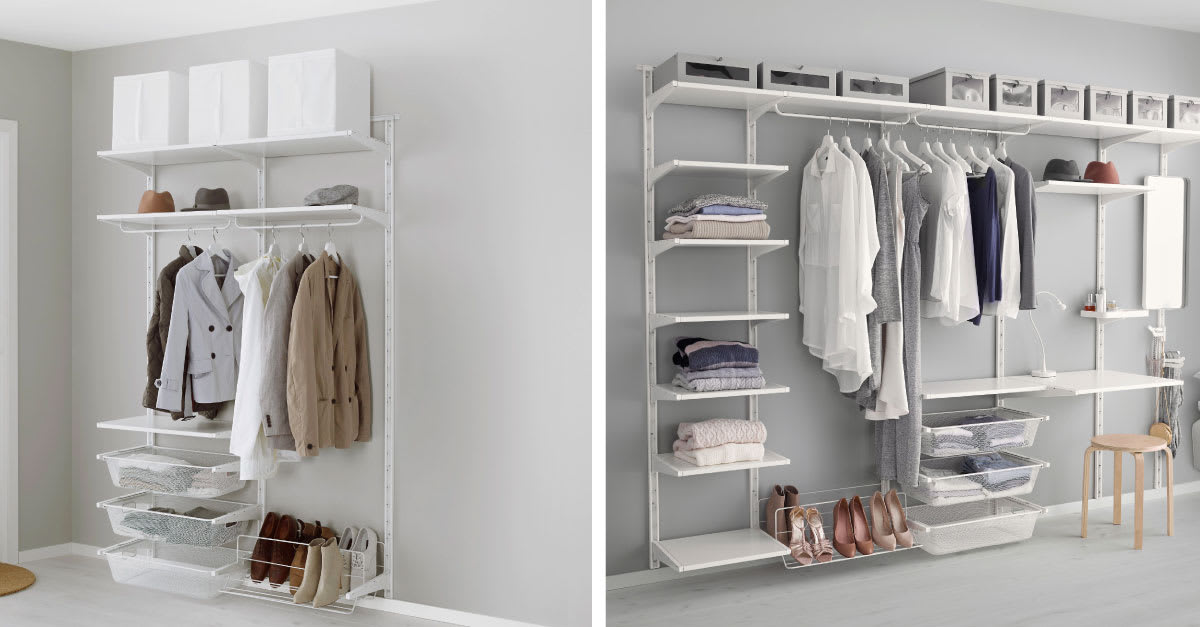 Don't you just hate it when your closet is either messy or worse, running out of space? Fret not, because you can turn your cluttered closet into a tidy, yet well-organized closet with some of these organising and space-saving items below.
1. Macy's Set Of 3 Drawer Dividers
Best for bra and underwear
Price from RM19.90
Made from a high-quality non-woven cardboard material, this versatile storage box is perfect for organizing your undergarments such as bra, panties and men's briefs. Best of all, it comes with 3 different cell dividers (6, 7 and 20) that allow you to sort your undergarments in an orderly manner.
2. IKEA SKUBB Hanging Closet
Best portable hanging closet
Price from RM75.00
This easy-to-use hanging closet is suitable for any clothes hanger or railing, such as a closet or even a clothes rack. With its convenient hook-and-loop fastener, it is both lightweight and portable enough to be transferred from one closet to another. It also comes with 6 compartments, allowing you to maximize the existing space of your closet.
3. Closet Organizer Hook With 12 Ring Holes
Best for scarves and shawls
Price from RM19.90
Save space and above all, arrange your everyday accessories like scarves and shawls neatly all under one hanger. Each hanger comes with 12 ring holes and it is made from a durable high-quality plastic material.
4. Sokano Dust-Proof Handbag Rack Organizer
Best for handbags
Price from RM15.64
Available in purple and pink, this handbag rack organizer can hold up to 6 handbags. It comes with a top hook, which is convenient enough to hang on any closet hanger. Made from a premium PVC material, the handbag rack organizer is also odourless and dust-proof.
5. 66L Large Oxford Cloth Storage Box
Best multi-purpose storage box for clothes
Price from RM18.80
Your closet is no longer messy or overcrowded with your clothes, accessories, and whatnot with this 66-litre storage box. Made from a quality Oxford cloth material, this storage box also comes with a waterproof design and a carry handle for easy transportation. The additional steel frame on the inside helps strengthen the durability of the storage box.
6. Clothes Folding Board Organizer
Best for keeping clothes neat and orderly
Price from RM17.90
Ever encounter a situation where some of your clothes are folded unevenly? Well, this folding board organizer could be your lifesaver. Thanks to its astonishing folding board system, you can finally fold your shirts, tees, and pants like a pro in a jiffy! Each article of clothing will be evenly and tightly folded, allowing you ample room in your closet.
7. Extendable Bamboo Charcoal Storage Case
Best for organizing and protecting your clothes against dust and mildew
Price from RM34.90
Smelly clothes caused by a mould or mildew can be a real turn-off. Protect your shirts against such elements with a storage case made from bamboo charcoal fibre, as it has absorption and deodorisation properties. It also comes with three dividers, allowing you to easily organize your clothes into different categories or according to colour.
8. ASOTV 3-Tiers Smart Carousel Organizer
Best for shoes
Price from RM22.91
Your shoe rack is running out of space and you have no choice but to place them on the floor? Enter the Smart Carousel Organizer, which comes with a top hook for easy hanging and a total of 24 pockets to store your shoes such as high heels and sneakers easily. You can even swivel it around 360-degrees, enabling you to access your favourite shoes with ease!
9. Wonder Hanger (8 pcs)
Best for keeping your clothes wrinkle-free
Price from RM17.50
An overcrowded closet can cause your shirts to wrinkle and crease. But with the Wonder Hanger, you can hang not one but five clothes neatly in order. It comes in a set of 8, which means you can hang up to 40 articles of clothing, leaving you with much more closet space than before!
10. Bliss 360° Rotating Belts Ties Rack
Best for ties
Price from RM19.90
Are you still hanging your ties the old-fashioned way? Why not switch to something more modern and practical like the Bliss 360° Rotating Belts Ties Rack? The space-saving circular design contains 20 hooks that allow you to hold multiple ties under one hanger. It is also made flexible with its rotating feature for easy accessibility.
Disclaimer: The pricing shown is just a good indication of how much these products are worth. The prices could change based on the e-commerce promotions that are going on. If some of the products are not available, do email us at [email protected] Thank you!