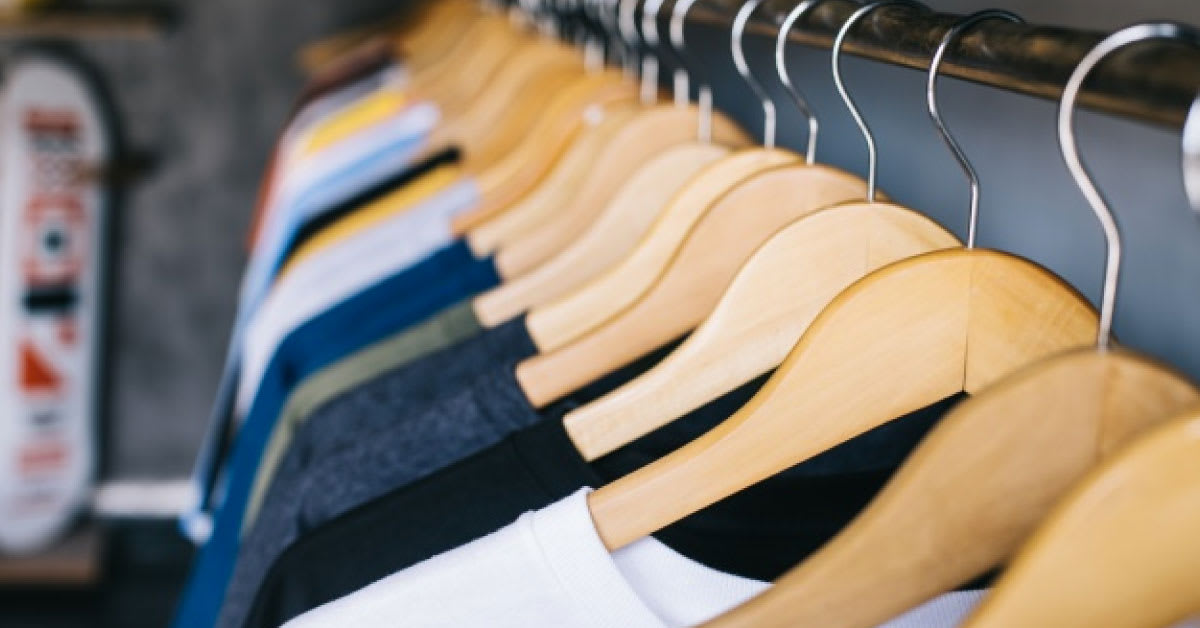 Have you ever walked into your room to see your clothes strewn all over the floor? Or have you ever had clothes overflowing out of your closet? Doesn't look nice, does it? Hence, here are a few game-changing clothes hangers that will help clean up the mess and make your room stress-free once again!
Best for shirts
Price from RM23.99
There are many options out there for what kind of hangers are suitable for different types of clothes. But why do that when you can get one hanger to suit all? That's right, this hanger is suitable for most types of clothes – strapless, sleeves, turtleneck – you name it! It comes in a set of 8 and is strong enough to carry heavier pieces of clothing as well.
Best to prevent shoulder bumps - suitable for sweaters
Price from RM69.00
Don't we all just hate it when our hangers pull on our clothes, leaving bumps on the shoulder area of the outfit? Well, fret not, we've found the solution for you! Velvet hangers! That's right, this 35 piece set of hangers are non-slip and its smooth texture does not go too hard on the edges of the clothes, preventing sagging of clothes! The hanger comes in beautiful shades of black and blue!
Best for car
Price from RM29.00
Do you have a meeting at the office or a wedding to attend? Are you afraid of wrinkling your coat on the way there? This car hanger is perfect for you! No more folding your coats and leaving them on your car seat only to have it creased up in the end. Simply attach it to the headrest, hang your coat and find yourself looking your best when you've reached your destination.
Best for bathroom
Price from RM19.44
With all the clutter of shampoo and lotion bottles in the toilet, it's always better to keep the hanger minimalistic as to avoid more clutter. This simple bathroom hanger has 4 movable arms that can be adjusted accordingly to hang your clothes and towel. It is simple to install, and does not consume much space in the bathroom. It can be used in smaller areas as well.
Best for jeans
Price from RM15.88
While folding jeans is one option, it can take up a lot of space due to its thickness. Hanging them may also take up lots of space, but this S-shaped hanger says otherwise. This hanger not only makes hanging jeans and other pants a much easier job, but it also saves a ton of space due to the multiple layers that it provides. This hanger also works just as well for ties and skirts!
Best clothes hangers for steaming
Price from RM7.00
Regular hangers may be good enough to be used when steaming your clothes, but why be good enough when you can be better? This multi-function hanger allows for more than one piece of clothing to be hung and steamed easily. Not only that, it makes the whole process quicker and simpler to do, plus the clothes end up saving more space once transferred into the cupboard.
Best for scarves
Price from RM6.50
Scarves are not the easiest type of clothing to organize as they're small and easy to slip away, often ending up missing. To be honest, nobody's got the time to fold them and keep them neatly in the cupboard too. Here's where this 28-hole hanger might just be the help you need. Simply put each scarf through individual holes and place them in the cupboard – not only will they save tons of space but they will also be easy to find!
Best for coat
Price from RM89.00
Most coats are heavy and not suitable to be hung using the usual small hangers as this causes them to either slip off or have their shoulder pads damaged by the thin edges. Thus, this set of oversized hangers has wide edges to support the shoulder pads of coats and larger jackets, ensuring they are kept upright. Its classic wooden tone also adds a sense of style to your wardrobe.
Best for wedding dress
Price from RM16.00
Weddings aren't a joke to brides. Especially not when it comes to their dress because every detail counts! Furthermore, finding the perfect dress aint easy but when that is done, no normal hanger is going to be good enough to hold the responsibility of holding the dress. However, this customisable hanger is one that will stand out and remain something you can treasure your whole life. You'll never know what one single touch can do to change things!
Disclaimer: The pricing shown is just a good indication of how much these products are worth. The prices could change based on the e-commerce promotions that are going on. If some of the products are not available, do email us at [email protected] Thank you!