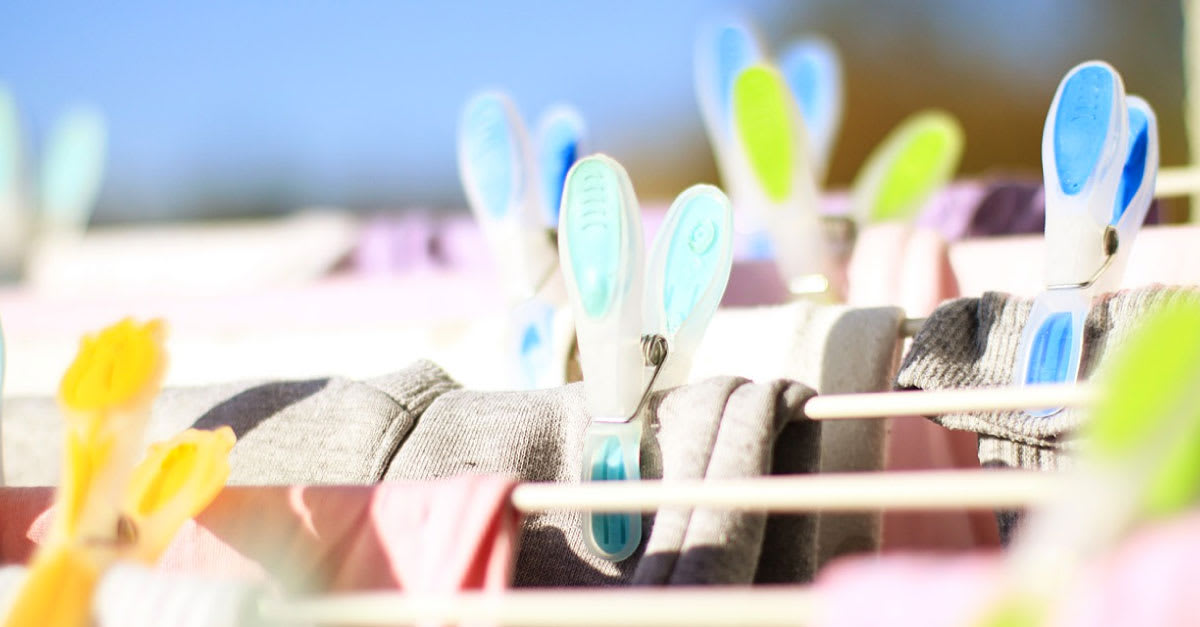 Using clothes drying rack is an energy-efficient method compared to dryers. While dryers help to finish the laundry faster, it reduces the lifespan of your clothes. With a drying rack, you can ensure all, including gentle, materials are well cared for through safe air-drying method. Reap the benefits of energy conservation with these reliable and sturdy clothes drying racks.
1. OEM Retractable Foldable Stainless Steel Clothes Hanger
Best wall-mounted foldable/retractable, stainless steel clothes drying rack
Price from RM119.99
Utilise space at home efficiently with this wall mounted foldable and retractable clothes drying rack. Especially beneficial for those with a compound at home, the rack is modernised looking compared to the traditional clothesline design. The rack is of stainless steel, which makes it durable in all kinds of weather. Its telescopic-type foldable function enables you to extend and close the drying rack effortlessly.
4 people added this to their wishlist
2. Locaupin 3 Tier Foldable Laundry Hanger Drying Rack
Best 3-tier standing iron rack
Price from RM54.90
This sturdy 3-tier, iron laundry drying rack is a wonderful choice for homes of any size. Easily adjustable and foldable according to your clothes-drying needs, you can fold it and store it away once finished to avoid clutter around your home.
3. LG Global Ceiling Mounted Lifting Drying Rack Cloth Hanger
Best ceiling mounted aluminium clothes drying rack
Price from RM229.00
An ideal choice for those who are living in an apartment or condominium, this ceiling mounted clothes drying rack is meant to limit the space usage in your home. The aluminium construction is rust-free, ensuring the safety and durability of your drying rack. With a pulley system to rotate the rails, your laundry will be far up safe from your children's hands.
4. OEM 2 Tiers Wooden Towel Rack
Best indoors wooden clothes rack
Price from RM69.00
This DIY wooden clothes drying rack is slim in design and quite easy to assemble. It is made of solid wood and is 2-tiered with 7 bars, making it perfect for your indoor drying needs. Hang your clothes, blankets or towels on the top tiers while propping your shoes on the bottom rail for complete exposure.
5. IKEA Rigga Multipurpose Clothes & Shoes Drying Rack
Best portable clothes drying rack
Price from RM79.90
This IKEA multipurpose clothes and shoes drying rack could be the best option for a single person's home. You can use it both indoors and outdoors conveniently, efficiently moving it around with it competently manageable with 2 pairs of wheels. A hassle-free drying rack, the rack features 6 different levels of height to suit your laundry capacity. It's versatile as both a cloth drying rack as well as a portable wardrobe.
6. OHSEM Heated Clothes Airer Laundry Drying Rack
Best heated clothes rack
Price from RM129.00
When there is limited space at home without any air ventilation, it would be close to impossible to ensure the clothes dry thoroughly. Here is a quick way to solve the problem; this heated clothes air drying rack will ensure your clothes will dry thoroughly and not remain damp. Place it indoors and enjoy fresh smelling laundry without a worry.
7. IKEA Mulig Adjustable Clothes Hanging Drying Bar
Best laundry room drying rod
Price from RM22.90
IKEA is all about living with convenience in limited space. This adjustable, clothes hanging bar is a fine example, providing an easy way to enjoy your clothes drying process without having to take up too much space. It is suitable to be installed anywhere in your home, be it the balcony, bedroom or even your bathroom.
8. ISANO Premium Quality Stainless Steel Clothes Drying Rack
Best premium quality outdoor clothes drying rack
Price from RM197.35
This clothes drying rack would bring back the old school charm to your home. The stainless-steel exterior is long lasting and durable for your family's laundry needs. Ideal for a large family with heavy loads of washing, the reliable and stable drying rack can support a loading capacity of up to 110kg. A trustable aid during those spring cleaning season!
9. Sun Bear Extendable Double Pole Clothes Garment Rack
Best for small spaces
Price from RM54.00
Keep your laundry space limited with this extendable, clothes drying rack. With adjustable height and length, you can alter the size of this rack according to the amount of your washing. With a weight capacity of 30kg, it is sturdy enough to handle the size of a big laundry washing load. An affordable and efficient choice!
10. Retractable Indoor Steel Clothesline
Best indoor retractable clothesline
Price from RM29.41
If you prefer hanging your delicate or inner garments in the bathroom, this indoor clothesline would be a more comfortable option for your laundry needs. The stainless-steel design is completely waterproof and will not corrode over the years of usage. It is indeed a useful application in your washing room to help you air dry your clothes or towels.
Disclaimer: The pricing shown is just a good indication of how much these products are worth. The prices could change based on the e-commerce promotions that are going on. If some of the products are not available, do email us at [email protected] Thank you!