New kitchen gadgets are constantly added to the list of must-haves in any aspiring home cook's arsenal. From that list, a frother is becoming more prominent as a star culinary aid. These electric whisk-like devices produce a high-speed torque. Thus, it can make perfect creamy foam, blending small quantity of ingredients as well as whisking eggs, all within 15-20 seconds.
Compared to a mixer, they take up far less space and are much more budget-friendly, too.
What can a frother do?
Frothers are commonly used to froth up milk for some creamy foam. But there are several powerful ones today that can also mix, blend, whip, and beat small amounts of ingredients such as whipping eggs and making custard. As mentioned earlier, because of their small size, it's much easier to handle and also cheaper to own especially for those who do not need a full fledge mixer.
What can I use if I don't have an electric whisk?
Assuming that you are trying to froth milk, you can use a fork instead of a whisk or a mixer on hot milk.
But of course, mixers and frothers are speedy devices that does the work without relying on your hand's force to achieve a frothy result. So understand that using a fork (to beat/whisk the ingredient and incorporate air) is going to need more physical force and time for the same results.
Is a frother the same as a whisk/mixer?
No, they are two different appliances. Frothers are generally small utensils which consists of a series of wire loops joined at the end to smoothly blend ingredients (of a small quantity) together or incorporate air for a fluffy result.
On the other hand, a mixer refers to a device that uses a gear-driven mechanism to rotate a set of removable "beaters" for whipping egg whites, cream, or butter. Some high-end specialty hand mixers may also include a whisk attachment, which can achieve the same frothy result than the designated frother. But again, the mixer is for those who will benefit from all of its uses.
Give your biceps a break and check out these frothers that would make a great addition to any home cook's or coffee lover's kitchen.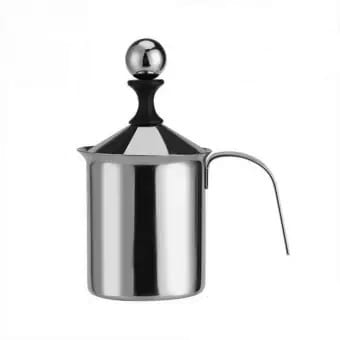 Stainless Steel Milk Frother Pitcher
RM 18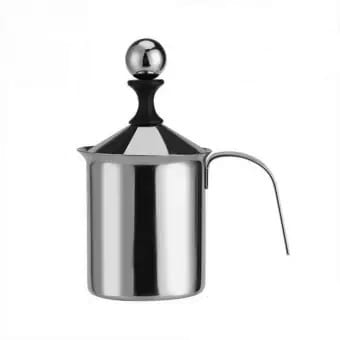 add_circle
Made with food-grade stainless steel
add_circle
Holds a huge amount of milk
remove_circle
Physical, even force is required to froth milk
Nothing beats science and physics when it comes to cooking, and frothing milk is more than just religious knowledge. Milk frothers work to aerate your milk by introducing air into it, giving that lovely fluff to milk. And when it's added into coffee, you get a thick cup of coffee milk/au lait/latte and so on.
To save your money in the long run, we recommend this Milk Frother Pitcher, which is entirely made of food-grade stainless steel. Unlike wands or dedicated milk froth devices, you aerate your milk via manually pumping in air using this product. Therefore, it gives you an authentic feel and control in frothing your own milk.
The pitcher's capacity stands at 400ml, which can accommodate milk for about 3 to 4 cups of coffee. And making sure that you don't burn yourself, the handle is heat resistant and polished to not conduct heat easily.
We are a fan of the manual mechanism that it takes to froth milk. It's fairly easy to use; just line the plunger on top, and pump milk for about 20 to 30 seconds. And as it does not require batteries, the pitcher should last you fine for hundreds of uses.
---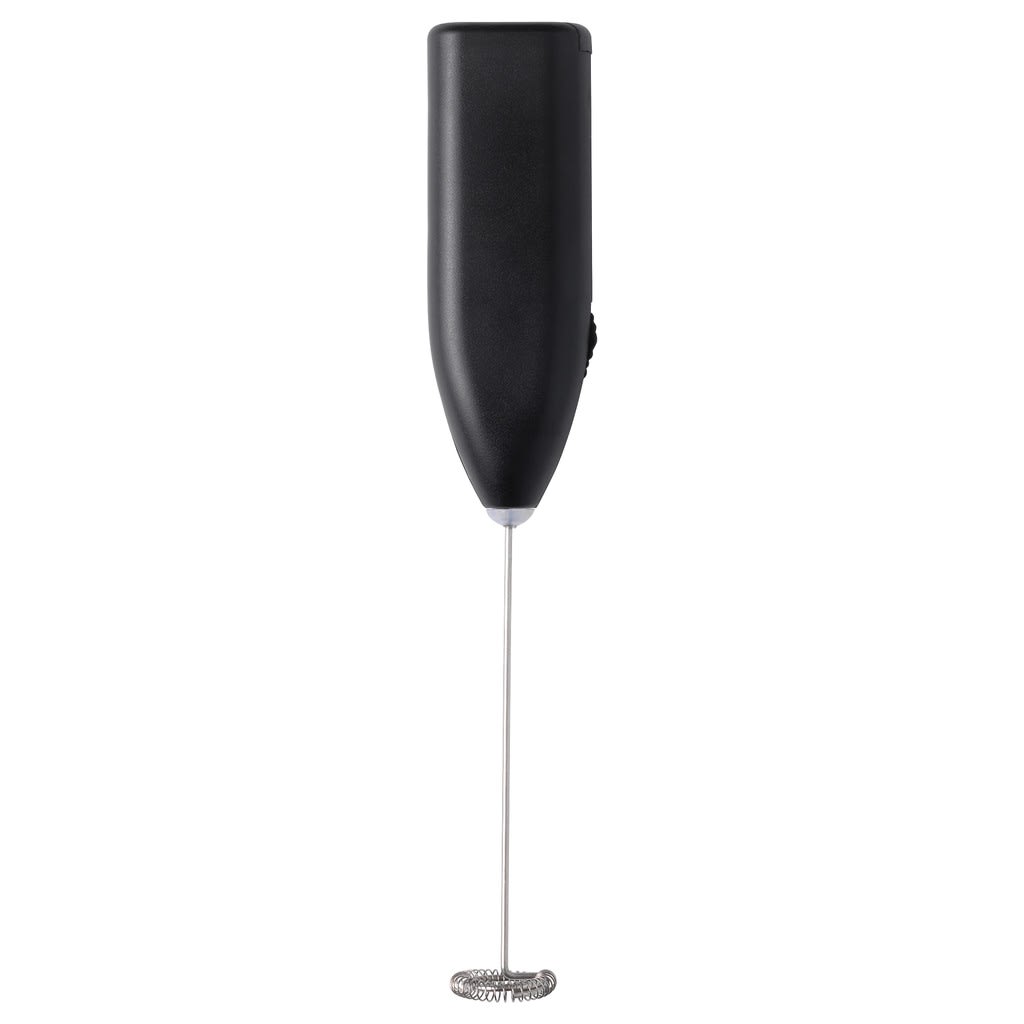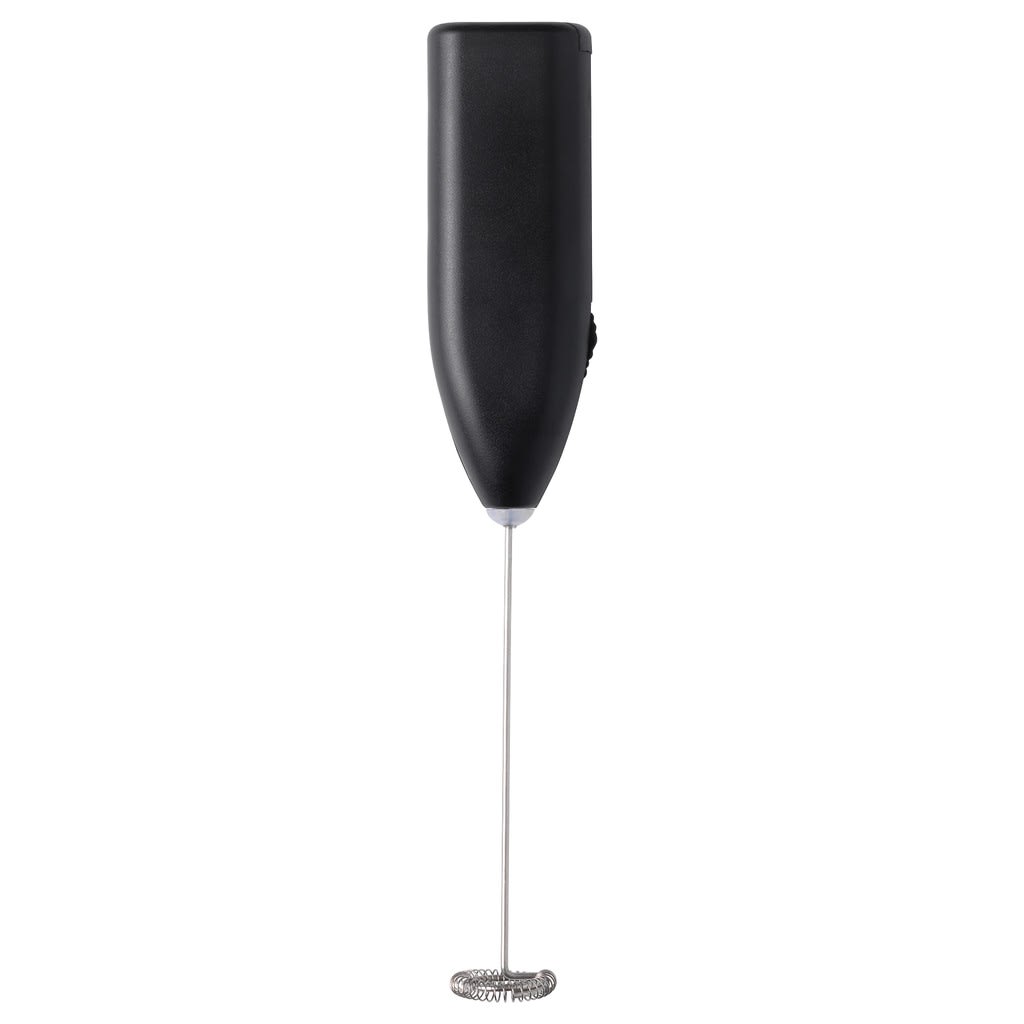 remove_circle
Not dishwasher safe
If you're really tight on budget and wish to try your hands on frothing your milk, get Ikea's own milk frother.
Keeping it simple to use for beginners, the frother features just a control dial which lets you easily control the speed of the device as you slide it up or down with your thumb. It promises to froth milk, either hot or cold, in just 20 seconds top.
Maintenance is also fairly easy. Its body is made of ABS plastic with sealed parts protected by silicone rubber whereas the head is stainless-steel. To clean, it's advised to wipe only with a damp cloth. And if you'd like to reuse the device, it only takes in a pair of AA batteries to operate.
Users claim that the product makes perfect foam despite that very low price point, whereby its of great value. Its speed is also relatively fast and powerful enough to whisk different types of drinks and even eggs.
---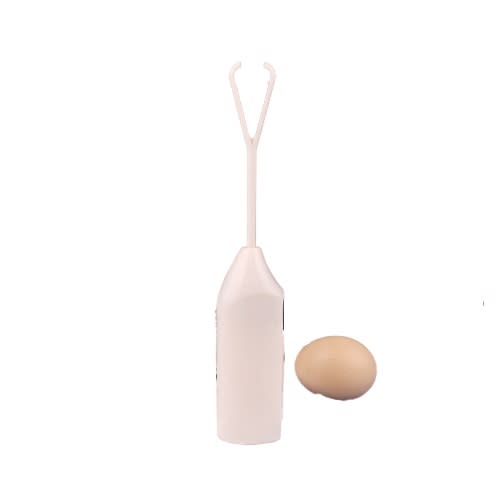 OEM Mini Handheld Electric Whisk
RM 13.4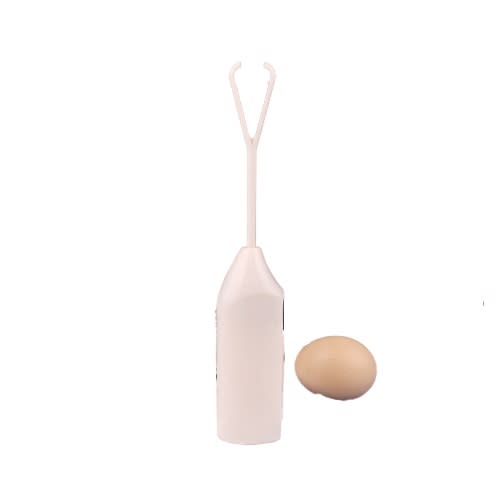 add_circle
Miniature size
add_circle
Great to beat eggs with as well
remove_circle
No speed settings
remove_circle
Not dishwasher safe
Frothers are not expensive items, but if you'd like a rough introduction to using them, it's perfectly fine to get a cheap one.
This OEM Mini Handheld Whisk is a good choice for whipping up your favourite beverage in a jiffy. Although the head doesn't follow the traditional design and use of wires, the Y-shape head still provides quick and uniform stirring while being gentle at the same time. And you can definitely achieve fabulous foam for your at-home preparations of cappuccino, white coffee, and milkshake.
The milk frother is built to function simply as it features only one push-button switch for controlling the operation of the whisk. Due to its lightweight and compact design, the device is great for on-the-go uses as well. Don't let the compact size fool you; it packs a DC motor under the hood to provide enough mixing power to get the job done.
Making sure that the quality of your concoction doesn't suffer, the material used is made of non-toxic and odourless ABS plastic material. On top of that, the whisk only needs to be cleaned by a damp washcloth. And all it takes to operate this handheld device is a couple of AA batteries.
---
Deerma JB01 Mini Electric Whisk
RM 35.88
add_circle
Great for kids
add_circle
Soft grip handle
add_circle
Comes with a storage case
remove_circle
May take some time to achieve desired consistency
remove_circle
No speed settings
remove_circle
Not dishwasher safe
Does your little one want to make their own milky drinks or do a small baking project? Deerma JB01 Mini Electric Whisk is a great way to get the kids involved in the kitchen.
This little electric whisk utilises a sturdy cross-type stirrer for a safer way to teach kids how to mix and stir ingredients to prepare yummy treats. The stirrer itself spins at a powerful speed of 6000 rpm for a faster and more uniform mixing of the ingredients.
Kids will appreciate the handle's non-bulky built, being just the right size for small hands. Moreover, it is designed with a soft-grip material to allow them to firmly hold onto the item without any awkwardness. And another feature that makes this whisk ideal for kids is its ease of use as it operates using a one-button switch.
Cleanup could not be any easier as the detachable stirrer can be removed and conveniently cleaned. It also comes with its own dust-proof and waterproof storage case, so it won't take up space in a drawer or cabinet.
---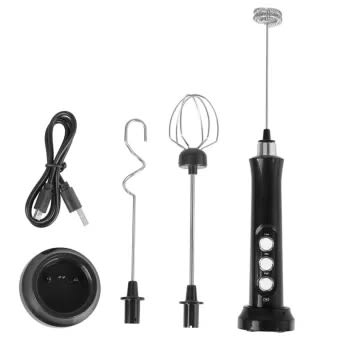 Kaxcio Electric Whisk
RM 43.8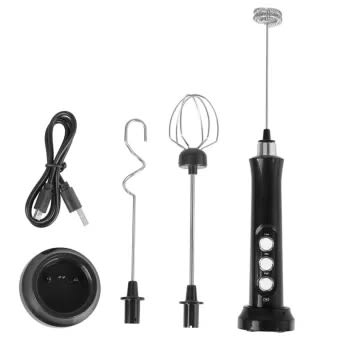 add_circle
Three different attachments
add_circle
Three speed settings
add_circle
Ergonomic hand grip
remove_circle
Not dishwasher safe
This Kaxcio Electric Whisk is the jack of all trades as it comes with three different attachments which are a dough hook, a milk frother, and an egg whisk.
As it is small, it's great for making light work of basic mixing, beating, and creaming using the egg whisk. Meanwhile, the dough hook is capable of whipping up soft doughs and cake flour. And finally, the milk frother attachment makes frothing and creating delicate foam easily and quickly.
A highlight to this device is that you get to choose between three speed settings (low, medium, and high) to accommodate your recipe. Unlike most other chargeable electric whisks, this device comes with a charging dock that allows you to top off the built-in battery whenever it gets depleted.
On top of being lightweight, it has a soft-touch and ergonomic grip so it feels comfortable to hold as well as giving you total control when mixing the ingredients. Moreover, its attachments are of stainless-steel that are food-grade for your contentment.
Due to the limitations of this device as a mixer, it's perfect for anyone looking to make a 1 minute mug-cake or a cup of latte and hot cocoa.
---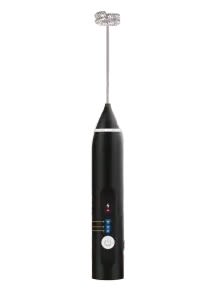 OEM USB Milk Frother with Adjustable Speed
RM 25.79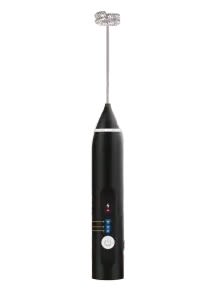 add_circle
Three speed settings
add_circle
Long battery life
remove_circle
Not dishwasher safe
Want to do away with constant battery replacements? You'll be glad to know that this OEM Electric Whisk with USB Charging Port is powered by a built-in 1200mAh rechargeable lithium battery.
Although small, impressively enough, this whisk can be used 180 times at a go on a single full charge. Precisely, it'll work for 23000 minutes at high speed. Speaking of which, the frother has 3 speeds for you to choose from - low, medium and high.
This device doesn't just come with a milk frother to aerate milk and create a thick and heavy foam. It also comes with a spiral whisk that you can use to break up dry ingredients which is perfect for making salad dressings, sauces, vinaigrettes, and gravies. The attachments are easily inserted and removed as well as easy to mainten as they only need to be rinsed under running water to get them cleaned.
This device work best for drinks. Despite being an OEM product, its user reviews are well-received, with several claiming that frothing milk into cream and mixing items together works great. One user even said it has no problem for recipes like Dalogna Coffee.
---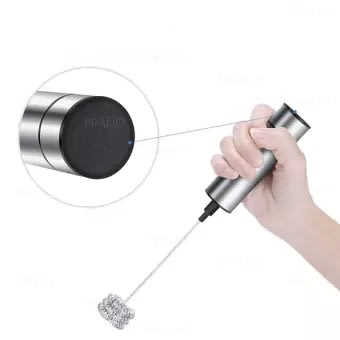 OEM Battery Operated Electric Milk Frother
RM 24.5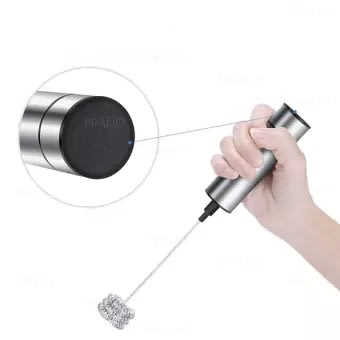 add_circle
Powerful motor
remove_circle
No speed settings
remove_circle
Not dishwasher safe
For those who wish to get a fairly powerful yet affordable milk frother can consider this OEM Battery Operated Milk frother. It runs on three AAA batteries so you don't have to be inconvenienced by cords or finding plug sockets every time you need to use this tool.
With a lightweight and portable size body, this device is convenient to carry around so you get to enjoy your morning coffee even in your travels or camping trips. Despite its affordable price, this frother does not skimp on quality as it's made from durable and rust-proof stainless steel for your ease of mind.
The device also makes a great option for beginners to start with as you only need to switch on its thumb-operated button to get started. Thanks to its powerful 19000 RPM motor, you can wear create the all-important creamy froth of milk for your lattes, cappuccinos, macchiatos, and more in as quick as 15 seconds.
Besides being an excellent milk frother, this tool is versatile in its functions as you can use it for mixing drinks and whipping eggs.
---
Disclaimer: The pricing shown is just a good indication of how much these products are worth. The prices could change based on the e-commerce promotions that are going on. If some of the products are not available, do email us at [email protected]productnation.co. Thank you!
Like writing about great products? We're hiring! Learn how you can write for us!