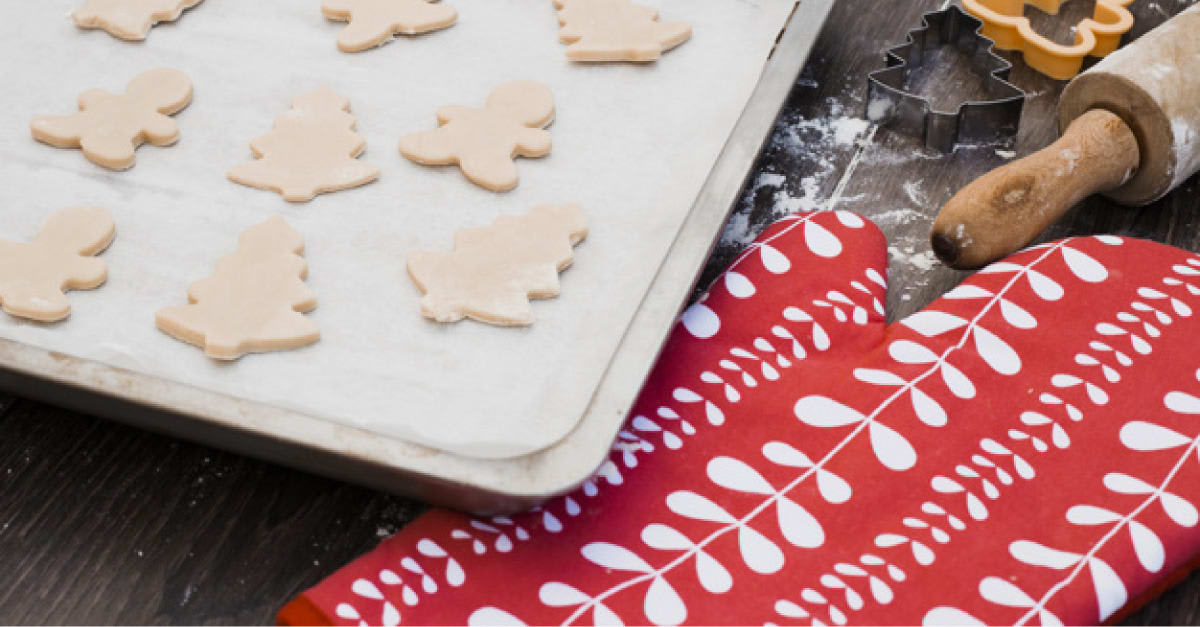 Even if you don't have an oven, it's common to use oven gloves or mitts in the kitchen to protect your hands when handling piping hot utensils. However, regardless of how useful they are, few people often take time to research the best oven gloves to suit their needs. Generally available in a wide variety of materials, design and temperature tolerance, we've rounded up some of the best on the Malaysian market to help you in your quest to find the perfect glove. A word of advice: these gloves are heat-resistant, NOT fireproof.
1. 2 PCS Butterfly-Shaped Silicone Finger Gloves
Best with magnet
Price from RM5.05
These mini finger gloves help you clamp down on hot pots and plates, giving protection to your fingers from burns and scalds. Made from tough and durable heat-resistant silicone (up to 230 degrees celcius), these little wonders are a must have for your kitchen. When not in use, these cute butterfly-shaped magnetic finger gloves can also be stuck onto your fridge or any metal surface.
2. Set of 2 Pcs Colourful Oven Mitten with Neoprene
Best rubber glove
Price from RM13.50
Neoprene is a synthetic rubber commonly used to produce heat-resistant household items. This set of oven gloves are made from a blend of neoprene rubber and cotton for extra comfort and protection. Neoprene rubber provides protection from heat up to 300 degrees celcius, while treated cotton protects up to 200 degrees. The gloves also come with a non-slip surface for a better grip.
3. Small Oven Glove
Best for small hands
Price from RM4.53
If you've got small hands or you're looking to teach a child to bake, then you'll need a set of small oven gloves. These cotton gloves with silvered heat-resistant lining were specifically designed to fit small hands and offers protection from heat up to 200 degrees celcius and were designed to fit the smallest hands.
4. Amazing Hot Hands Non-Slip Silicone Oven Glove
Best for elderly, arthritic hands
Price from RM27.60
This glove was specifically designed to protect your hands from steaming hot dishes. They cleverly incorporate both comfort and functionality, making them well suited even for the elderly and those with arthritic hands. The silicone non-slip textured grip provides a strong grip for those who are weaker, and the innovative heat-resistant material protects your hands from heat up to 425 degrees celcius.
5. IKEA VARDAGEN Oven Glove
Best for bakery
Price from RM17.28
Ikea has been making oven gloves for a long time and the Swedish multinational giant has just the thing for aspiring bakers. The Vardagen oven glove is simple and cute. Shaped like a sock puppet, it provides ample heat protection for your baking needs and is simple to use, clean and store.
6. Silicone Oven Glove
Best silicone oven glove
Price from RM4.43
This innovative and clever silicone oven glove is shaped like a lobster claw to provide protection and maneuverability when handling your hot pots and pans. With a ribbed inner lining, it provides extra grip at a super low cost. There's no wonder why these gloves have become a popular item in many kitchens across Malaysia!
7. Cotton Kitchen Oven Glove
Best with thumbs - suitable for large hands
Price from RM13.90
If you feel more comfortable being able to use your thumbs when carrying hot stuff, you may want to check these gloves out. Made from cotton, they provide protection up to 230 degrees celcius. At 25cm in size, these mittens will fit even large hands and are handy and practical to have around in your kitchen.
8. HIGHLOONG 932°F Extreme Heat-Resistant Safety Gloves
Best oven grill glove
Price from RM129.00
For extreme heat protection when cooking over an open fire or oven grill, the Highloong oven glove offers protection up to 500 degrees celcius. Made from super heat-resistant aramid fibres that insulate and protect your hands from extreme temperature, these gloves are comfortable to wear and have a plush polyester and cotton inner lining. The lightweight nature of the gloves makes for better maneuverability which is especially useful when working around a hot oven grill.
9. Heat Resistant BBQ Oven Mitten Gloves
Best for fingers
Price from RM26.50
Need an oven glove with protection for all fingers? This heat-resistant oven glove has you covered! It features a non-slip surface, heat-resistant silicone coating and a comfortable inner cotton lining. With all five fingers at your disposal, you now have greater freedom to safely handle hot stuff in the kitchen.
Disclaimer: The pricing shown is just a good indication of how much these products are worth. The prices could change based on the e-commerce promotions that are going on. If some of the products are not available, do email us at [email protected] Thank you!